Our #1 Choice
PIT BOSS 1000 Sq in Pellet Grill with Flame Broiler
Camp Chef SmokePro DLX Pellet Grill (Black) with Sear Box...
Z GRILLS Wood Pellet Grill Smoker with Digital Controls,...
Camp Chef Woodwind Classic Pellet Grill Without Sear Box -...
Camp Chef 20" Pursuit Portable Pellet Grill, PPG20, Black,...





Our #1 Choice
PIT BOSS 1000 Sq in Pellet Grill with Flame Broiler

Camp Chef SmokePro DLX Pellet Grill (Black) with Sear Box...

Z GRILLS Wood Pellet Grill Smoker with Digital Controls,...

Camp Chef Woodwind Classic Pellet Grill Without Sear Box -...

Camp Chef 20" Pursuit Portable Pellet Grill, PPG20, Black,...

The late 1980s were quite a special period for me. It comprised of the early stage and build up to my cooking interest. It was also unique for me because I had the chance to converse with my dad while he worked on the grill, cooking and experimenting with different dishes. It was during this time I came to really understand the best pellet smoker and learned its uses during a conversation.
I had always wondered how this unique local-modern machine (as I like to call it) came about, given the use of a natural product such as a tree in the production of fuel in a processed form as wood pellets. In this time the chants on saving the ecosystem, recycling and tree planting were pronounced.
I realized that this sophisticated machine came to be a result of the oil crisis where pellet stoves were first originated as a second option to fuel for heat generation. The crisis didn't seem to end without charging the American people to manufacture one of the best accessories added to the cooking industry.
In all of my travels and "food trying crusades", I can count the number of dishes that excelled to give a more impressive taste than dishes made from a pellet smoker.
Best Pellet Smoker – 11 Reviews For 2020
REC TEC Grills Bull | RT-700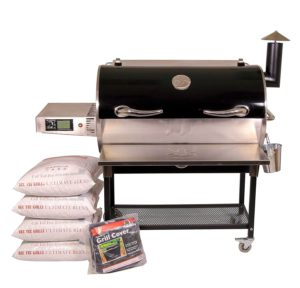 To get your smoky barbecue flavor right you can trust rec tec to do appropriate justice. It is versatile and can be used for a series of cooking techniques which include; baking, grilling, roasting, smoking, broiling and searing.
Its cooking chamber is wholly made of stainless steel which is a light, low-density metal with good durability and excellent resistance to corrosion. Stainless steel is unreactive and won't contaminate or react with food substance.
Features
The bull operates at a temperature of up to 500 degrees Fahrenheit which can be controlled to reduce or increase at intervals of 5 degrees Fahrenheit. The bull is made such that it can easily be cleaned and its ash removed.
One of its unique attributes is it has a dual meat probe, meaning it can monitor two cooks simultaneously. Another unique property is its ability to be Wi-Fi controlled using the rec tec grill application available on play stores.
Isn't this some touch of class when you can control your pellet smoker meters away from it?
Pros 
Excellent temperature regulation. Thanks to the Smart Grill Technology, this model will retain stable grill temperatures, helping you to sit back and let the grill do all the fussy temperature controlling for you. 
Dual meat probes. You can test two pieces of meat at the same time with this REC TEC Grills Bull. It is finally possible to be in two places at once! 
Interior light. Thanks for the interior light on this grill, you will never be in the dark when using it. Now you can keep an eye on your meat no matter what time of the day it is! 
Automatic lighting. There is no need to wait around with this grill as it will light the wood as soon as it is turned on. It has never been quicker to get the ball rolling on some tasty barbecue food!
Cons
Pricey. This is a fantastic grill, with the most up-to-date technology and features incorporated into its design. But I must say, it comes at a price. However, it is a fantastic investment for those who are truly passionate about cooking on a top notch grill and the cooking results you will obtain well reflect its high quality build.
Camp Chef SmokePro DLX 24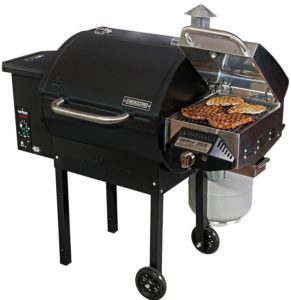 Versatile, portable SmokePro pellet smoker. It has a very simple but unique clean out system for ash removal. This saves energy cost from vacuuming out ash from the grill after use.
Features
Cheap and affordable, it is the sort that fits with backyards. It can also be used in parties, camp and other outdoor events.
It has a simple to operate control system in which you input your command (temperature and time), allowing you to move on with other activities. Its exclusive features include its auto start ignition and dual led temperature system that shows the internal temperature of the device and the temperature of the food.
It's a sort of camp chef smokepro that will stand out in the gathering of pellet smokers. Lightweight enough for easy mobility and transport, it also possesses heavy duty tires that help transfer the fun to your location of choice.
And the most defining of its characteristics as stated above is that you can have undiluted fun, knowing fully well the camp chef smokepro is in charge.
Pros
Robust build. Thanks for the robust build on the Camp Chef SmokePro DLX pellet smoker, it retains heat extremely well, helping to lock in flavors and heat, keeping temperatures soaring under the lid. The temperature regulating system helps food to cook more evenly and will also help to save you time, energy (and not to mention money) refueling the smoker unnecessarily. 
Large cooking area. This smoker is particularly popular among families and those who enjoy cooking for large parties. Thanks to the whopping 570 square inches of cooking space available on this smoker, you will be able to cook something tasty for everyone. Why get it done in batches when you could simply cook it all at once?
Side shelf. One of the most practical features on this smoker is the handy side shelf – the perfect place for you to rest cooking utensils or marinating meat that is waiting to be placed on the grill. 
Cons
Grease tray. Some users have noted that it would be more useful if the grease out and ash debris tray were larger and had a bigger capacity so that they would hold more waste materials and not require being emptied quite so frequently.
Z Grills Wood Pellet Grill & Smoker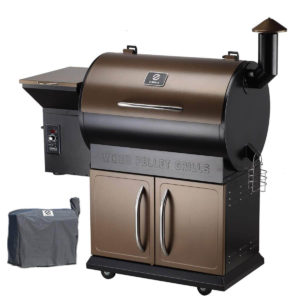 It operates at a temperature of 180 degree Fahrenheit to 450 degree Fahrenheit. It is produced to satisfy a large number of people at a time.
Features
Many say it is the best pellet grill for the money. It is suitable for personal, parties, commercial and other outdoor use. The pellet grill has an electrical digital control board responsible for ignition and temperature control.
This pellet grill is versatile as it can serve many cooking purposes and techniques. It has a storage component like a shelf by its side; this allows easy access of user to necessary ingredients or materials for cooking. It is durable enough to withstand outdoor weather and has a long lifespan.
Pros
Large cooking area. One of the nicest features of this grill is its generous cooking area. It features 500 square inches of grilling space alone, making this the ideal grill to use when cooking for groups of family and friends. With all of the extra space on the grill, you will have room to try out some of those new recipes you have been itching to give a whirl.
Locking wheels. Fancy moving your grill around the decking? You will happy to know you will not have to throw your back out to do so thanks to the fact that this model comes on wheels. Simply lock them into place once you've got the pellet smoker right where you like it.
Versatility. Are you looking for the best pellet smoker that can do just about anything? Then this is your model as it is able to perform 8 different cooking functions such as grilling, smoking, baking, roasting and much more.
Cons
Smoking space. Although the grilling space on the Z Grills measures 500 square inches, it has a much smaller 190 square inch smoking area which may seem too small for those who are looking for an appliance to use solely for smoking meat.
Cuisinart CPG-4000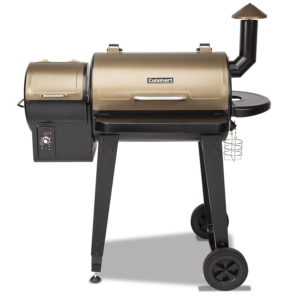 This Cuisinart is a portable pellet grill with strong wheels and foldable legs that suits to be a handle when folded. This smoker is cheap and affordable. It is portable and has strong wheels to pass through any terrain.
Features
It is favorable for mini-parties and in backyards. It can be set to the desired temperature and left to do its thing while the chef goes about other things.
It's a time safe, cost effective, accessible and quality product. This pellet smoker can make use of a variety of flavored wood pellets which can be mixed and burned to imply flavors on what is being cooked.
Pros
If you are looking for a versatile grill, then the Cuisinart CPG-4000 is a fantastic option you should definitely be considering. Not only can you use it to grill and smoke, but it will also bake and roast your favorite foods. Now there's no need to stay cooped up in the kitchen cooking on a bright and dry weekend, why not whop everything you want to cook on the smoker instead and enjoy the balmy weather?!
Two shelves. One of the most handy and practical features of this model is the shelves. This model comes with one front and one side shelf that are ideal for you to rest cooking utensils and food onto, ready to be placed on the grill. There is nothing more useful when you are cooking up a storm on a blazing hot grill than to have all of your smoking tools within arms reach!
Cons
The only negative about this smoker is that it seems like it is missing an important feature – a grease bucket. Without a grease bucket, there is more cleaning up to do after smoking and grease does not drain away from the meat quite as easily than it does on models where a grease bucket is present.
Camp Chef PPG20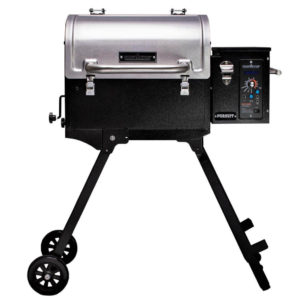 The 10 pound hopper camp smoker is one that speaks same language with a wide class of mature men. It is one that can be gifted to anyone.
Features
Easily and most comfortably transported in its compact form, it almost looks like a backpack with wheels. It Has ash clean out a system, electric auto ignite, automatic auger and as the ability to be controlled to switch between a direct and indirect flame.
The Camp Chef PPG 20 runs from a temperature of 160 degrees Fahrenheit to 500 degrees Fahrenheit. It can be usable in Tailgate, backyard, and parties.
Its black color and modern inclusion make it a beauty to behold and stands out as a special griller to fashionable men. It also is versatile and can be used for numerous cooking techniques and processes.
Doesn't require petrochemical sourced fuels and are most loved for their environmental friendliness and easy waste disposal and management system.
Pros
Temperature management. This Camp Chef PPG20 smoker comes with two LED thermometers, making it easier for the user to keep an eye on the temperatures of their grill. We all know how important it is to be able to rely on accurate temperatures when cooking the perfect steak, fish or chicken, and these thermometers will make this possible.
Side shelf. The side shelf on this unit is very useful for resting cooking tools and serving plates onto so that they are waiting and ready to be used once your food has finished cooking on the smoker. There's that extra pair of hands you have been looking for!
Wheels. The Camp Chef PPG20 comes on two sturdy wheels, making it easier than ever before for you to take the smoker with you wherever you need to.
Two racks. This smoker comes with two cooking racks with a total cooking space of over 500 square inches – ideal for cooking for large parties. 
Cons
Cleaning. Although this pellet smoker has an ash out tray, users have noticed that they are still required to give it an extra clean on the inside to get rid of leftover dust and debris that collect on the inside of the smoker and do not enter the tray.
Z GRILLS Model ZPG-550B
It is composed of corrosion resistant materials with high durability and temperature resistance to withstand weather effects and high temperature from within and without the drill. Its heater components are flexible enough to adjust to high temperature and regain shape after use without damage.
Features
It is versatile as it can also be used for grilling, smoking, roasting, braising, searing, baking and making barbecue. It auto-ignites and allows a temperature of 180 degrees Fahrenheit to 475 degrees Fahrenheit, controlled by its digital auto temperature control.
Not the hottest griller but one of the safest and cost effective grillers, not to mention that it is a time safer. The 20 pound hopper capacity requires no babysitting because its temperature and time can be controlled to suit the cook or chefs purpose.
Pros 
Shelf. One of the most handy features on this smoker is the foldable working shelf that will give you the flexibility to open it up for use when you need it and tuck it away once you have finished. This is also a great space saving feature for those who are working with smaller storage spaces or simply do not want their pellet smoker to take up too much room in their backyard.
Rust proof cover. This Z GRILLS ZPG-550B comes with rust proof covers and racks. The cover will help the grill to stay in like-new condition for longer and will help it to combat even harsh weather conditions without affecting its overall appearance.
Digital controls. The digital controls on this model make it easier than ever before for the user to keep an eye on the internal temperature of the smoker.
Cons
Although this is a fantastic grill, it is not the hottest as it only heats up to 450 degrees Fahrenheit, whereas other similarly priced grills often get up to 475 degrees or higher. But this grill is fantastic at taking control of the heat and regulating it. This is definitely not a grill that will need babysitting!
Pit Boss PB1000T1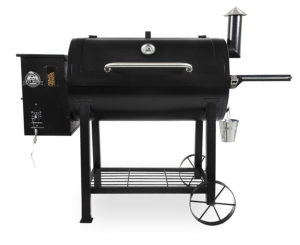 The pit boss grill is a perfect one for a large crowd event like parties, ceremonies, and get together and even commercial sales. They are large enough to occupy so much to satisfy a group of 8 or more.
Features
Also, they operate with a temperature of 180 degrees Fahrenheit to 500 degrees Fahrenheit.
They are made up of very strong steel that is a replica of those used for heavy duty.
It can withstand high temperature and harsh weather conditions that can lead to wear, tear and corrosion. Its internal compartment is made to conserve enough heat with very limited or no escape.
It can be converted to open flame or direct flame for grilling as compared to the indirect flame. Still multifunctional like other pellet smokers, it can grill, bake, roast, smoke and so on.
You've got a barbecue party to serve? Opt for this smoker.
Pros 
Are you looking for a smoker that will help you to prepare something tasty for the whole family? Then I am sure you will love this Pit Boss PB1000T1 pellet grill as it has been designed with a massively generous 700 square inches of cooking space! Few smokers are able to offer quite so large a cooking area, making this smoker ideal for those planning to do some serious cooking for family and friends.
Grease bucket. Another nice feature on the smoker is the grease bucket, which helps to collect leftover grease and debris while cooking. The grease bucket also makes it easier to cook healthier meals as it encourages excess grease to drip away from meat.
Great price. Although this is a massive smoker, it is coming to you at an awesome price! You should definitely take advantage and add one to your basket today!
Cons
Side shelf. Although this Pit Boss smoker does come with a handy side shelf, many users have said that it would be more useful if it were larger, so that you could fit more kitchen utensils and possibly a preparation plate or two onto it to help you speed things along when cooking a barbecue.
Camp Chef Woodwind Classic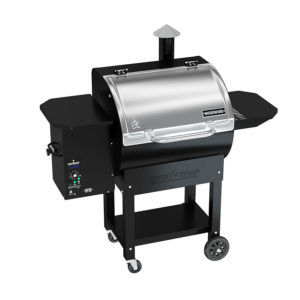 The smart smoke technology with digital temperature control and automatic auger feed pellet is a class on its own, such that brings out the Gordon Ramsay in you.
Features
The device can make use of naturally flavored pellets which implies unique flavor and fragrance to the meal. Has ash clean out the system and a huge cooking area of 570 square inches.
The device is large enough to prepare a meal for 7 or more groups. Its manufacturers must have had the idea of imputing one of the oldest and healthiest methods of cooking into a 21st century covering with controls. Pellets are available in different flavors which can be mixed to produce different flavors.
Made of a durable and environmentally friendly metal, it can easily be wiped cleaned without wear or tear on its surface. This camp chef is best suitable for private and commercial use.
Pros
Double shelves. This Woodwind Classic grill by Camp Chef has two side shelves that are brilliant for helping you to balance your grill tools on or for laying uncooked meat ready for the grill onto or even cooked meat that is ready to be served. There is nothing more practical than having somewhere to rest your condiments that is within arms reach!
Robust wheels. This pellet smoker has been designed on 4 tough wheels that are perfect for helping you to transport the smoker anywhere you choose. The casters will help you to lock the smoker into place as necessary.
Automatic feed. The smoker automatically feeds and burns the wood pellets that are placed inside the pellet cabin. This feature helps the unit to maintain a steady temperature, helping food to cook faster, without fear of burning it. It also helps food to cook more evenly, helping you to achieve consistent results if you decide to cook in batches.
Cons
There is an upgrade to this model that comes with a sear box, which can also be brought as an addition to this model. The sear box will help you to reach temperatures up to 900 degrees and will allow you to achieve that perfect seared mark on your meat.
REC TEC Grills Trailblazer | RT-340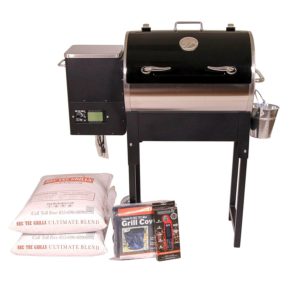 Rec tec grill trailblazer is an upgrade and more sophisticated version of rec tec yet simple to operate and affordable. Made up of quality compartments in and out it has a admirable life span.
Features
Very portable, it has a strong wheel that can take the fun anywhere (If Mohammed can't get to the barbecue can get to Mohammed). It has a built-in meat probes system, meaning give or take aside, you can now have meals as exact as you want them.
The smoker Operates at 200 degrees Fahrenheit to 500 degrees Fahrenheit, which can be raised or lowered by the user through a simple to operate control panel.
Its control system can be ordered using Wi-Fi technology. This means waving goodbye to running miles at the scent of a burning savor and our neighbors don't have to preach the "fire safety rules" every weekend.
Made of stainless steel, it is very durable and long lasting, has high resistance to corrosion and is non-reactive so it won't contaminate food. It weighs at about 110 pounds.
Pros
Dual temperature probe. This smoker comes with dual temperature probes that will help you to test the internal temperature of two cuts of meat at once. This is very useful to help you achieve that perfect medium-rare steak or for grilling the finest lamb. It is now possible for you to keep your eyes on two cuts of meat at once thanks to the thermometers available with this model!
Family sized grill. This smoker is the perfect model for families as it has a combined cooking space that measures up to 340 square inches – a generous area that will assist you with cooking something tasty for the whole family to tuck into.
Great price. This is a slightly newer model and is not the most well-known brand in the grilling market so it is coming to you at a great price considering the features and the size of the grill.
Cons
Although the smoker has a bottom shelf that helps to stabilize the unit, some users have felt that an additional shelf would be helpful to stabilize it further as it can feel a little rickety when loaded with meat on top. Try adding a heavy pack of coal or wood pellets to the bottom shelf to solve this problem.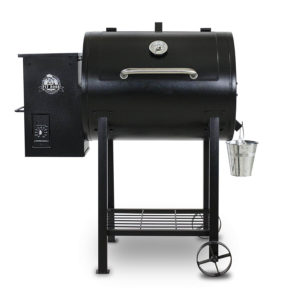 The pit boss like its name oozes all shades of sophistication and modernization, If it were a soccer player, it will have Messi printed on its back Jersey. It, even more, makes it user a
Features
Maradona as it is a source of most watering delicacies achieved at minimal energy.
This device makes it look like you're born to grill. It has an easy to operate digital control. They function at a temperature range of 170 degrees Fahrenheit to 600 degrees Fahrenheit, one of the highest known ranges.
This sort makes a novice in grilling look like a king by its side because it is sufficient enough to meet the majority of non-professionals needs. It has an additional cooking rack space and can be used for cooking almost anything.
This baby will definitely have a place in your heart if you today decide to make it the latest to your property.
Pros
There are so many pros to this Pit Boss grill, but one of my favorites is the soaring temperatures the grill reaches. This unit is in its element and simply coasts between 170 and 500 degrees Fahrenheit. 
There is ample smoking room on this unit as it has 700 square inches of cooking space on the racks, ensuring there is room for you to cook something tasty for the whole family this weekend. Why cook it in batches when you could have the room to cook everything at once and then sit back, put your feet up and tuck into your delicious creations? Sounds fantastic, right?
The cooking grids on this model have been coated with porcelain. Why is this important? This is a key feature on this model as the porcelain makes the grids easier to clean. Simply wipe them down with a moist, soapy dishcloth in order to get them to return back to their original shine. It has never been so easy to get your grill clean!
Cons
This grill is only covered by a one year warranty which is great, but may be slightly concerning to those who do not use their grill regularly. 
Traeger Grills TFB57PZBO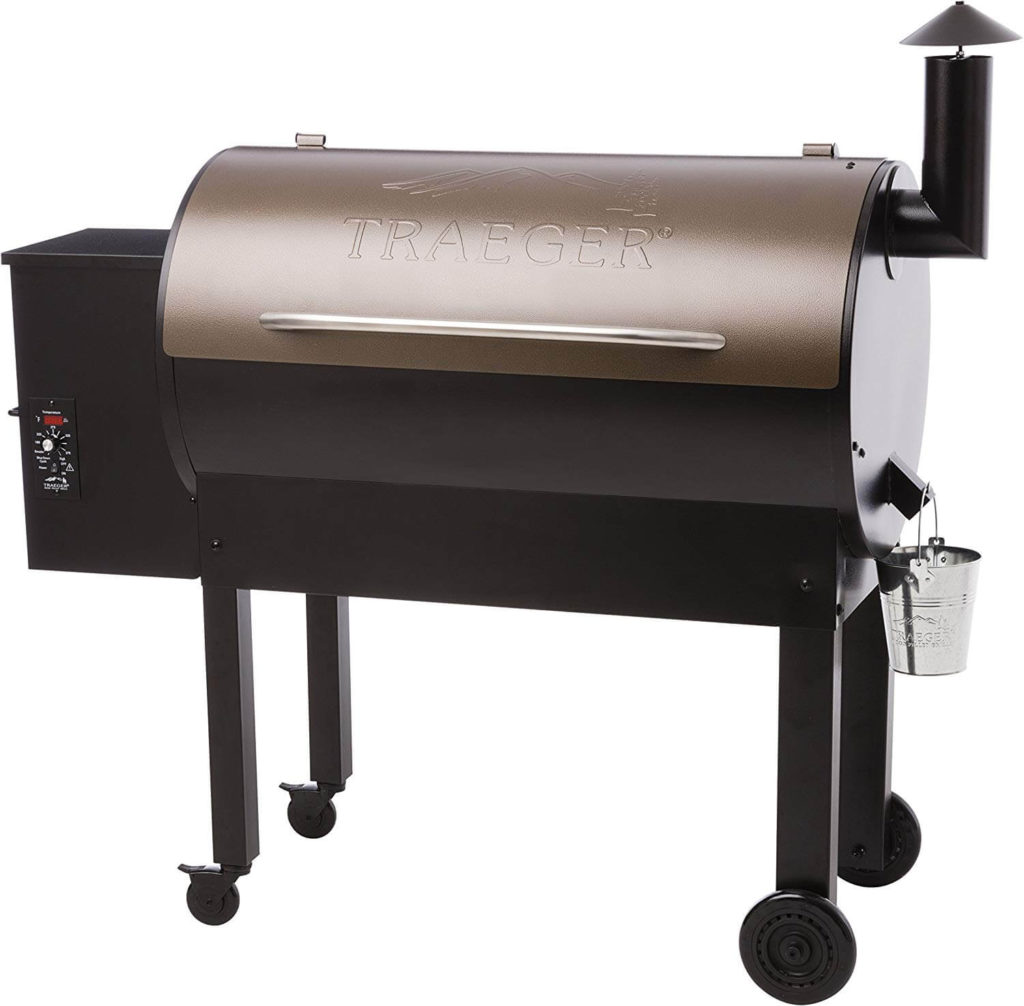 Here is a fantastic two in one grill and smoker by Traeger Grills. This grill and smoker allow you to cook with wood chips or pellets, giving your food that original wood-fired taste that the whole family will go crazy about.
Features
This smoker grill has many settings, helping you to follow the recipe perfectly, every time. You can cook on high heat, a low one, fast or slow, depending on your needs and the kind of browning you require.
The precision temperature control setting allows you to maintain a certain temperature without having to keep adjusting it.
This smoker is definitely here to stay as it has been constructed using powerful steel and has a durable powder coat finish that makes it all the more robust.
The easy glide wheels mean you can move the smoker around the backyard where you need it, and the locking feature allows it will stay put where and when you want it to.
Pros 
This grill features a massive grilling space that will give you the freedom and capacity to grill a variety of different cuts of meat at once. The grilling space totals 572 square inches, what more could you ask for?
This is also an awesomely versatile grill as you will be able to use it to bake, braise, grill, smoke and more, helping you to put a variety of different recipes into practice and serve up a nice selection of meals for your family. The range of cooking methods available to experiment with on this grill also make it possible for you to grill your entire meal, helping you to get out of the kitchen and enjoy a change of scenery cooking outdoors.
The grill comes with a generous 3 year warranty which will certainly help to put your mind at ease if you are a first time grill buyer or are replacing an old grill. 
Cons
This is a pricey grill and with all of the fancy features it comes with, I think it is definitely worth what they are asking for. But the one thing it is missing would be an additional side shelf so that you can have one shelf for uncooked meat and another for cooked meat. This would also give you more space to organize cooking utensils and spices.
What Makes Pellet Grills so Great?
I doubt a month passes without either of my sons requesting for a grilled or baked dish. Thank God for a supportive wife and a multipurpose energy saving device like pellet smoker, I can meet their demands.
This satisfaction brings to my family is a glimpse to the uniqueness of the smoker.
Pellet smokers makes use of an indirect heating process. This is one of the best-known heating methods of cooking as it preserves food nutrients, preventing less heat damage.
What better product do you need than one that sufficiently dishes out good health and awesome taste?
The "Naturalness" pellet brings to cooking is quite impressive. Some people have jokingly said the natural smoke from pellets burning adds some sort of sweetness to the flavor of what is being cooked; this though isn't far from the truth, Pellets add flavor to dishes as the fumes ascend from its when being burned.
For most people, while quality is much more important, price is also a factor to consider. A pellet smoker is a device which can be acquired at decent rates with all of its multi uses, sophistication and good quality.
Even at a usually higher cost than a grill, pellet users I've met all my life have never regretted acquiring one. Its use and benefits are unending.
Temperature can be managed or controlled. This means less burning and of course an opportunity to multi-task. We can watch our football games conveniently without distractions.
Talking of health and smoke, depending on the nature of wood used as pellets, pellet smokers have a mild or low smoke profile. They are efficient with their fuel consumption. They produce one of the cleanest fires you can find for smoking.
It's environmentally friendly and safe around kids.
Doesn't it worth to be the 8th wonder of the world?
How Do Pellet Smokers Work?
It is made of a component that is to be occupied by wood pellets which serve as fuel for heat generation. Food grade pellets entirely made from hardwood are preferred as other grades may have a high smoke profile and poison dishes.
The food grade pellets should contain no additives; some producers though use vegetable oil or soy oil as lubricant during processing. A major advantage food grade has is that their size and composition allows them to burn with clean fire and less smoke.
It contains a deflector plate which separates food from the flame. This compartment is largely responsible for the conversion and transfer of heat through convection.
Convection is an indirect heating process in which heat doesn't directly get to the food through direct contact but rather through air flows which are maintained by a regulator.
The regulator is an electric control panel which automatically supplies pallets to the fire at intervals. It also helps regulate air flow within the pellet smoker and control temperature.
A pellet smoker control is nothing less of the usual. It is so easy to control that my first son at an early age knew his way through the machine.
It has multiple compartments such that it can be used to smoke, grill and bake.
The heat from the burning pallet is converted and transferred so that it can serve all three compartments effectively.
This creates multiple cooking options to its user. For smoker pellets being produced these days, a day or two might just be what you need to acclimatize with it and be that world class chef you were born to be.
FAQ
Can you smoke with a pellet grill?
The pellet smoker has multiple compartments such that it can be used to smoke, grill and bake.
What are the benefits of a pellet grill?
Temperature can be managed or controlled. This means less burning and of course an opportunity to multi-task. We can watch our football games conveniently without distractions.
Conclusion
While eating delicious delicacies is very important and necessary for our growth and satisfaction. We must also learn or grow to eat healthy delicacies.
The best pellet smoker provides a large range of nutritious options to consume, prepared in the most decent of ways. The nutritional value of food processing using the smoker cannot be overemphasized.
Users must now learn to maintain their pellet smoker in order to increase its life span and maintain its usefulness.
At this, waste from smokers must be properly disposed and the wrong type of pellets use avoided because it can lead to a respiratory problem in the long run.
The best pellet smoker is one every family should have and should be promoted as a good cooking device among internationally recognized health organizations in a bid to cut down on the artificial and chemical products largely being consumed by man which are more or less harmful.
Your choice should be dependent on the size of family or member to be attended to and the health advantages of the pellet smoker.
The set-aside pellet smoker reviewed above is some of the best available. Purchase yours today or gift a friend and make life's full of joy.