Wildwood Grilling - 5x11 6 Grilling Plank Variety Pack
Our #1 Choice
Cedar Grilling Planks - 12 Pack
12 Cedar Grilling Planks for Salmon and More + 2 Hardwood...
Wood Fire Grilling Co. Bulk 30 Pack Cedar Grill Planks -...
10 Cedar Grilling Planks (8 Extra Long + 2 Bonus Short...





Barbecue season is rapidly approaching and there are so many new methods coming to the market. Maybe you are usually rather traditional when it comes to your barbecue style, but are feeling inspired to try something new and present an innovative barbecue experience to your family and friends this summer? Let's look at the best cedar grilling planks.
Top 10 Grilling Planks
Wildwood Grilling – 6 Grilling Plank Variety Pack – My Personal Favorite
This is a great grilling pack because not only will you get the chance to taste one wood flavor, but you will be able to experiment with the flavors of 6 varieties of wood. The variety pack comes with Western Cedar, Hickory, Alder, Cherry, Maple, and Red Oak grilling planks, opening up a whole smorgasbord of options for you this barbecue season.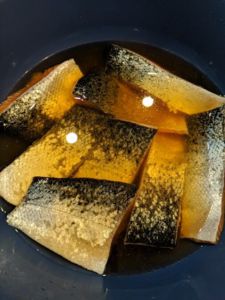 As you are aware, certain foods go better with different wood grilling planks, but with the selection that is being offered to you by Wildwood grilling, you will have the perfect board for each type of meat, fish, fruit or vegetable. There will be nothing getting in your way from making the greatest barbecued meat selection for the family this summer.

Features
I recently fired up the grill with some of these ay my mother in law's house. Her husband doesn't really eat meat so we decide to go with some salmon. I decided to kick it up a notch with a brown sugar bourbon brine.
While the fish was soaking up the brine I started soaking the planks in water per the instructions on the packaging. I also started making the recommended salsa recipe that came with the planks (of course I tweaked the recipe a little to my taste!).
They also had a bunch of tomatoes lying around so we made a fresh Caprese salad to go with everything. These are so simple yet always taste so good, especially with the balsamic reduction and plenty of salt and pepper!
Finally, I had everything prepped out so I lit the charcoal so that the grill could start heating up.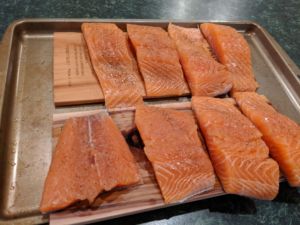 I took the salmon out of the brine and patted them down with paper towels. This is an important step if you want the smoke to stick to the fish. After they were dry, I placed them on the planks and seasoned with salt and pepper.
After a few more minutes the grill was hot and ready. I placed them right over the coals in a direct heat zone. Right before I covered up the grill with the lid I drizzled a little honey over the fish to help bring out the the brown sugar brine.
Now I love cooking over high heat and usually when you combine that with fish it doesn't go well. It is very easy to overcook this or any type of fish on a hot charcoal grill. But that is why I love these grilling planks from Wildwood.
They create the perfect heat shield between the coals and the fish. This allows the fish to cook almost like they were in an oven but you get that wonderful smokey flavor from the charcoal. Just look at the color on these.
I can tell you they were not overcooked. Each piece was tender and juicy. The skin on the fist that were close to the edge even got a little crispy and that was delicious!
Needless to say we were all very happy with how this dish turned out and can't wait to try another recipe!
Another great thing to know is that Wildwood grilling planks are 100% natural, they never use chemicals or additives in their products so, you can grill away for the whole family with complete peace of mind.

Cedar Grilling Planks – 12 Pack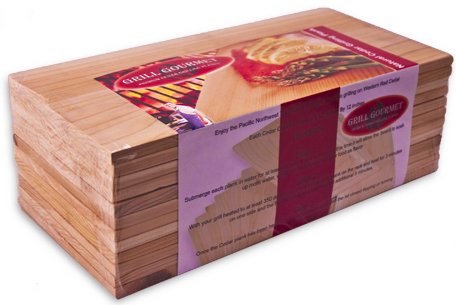 There is a really handy feature on these cedar grilling planks that makes them so much more appealing. They are textured. Why is that important? The texture on the planks helps them to smoke more, intensifying the flavor of your meat.

Another great feature on these grilling planks is that they have been made thicker and the thicker the wood, the greater the flavor.

Make sure you soak these grilling planks in water for 3-4 hours before using them in order for them to reach their maximum potential and release those essential oils that will give your salmon or pork the perfect flavor.

12 Cedar Grilling Planks + 2 Free Alder Planks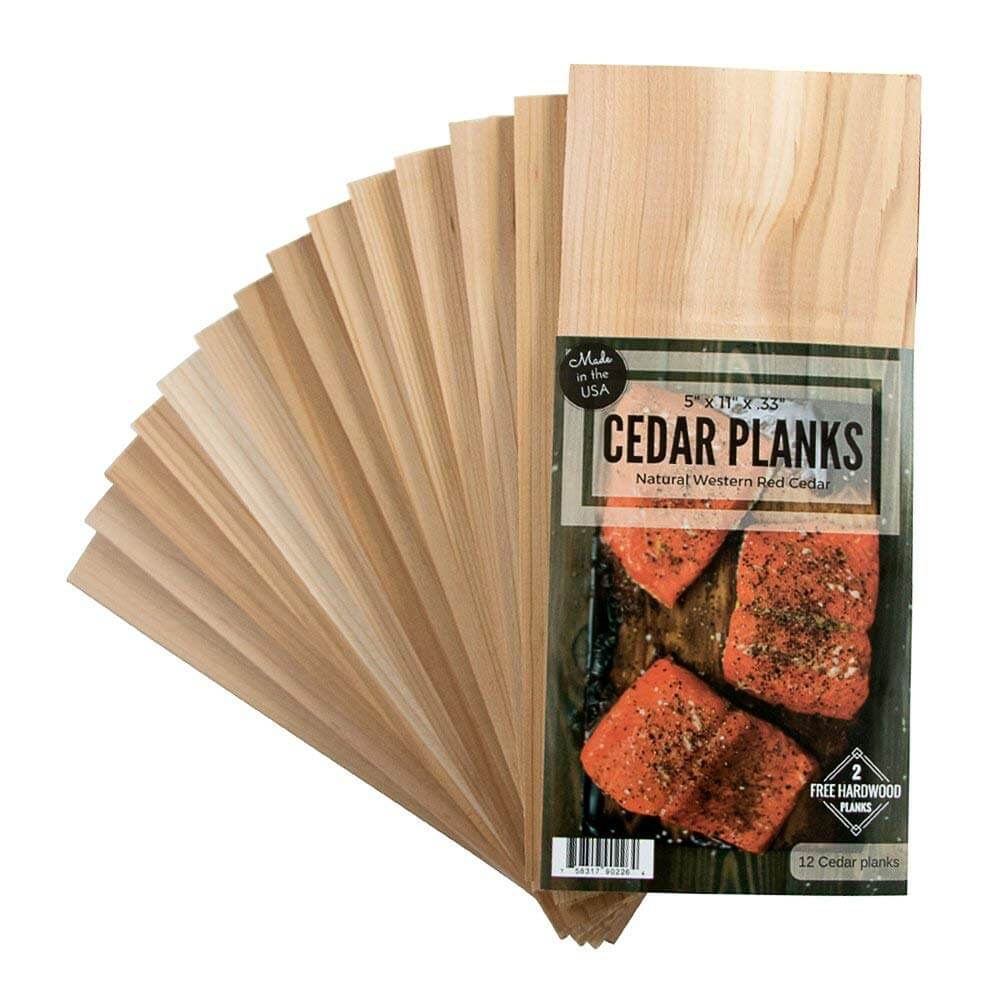 This is another great selection. If you like most, love grilling on cedar wood, this is the perfect selection for you with an added bonus! Not only does this pack come with 12 cedar planks but you will also receive 2 free Alder planks.
That means you can try something new this summer as Alder wood is great for grilling seafood in general, fruit and vegetables.
Features
Don't worry about not being able to fit it all on! These boards measure a generous 5 x 11 x ⅜ inches so you can feed the whole family.

Ever feel stuck for ideas? This pack of cedar grilling planks also comes with a free e-book, filled to the brim with recipes for you to get started grilling as soon as the grilling planks arrive at your doorstep.

Wood Fire Grilling Co. Grilling Planks
Have you invited the whole family to a barbecue this weekend? That will not be a problem with these grilling planks by your side. Here you have a bulk pack of 30 Western Red Cedar grilling planks that are large enough to fit 2 – 4 servings per plank.

These grilling planks have been sanded smooth, so you won't be getting any pesky splinters or pieces of wood stuck to your meat with these planks. Because they have been sanded, these grilling planks are oven, grill and smoker safe, meaning that you can get more uses out of them.

The planks are also available in larger sizes should you need a longer cut in order to smoke a whole salmon or larger slabs of pork.

8 Cedar LONG Grilling Planks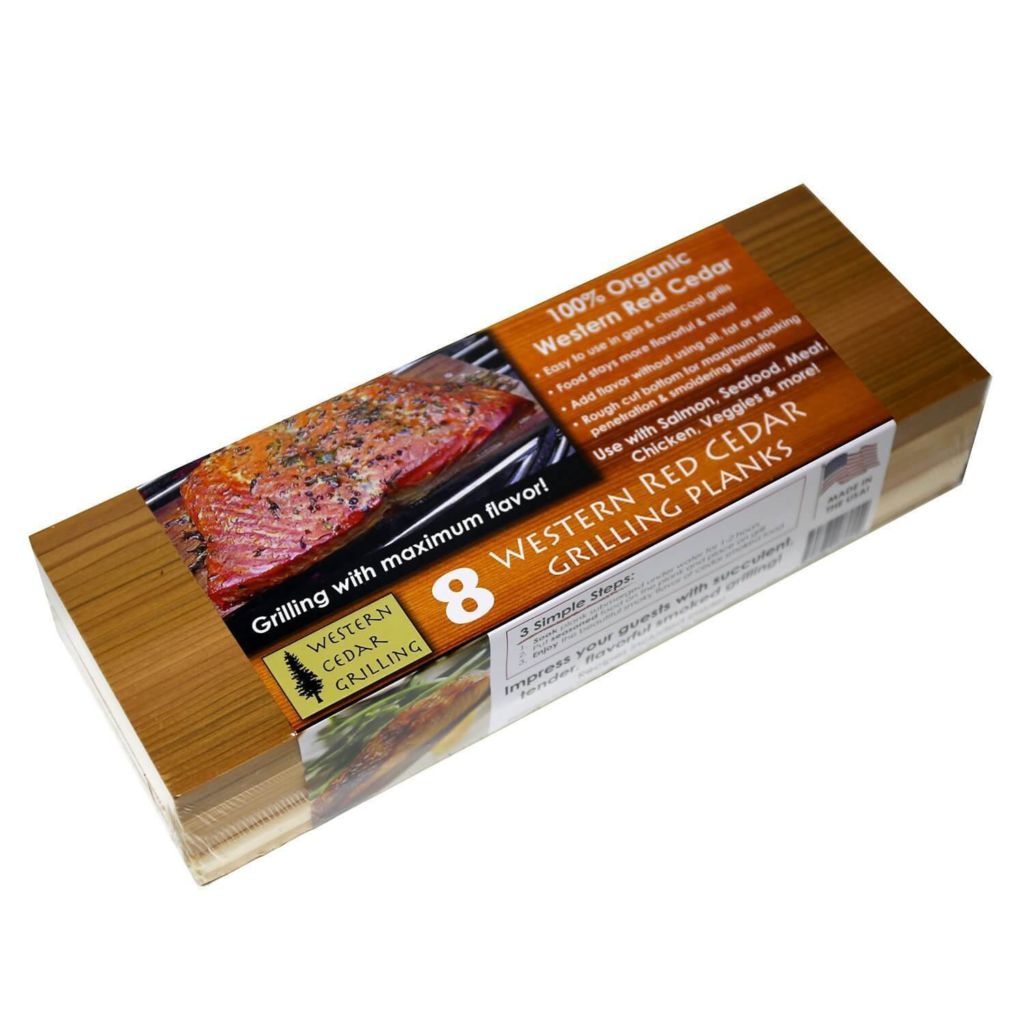 These Western Red Cedar grilling planks are ideal if you are in a bit of a rush. Maybe the family have decided to arrive at your home a little earlier than planned and you need to speed things up a little on the grill? Not a problem as these extra long grilling planks measure 15 x 5.25 x ⅜ inches meaning you can cook more meat at once on the boards.
They will also give you the flexibility to cook meat on one side of the board and vegetables on the other if you are a bit pressed for time.

These grilling planks are just right, not too thick so that your food takes ages to cook and not too thin meaning that everything burns.

Coastal Cuisine Cedar Grilling Planks
These Cedar grilling planks by Coastal Cuisine are really popular because they will be ready to use after a mere 30 minutes of soaking in water. That means you can get started cooking quicker, giving you more time to spend with the family when everything is prepared and ready.

Looking for a gift for the outdoorsy chef? These grilling planks would be a great present for a barbecue lover as they are neat and come with handy use instructions on the boards for first time users.

The grilling planks hold plenty of food and are perfect for cooking pork, poultry, fish, wild game, lamb, beef and other cuts of meat. You can also use them to grill vegetables or fruit as the sweet taste of the wood will sink into the food, giving it a rich unique flavor.

Premium Cedar Planks for Grilling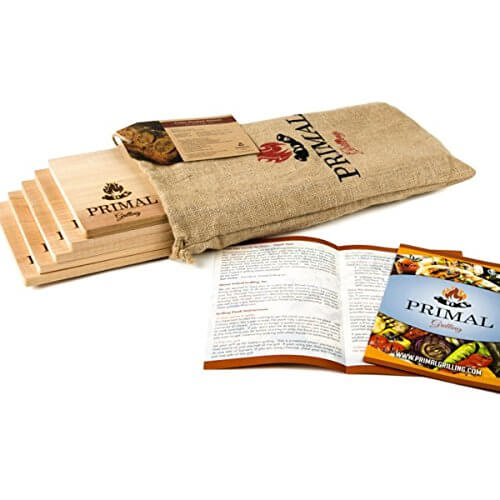 These Cedar planks are great as they have been designed for repeated use. They have been made up to 7/16 inches thick, so that you can sand them down, wash them, soak and then reuse.  

Are you new to grilling planks? Not to worry as these cedar planks come with a useful instructions and recipe booklet, which will guide you on what to do to get the most out of your planks and will also give you a tasty grilling idea for the weekend.

Smoke is great at a barbecue, but I'm sure you will agree that too much of it can just be annoying. That is why each of these planks has been strategically dried in a kiln, meaning that they will absorb more water when soaked. As a result you will be able to grill a mouth-watering meal for the whole family this weekend without the excess smoke putting a damper on the occasion.  

These cedar planks also come with a burlap storage back, perfect to keep all the mess of cedarwood together and can also act as a gift bag should you want to give the planks away as a present.

XL Large Cedar Grilling Planks
Looking to grill a full fillet of salmon? Or have you got the whole family coming over this weekend and are looking for something that will help you keep up with the demand of a dozen hungry bellies? Then these extra large cedar grilling planks are for you.

These extra large planks measure 7 x 15 x 33 inches and will give you enough space to place 4 – 6 servings of food on top of them. That's enough room to balance meat on one side and vegetables on the other without the flavors being interfered with.

Stuck for ideas on what to cook for the family at the weekend? Then this 6 pack of XL cedar grilling planks has got you covered as it comes with a handy e-book full of recipes that have been developed especially for wood grilling.

BBQ Pit Boys Grilling Planks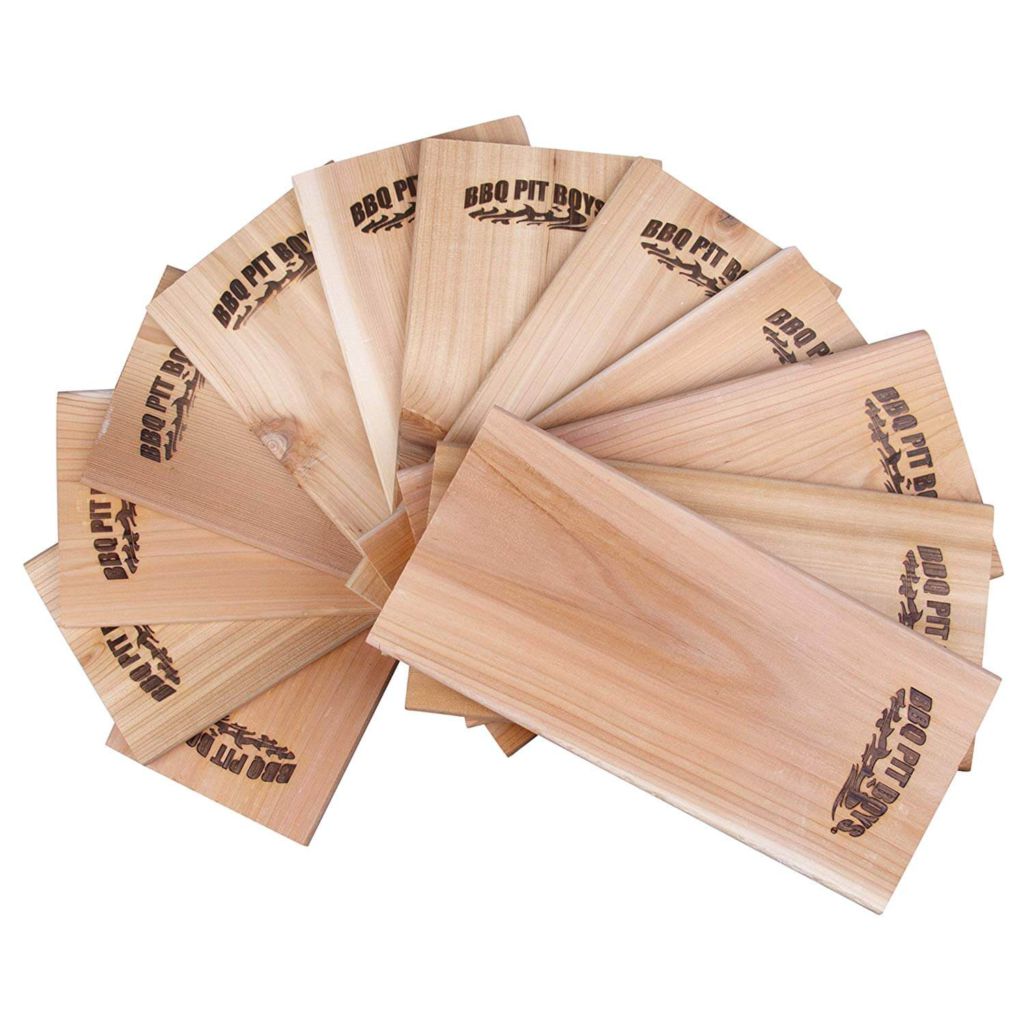 Here is another all-round great set of grilling planks. This set comes with a 12 pack of premium cedar grilling planks that will help you to give a rich woody flavor to your poultry, fish, beef, lamb, wild game or pork.

The BBQ Pit Boys have given these grilling planks an extra chunky cut, meaning they will smoke more and give off a more intense flavor. Simply soak your boards, season your meat or fish, place it on top of the grilling planks and away you go.

Soak these planks for at least 20 minutes before using to help them reach their maximum potential.

Case of 50 Small Cedar Grilling Planks Plate Size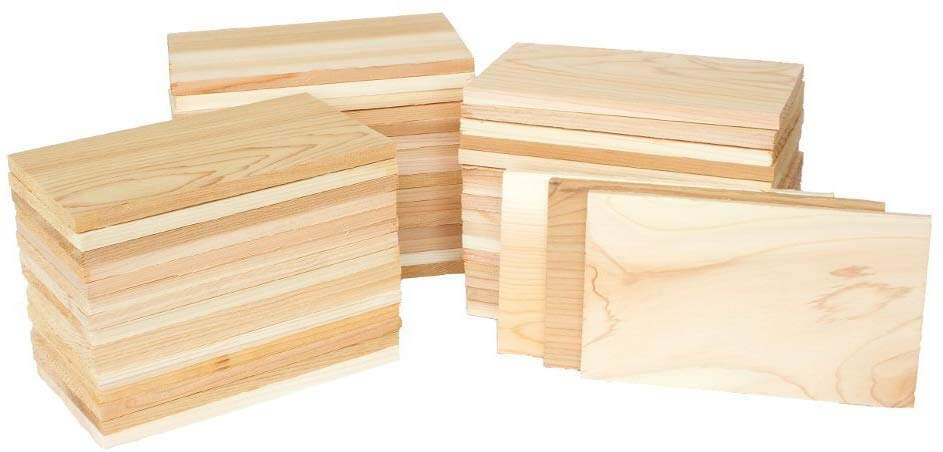 Are you ready to enhance the flavor of your food? Then you will love these Cedar planks by Wood Fire Grilling Co.

What makes this pack so special? This set of grilling planks comes in a set of 50 – the perfect amount to keep a chef busy in the kitchen or to add to the collection of those who simply love to do a lot of cooking on a grill.

Another great thing about these cedar planks is that not only are they fantastic for grilling on, but they are also perfect for presenting your food on to guests. Laying your freshly grilled food on a cedar plank will help to give your food an extra rustic edge and will really wow your guests at the next family gathering.

Try out these grilling planks with milder meats and fish in order to bring out the sweet taste of the cedar.
What are cedar grilling planks?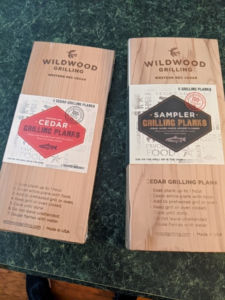 All of you barbecue lovers out there are probably wondering what all the fuss is about when it comes to plank grilling. You may be asking yourself what a cedar grilling plank is used for, where to put one and why you should choose cedar grilling planks over normal grilling with wood chips or charcoal. You may even wondering whether a wood plank can be used for grilling fish and other foods.

Don't worry as you won't have to read through endless pages on the internet about grilling planks in order to find out the answers to these queries, as this article has been created for open-minded flavor-seeking barbecuers such as yourself who are thirsty for knowledge and ready to try new methods.

So first things first, let's talk about what cedar grilling planks actually are. They are wooden boards that are set over heat on a grill. Food is then placed onto a grilling plank.

A cedar grilling plank is a grilling plank that is made from cedar wood and since there are many types of grilling planks out there, I will discuss them further a little later on.
How to use grilling planks?
So maybe you have already purchased a grilling plank and are all set to go but not too sure about how to get started. Or perhaps you are curious about grilling planks and want to check out the method before signing on the dotted line. Whatever category you fall into, I am delighted to help you to understand just how to use a cedar grilling plank so that you can get your grill-on this summer.

Have a look at the following steps in order to learn how to use cedar grilling planks and see tips on how get the best use out of them this barbecue season.

For an intense flavor:
Start by creating a two zone indirect fire on the grill. You can do this by moving all of the coals on the top of the grill to one side, leaving the other side of the grill empty. This will create a direct heat zone (coal side) and an indirect heat zone (empty side).
Place an empty plank over the direct heat zone until it starts to blacken and smoke, then flip the plank and place it on the indirect heat zone and place the meat on the charred side of the wood.
Cover and cook.
This method is fantastic for intensifying the flavor of your food as it will give your meat or fish a deeper wood flavor.

For a less intense flavor:
Create a two zone indirect fire on the grill by moving all of the coals on the top of the grill to one side, leaving the other side of the grill completely empty. This will create a direct heat zone (coal side) and an indirect heat zone (empty side).
Place an empty plank on the indirect heat zone and place the meat on top.
Cover and cook.
With those instructions under your belt you may be asking yourself "can you reuse cedar planks for grilling?" Or "can you reuse any planks for grilling?"

The short answer is yes, you can. But there are also a few things to bear in mind if you are going to reuse cedar planks. Use the following tips as a guide to help you:

Only reuse the grilling plank if it is still in good shape to do so, meaning that it hasn't split, badly broken and is not heavily charred in a way that would inhibit you from using it effectively. For the best chance of being able to reuse your grilling planks cook using the indirect heat zone method mentioned above, but bear in mind that using this method will drastically affect the taste. You should also note that the longer you use a grilling plank the more charred it becomes so it is better to reuse the planks that have been on the grill for a shorter amount of time.
Some of the essential oils from the wood will have been absorbed into the meat from the first round of grilling, so you cannot expect to get the same level of intense flavor on the second or third time around using one grilling plank.
Grilling planks cannot be cleaned with soap so your food will have a taste of whatever you last used the grilling plank to cook, so if you are thinking about reusing one, it is a good idea to use the grilling plank to cook similar foods or cuts of meat so as to not alter the flavor too much.
So now you are all clued up it is important to know just how to go about cleaning a grilling plank if you are planning to reuse one. Here are some simple steps that will help you:

Scrape any food off of the grilling plank that was left behind from the first use.
Rinse under warm running water (do not use soap).
Soak in a bucket of tap water for 1-2 hours before reusing, (hint – soak the planks in wine or apple juice to give them a little extra flavor).
Types of grilling planks
So maybe you are aware that there are different types of grilling planks but not too sure which would be the best cedar grilling planks. Or maybe you are a fish lover and are looking for the best wood planks for grilling fish and seafood. If you are an avid griller it is possible you have heard about hickory grilling planks but are not sure about when they would be effective.

The world of grilling planks may seem like a little bit of a minefield so use the following grilling plank guide to help you make the best decision before purchasing.

The best wood planks for grilling fish:
Cedar grilling planks. Famous for matching perfectly with salmon.
Red oak grilling planks. Extremely versatile and goes well with various types of fish.
Alder grilling planks. Has a great earthy flavor that makes a nice pair for seafood in general.
The best wood plank for grilling poultry:
Cherry grilling planks. A classic match for chicken and turkey meats as it transmits a sweeter and fruitier taste than other woods do.
The best wood planks for grilling pork:
Cedar grilling planks. Bring out a fragrant flavor in pork chops.
Maple grilling planks. They have a more subtle flavor that is a great accompaniment to pork.
Red oak grilling planks. These planks have a medium flavor, stronger than that of maple grilling planks and help to give your pork a more punchy flavor.
The best wood planks for grilling lamb, beef, wild game and other meat:
Hickory grilling planks. Because of its intense flavor hickory is a favorite to give an extra kick to meat that already has a strong flavor.
Red oak grilling planks. The strong flavor on these planks is a great match for these meats.
FAQ
Are cedar grilling planks reusable?
Technically speaking, the grilling plank can be reused if it is is still in good shape after the first use but it will take on the flavor of whatever you grilled on it.
How do you prepare cedar planks for grilling?
Soak the cedar planks before cooking with them for 15 minutes in warm water.
Conclusion
Take from me when I say these grilling planks add another element to your cooking that is well worth the small price.
The shielding effect they have allows your food to cook just they way it was supposed to without getting too hot.