Table could not be displayed.
If you want the comfort of grilling meat and getting that amazing charcoal flavor then getting a the best gas and charcoal grill combo with smoker is the best option for you.
Not only can you easily maintain and manage the temperature in this smoker combo but you can even achieve that smoky bbq taste as well.
To help you understand and choose the ideal combo smoker we have listed down some of the best grill smoker combo below. We have also included all the useful information that you require on how to operate smoker combination and every other information on charcoal grills as well.
So, without any further delay let's have a  look at the top charcoal gas smokers grill combo below.
Top 3 Gas Charcoal Smoker Grill Combo Reviews
Smoke Hollow TC3718SB Combo Grill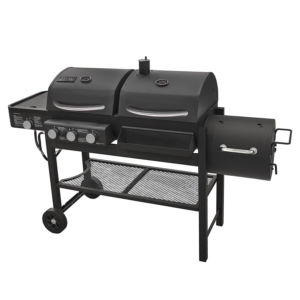 If you are in a hunt for buying a gas charcoal combo smoker then you must have a look at this amazing grill smoker by Smoke Hollow.
Overview
This smoker by Smoke hollow is a two in one combination grill that also comes with a side burner just for your convenience. This one is a full stainless-steel burner and has a complete black exterior.
Features
Whenever it comes to setting up an outdoor bbq party and these smokers are the best equipment for you.
Not only can you control the temperature better with this smoker combination but you also don't have worry about losing that amazing smoky charcoal flavor which you don't get in any other normal gas smoker.
This combination grill has got cooking grids and flare guards that have been coated with porcelain. Not just that, the equipment comes in with 2 warm racks that have been coated using chrome plating.
Pros
Has temperature control feature
Easy to operate
Can bbq in large batches perfect for family gatherings
Cons
The smoker tends to leak and need to be sealed
Not sturdy and long-lasting
The knobs tend to melt from the extreme heat of the bbq
Smoke Hollow 6500 Grill Smoker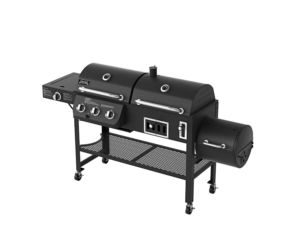 If you are someone looking for a more advanced combination grill, then we have got you covered and have just the one you would like.
Overview
This grill smoker combo is another one of Smoke Hollow creations and is one of the very best smokers in the market. It is a 4 in 1 combination burner with 3 burner gas grill and a charcoal grill and also comes along with a side burner.
Features
This smoker has got 3 controllable gas grill burner made from stainless steel with electronic ignition. As this smoker combo is made from stainless steel it is very durable and will last its shiny look for longer.
This smoker combo has further got cooking grids made from cast iron and also has got arming racks as well and all of these are coated with porcelain.
The charcoal grill has also got temperature gauges and an adjustable pan with grate along with cooking grids.
This grill has also got a firebox which includes an access door at the front and on the side and comes with an air damper control.
If you are a passionate cook and love outdoor BBQ then this smoker combo is just the perfect match for you. It is very convenient for outdoor cooking and extremely easy to manage as well.
Pros
Great for bbq gathering
Very easy to operate
Has temperature control feature
Cons
Difficult to assemble and put together for use
Chargriller grill smoker combo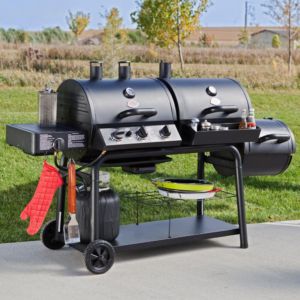 Are you looking for the best gas smoker grill combo, then look no more as we have found you the perfect match.
Overview
Considering the fact that these gas smokers and grill combos don't come in cheap you must do some research on which one to pick before buying one.
Char-Griller has got one of the most spectacular trio gas charcoal smoker and grill that you can find in the market.
Features
Not only is it best in terms of quality and performance but has also got a great black outlook that looks marvelous at the backyard of your house.
This combo grill has got electronic ignition on each of the burners. It is made up of stainless steel and is therefore very durable and long lasting.
The grill has got built-in warming racks and dual stack for providing you with uniform heating on the grill.
This machine comes in with utensil hooks, an ash pan to slide the ashes into without creating a mess, adjustable charcoal grate on the firebox that is also adaptable to use as bbq smoker.
This trio gas grill also has got side burners for your convenience.
has got space built in where you can hang all the accessories and utensils that you need during the bbq.
Pros
Comes with built in side burners
Excellent performance
Has built in racks for bbq accessories
Cons
Food tends to stick to the grill
Difficult to clean up after use
What To Look For In A Gas Charcoal Smoker Grill Combo
With summer approaching so fast everyone is busy and excited planning for those amazing BBQ parties out in the backyard.
After all, summer means hosting great outdoor pool parties and get together with family and friends in the open garden.
BBQ meals are the best kind of option when it comes to this outdoor get-togethers in the summer. Nothing tastes better than smoky grilled meat with a glass of chilled beer.
However, many people seem to get intimidated by the thought of setting up a BBQ. They often tend to dwell on whether to use a charcoal or gas smoker for the BBQ.
It can be indeed difficult to choose between a gas or charcoal griller and it is important to know each one function before you o and purchase one.
Charcoal is a great option for bbq as they tend to heat up pretty well and has high heat capacity which is not the case for gas grillers.
Gas grills don't tend to get as heated up as charcoal grills. The maximum temperature that they can reach is of 500 degrees but that is however more than adequate for BBQs.
Although charcoal grills get very hot in temperature, it is very difficult to maintain the heat on it. Whereas the gas grills are much easier to deal with and more user-friendly as you can easily adjust the temperature on it.
But one very important thing you miss out on gas grills is that smokey flavor that you achieve from the charcoal.
That flavor is what really enhanced the taste of the bbq meat.
So, which one to pick, a charcoal one or a gas one? Well, what if we told you can have the best of both the grillers?
How to Light Charcoal
If you are a fan of making delicious BBQs then this is one method that you must have knowledge about. It is very important to know how to light up the charcoal properly.
If you don't know the right way of doing it you might be spending hours on trying to light it and heat it up but fail to do so.
But worry no more as we have a great and easy way that you can see to light the coal up with.
One very easy method of lighting up the charcoal is using newspapers. All you have to do is:
Add some pages of newspaper into the chimney.
Light the pages up and allow it to heat up the charcoal and help them get to light up around the edges.
Try to have a look at the coals after a while to check whether the charcoal has started to become gray.
If you see that the coals have yet not turned gray then add on some more newspaper pages into the chimney.
Try pouring in some cooking oil prior to lighting up the newspaper. This will help it t burn for a longer time.
Conclusion
These three are the best quality combo gas and charcoal smoker grill in the market and you can trust any one of these to help you create succulent and delicious BBQs for your family and friends.