Our #1 Choice
Duxtop Whole-Clad Tri-Ply Stainless Steel Induction Cookware...
Cooks Standard 10 Piece Multi-Ply Clad Cookware Set,...
Cuisinart MCP-12N MultiClad Pro Triple Ply 12-Piece Cookware...
Calphalon Classic Stainless Steel Pots and Pans Set,...
HOMICHEF 14-Piece Nickel Free Stainless Steel Cookware Set -...





Cooks Standard 10 Piece Multi-Ply Clad Cookware Set,...

Calphalon Classic Stainless Steel Pots and Pans Set,...

From a range of kitchen equipment, you can almost never miss out on stainless steel. Stainless steel is one of the safest, long-lasting, and flexible material available in our markets today. Worry not, as this guide will present to you the best stainless steel cookware reviews.
It's a top choice among the most preferred materials for cookware. This has resulted in quite a number of stainless steel products, all with different properties. Thus, stainless steel shoppers have quite the range of products to pick from. More often than not, this leads to confusion on what exactly to purchase.
Firstly, it's important to understand the nitty gritty of stainless steel cookware. Stainless steel is a metal alloy of chromium and nickel in additions to other metals meant to improve the quality.
Chromium gives stainless steel its durability and non-rust properties. Nickel brings in the polished look and contributes fairly to the non–rust aspect of stainless steel.
The different proportions of chromium and nickel, give rise to the different grades of stainless steel. Properties such as durability and cooking temperatures are defined by the grade.
Proportions of these metals are indicated on the products, for example, 18/ 10, the first number indicates chromium percentages whereas the second indicates the nickel percentages. To access good quality grades, one needs to dig a little dipper into their pockets.
In this age of lifestyle diseases and flooding of substandard products in the market, it is essential to consider that stainless steel is health friendly. It is non-reactive, does not chip or bend easily, and does not add any form of flavor to the food- Quite a smart choice for cooking utensils!
What Is The Best Stainless Steel Cookware?
That said, let's get into our top 10 list of the best stainless steel cookware in 2018!

Duxtup Tri-Ply Induction Cookware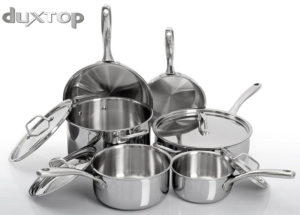 The best stainless steel cookware incorporates a three-layer construction. One of the layers is aluminum, in between two layers of steel.
Overview
This clad ensures even heating up too, the sides of the pan at the same time eliminating hot spots. The construction method used for this cookware ensures an extended lifetime.
Features
The cookware has a good handle that stays cool and has a superb grip. It is safe for dishwasher uses and handles around five hundred and fifty degrees F; thus oven safe.
It is freezer safe hence can be used for food storage. Duxtop Tri-Ply works on all types of induction cooktops including nuwave.
It also works on electric plates, gas stoves, radiant ceramic, and halogen.
Pros
Heat distributes evenly throughout the pans.
The handles are easy to grip and doesn't heat up while cooking
Compatible with all kinds of stovetop
Cons
Food sticks to the surface and therefore need to you a lot more oil.
Cooks Standard Multi-Ply Clad Cookware Set
The Cookware a steamer with lids, a sauté pan, a saucepan, and stockpot. This covers some cooking activities.
Overview
The handles are riveted, which ensures a strong bond, hence no movement whatsoever during handling.
The sauce pans come with lids that are a perfect fit and leave no spaces on the edges. The amount of nickel in this set is quite respectable; this keeps rust at bay.
Features
The Stainless Steel and nickel ratio is 18/10, on both the exteriors and interiors.
An aluminum core is used throughout for proper heat distribution in the multi –ply clad cookware.
Complementary lids are perfectly fit to seal in flavor in the moisture.
The cookware works efficiently on ceramic, induction, and electric glass.
Lastly, it is both oven and dishwasher safe.
Pros
Even distribution of heat and cooks evenly
Dishwasher safe
Handles are nice and strudy
Cons
The pans tend to stain and discolor over time.
Cuisinart MCP-12N Multiclad Pro Stainless Steel 12-Piece Cookware Set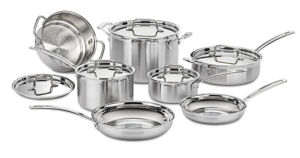 If only every night was a one-pot dinner night. As you know, life isn't that simple. Ever tried to make a lasagna using just one pan?
Of course not, that is why this cookware set was made to help you out on those days when you need to use a selection of reliable pots and pans to make a meal for the family. This twelve-piece cookware set will have you fully equipped for the next family get together.
Overview
Let's face it, one can never have too many pots and pans in the kitchen and this set from Cuisinart agrees. It comes with multiple saucepans, open skillets, a saute pan, a stockpot and a steamer, so that you can have everything you need to follow each recipe to perfection.
Cuisinart have been around as a company since 1973 and since then they have been constantly updating their products, including their cookware sets bringing you the top-ranking MCP – 12N Multiclad Pro.

Features
Dishwasher safe stainless steel cooking surface that will not discolor when exposed to high temperatures. Oven safe up to 550 Fahrenheit also safe for use with broilers.
Suitable for induction cookers.
Triple-ply construction makes sure that heat is evenly distributed and ensures maximum heat retention, locking in flavors for a better taste experience.
No more burns! The cookware set also has cool-grip handles making cooking safer.
Very smart brushed finish with mirror-polished interiors.
Pros
Perfect for everyday use in the kitchen
Handles are ergonomically designed
Easy to clean and dishwasher safe
Cons
The pans tend to scratch and wear off easily
Calphalon Classic – Best Stainless Steel Cookware Set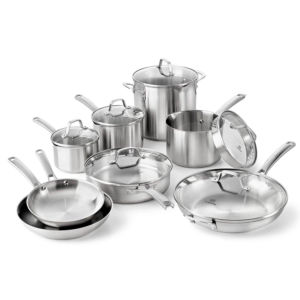 You may be wondering, but is it really possible to be stress-free in the kitchen? You will be happy to hear that the answer is yes.
Overview
With this Calphalon Classic Stainless Steel cookware set you will be able to create your masterpieces without worrying about food sticking; burning your hands on hot handles or even looking for that colander that always seems to be missing.
Why? Have a look at the features below to see why so many people are raving about this brand.
Features
This cookware has aluminum bases meaning that food cooks quickly and heat is distributed across the whole pan, minimizing the chances of food sticking.
The set has long handles that remain cool while cooking and provides a secure grip.
The rims of the lids have draining holes meaning you can drain the liquid from your pasta or boiled potatoes without having to use the colander.
It has a complete set of frying pans, saucepans, a saute pan and a stockpot. The perfect pot for every meal.
Pros
Cooks food evenly
Doesn't wrap under high heat
Even distribution of heat around the pan
Very durable and strudy
Cons
Gets discolored and looses the shine
Hard to clean and surface tends to stain
HOMI CHEF 14-Piece
This pots and pans set is perfect for nickel allergy sufferers. Nickel allergies are extremely common and if you get that irritating itchy feeling when wearing earrings, jewelry with metal clasps, buckles or from the metal on your glasses, you should try using these nickel free best stainless steel pots and pans from HOMI CHEF.
Overview
This set comes with saucepans, a stockpot, frying pan, saute pan and five cooking utensils, perfect for any occasion.
Have a look at some of the features to see just what this allergen-free pots and pans set can really do.
Features
Tri-ply base construction ensures that food cooks evenly and heat is well distributed to avoid food sticking in some places while remaining uncooked in others.
Stainless steel handles stay cool even when the cookware is in use for a long time and exposed to high temperatures.
Nickel-free means allergen-free and also better heat conduction. Studies have shown a 12-15% save on energy when using nickel free products over normal stainless steel cookware.
Keep an eye on your cooking with the tempered glass cooking lid that circulates moisture better and helps you keep on top of what is going on under the lid.
Pros
Great value for the price
Very easy to clean
Food doesn't stick to the surface
Cons
The coating on the pans flakes off
Duxtop Induction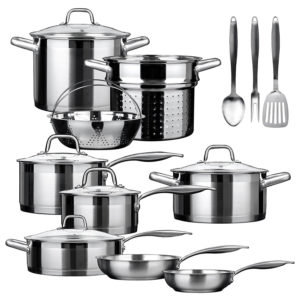 This cookware has a considerable number of complementary products.
Overview
Apart from the stock pot, sauce pans, fry pans and sauté pan; the package includes a 9.5-inch steam basket, three pieces of kitchen tools, and a pasta basket. The weight of the cookware is just perfect for induction.
Features
The grade of stainless steel is 18/10, with aluminum bonded on the bottom for distribution of heat.
Handles used for this cookware adhere strictly to ergonomics and have an additional satin finish to avoid slipperiness.
The cookware fits in with a range of cooking appliances and is both dishwasher and oven safe.
Warranty is lifetime limited, which is consumer friendly.
The technology used is somewhat advanced and out of the norm.
Adhesives are not used for any bonds; rather, the friction process is used to form bonds.
A bonding machine is used forms the bonds through pressure and friction. This ensures a safe attachment between the disc and the base of the pan.
Pros
Very durable pots and pans
Made of excellent quality
Cooks food evenly
Cons
Loses shine, discolor and rust over time
Wearever

Beautifully crafted using, stainless steel, the cookware provides a long-lasting performance in the kitchen.
Overview
If you are looking for an all in one cookware set for your kitchen to cover all your daily cooking with then this is the one for you. This set contains all the basic necessary items that you would need for regular use.
Features
For convenience, the set has pour spouts to ease pouring and straining lids for easier straining.
The handles are ergonomically made to ensure maximum comfort during use.
The pans are oven safe up to about 500 degrees F.
Heat distribution is even for desirable results when cooking.
Pros
Compatible with induction cooktop
Very durable and thick
Heats up well and evenly
Cons
Tend to discolor over time
The pots and pans are very heavy on their own and might be difficult to handle while cooking larger portions of food.
All-Clad Ply Bonded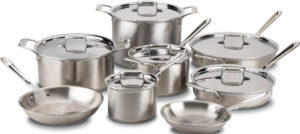 This product is a well thought out product, made out of passion and love for the cooking culture.
Overview
Standards are not compromised on any stage of production for an excellent performance.
From time to time, these products are innovated and changed to confer with the standards of continually evolving needs in cooking.
Features
The grade ratio of stainless steel stands at 18/10, one of the best in comparison to other cookware products.
All-clad products do not react with the food and are compatible with a range of cooktops.
Stainless steel rivets are used to fasten the handles for safety standards.
The set includes a variety of products such as stock pots, fry pans, sauce pans, and lids.
Pros
Excellent in terms of quality
Easy to clean
Durable and sturdy
Handles don't heat up while cooking
Cons
Falls on the more expensive end of the list
Duxtop Tri-Ply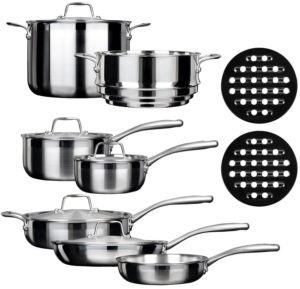 The cookware has an eight inch, pan, a ten inch pan with a lid, a handle helper and lastly a sauté pan with a lid.
Overview
Methods of construction used for this particular cookware ensures resistance to hot spots and an even distribution of heat to the sides and the bottom surface.
Features
The handle is of stainless steel and is fixed using rivets on the pan.
This cookware is compatible with a number of appliances including dishwashers, freezers, ovens, and a range of heat sources.
Warranty is restricted to the lifetime.
Pros
Heats up well and cooks food evenly
Comes with a lifetime warranty
Oven proof
Cons
Hard to clean
Stains and discolors very readily
T-fal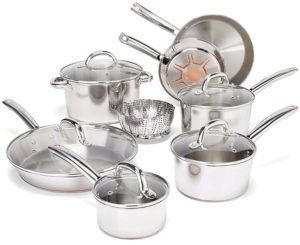 T-fal products are designed to provide for day-to-day cooking needs.
Overview
The fry pan is very suitable for browning and searing some delicacies'-T-fal has a Dutch oven that has a large surface area at the bottom. Saucepans are high and have small surface areas, which provide proper properties for activities such as boiling.
Features
The cookware has thirteen pieces, which include eight inch, twelve inch, ten point ten fry pans, a stew pot, and saucepans.
The base of the cookware has multiple layers for durability and is coated using copper for faster heat transfer.
Handles on the product are specifically designed to ensure safety and comfort during handling.
Lids are made of glass, which allows one to watch the cooking process.
On the lids, there are vent holes that allow steam to escape.
The set is oven safe to about five hundred degrees, dishwasher safe and compatible with induction.
The warranty is limited to the lifetime.
Pros
Easy to observe food as it cooks through the glass lids
Oven safe up to 500 degrees
Very durable and sturdy
Easy to clean after use
Cons
Food tends to stick to the pan while cooking which is somewhat normal when it comes to stainless steel cookware
Duxtop Whole-Clad Tri-Ply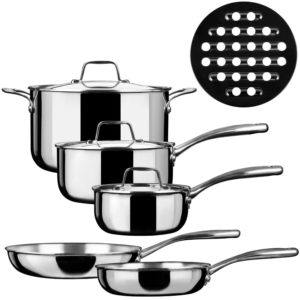 The set comes with two pans of different sizes, a saucepot, sauce pan, a handle helper, and a sauté pan.
Overview
The Tri-play stainless steel that is wholly cladded keeps hot spots at bay at the same time beefing up even heat distribution.
Features
Handles are stay – cool, with a perfect grip and fastened with rivets of stainless steel to the pan.
The cookware is dishwasher compatible, safe to use in the oven and appropriate for storing food as it is freezer compatible.
It works on a range of heat sources including radiant heat.
Pros
Heat distributes well throughout the pans
Handles remain cool while cooking
Dishwasher safe anf easy to clean
Cons
Tends to stain and discolor easily
ELO Premium Black Pearl Cookware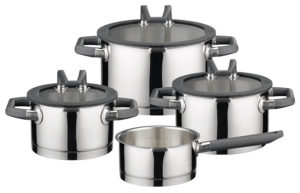 Elo Company has been around for quite some years, which makes their products more sensitive to consumer needs. Their products are German engineered and of high quality.
Overview
This set consists of perhaps the most kitchen pieces one could ever bargain for. The Black Pearl cookware is one of the best globally, from one of the top ranking brands.
All the pots and pan are of stainless steel at a ratio of 18/10. Aside from incorporating glass in their lids, they have used a silicon rim in case of breakage. Lids are easy to pour from due to their design.
Features
Measuring scales are in the interiors of the cookware.
The handles are nylon thus resistant to heat.
Black Pearl saucepans can hold up to 1.3 liters. The casserole pot can carry about 1.8 liters whereas the eight-inch pot can hold up to 3.3 liters. The largest casserole pot, which is 95 inches, holds 5.3 liters.
Elo offers a six-year warranty on all their products. Black Pearl cookware is compatible with a range of appliances right from heating to storage and cleaning. They are ready for use with electricity, glass ceramic stoves, induction, and gas.
Additionally, they have a high heat resistance of up to 170 degrees Celsius.
A proportioning system is integrated to provide for even distribution of heat.
Pros
Heats up well
Cleaning up is easy after use
Handles remain cool while cooking
Cons
The bottom of the pan discolors very easily
KitchenAid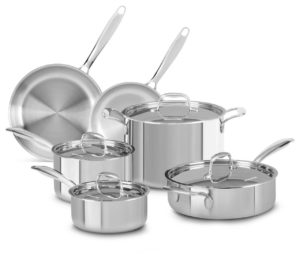 The technology used in this brand is the three-layer technology for even heating.
Overview
This cookware set contains all the necessary items that you will need for regular use. This Kitchenaid cookware is made up of a 3-layer design with a stainless steel base.
Features
The base is of stainless steel and stays flat on all cooking surfaces.
The inside of the cookware has etched markings that aid in measuring.
A sturdy handle is used on the pans and pots to ensure efficiency when removing the cookware.
The lids assume a domed shape and are made of stainless steel.
Pros
The pots and pans are all dishwasher safe
Handles are welded on
Cooks food very well and evenly
Cons
The handles do tend to heat up significantly while cooking
Duxtop SSIB17 Professional 17 Pieces Stainless Steel Induction Cookware Set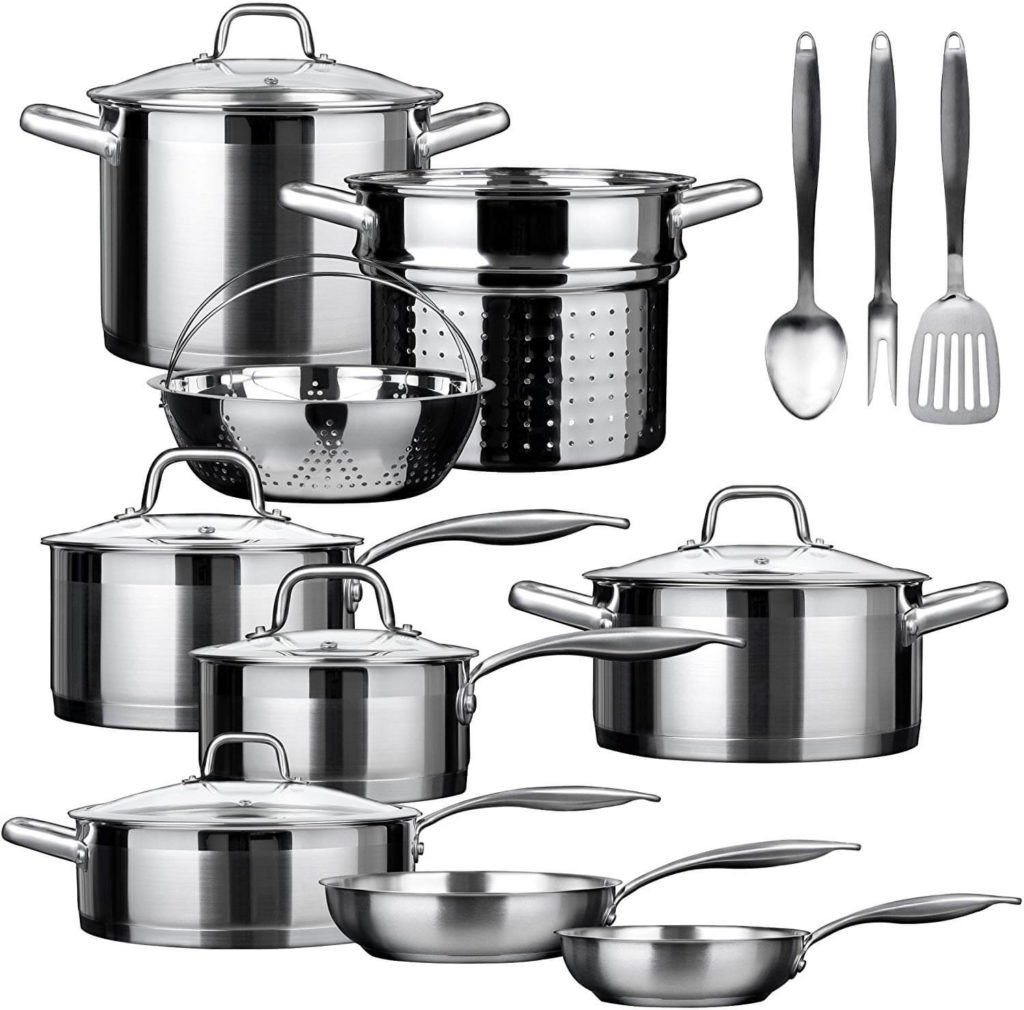 Here is a fantastic stainless steel cookware and utensil set with just about everything you could possibly need to get a headstart in the kitchen.
Overview
The set includes 2 frying pans, 2 sauce pans with lids, 1 stock pot with a lid, 1 casserole pot with a lid, 1 saute pan with a helper and lid and a pasta basket and a steam basket.
But, it doesn't end there as this stainless steel cookware set also comes with 3 essential cooking utensils – a serving spoon, spatula, and a sausage tong.
Features
This set is dishwasher safe.
This stainless steel cookware safe is oven safe up to 550 degrees Fahrenheit and is also freezer safe.
The handles on this cookware set have been ergonomically designed to fit like a glove in your hands and have been coated with a non-slip satin finish to ensure you get a good grip on your pots and pans.
Pros
Dishwasher safe hence, cleaning is a breeze
Handles are ergonomically designed
Oven safe up to 550 degrees
Cons
The pans readily looses its shine over time and catch rust
Seasoning Stainless Steel Cookware
Looking for that non-stick pan effect on a budget? You are just on time. Any stainless steel pan can be turned into a non-stick pan with just a little seasoning. At a low cost of a regular stainless steel pan, one can attain the properties of the quite costly non–stick pans. Such a steal!
To season a stainless steel pan, all you need is to expose a stainless steel pan to heating for about two minutes. The heating may be either medium-high or over a medium.
After heating, add vegetable oil to the pan, just enough to cover the bottom part of the pan. Once the oil is heated, and wisps of smoke start to show, turn off the heat. This should take about six minutes only.
Leave the pan to cool for some time then pour any excess oil. If there is any excess oil on the skillet, wipe it out using a paper towel. The glossy sheen that is left on the pan's base is the non -stick surface.
Seasoning works best with oils of high smoking points. Once the pan is washed, the non-stick surface is washed off as well. This means that seasoning is a repeated process. To extend the stay of the glossy sheen, one should avoid washing the pan regularly. A quick wipe will do the trick.
However, once the pan gets too gross, wash it off with hot water and soap. Then re-season. This may be cumbersome for some, but it is just a little price to pay.
On the other hand, they are quite easy to clean, and compounds used in stainless steel are quite consumer friendly. At the end of the day, it is still a win.
How To Use A Stainless Steel Pan Without Sticking
Even with the invention of non–stick pans, there is still a need for stainless steel pans. There are various reasons why one would go for a stainless steel pan. These include for activities such as browning and color development, accumulation of flavors or just general product preferences.
However, even with the majority predisposition to stainless steel pans, many still find themselves in the sticking dilemma. Most people do not understand how to go about the problem. Heat is a significant culprit in sticking. One only needs enough oil on the pan. This acts as a layer of protection between the pan and the food.
According to the human eye, all pans are smooth. However, under a microscopic view, there are divots on the surface of the pan that is filled by the oil. Once the food is put on the pan, the oil and the moisture from the food react to create a protective layer, making sure that the food is not in direct contact with the pan. Thus preventing sticking.
Heating the pan is also an integral step in avoiding sticking. Once you put food on the pan, the sizzling sound produced because of temperature difference means that the pan is well heated. In this case, the food is less likely to stick.
On medium heat, two to three minutes should be enough to heat the pan. Heating the oil and pan together may give you the illusion that the pan is hot enough. Technically, the oil will heat up faster than the pan.
In case you are not sure whether the pan is hot enough, the "TSS" test could come in handy. This involves putting a small amount of food on the pan. If the "TSS sound is produced, it means the food is cooking, and the pan is well heated.
The type of food also plays a significant role in sticking. Dry food does not affect the oil temperatures, thus does not stick. Alternatively, Cold food brings the oil temperatures lower, which leads to sticking.
Lastly, always clean your stainless steel pan appropriately to avoid any residues that may cause food to stick.
With all this information, note that you can never win with some foods such as eggs. They mostly stick even after much effort to prevent the sticking. In such cases, there isn't much one can do. Go with the flow or rather just get a non-stick pan.
How To Clean A Stainless Steel Pan
Stainless steel pans and utensils have quite the lifespan. To ensure good service over the years, it is essential to take good care of the pan.
After washing the pan, drying it immediately helps in the prevention of water spots. In case water spots occur, do not panic, the pan is still usable. Dampen the pan then rub the surface with a wet sponge that has some baking powder. Rinse usually after the rubbing.
After use, ensure that the pan is completely cooled before washing it. Soaking the pan in cold water immediately after use may cause warping, which is irreparable.
Be patient enough for the pan to cool then clean it. During cleaning, some cleaners and sponges are very abrasive. Bleach and other harsh scrubbers damage the finish on the surface of the stainless steel through scratching. Such cleaners may come in handy while cleaning a burnished pan. However, they cause more harm than good.
Using moderate heat while cooking will help control burnishing thus countering the need for harsh cleaners. There are also other tips that help in dealing with problematic areas. White spots that result from calcium residues in the water can be cleaned using vinegar and water.
Put vinegar and water on a pan in a ratio of 1:3 respectively. Let it boil then cool off. Continue with the usual cleaning process then dry it.
When food bits stick on the pan, use a non-abrasive cleaner for a first wash. For the second wash, fill the pan with soapy water then boil it.
During washing, the food comes off quickly. Regular overheating may cause pans to discolor. To offset this, use vinegar during cleaning or use the pan to prepare foods with high acidity such as tomato sauce.
For the toughest problematic areas, which are burnished areas, you could use Barkeeper's Friend or vinegar. In the first solution, use Barkeeper's Friend and water to create a slurry solution.
To remove the stains, use a soft sponge to scrub. While using vinegar, fill the pan with water then add about a cup of vinegar. Once the solution boils, stop the heating then add about two tablespoons of baking soda. Clean it afterward with a non-scratch cleaner.
Essentially, one should take great care when cleaning new pans or other stainless steel utensils as any scratching may rob you of your warranty.
The key is to avoid excessive force. Any material despite how strong is susceptible to a little scratch here and there.
FAQ
Can stainless steel rust?
Stainless steel is an alloy and will not rust or corrode under normal environmental factors.
Best Stainless Steel Cookware Conclusion
Stainless steel undoubtedly forms a vital part of the kitchen. The quality of cookware used reflects directly on the quality of food.
From the sea of stainless steel products available in the market, one should be able to choose the best stainless steel cookware for you.
Maintenance is a crucial component in ensuring the quality of cookware one purchases remains. Buying high-quality kitchenware with poor maintenance defeats the overall purpose. Choose wisely.
Do you have a favorite stainless cookware set? Let us know in the comments below!