Euro Cuisine WM520 Eco Friendly Heart Shaped Waffle Maker -...
Presto 03510 Ceramic FlipSide Belgian Waffle Maker,Black
Cuisinart Maker Waffle Iron, Double, Stainless Steel
BELLA Copper Titanium Coated Rotating Belgian Waffle Maker,...
Our #1 Choice
Oster Titanium Infused DuraCeramic Belgian Waffle Maker,...





Our #1 Choice
Oster Titanium Infused DuraCeramic Belgian Waffle Maker,...

Waffles are a fantastic family treat. There's nothing that screams relaxing Sunday morning better than a piping hot pile of fluffy, buttery waffles stacked high on a plate with lashings of butter dripping down the sides.
But sometimes, it is not the recipe that is the worry when it comes to making waffles, rather having the right equipment behind you to really serve up a mean breakfast. That is why this article has been prepared to help you choose the best non toxic waffle maker that will be safe and tend to the needs of you and your family.
Here Are The 6 Best Non-toxic Waffle Makers Reviewed
Choosing a non-toxic waffle maker is really important for your family. Have a look at these great models and their features before making a purchase.
Euro Cuisine WM520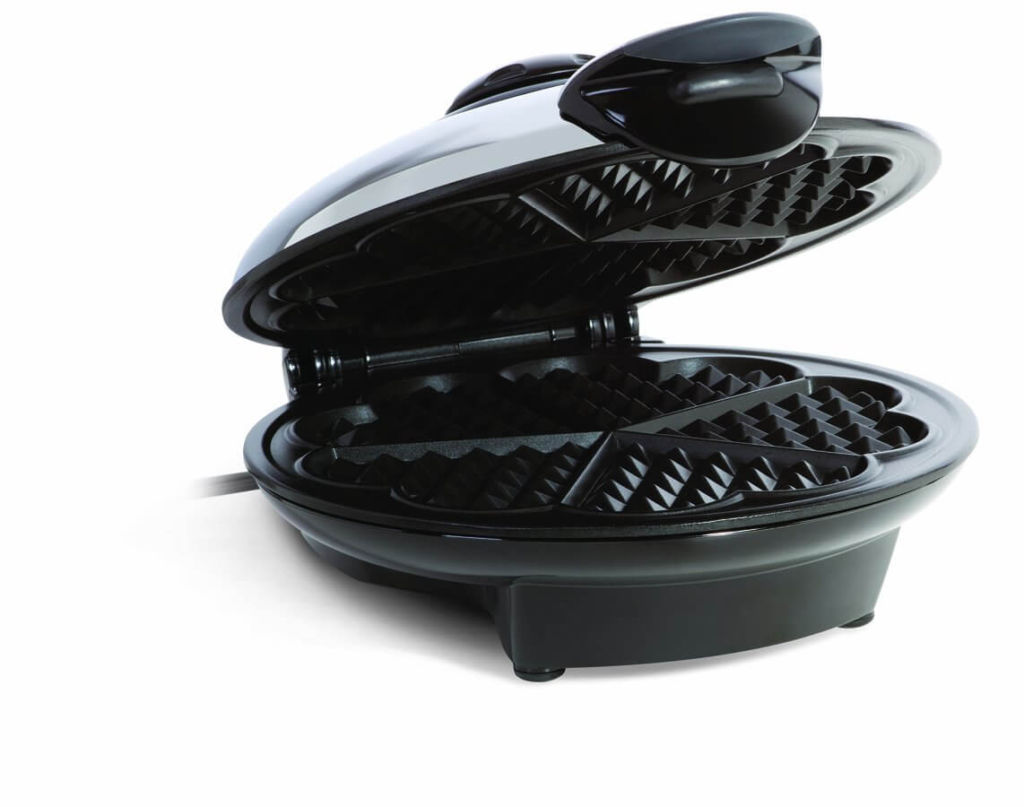 Here is an example of a really great waffle maker. Not only is it free from PTFE and PFOA which means that it is safe for you to use at home with the family, but it also comes with a few handy features that turn waffle making into a walk in the park.
Overview
This waffle maker consists of non-stick plates that can easily be wiped clean in order to clear the waffle iron of any build-up of grease or batter.
Make sure you used a non-abrasive cleaning cloth to wipe it over so as to keep its non-stick coating in tip-top condition.
It also has unique heart shaped waffle molds that give a little character to your waffles!
In general, this is an easy to use teflon free electric waffle iron.
Features
PTFE/PFOA free plates that won't stick
Eco Friendly
Temperature control in case you have different recipes to try
Tucks away nicely in a cabinet
Hardy exterior that won't scratch easily
Pros
Cooks in 3-5 minutes depending on the recipe you use
Ready light turns on when the waffles are done
The batter gets distributed easier than square molds
Great if you like thinner waffles
Easy cleanup
Cons
The waffles molds are not super thick like Belgian waffle makers
Plates are not removable
Doesn't heat evenly
You must take care of the irons to make the non stick feature last
Presto 03510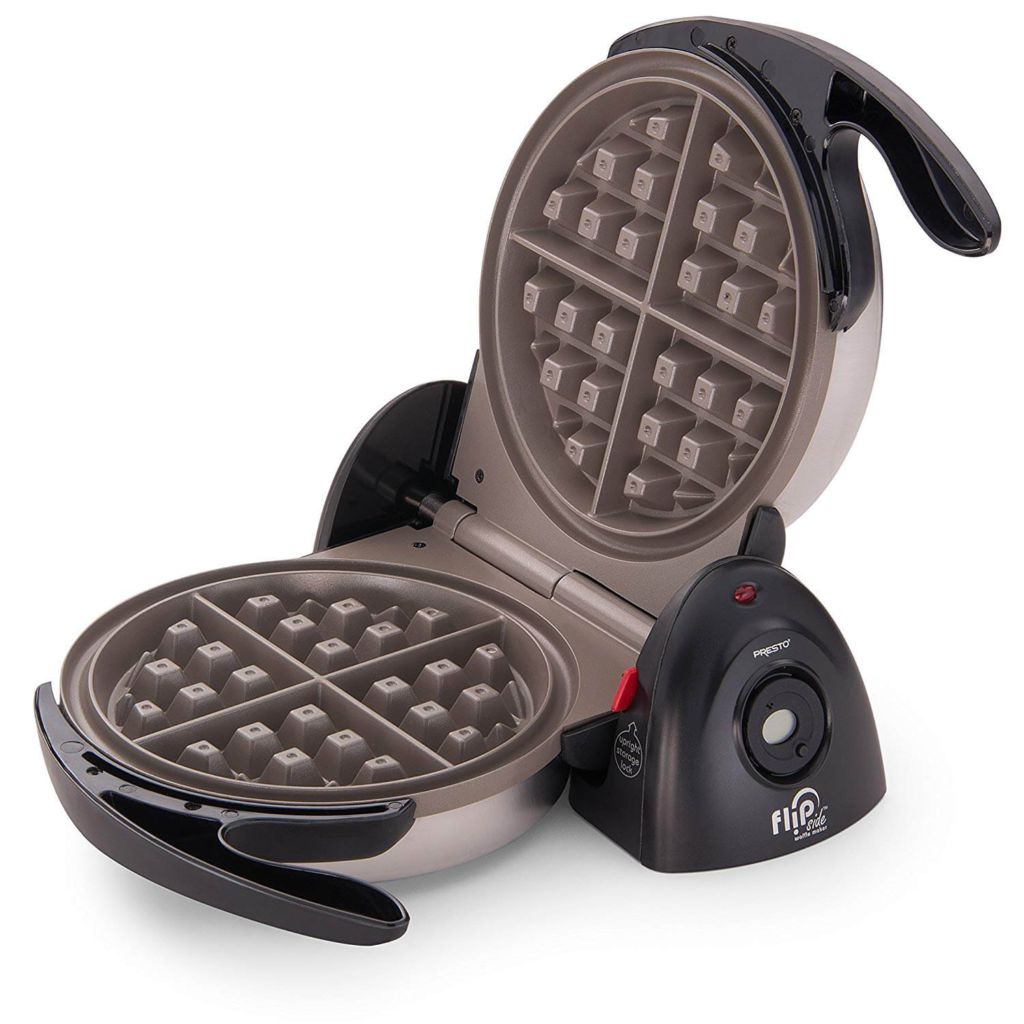 Here is another great waffle maker. What I love the most about it is its flip technology. Have you ever made a batch of waffles, the outsides crispy and golden and you remove them from the waffle iron, thinking they were done, only to find when you cut into them that they are still raw with uncooked batter in the middle?
Overview
There's nothing more frustrating and that is where this waffle maker comes into play. This Presto Ceramic FlipSide has been made with flip technology, whilst cooking you can completely flip the waffles, this helps to spread the waffle batter evenly across the plates and ensures that your waffles cook evenly every time.
It also makes the waffles come out with a more crispy outside and fluffy and bouncy texture on the inside.
If you like happen to like Belgian waffles this could be a great non toxic waffle iron that makes 7 inch waffles.
Features
Powerful 1,100 watts
Easy cleanup non stick plates that wipe clean
Flips over 180 degrees which helps spread the batter over the mold
Thick grids to make delicious Belgian waffles
Countdown timer that lets you know when your waffles are ready
Durable exterior made of stainless steel
Pros
Teflon free, ceramic finish
Cooks waffles in about 4 minutes
Digital timer so you know exactly how long until your waffles are done and even beeps to alert you
1 year warranty
Cons
Plates are not removable
Make sure you season the grate properly to ensure the non-stick feature lasts
No temperature adjustment
ZZ Heart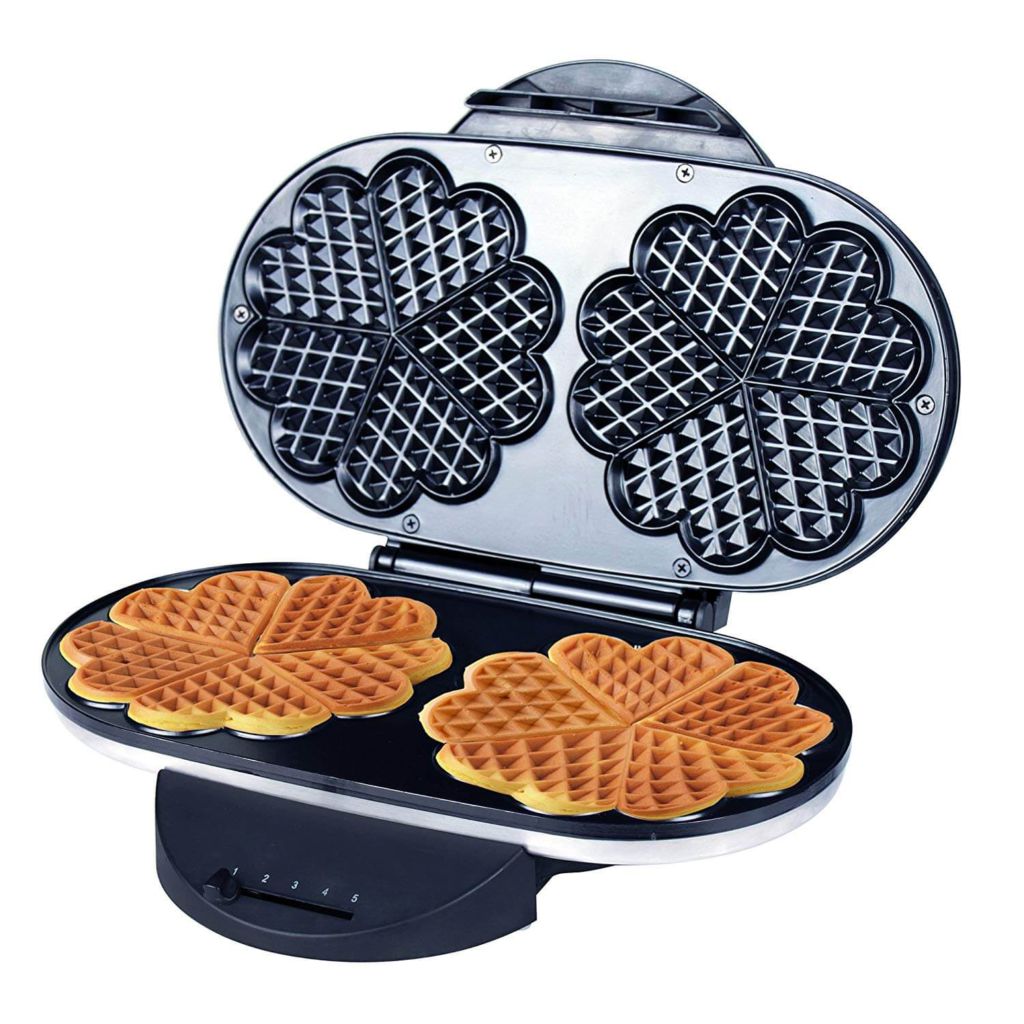 Let's be honest, some kitchen appliances are real eyesores. That is why I really like this waffle maker by ZZ as it comes in two very glamorous options, black or silver for you to pick the style you like the most. It can also be neatly tucked away in your kitchen cupboards to avoid clutter.
Overview
The ZZ Heart Waffle Maker features heart-shaped plates, meaning you can achieve a perfect loving waffle pattern, every time you grill. The 10 in 1 iron allows fast baking. More precisely, you can prepare 10 waffles in a few minutes.
Another handy feature of this waffle maker is the light indicator that will alert you by turning itself on when the optimal waffle cooking time has been reached. It is combined with the browning control, allowing for crispy waffles.
More importantly, you will never burn yourself again, as this waffle maker has stay-cool handles that will not heat up during cooking. Therefore, you can have a sneak peek at the waffles while they are cooking without suffering the consequences.
Features
10 in 1 Waffle iron
Light Indicator and browning control
Non-stick and scratch-resistant materials
The cooking surface is made of quantanium
The top cover is made of steel
Cord wraps 
Touch handle with a lock
365 days warranty
Pros
The surface is easy to clean
The light indicator assists your baking
The cord Warp allows for compact storage
You can set the perfect temperature
Easy to open and operate
Cons
The bottom part seems to be hotter than the top
It takes longer than a single heart waffle maker
It doesn't heat as much as it's supposed to
BELLA 14608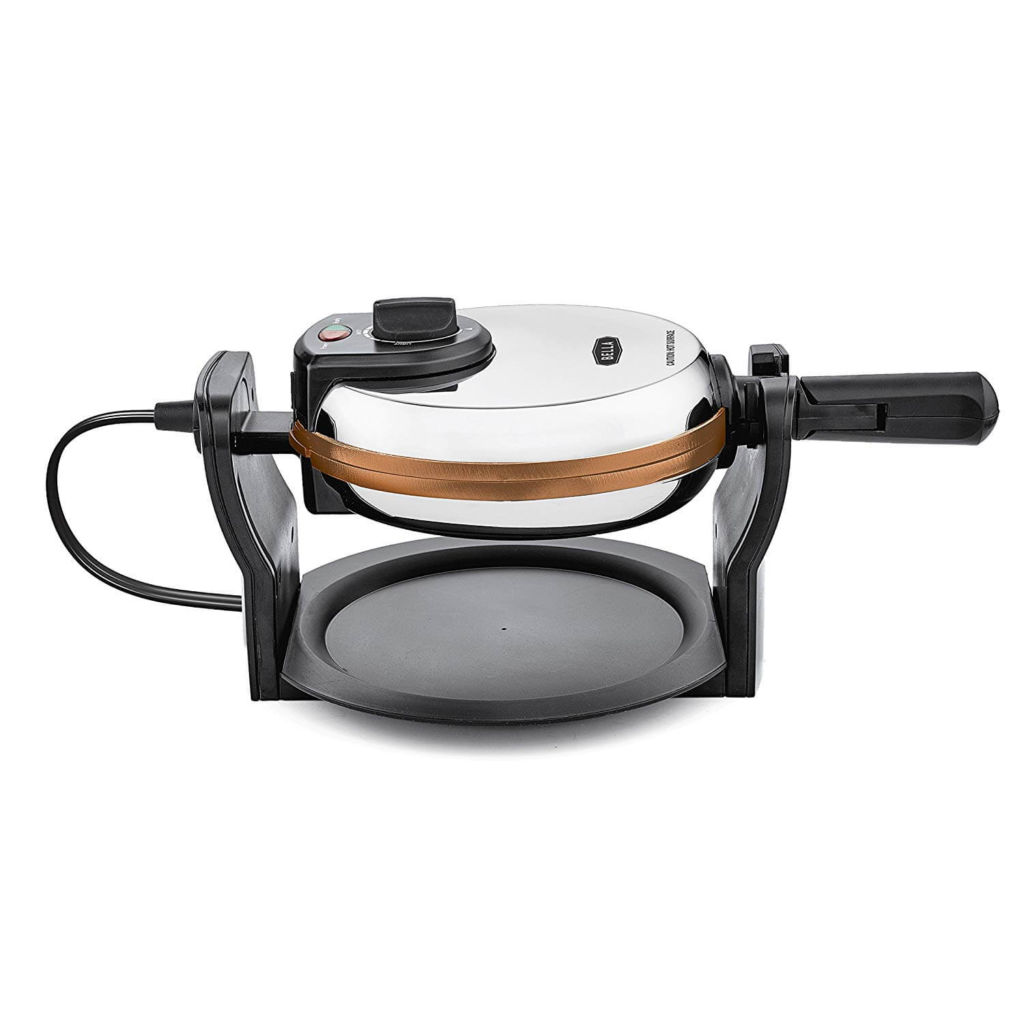 Have you been trying to make those picture-perfect fluffy waffles but not had much success? Then this BELLA Copper rotating waffle maker has come to save the day.
Overview
The BELLA waffle maker has a rotating feature that helps to spread the batter across the waffle plates. When the batter is evenly spread, the waffles come out with a crunchy outside and a plump and fluffy inside.
Are you craving a thick and chunky stack of waffles? Then this waffle maker is perfect for you as it makes Belgian waffles, and the deep grooves in the mol create the thickest and crunchiest waffles imaginable.
Another great feature of this waffle maker is the copper titanium coating which is 8 times more durable than the standard coating used on your run-of-the-mill waffle makers. This feature also helps the waffle maker to cook up to 30% faster than normal.
Features
Durable, heat resistant coating made of special ceramic copper
ECO-friendly materials
PTFE and PFOA free
Rotating function
Browning control with 9 settings
 Removable drip tray
Auto-Lock and Nonslip
Folding handle
Pros
Cooks faster than standard non-stick coatings
Allows for even cooking
You can choose the level of waffle darkness
Easy to use and clean
Prevents accidents in the kitchen
Convenient for storage
Cons
Quite difficult to open and close
The light doesn't always work properly
Oster DuraCeramic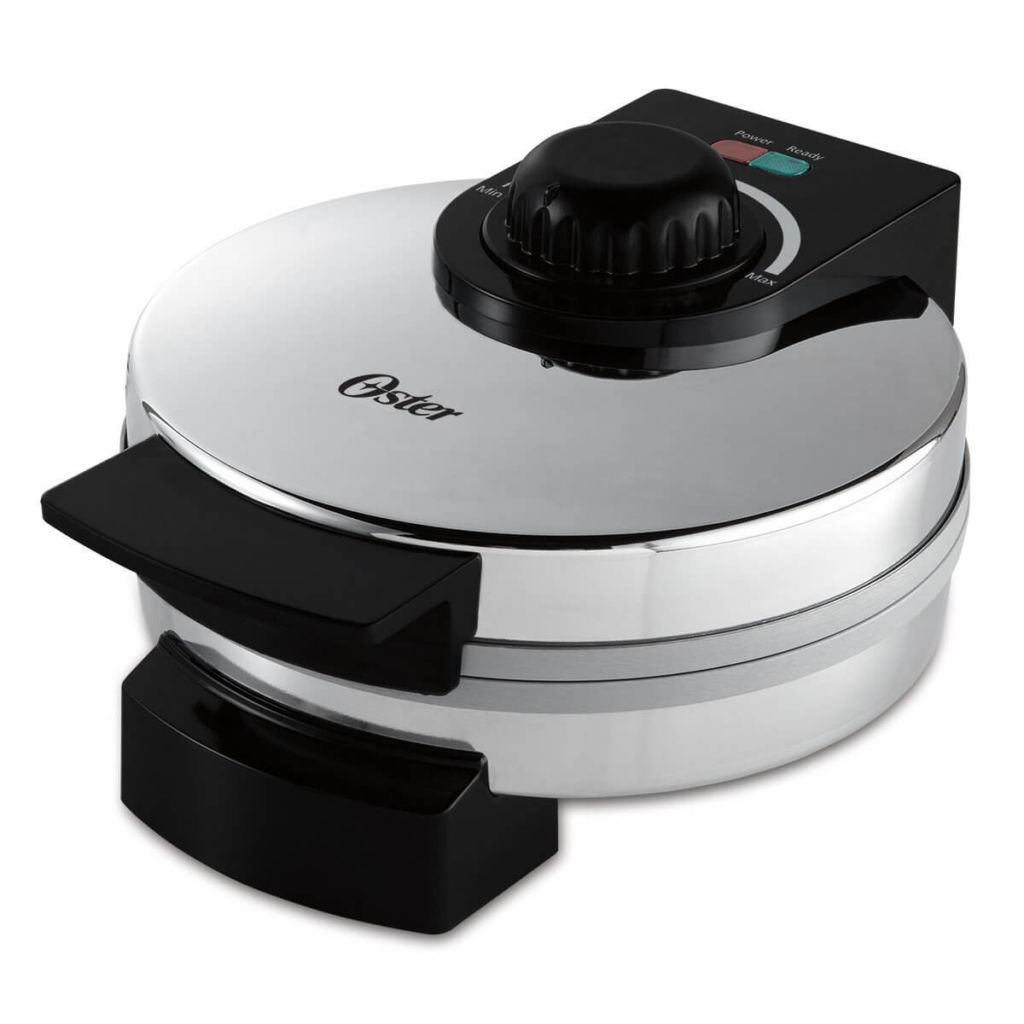 Now, this waffle maker simply screams high quality. Not only is it titanium infused, but it has a fantastic DuraCeramic layer on the mold which helps the plates to warm up faster than normal waffle irons. That means you can make a steaming hot stack of waffles for the family at record speed!
Overview
The Oster Belgian Waffle Maker has titanium-infused DuraCeramic coating, that can stay intact up to 8 times longer than the average nonstick coating.
The coating is also PTFE- and PFOA-free ceramic, meaning it won't peel easily, and you will clean it in a blink of an eye.
This waffle maker also comes with a temperature dial, that when turned will help you to make the kind of waffles you have been daydreaming about, be it soft and spongy ones, or golden brown and crispy ones.
Features
Titanium-infused DuraCeramic nonstick coating
Ceramic, PTFE- and PFOA-free coating
Adjustable temperature control
Durable and scratch-resistant
Pros
Cooks 30% faster than ordinary nonstick coatings
Lasts 8x longer than ordinary nonstick coatings
You can choose the waffle crispiness to your preference
Elegant design to fit in your kitchen
It will not flake or peel
Easy to use and clean
Cons
The plates are not removable
The bottom part heats more than the top
Cuisinart WAF F20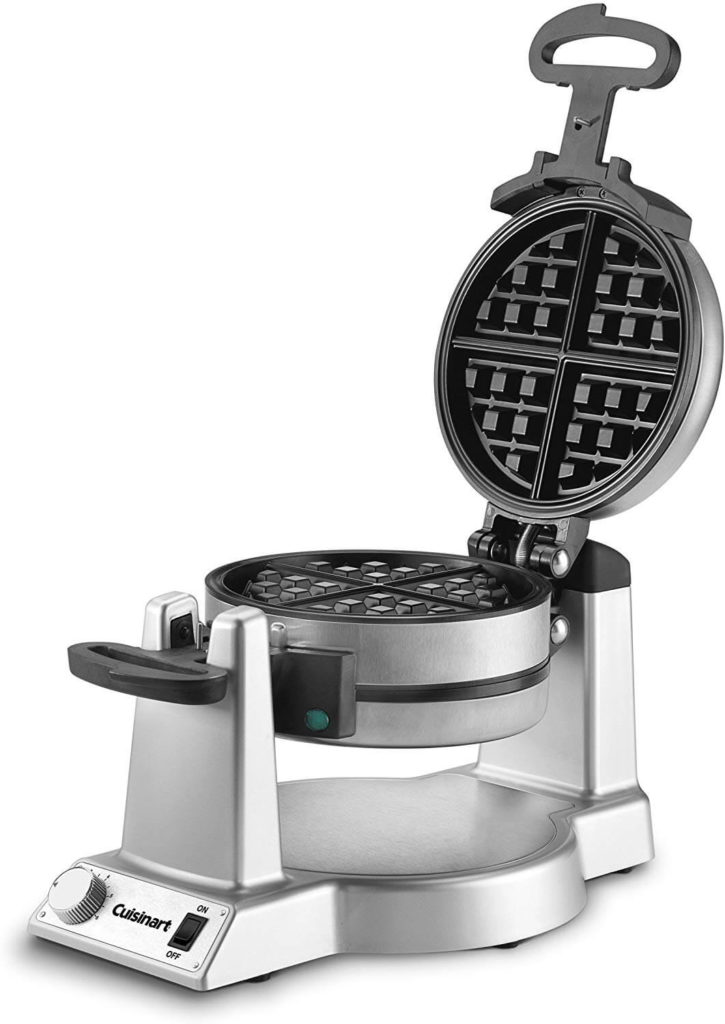 Do you aspire to make the thickest and fluffiest waffles in town this weekend? Then this waffle maker by Cuisinart will definitely help you out, as it produces waffles with a golden brown and crispy outside but a soft, spongy, and piping hot inside.
Overview
The Cuisinart WAF-F20 produces waffles that are 1 inch thick. What's more, it simultaneously bakes two Belgian waffles as opposed to one. Now that's what I call waffle heaven!
You can forget about your waffles sticking to the grids as the interior of this waffle maker has been designed with a nonstick coating. So, it is easy for your waffles to fall off of the surface when they have finished cooking.
The Cuisinart WAF-F20 also includes an easy-to-handle rotary feature that ensures your waffles cook all around without leaving behind any uncooked batter or burning them in the middle. There are also a measuring cup and a waffle maker unit included in the package. It will give you the perfect waffle results every time! Now it doesn't get better than that!
Features
Made of silver stainless steel
Simultaneously prepares two Belgian waffles
Measuring Cup and a waffle maker unit
Nonstick coating
Easy-to-handle rotary feature
6-setting browning control 
LED lights and audio beep
One year limited warranty
Pros
Bakes two 1-inch extra-deep waffles at a time
It provides professional quality
Waffles don't stick, allowing for an easy clean
Easy to operate and rotate waffles
You can choose the waffle crispiness level
Reminds you when the waffles are done
Even baking on the bottom and top
Cons
There are no interchangeable plates
Is Teflon a health risk? What is Teflon?
You may think, as many do, that all waffle makers are the same, that as long as they make waffles, that is all that we are really asking for from an appliance, but it is sad to say that the way that some waffle makers have been designed means that some of them are a lot safer than others.

Some waffle irons are made with teflon, something that you will not want hanging around in your kitchen. Why's that? Teflon is a coating that is used on non stick appliances, such as in this case, waffle makers. The chemicals in the teflon coatings are what can be harmful. If an appliance is left heating for a long time and starts to reach very high temperatures, the non stick teflon coating starts to break down and harmful chemicals are released into the atmosphere. Such chemicals can cause flu-like symptoms in children and adults.

That is why it is very important to look for a waffle maker that specifies being teflon free in order to ensure that your kitchen appliance is safe for your family to use.

Not sure which waffle iron to go for? Not to worry, as I have compiled a list of fantastic non toxic waffle makers that are all teflon free for you to bring home to your family. Have a look at the list of different makes and models and the specifications to make sure that you choose a waffle maker that comes with all of the features you need.
Why Are Waffles So Good?
If your family is anything like mine, waffles are a really important breakfast or dessert treat to be enjoyed with the perfect balance of tasty toppings.
What I love about them the most is their versatility, there is truly a waffle topping for everyone.
If you like more of a traditional-style waffle, try out the following toppings on your waffles:
Velvety Belgian chocolate and fudge sauce.
Sticky toffee caramel sauce.
Hearty Canadian maple syrup.
Looking for something a little more adventurous? Perhaps you have friends or family coming over this weekend and want to surprise them with a waffle recipe with some outside-the-box toppings. Or maybe you just want to treat yourself. Either way, you should definitely give the following toppings a whirl:
Stewed apple with caramel ice cream and a dusting of cinnamon.
Crushed Oreo biscuits with whipped cream and a drizzle of dark chocolate sauce.
Vanilla ice cream, chunks of double chocolate fudge brownie and vanilla sugar.
Unfortunately, we can't always afford to have too much of the above mentioned toppings without starting to feel it accumulating on the waistline. So here are a few of my favorite healthier breakfast waffle toppings that you will love and will help you to get one of your five-a-day before you have even left the house for work.
Sliced bananas with cinnamon dusting.
Plain Greek yogurt with blueberries.
Diced strawberries and cherries with low-fat raspberry yogurt.
Whatever your taste, there is a waffle recipe out there for you.
FAQ
Are waffle makers Safe?
Yes they are safe because ceramic nonstick waffle makers are PTFE- and PFOA-free
How do you clean a waffle maker?
Always clean the waffle maker after each use. Wipe Cooking Plate and overflow with a damp paper towel or soft cloth to remove food residue.
Conclusion
There are so many waffle makers on the market, so it is really important that you choose the right one, not only to ensure they will make a good batch, but also to make sure you pick one that will be safe for your family. So make sure that when choosing a non toxic waffle maker, you look for one with the following features to be sure that you purchase exactly what you need:
Teflon free! Keep your family safe from the possible harmful effects of Teflon by ensuring that the waffle iron you pick is free from Teflon.
Flip technology. Waffle irons that can do a 180 flip are really useful for spreading the batter and lead to the crunchiest yet fluffiest waffles.
Non-stick plates. These will make the clean up so much easier and means you can spend less time scrubbing and more time tucking into your stack of waffles.