Table could not be displayed.
Now we all know that Traeger smokers are some of the best smokers on the market. Why? Because Traeger smokers excel when it comes to ease of use, consistency of results and adding a great flavor to your food. 

Alternative To Traeger Grill Reviews (Alternative To Traeger Smoker Reviews)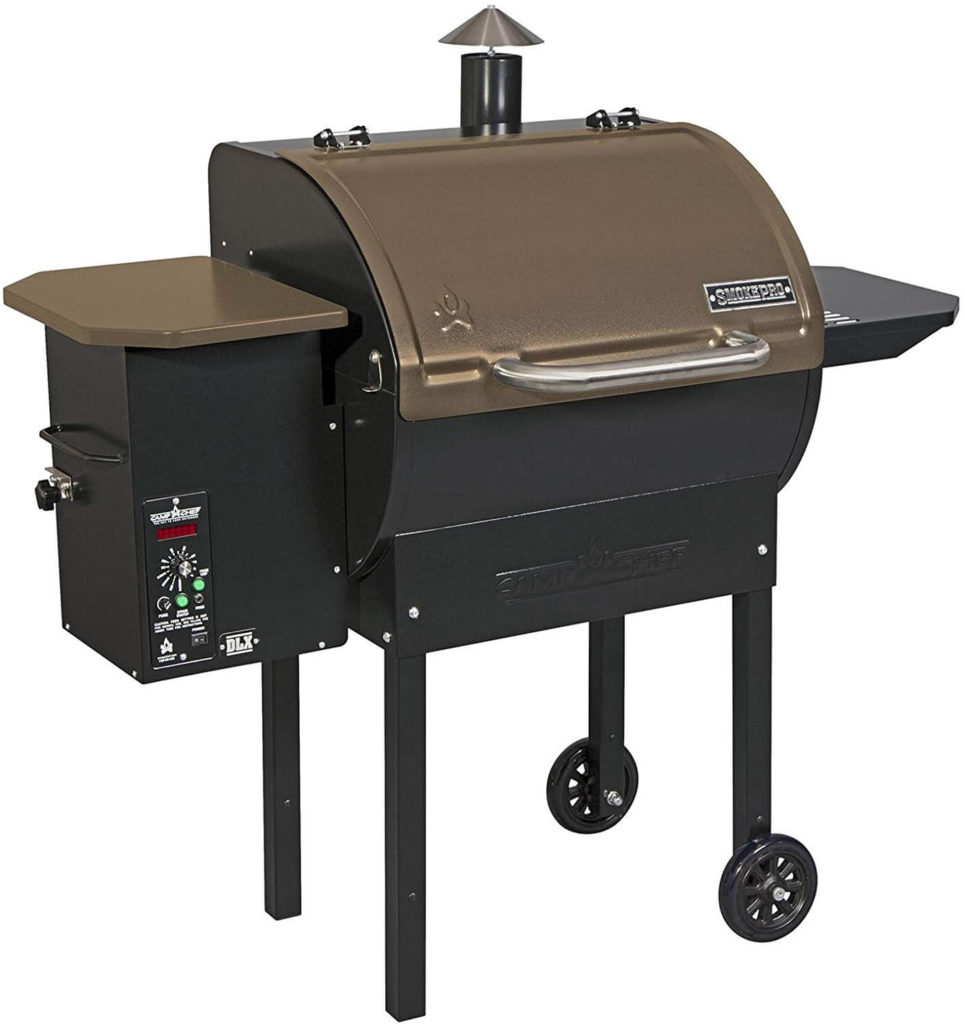 If a Traeger smoker is a little bit out of budget, then you will love having a look at the following list of Traeger smoker alternatives that provide similar results without the hefty price tag. Check them out!
Camp Chef SmokePro
When it comes to grills Camp Chef can never go wrong. This machine is perfect for your home if you are someone who loves bbq food.
Overview
This grill is made with the thought of your convenience of use and is one of my favorite Traeger-style grills. Take a look.
Features
Cleaning a grill has never been easier thanks to the ash cleanout system on this SmokePro grill by Camp Chef. The ashes all spill out into one section that can be cleaned with an easy sweep.
The grill is on two wheels for easy transportation.
The grill comes with a food preparation ledge, perfect for presenting food for your guests.
Pros
Easy to clean up after use
Has a built in ash cleaning system
Easy to move around
Cons
The temperature control tends to be a bit weak and food has to be monitored while cooking.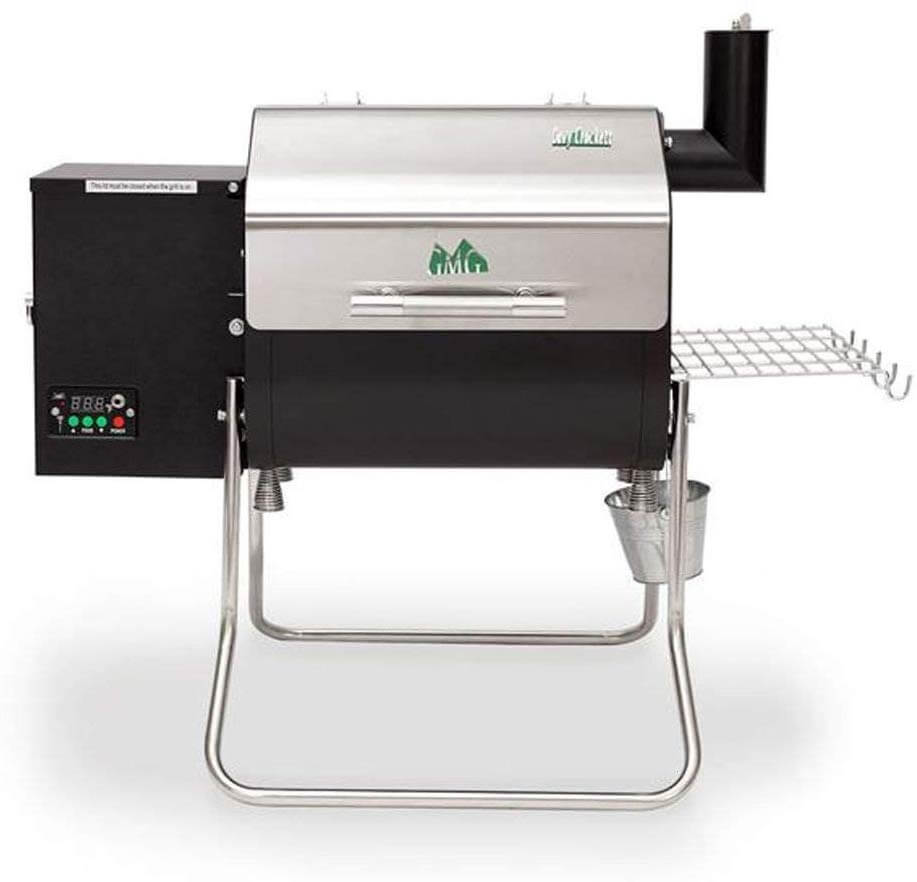 Green Mountain Grills
If you are looking for a great portable grill then you will absolutely love this one by Green Mountains. It is the perfect grill for get-togethers and bbq parties with friends and family.
Overview
If you haven't had any luck nabbing any good Traeger grill deals, then you will love this pellet grill by Green Mountain Grills.
Features
This is a great portable grill as the legs fold into handles making the grill easy to transport when camping or even to the other side of the backyard for a change of scenery when smoking.
The grill has an extra table rack with hooks, the perfect place to lay your utensils and uncooked meat ready to add to the grill.
Pros
Portable and easy to store after use
Has a built in rack for utensils
Great temperature control and easy to monitor
Cons
It can be a bit tricky to assenble it together.
Davy Crockett Pellet Grill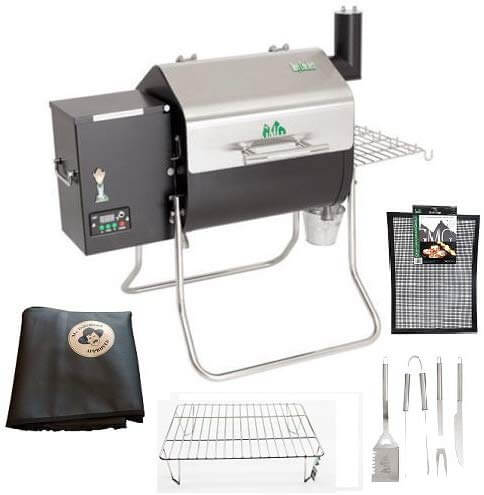 This is a super grill for any home especially if you are someone who likes to bbq every now and then.
Overview
This is a foldable and portable grill that comes with an additional rack and many other added features. It is another fantastic pellet grill, but this time it is coming to you by Davy Crockett.
Features
This grill comes with an upper rack for more grilling space and some fantastic grilling utensils such as a small grilling mat, perfect for grilling vegetables.
This grill also comes with a grilling rack with utensil hooks – the perfect space for you to rest cooked or uncooked food and to rest utensils such as tongs, kitchen scissors, and oven gloves.
Pros
Great temperature control
Has a built in thermal sensor feature
Easy to clean and has an additional rack
Cons
Assenbling the machine is a bit tricky process.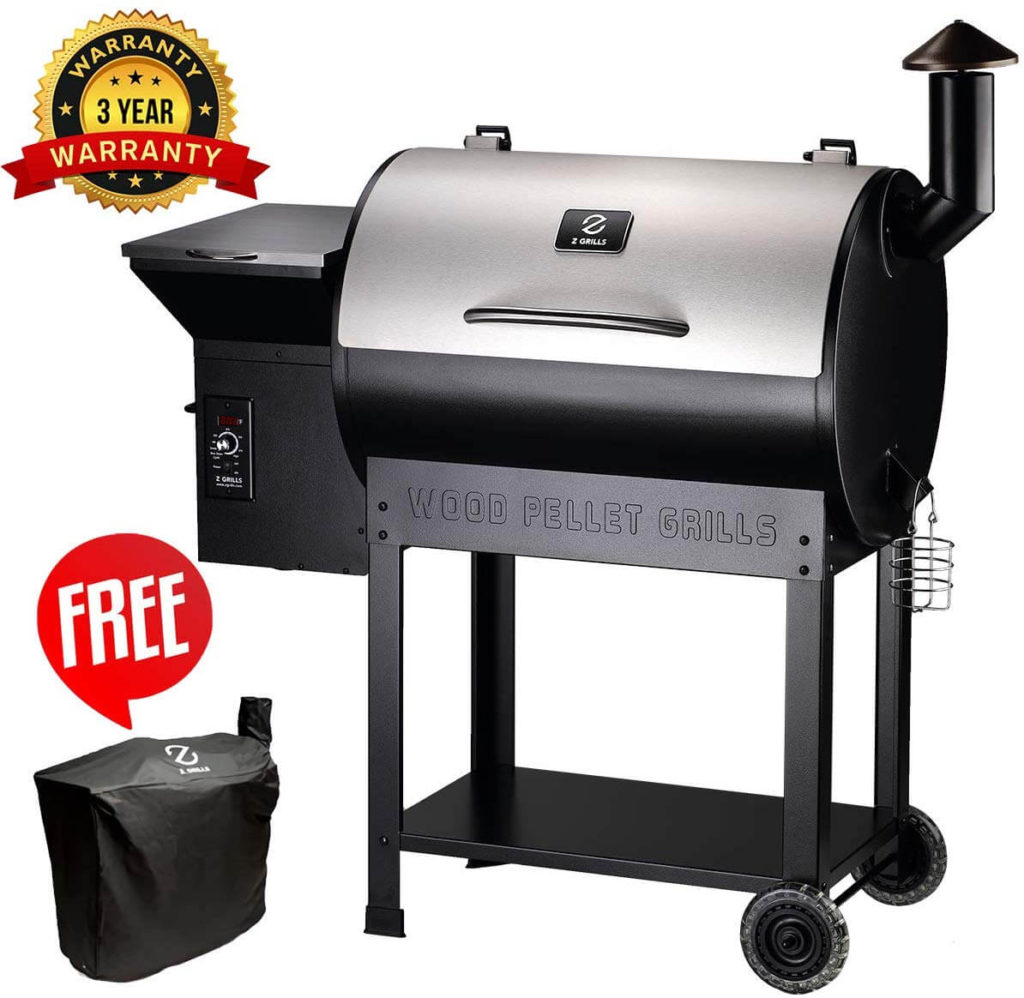 Z GRILLS Wood Pellet Grill
Are you looking for a grill that is better than Traeger when it comes to price? Then take a look at this amazing grill.
Overview
If you have been on the Z Grill vs Traeger debate for a while now then you will want to check out the following two grills that will help you to decide between the two.
Features
This pellet grill will help to infuse your food with that smoky taste that everyone loves on their meat.
This grill has a massive cooking space and boasts being able to cook a whopping 24 burgers at a time. The perfect size grill to use with the whole family.
This grill is on two wheels making it easy to transport across the lawn without you having to throw your back out.
Pros
Great temperature control
Very spacious which makes this an ideal machine for a family get together
Easy to move around as per your convenience
Cons
Food tends to stick to te surface while cooking. Oiling the grill with help avoid this issue.
Traeger Grills For Sale (If you want to go with Traeger pellet grills)
Are you looking for an original Traeger pellet grill? If you like shopping for the real deal then you will love the following review of an authentic Traeger grill that will lead you to grilling perfection this weekend with your family and friends. Take a look at what all the fuss is about with the following Traeger pellet grill review: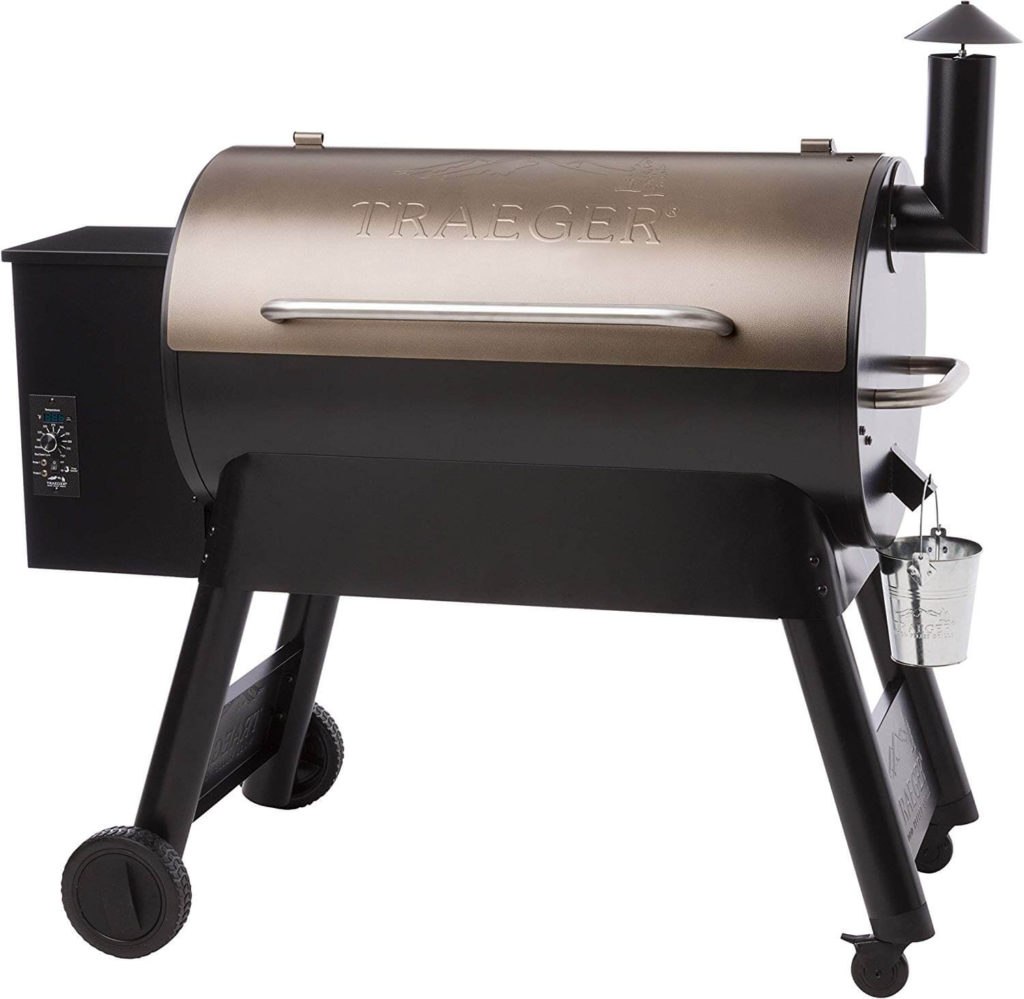 Traeger Grills TFB88PZBO
This is a great 6 in 1 grill that can grill, roast, bake, smoke, braise, and bbq all of your favorite meats. 
Overview
If you are looking for the best prices on Traeger grills then take a look at the following Traeger electric smokers review.
Features
The grill exterior is made of powerful steel with a powder coat finish that makes the grill resistant against rust and extreme heat.
This grill has a massive 884 square inches of cooking space – enough space to cook 40 burgers at once! That definitely makes this grill the ideal companion for family gatherings or barbecues with friends.
Pros
Excellent temperature control
Easy to assemble and put together
Has wheels which makes it easy to move
Cons
Food does tend to stick to the grill so might have to add oil before cooking.
Why Get A Pellet Smoker?
Perhaps you are used to cooking on other styles of smokers such as gas or electric but are ready to try something different. If you are looking to purchase a brand new Traeger pellet smoker ready for the next barbecue season, then take a look at the following list of reasons why a pellet smoker is definitely the smoker for you. 
In order to understand further why pellet smokers are better than both electric and gas smokers, I will go on to compare all three so that you can see the results more easily.
Gas grills and electric grills
Food cooked on a gas grill will not be supplemented by any additional flavors as food cooked on a pellet grill would. The same can be said for electric grills as the electric part of the grill does not add an authentic smoky taste that you get when cooking on a pellet smoker.
In order to enhance the flavor of food cooked on a gas or electric smoker, you will have to marinate your meat well or add flavorings once the smoking process is finished.
Gas grills and electric grills are usually cheaper to purchase than pellet grills. You can find a great gas or electric grill on the market for less than 500 dollars whereas this may be more of a challenge with a pellet smoker.
Pellet smokers
The food on a pellet smoker is cooked on top of compressed sawdust otherwise known as wood pellets. This gives your food an added and more intense smoked flavor while cooking that you simply cannot replicate any other way. In order to get the best tasting meat, you will need to cook your food on a pellet smoker.
Pellet smokers are generally more pricey to purchase than gas and electric smokers. You are probably looking at starting the ball rolling at 500 dollars or more for a great quality pellet smoker that will last you through the ages.
Although purchasing a pellet smoker may not be the kindest option on the purse strings, it will definitely make your food unbeatable when it comes to taste. Smoking your meat on a pellet smoker gives your food an unmatchable taste sensation thanks to the fact that you are smoking it on 100% wood pellets and it is benefiting from an authentic woody taste.
Since your food will taste great naturally when cooked on a pellet grill you will not have to spend so much on condiments, rubs, and marinades in order to enhance the flavors of your meat, saving you time and money in the long run.
It is also really easy to change the flavor of your meat with a pellet grill simply by changing the types of wood pallets you use to smoke on. If you would like a little inspiration on how to shake up the flavors of your meat, check out the following wood pellet flavoring guide that will help you achieve some great flavored meat the next time you smoke.
Smoking vegetables. 
Let's face it, without any seasoning, vegetables are bland and even when sat on a smoker they can still taste very mundane if they are not smoked on the right flavored wood chips.
In order to enhance the flavor of your vegetables try cooking them on Alder, Garlic or Onion flavored wood pellets. These wood pellets give off a mild and rather sweet flavor that will give your vegetables a great stand-out taste.
Rich and smoky flavors.
If you are looking to add a slightly richer, fuller, and smokier flavor to your meat then you will want to try out some of the following wood pellets: Hickory, Mesquite, Tennessee Whiskey and Pecan. All of these flavors add a rich, spicy and aromatic tang to your meat and are the perfect compliment to cuts of beef, chicken, pork, lamb, and turkey.
Mild and sweet flavors.
Alder, Apple, Cherry, and Maple wood pellets all provide your food with a mild smoky flavor with a hint of sweetness. These are the perfect pellets to be used to enhance the flavors on mild meats such as chicken or even fish. 
What To Look For In Your Traeger Electric Smoker Alternative
As I am sure you already know, a Traeger smoker is quite an investment, so here's the million-dollar question – are Traeger grills worth it or can you get an electric smoker alternative that will work just as well?
Now as I am sure you can guess, there is nothing like purchasing an original Traeger grill that will exceed your expectations in every avenue. But if you are a little short on cash but love a good barbecued slice of meat, spending hundreds of dollars on a Traeger smoker may be unthinkable at the moment. 
When you are looking for a Traeger grill alternative, make sure your grill has the following features that help to make cooking on a grill an easier and more pleasant pastime.  
Grilling space.
Food cooks very fast on a pellet grill because you are smoking directly onto wood pellets so make sure you purchase a grill that has sufficient cooking space for you to sizzle away all of your meaty goodies in one go (no one likes waiting around for batches to be cooked). Make sure you find a grill that has a large capacity for the whole family.
Portability
A great inexpensive grill will come on wheels. Why? So that you can transport is across the backyard as and when you please or even take your grill away camping to enjoy some smoked goodies in the outbacks with the family.
Ledges
One of my favorite features on a great grill is extra preparation space. A grill that comes with a preparation ledge will provide the perfect space for you to rest marinated meat that is waiting to go on to the smoker. Alternatively, you can use the additional space to rest cooked meat ready for guests to grab as and when they wish.
FAQ
Which Traeger grill is the best?
"Camp Chef SmokePro DLX Pellet Grill
Green Mountain Grills Davy Crockett Pellet Grill – WIFI enabled
Davy Crockett Pellet Grill Ultimate Griller Package Includes Cover-Upper Rack-Utensils-Grilling Mat
Z GRILLS Wood Pellet Grill & Smoker with Digital Temperature Controls, 700 sq. in. Cooking Capacity"
Why are Traeger grills good?
Traeger grills creates uniform heat around the food which gives an evenly and perfectly cooked BBQ.
Can you sear on a Traeger?
Absolutely, the Traeger grills can sear and cook the food fast or slow and slow.
Conclusion
Purchasing a Traeger grill to get the very best results when smoking may seem like a great idea initially until you start investigating how much does a Traeger grill cost. Unless you are buying a Trager grill second-hand or from a Traeger grill sale, you will have to put down some serious bucks to get a hold of one. 

That is why this article has been presented to you to help you to find some great Traeger grill alternatives that are great pellet grills. Carefully scan the list and make a note of the specifications you like and want to find in your pellet grill so that you can purchase the grill that you are happy with.