There is nothing like the authentic taste of smoking a delicious meal on a roaring campfire. There is something unbeatable about the original woody flavor that infuses your meat and the succulent results you get from the blazing open flames. 
Pit Boss 700FB Grill
Perhaps you are still in the research stages and are deciding between a couple of grill models in search of the best backyard companion. Whatever the case, I am sure you will love looking through this Pit Boss PB700FB review that will explain more about this model and everything you are missing out on!
But there is a way to imitate that great smoky flavor thanks to the raw technology that has gone into the design of the Pit Boss 700FB pellet grill. 
Pit Boss 700FB Review
This article has been prepared for you with the latest information and Pit Boss 700FB reviews that will help you to get the most out of your brand new smoker. This article will help you to learn about all of the features that come with this model so that you won't miss a trick when firing up your pellet grill this weekend.
So with no further ado, make sure you check out the rest of the review!
Overview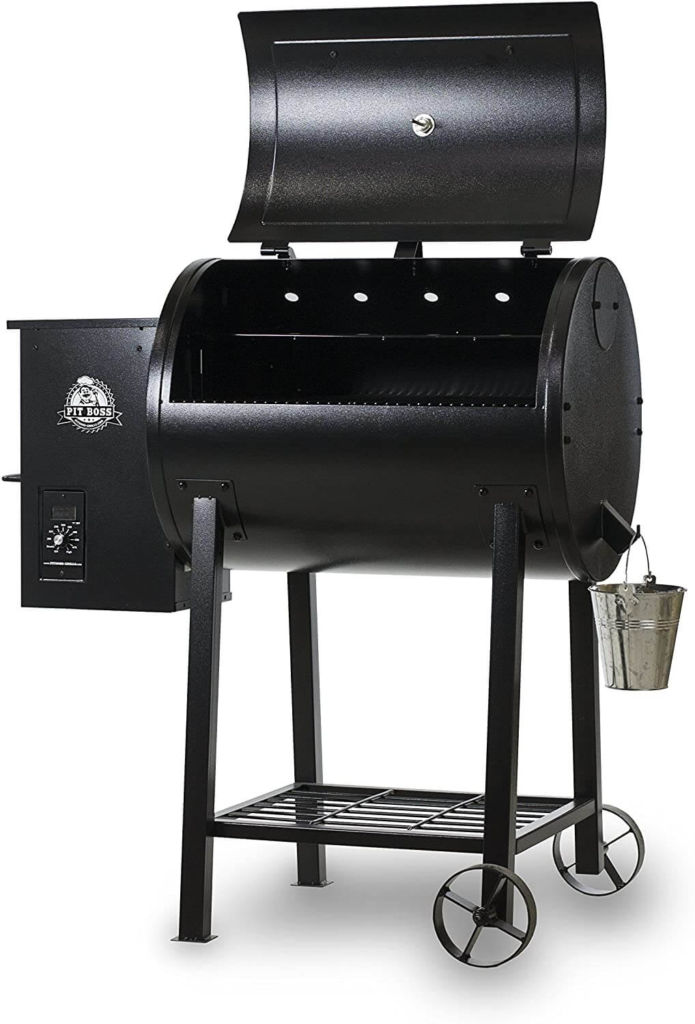 Are you ready to find out whether the Pit Boss 700FB is the grill for you? Or maybe you have got one of these fantastic grills at home and are looking for ways to get the most out of it.
Regardless of whether you are just window shopping or have already purchased this unit, the following list of Pit Boss 700FB specifications will be of interest to you.
Features
Cooking for the family? Then this grill will be right up your street as it comes with a generous 700 square feet cooking area – the perfect amount of space for cooking for the family plus a couple of guests.
The 700 square feet of cooking grids have all been created with porcelain coated iron – the ideal material that is great at spreading the heat evenly across the grill and is also super simple to wipe clean once you have finished cooking. Now doesn't that sound awesome?
Get that traditional log burning fire taste into your meat as this grill operates on 100% natural wood pellets. Are you ready to enhance the flavor even further? Then why not try adding some flavored pellets to the mix? I am sure your family will be buzzing when sampling a brand new taste sensation!
Pros & Cons 
After having a look at the above mentioned information, you have no doubt been impressed by the features you have seen on the Pit Boss 700FB. That is why you should take a look at the list of pros and cons below that will help you to get an even better look at the grill so that it can impress you further.
Cons
Although this Pit Boss grill has a lower shelf, the updated model also has a side shelf and a lower cabinet that is far more useful for storing cooking utensils and for keeping food cool.
The lower shelf on this model is superb however for keeping just a few essential bits at arms reach so that you do not need to keep running back and forth from the kitchen every time you need a spatula.
Conclusion
No one likes eating the same food day in and day out, and that is why we love cranking up the grill every time the weather is nice enough to do so. But if you are not careful, even cooking on the grill can become a little mundane and monotonous. 
Are you looking for a way out of a rut when grilling? Then you must get your hands on a Pit Boss 700FB – the most awesome grill for cooking with a variety of methods and at a massive range of temperatures. 
This grill is ideal, not only for grilling, but it can also be used to smoke, bake, roast, sear, braise, barbeque or char-grill your favorite meat, fish, and veggies. 
What's more, the grill has a massive temperature range – from 180 degrees Fahrenheit to 500 degrees Fahrenheit so that you can cook anything you set your mind to. This grill coasts at these soaring temperatures – give it a go!
So if you are looking for a grill that will help you to deliver an authentic log burning, smoky flavor to your food from a modern backyard grill then I am sure this Pit Boss 700FB will be a great choice for you and your family!