Char-Broil Offset Smoker, 30"
Z GRILLS ZPG-700E 2020 Upgrade Wood Pellet Grill & Smoker, 8...
Our #1 Choice
Dyna-Glo Signature Series DGSS1382VCS-D Heavy-Duty Vertical...
Z GRILLS ZPG-450A 2020 Upgrade Wood Pellet Grill & Smoker 6...
Landmann 560212 Charcoal Grill, Black





"A smoker grill combo…we'll that's preposterous!" You may think, but, I can assure you that this kind of apparatus does exist and is storming the nation.
I'm sure you can understand why, as a griller smoker combo gets both jobs done, using half the machinery, now that's time and space saving. How efficient!

In this article I will explain a bit more about the best smoker grill combos, how to go about choosing the best smoker and grill combo, then I will review some of the best ones that you can get your hands on. So without further ado, let's get grilling!
7 Best Grill and Smoker Combos For 2020
The following is a review of 6 of what I think are the best smoker and grill combos out there. Check it out and see what you like the best.
Char-Broil Offset Smoker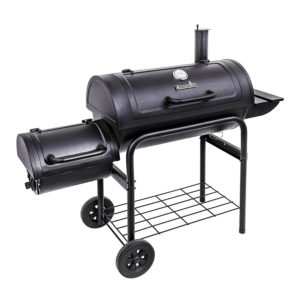 One of the most important things for me when grilling is having an easy clean-up afterward. No one wants to be laboring doubled-over with a spatula, a bucket of soapy water and a sponge chiseling off burnt grease from a grill and with this Char-Broil grill you won't have to.
Overview
This grill has porcelain-coated cooking grates as well as a firebox with an ash door. This facilitates cleaning as the grease itself as well as debris accumulate in one place. What I genuinely love about this smoker combo is the fact that it has a convenient side shelf and you can also use it to store as well as prepare your cuts of meat.
Features
477 sq in cooking surface
3-piece smoking chamber
Porcelain-coated cooking grates
Pros
Firebox with cleanout door
Convenient Side Shelf
Easy to clean
Z GRILLS New ZPG-700E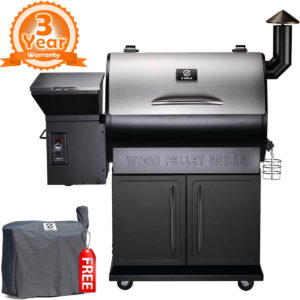 Who said that men can't multitask? Well, this smoker and grill has an impressive 8 function capability, for you to prove everyone wrong. The best grill smoker combos are able to perform more than one function and this Z GRILLS not only grills but it also smokes, bakes, roasts, sears, braises, barbeques and char-grills, now is there anything it can't do?

Overview
A smoker and a grill that has been constructed with caster wheels, making it easy to transport. You won't have to lift a thing. It's also clever due to the fact that you do not need to make adjustments due to the fact that it has an automatic electric feed system that ends up regulating the temperature.
Features
Easy to transport
Easy to maintain
Beginner-friendly
Pros
Excellent smoker grill combo
Clean Design
You get freebies with it
Royal Gourmet
Picture the scene: you've seasoned your meat to perfection, it's on the grill and it's almost done. The family is sitting around eagerly anticipating the first grilled burgers of the summer, you check on the coals and find that they are stone cold, ashy and fit for nothing. Time to refill the pan.

Overview
The Gourmet BBQ Charcoal Grill has an enormous charcoal pan, and a capacity of up to 5lbs. You'll be able to fill up your smoker with the highest quality charcoal and won't have to keep doing so throughout the entirety of the cooking process itself, making things streamlined.
Another part of it that's good is the fact that it has two storage racks, which means that you will have plenty of space to lean your utensils, marinate the meat and rest the meat which is ready for serving.
Features
Traditional charcoal grill offset smoker combination
A stack, temperature gauge, and scald-proof handle
Seamless connection
Pros
Convenient
Easy to Transport
Lots of space
Dyna-Glo Signature Series DGSS1382VCS-D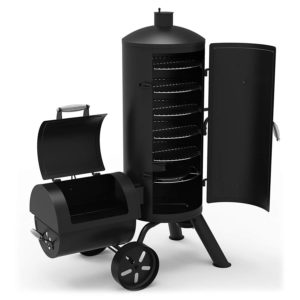 This smoker and grill is really special, its vertical design means that it doesn't take up as much space as your average grill so as a result, it is easier to store, leaving you more room in your backyard for that all important after BBQ baseball match that the kids have been raving about all summer. It also has steel wheels which means it is easy to transport across the decking, no heavy lifting required, (awesome).
Overview
It features five chrome-plated cooking grades that provide you with space for you to put your culinary skills to the test. The gates feature exceptional cooking space which measures at 1382 inches which is perfect for you to get together some new creations. The grill and smoker combo has pre-installed sausage honks, so you'll have that as an added convenience factor.
Features
Five-Chrome Plated cooking grates
1382 square inches of cooking space
Heavy-Gauge steel body construction
Pros
Large
Easy to Use
Oversized Steel Wheels for Mobility
Z GRILLS ZPG-450A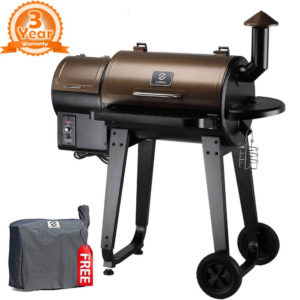 Oh, I do love a multi-tasker, so here is another one for you.
Overview
This is a grill that's made of stainless steel, which means that it will not corrode as quickly and will remain in pristine condition for as long as possible. With a quick wipe-down, you can ensure that it looks as good as new.
Features
8-in-1 barbecue wood fire pellet grill
Pallet grill technology
Consistent Results Each Time
Pros
Smoke and Grill functions
Built to last
Less pallet filling
Landmann 560202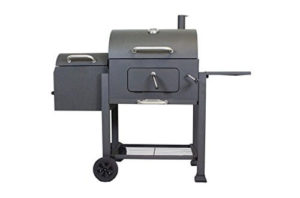 Now here is another great BBQ grill. This Landmann has an offset smoker box, meaning that you can charcoal-grill and smoke meats at the same time. This box is perfect as it comes with a 363 square inch cooking grate, which bumps up your cooking space nicely for when the whole family gets together over the summer.

Overview
This is a grill with adjustable charcoal that makes it easy for you to be able to increase as well as decrease the heat as you see fit. It is simple to turn up the heat if you ever notice that the bellies are starting to rumble, and this model is great for clean-ups due to the fact that it has a large ashtray that is easy to remove and empty.
Features
Large Grilling Capacity
Charcoal Pan
Chrome Plated Steel
Removable Ash Tray
Pros
Convenient Form Factor
Unique Design
Plenty of Levers
Char-Griller 5050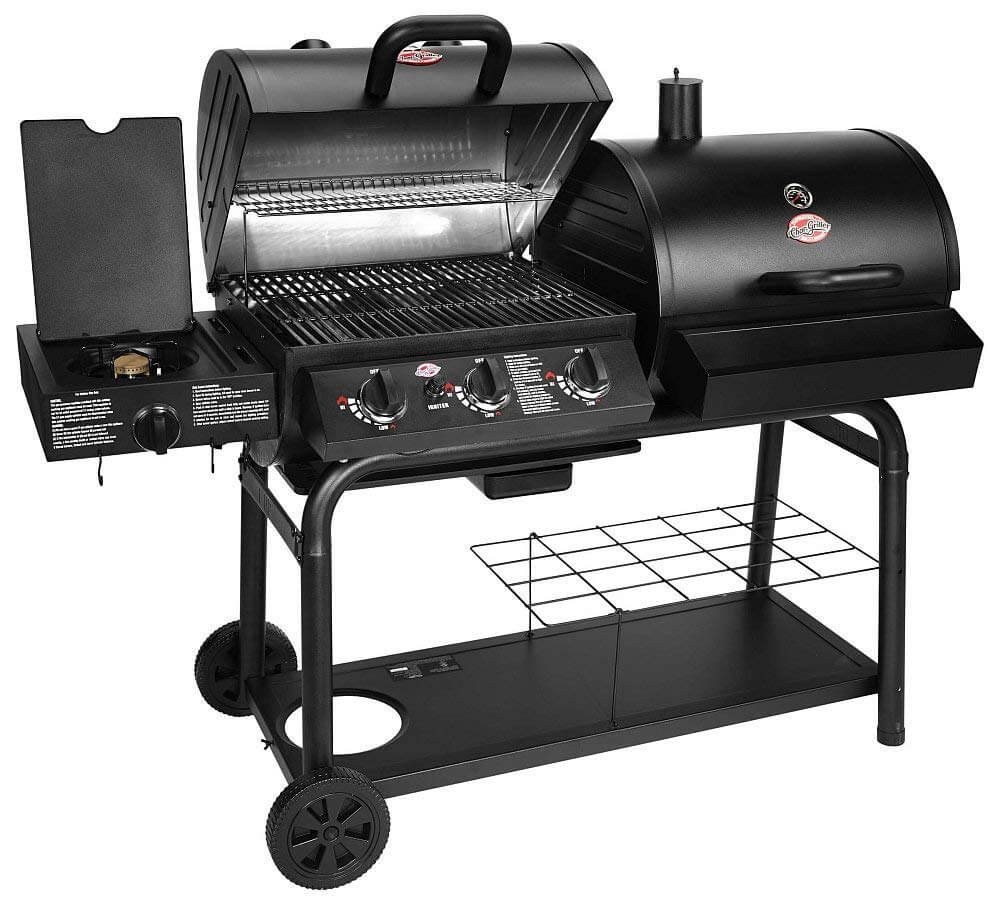 Gas or charcoal? Not able to decide? Well with this Char-Griller 5050 you don't have to as it is both a gas and a charcoal griller.
Overview
This allows for a cast side burner that gives you extra cooking capacity and is ideal for those summer days when you have the entirety of your family over to your backyard and home. It does not even require matches for the gas grill, as it comes with electronic ignition in order to fire up the burners.
Features
Large in size
1260 square inches of cooking space
No matches required for the gas grill
Pros
Electronic Ignition
Modern Design
Easy to Clean
How to Choose the Best Grill and Smoker Combo for you
I know what you're thinking, you're not sure where to get started or what to look out for to pick the best grill and smoker combo, but don't worry, I've got you covered. Have a look at the following suggestions:
Whether your smoker grill requires the use of charcoal or wood pellets, it is important you supply it with the best quality fuel, as smoker grills produce quite a lot of smoke as that's how they achieve that finger-licking taste that everyone is nuts about. But anyway, to score high on flavor, good quality meat or charcoal is the key. If both smoking and grilling are equally important to you, you will want to look for a smoker grill that does both jobs just as well, this may mean looking at higher-end combos but it will all be worth it to get that perfect final result.

Not a fan of burnt meat? Me neither.
The perfect smoker grill will have a temperature gauge on the front which will help you keep an eye on the heat level. This is far better than having to faff around looking for separate temperature gauges and trying to attach them to your combo.
It's also important to make sure your smoker grill combo is big enough for the task at hand. If you are looking to host the whole family or feed a large number of people at once, make sure your combo is big enough to get the job done in one easy sweep, of course, you don't want the combo to be so big it no longer fits in your shed in the backyard.
It's a good idea to measure the storage space you have available to make sure you purchase something you can put away easily. Last, but not least, pick a smoker grill combo that comes with all the finishing. There's nothing worse than wanting to season up your meat but not having anywhere to do so or frantically turning your kitchen upside down looking for something to serve the food in but realizing you don't have a dish that is big enough.
The ideal smoker and grill combo will come with enough racks and shelves for you to be able to prepare your meat, add the necessary sauces and marinate and also have enough space for you to present your meat too, so that you don't have to make frantic trips to and from the kitchen looking for serving plates.
That will make life so much easier.
FAQ
How to choose a smoker?
When you go to choose your smoker and grill combo, don't just concentrate on the price tag, as there are many specifications for you to consider that will make your life a lot easier.
What is the best meat to smoke?
Tough cuts are best to cook low and slow for several hours such as pork shoulder, beef brisket, chuck roast or even ribs. Leaner cuts will not require as much cook time.
Conclusion
So when you go to choose your smoker and grill combo, don't just concentrate on the price tag, as there are many specifications for you to consider that will make your life a lot easier. These specifications can turn your average family BBQ into "the" BBQ of the summer.
Let's summarize just a few of them so you know what to keep an eye out for when you purchase:

Size of the combo. Make sure it's big enough for you to cook up meats for the whole family.
Transportation. Something with wheels and handles is always a plus for you to move it easier.
Preparation areas. Shelves and racks are really useful to prepare and display meats.
Cleaning. Ash and debris trays are key to saving you time and energy on clean-ups.
These are just my opinions on some of the important requirements of the best cooker grill, I hope they have been helpful to you, and as always, happy grilling!