Smoke Hollow TC3718SB Gas-Charcoal-Smoker Combination Grill...
Smoke Hollow TC3718SB Gas-Charcoal-Smoker Combination Grill...
Grilling season is literally all year round, even when the mercury has taken a plunge. When choosing the best way to sear up steaks, cook pork chops or Bobby Flay style burgers, you really have two choices — gas and charcoal grill combo.

Both charcoal and gas grills offer their unique set of advantages, where the former offers the best, high flame to get crisp lamb chops on the outside, and the latter offers more convenience and control.

But what if you could access both types of heat sources in a single appliance? Well, now you can with the best gas and charcoal grill combo or hybrid grill. This range of grills allows you to get started within minutes and grill foods to perfection.

When shopping for the best gas and charcoal grill combo, you will be spoilt for choice given the myriad options available. But we've narrowed down on 5 great options that won't disappoint you each time they're fired up!
Top 5 Reviewed Best Gas and Charcoal Grill Combo
The Backyard Grill Gas and Charcoal Grill Combo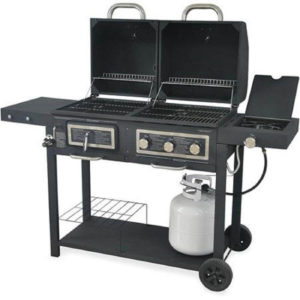 The Backyard Grill outdoor hybrid grill offers 557 square inches of cooking space, divided into 262 square inches for charcoal and 295 square inches for gas cooking.

It is regarded as the best charcoal gas combo grill for several reasons, starting with its height adjustment system that allows you to control the heat, and a 12,000 BTU side burner.

This gas and charcoal grill combo from the Backyard Grill product range is equipped with three stainless steel tube burners, which collectively produce a whopping 24,000 BTU's of heat.

Gas and Charcoal Grill Combo Features
This combo grill tips the scales at 90 lbs, measures 64″L x 28″W x 49.75″H when fully assembled, and is fitted with 2 rubberized wheels to easily take it places.

Furthermore, this hybrid grill features an integrated ignition system, porcelain heat plate, baked enamel bottom bowl, cast iron cooking grid, chrome plated warming rack and four control knobs with rubber grips.

The front of this combo grill features a painted steel control panel complete with stainless steel trim, four control knobs with rubber grips, and two round temperature gauges black baked enamel lid.

The grill comes with two side shelves to store things such as marinade and condiments, holders to store your grilling tools and a bottle opener.
Char-Broil 1010 Deluxe Gas and Charcoal Grill Combo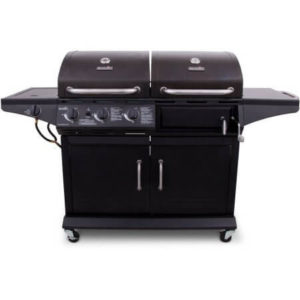 If you love the flavor of grilling with charcoal, and ease of grilling with gas, then this Char-Broil hybrid grill may be the best option for you.

It offers a massive 505 square inches of primary cooking space in either gas or charcoal and is equipped with easy to clean, porcelain coated warming racks.

Gas and Charcoal Grill Combo Features
The gas section of the grill features three burners that together churn out 36,000 BTUs worth of power. Weighing in at 168.3 lbs, the grill can be easily moved around with its dual castor wheels.  

Adding to this, this combo grill from Char-Broil is easy to clean thanks to its slide-out ash pan. It provides easy access to the charcoal via a door, and a height adjustable charcoal grate.

The grill measures 27.88 (L) x 74.17 (W) x 46.8 (H) when fully assembled, making it a great choice for medium to large size outdoor areas.
Smoke Hollow 6500 Grill Combo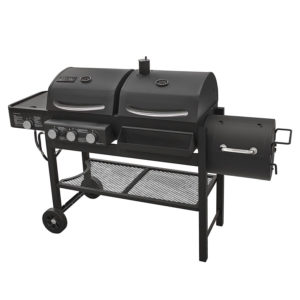 The Smoke Hollow 6500 Gas/Charcoal Combo Grill provides you with one-stop access to multiple grilling options and allows you to switch between charcoal and liquid propane easily.
This 4-in-1 grill station is equipped with three electronic ignition stainless steel burners for gas grilling, a 9,300 BTU side burner for searing, charcoal burner and a firebox to smoke your favorite cuts of meat.

Gas and Charcoal Grill Combo Features
Apart from the total 858 sq. in. of cooking space, this hybrid grill features two temperature gauges, allowing you to monitor the internal temperatures without opening the lids.  

It comes with chrome plated warming racks to cook vegetables and warm foods on low heat. And the included charcoal tray of this combo grill is easy to lift for quick cleanup after a barbeque.

But that's not all, the Smoke Hollow combo grill comes with porcelain coated wire cooking grids, which are rust proof, easy to clean and eliminate the need to season the metal.

Flare-ups are a common issue with most charcoal grills, but the flare guards of the Smoke Hollow hybrid grill prevent the flames from burning, charring and drying out food.

This combo grill can be moved around easily thanks to its four locking casters, features a large front basket to store condiments of tools, and a dedicated spot to store the propane tank.

It measures 68.31 inches in width, 65.6 inches in height and 23 inches depth when fully assembled, and is a great choice for anyone looking for a no-fuss barbeque experience.
Char-Broil Gas2Coal Gas and Charcoal Grill Combo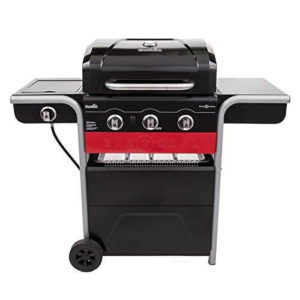 The Char-Broil Gas2Coal 3-Burner is yet another hit in the hybrid grill segment for several reasons, starting with its 540 square inches of cooking area.

Gas and Charcoal Grill Combo Features
Its primary cooking area spans 420 square inches and is where you will find three 13,333 BTU tubular burners for a total of 40,000 BTUs to fire up the charcoal as well.

One of the aspects that sets it apart from other hybrid grills is just how easy and quick (under 60 seconds) it is to switch between the cooking types.

To do this, you cook using charcoal, first simply remove the grates from the inside of the grill, remove the charcoal tray from its onsite storage location, add charcoal to the tray, and then push the igniter to light it up.   

The grill is also equipped with a 12,000 BTU side burner, which is protected by a flush mounted cover, and is great to heat up water and cook your vegetables and other side dishes.

Unlike most other large size combo grills, the Char-Broil Gas2Coal combo grill features a sleek footprint of just 24.6 x 52.5 x 47.5 in., and can be easily wheeled around with its two wheels.

The Char-Broil Gas2Coal hybrid grill comes with high-quality porcelain coated cast iron grates, which are a joy to clean, retain heat well and don't rust.

To top things off, the Gas2Coal combo grill by Char-Broil is fitted with a lid-mounted temperature gauge, a side shelf for more prep space, and is backed by an impressive 5-year warranty.
Char-Griller 5050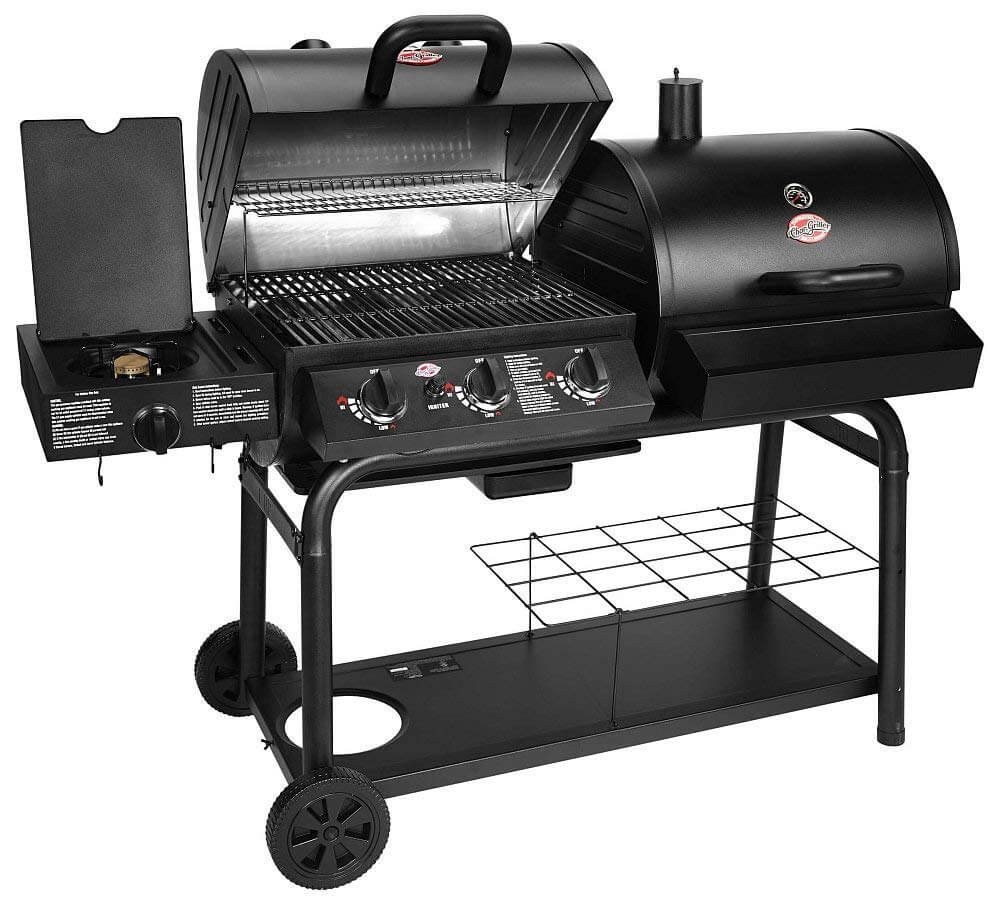 You will never have to choose between a gas and a charcoal smoker again, as this Char-griller has both a gas cooker and charcoal smoker available for you to use all in one handy appliance.
Gas and Charcoal Grill Combo Features
It is the perfect solution to finding a char-griller with enough space to cook for the whole family as it has 1260 square inches of pure cooking space, ready for you to sizzle up a storm at the weekend.  

The cast side burner is the perfect addition for when you need a little extra cooking space.

The porcelain coating is not only useful for making clean-up easier but is also fantastic at keeping the heat locked in the char-griller, making cooking faster and meaning you can get dinner on the table quicker.

The built-in temperature gauge will help you to keep an eye on the status of your food without having to keep hovering over it.
What is a Hybrid Grill?
Sometimes, cooking certain foods over a gas grill is the way to go, while others require a charcoal grill to add to their delicious quotient. If you want both power options, a combo grill is what you should buy..

Hybrid grills provide you with one-stop access to both power options from a single unit. This makes them a convenient option especially if you use a portable charcoal grill for tailgating and a large gas grill for cookouts.

When you buy the best gas charcoal combo grill, you can also explore new ways to bring out the flavors in your foods, given that you have two fire options to work with and at your fingertips.
Pros and Cons of Hybrid Grills
One of the noteworthy features of the best charcoal gas grill combo is that they heat up quickly and sear to perfection, where some even allow you to use both functions simultaneously.

Further, hybrid grills allow you to slow cook on one side and direct cook on the other, so you can smoke a brisket on one side for deep flavor and grill burgers on the other.

And if you run out of gas halfway through, you simply transfer the foods to the other side and continue cooking with a hybrid grill. But just like most appliances — hybrid grills aren't perfect and here's why!

The obvious pitfall of combo grills is that they're bigger in size compared to most charcoal and gas grills. But on a brighter note, you're packing two different types of grills into one, so you do save on precious real estate.
Another downside worth mentioning is that you may have to clean both sides of a hybrid grill, even if you use one as food splatter can travel easily, leaving you with a dual-sided mess to clean up.
For a lot of us, summertime is identified with barbecuing. What isn't always inherent in that: cleaning stated grill.
If you upkeep your grill throughout the summer, the efficiency will be much better as well as the food will cook– and also thus taste– much better, as well. Below, we share suggestions on how frequently you must clean your gas grill and specifically what to do when it's time for a scrubbing.
When Should You Clean Your Gas Grill?
Exactly how typically you clean your grill depends upon just how much you use it. As a whole, a when a month scrub-down of the grates, bars, and grease monitoring system is a great concept, states Kolman.
If you see your grill isn't heating up as high as usual– state, it struggles to get over 500 F– that may be an indicator it's past due for a cleansing.
" Way too much grease as well as schmutz in the grill can prevent the performance of the grill and the top quality of the food you're cooking," states Kolman. [We must note here: Excessive is the key word. "You do not intend to completely wipe the schmutz since it can add flavor," says Kolman. But because a large accumulation of grease can obstruct the air flow inside a grill, make certain your cleaning leaves just a light layer of bbq drippings.]

Just How to Get Rid Of Food Residue
Begin by tackling the grates. It's good method to burn off any food deposit left on your grill by transforming all your heaters to high for 15 minutes prior to barbecuing.
As your grill warms up, he clarifies, all food remnants will change right into ash. From there, you can quickly clean them off making use of a stainless-steel bristle brush.
And speaking of the brush, for the best clean, I advise getting an all new one each year. Establish a calendar suggestion to go brush purchasing at the end or beginning of every summer season.
How to Tidy Your Grill's Catch Pan
To do so, get rid of the bottom tray below the grill and also established it above a big trash bin. After that, carefully scrape the inside of the grill with a putty blade, and press all resulting debris via the bottom.
To deep clean up the tray, use cozy, soapy water as well as a fine steel wool pad. You should additionally examine the catch frying pan lining regular monthly as well as change it when required.
How to Clean Your Grill's Cook Box
Cleansing a chef box might seem challenging, but it's extremely simple as well as can have a huge impact on the way your grill executes.
Wait until your grill has cooled totally and afterwards remove the food preparation grates and also flavorizer bars (extra on that particular listed below). Grab a stainless steel grill brush and brush all added grease and also particles from inside the chef box right into the bottom tray.
As soon as done, throw out the crust.How to Remove Your Grill's Heater Tubes
Any kind of accumulation in the burner tubes can restrict gas flow as well as might protect against the burners from lighting properly (if whatsoever).
To remove any kind of grime, comb the portholes with a stainless steel cord brush in an up-and-down motion. Do not clean lengthwise throughout the ports– this will simply press particles from one opening to another, he suggests.
Clean The Heat Distribution System
Several grills (specifically Weber grills) include warm distribution systems like flavorizer bars to help protect against flare-up. Much like the remainder of the grill, these bars can obtain gunky gradually, so it's an excellent idea to on a regular basis clean them with a grill brush or scratch them with a putty blade.
After that, clean them with a dustcloth and also warm soapy water.
Rinse the Warming Racks and Grill Baskets
Eliminate smoke spots and debris from your warming shelfs as well as grill baskets with soap as well as a fine steel woollen pad. Rub the shelfs gently and after that rinse them well before re-inserting into the grill.
Exactly How to Clean the Outer Grill
Clean the beyond the grill lid with a towel and also cleaner.
If you have a stainless-steel lid, you'll need a lot more specific products.
Rather, make use of a microfiber towel, special stainless-steel cleaner and also enthusiast with (not against) the grain of the stainless.
Do the exact same with your side tables. If they are stainless steel, use a microfiber towel and also stainless-steel cleaner.
If your tables are made from thermoset plastic, utilize a moderate meal cleaning agent and warm water rather.
And one tip with the cleanser: Be patient. Allow the cleaner to sit for a while. That will make the cleansing procedure much easier.
FAQ
What is the best grill smoker combo?
The Backyard Grill
Char-Broil 1010 Deluxe
Smoke Hollow TC3718SB
Char-Broil Gas2Coal
Char-Griller 5050
Are stainless steel or porcelain grill grates better?
A stainless steel grill does not hold the heat as well as a cast-iron one. It doesn't affect the taste of the food, but the grates do tend to discolor over time. The ones with cheaper stainless steel will also need to be changed more often.
How do you keep grill grates from rusting?
Try to keep them clean at all times. Use a bristle free grill brush in order to avoid any loose bristles sticking to grates. Clean charcoal grills with brush and water while they are still hot.
Conclusion
If you like the convenience of gas grilling, but sometimes crave the smoke flavor of charcoal grills, you can have them both in one single appliance i.e. with gas and charcoal grill combo.
This range of grills have become increasingly popular and can be had in a wide range of sizes and great features such as porcelain cooking grates, high flame power and stainless steel burners.

The 4 options mentioned on this list are some of the best gas and charcoal combo grills you can buy in this segment, and won't let you down whether cooking burgers or smoked baby back ribs.