Hamilton Beach Keep Warm 2 Slice Toaster, Silver with Black...
Toaster 2 Slice, Retro Small Toaster with Bagel, Cancel,...
Hamilton Beach Extra Wide Slot Toaster with Shade Selector,...
Our #1 Choice
Nostalgia New and Improved Wide 2-Slice Toaster Perfect For...
Elite Gourmet Long Slot Toaster, Reheat, 6 Toast Settings,...





Buying a toaster can be a bit of a minefield. There are so many makes and models to choose from and it can all be a little overwhelming. If you are looking to replace your old toaster, or are looking for your very first toaster for your brand new pad, try a slim toaster. Why? A slim toaster is like a regular toaster, except it is more compact, taking up less space on the countertop, but still has slots thick enough to toast your favorite artisanal bread. 

Who doesn't want to save on countertop space nowadays? That is why this article has been prepared to look at 6 of the best slim toasters on the market today and give you a little advice on storing and what not to do with your brand new toaster. Check it out!
Here Are The 6 Best Slim Toaster Reviews
Hamilton Beach 22706 2 Slice Metal Toaster
Bonsenkitchen 2-slice Black Toaster Small Compact Bread Toaster
Hamilton Beach 4-Slice Long Slot Keep Warm Toaster
Nostalgia RTOS200AQ Bagel Toaster
Maxi-Matic ECT-4829 Long Cool Touch 4-Slice Toaster
Oster 2-Slice Toaster
Looking for the very best slim toaster? Instead of spending hours scrolling through seemingly endless reviews and information, have a look at the following list of 6 of the very best slim toasters on the market today. Make a note of the specifications that you need and then pick a toaster that is best suited to you.
Hamilton Beach 22706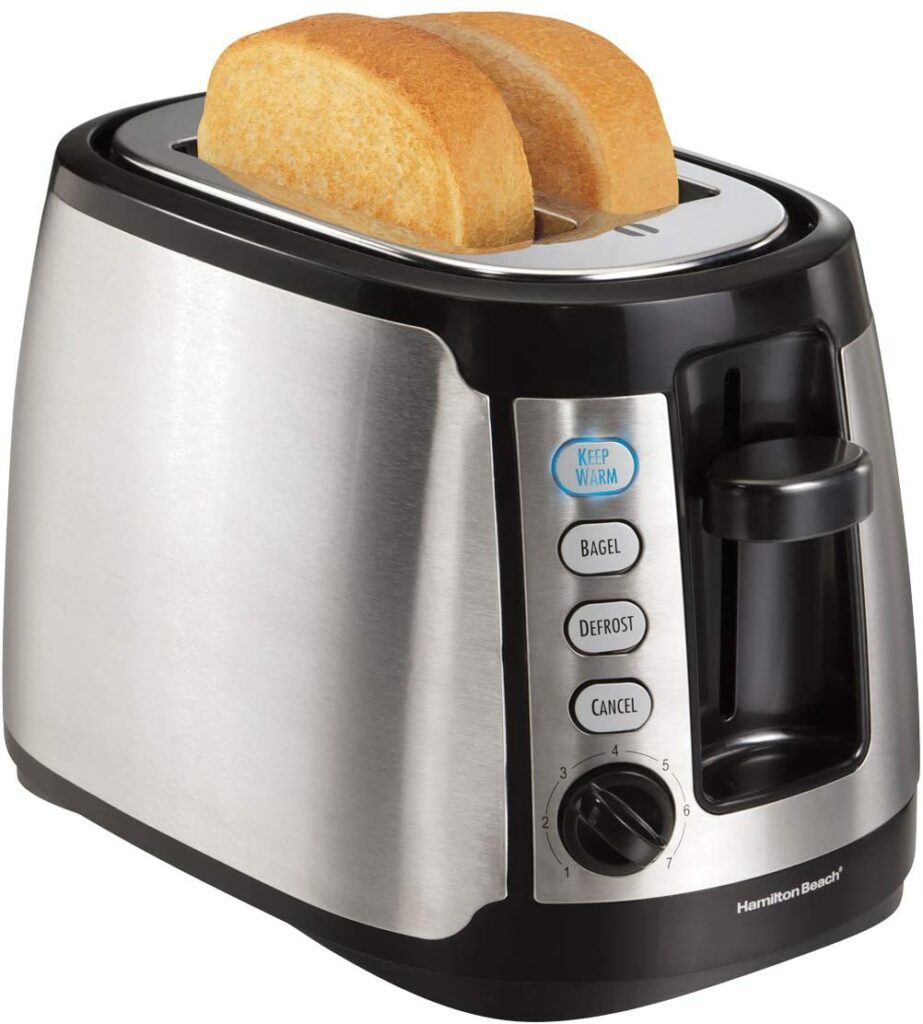 Fed up of running around in circles polishing, dusting and scrubbing? Then let this toaster be your right hand man!
Overview
It is made with a smudge proof brushed silver finish which means that fingerprints won't show up on it, keeping that pristine shine. Here are a few more features I think you will love:
Features
This toaster has a cord wrap which tucks neatly under the base making it easy to store. 
The extra wide slots make it easier to toast artisanal bread, homemade bread, bagels and waffles.
Cleaning up has just become 10 times quicker as it has a slide-out crumb tray that can be wiped over with a dry cloth and then reinserted.
Pros
The slots are extra wide
Has multiple level settings
Beeps when the toasting is done
Cons
Doesn't toast evenly
The body tends to stain easily over time and lose the shiny appeal
KEEMO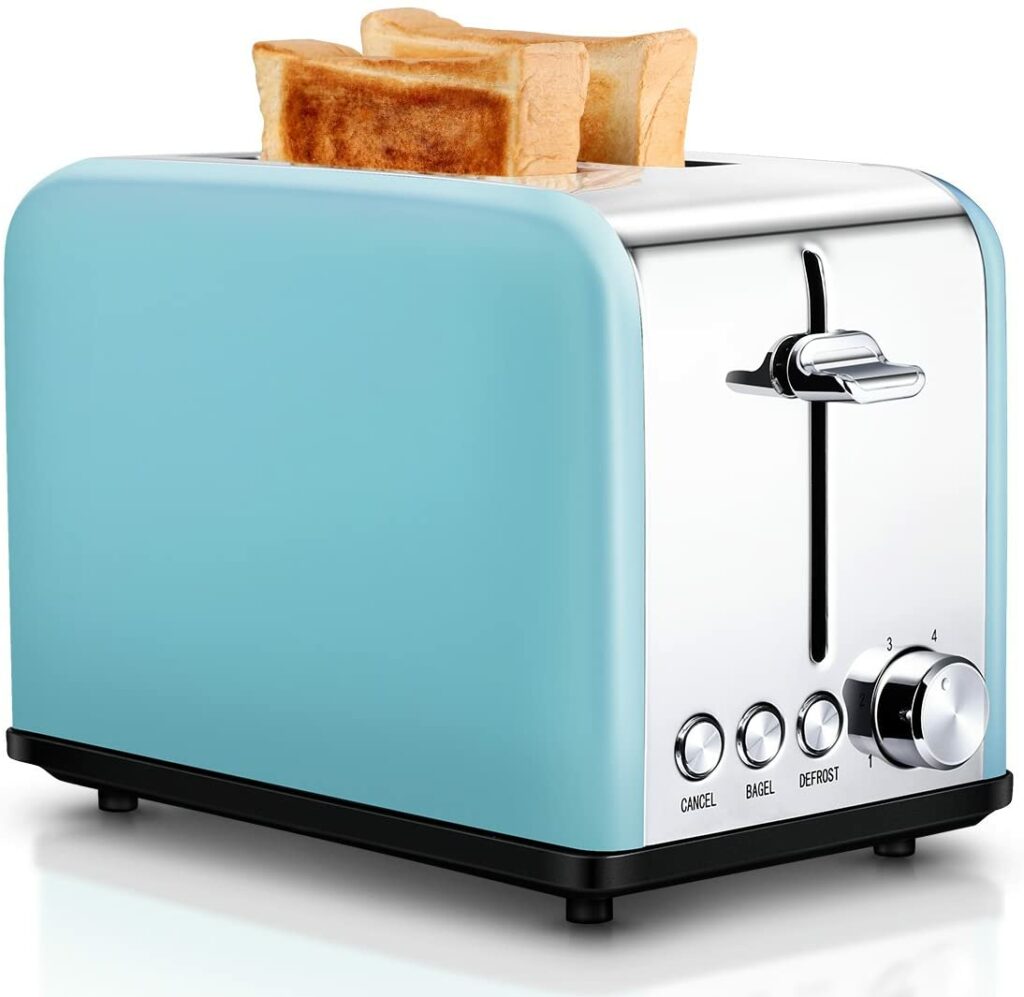 Here is a great space saving, slim toaster by Keemo. If you are looking for a toaster with an elegant design and look then this is the one for you.
Overview
This Keemo toaster comes in a compact design but still has wide slots, meaning you will be able to toast all of your favorite chunky bread such as bagels, crumpets and muffin halves. It comes with some fantastic features that I think will really interest you:
Features
With this toaster you can have your bread just the way you like it as it comes with 6 browning settings, so that you can pick your perfect shade with 1 being the lightest and 6 being the darkest.
It comes with 3 handy pre-set functions: defrost, reheat and cancel.
Pros
Has multiple toasting setting
Easily fits in the kitchen countertop
Has a removable crumb tray
Easy to clean
Cons
Doesn't toast the bread evenly throughout
Hamilton Beach 4-Slice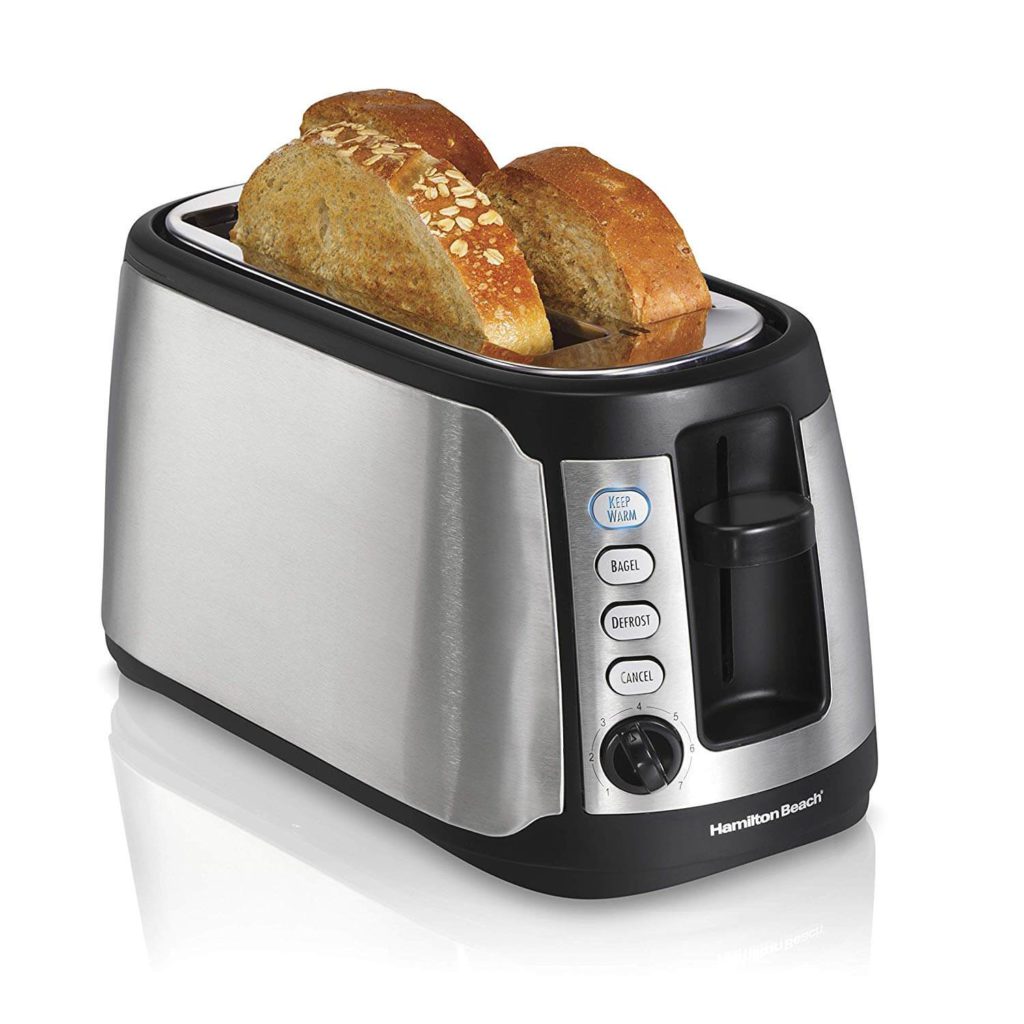 Want to get the job done twice as fast? The take a look at this Hamilton Beach toaster than can toast 4 slices of bread at once which is ideal if you have a large family.
Overview
Then this slim 4 slice toaster by Hamilton Beach will be your perfect match as it can toast four slices of bread at once, double your average two slices on a standard toaster.
Features
No one likes cold toast, and that is why this toaster has been designed with an extremely clever "keep warm" feature, that keeps the bread warm for 3 minutes after toasting without burning it. 
Never burn your hand on the side of the toaster again! This toaster comes with an added safety feature – a cool exterior wall, so that you don't have to worry about burning yourself on it while it is in operation, making it a safer option for families with small children or kitchens with limited countertop space.
Pros
Has a variety of different features
The body doesn't get heated up while toasting
Easy to clean the crumbs
Has a alert system
Cons
The top portion of the bread remains underdone
The edges of the bread burns off easily
Nostalgia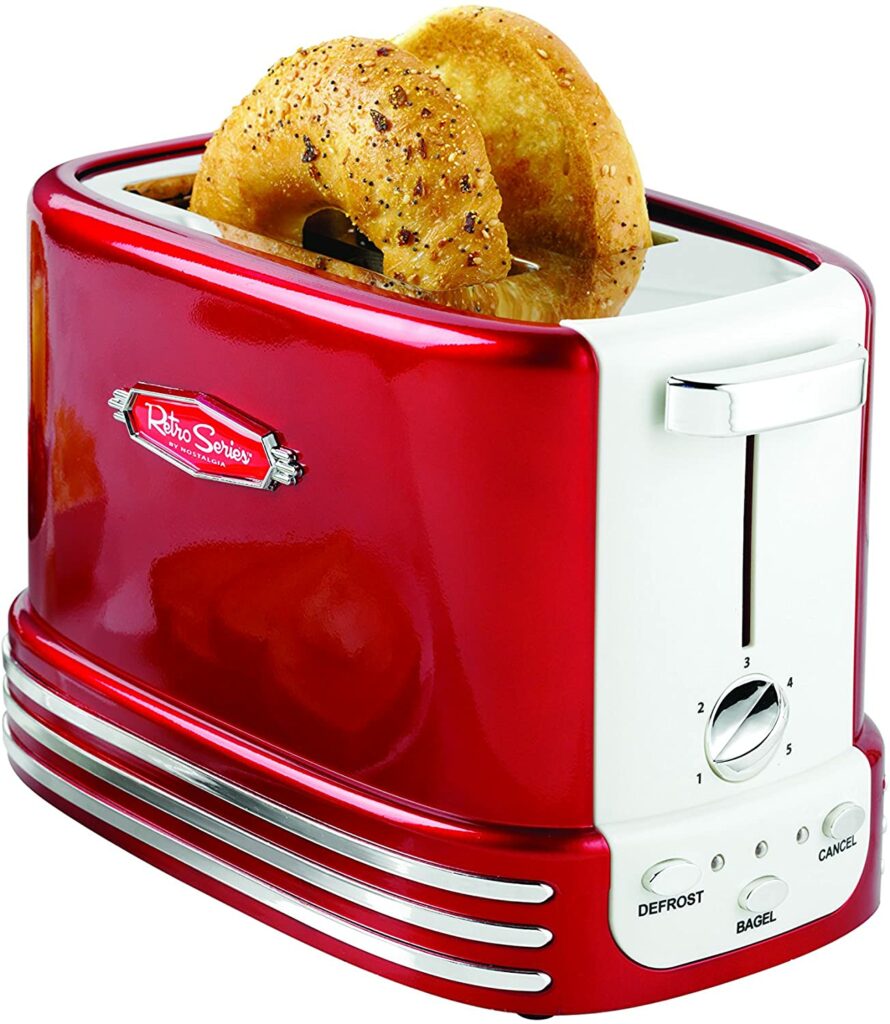 Looking for a rather stylish toaster to display on your kitchen countertop? Then this is your model.
Overview
This 2 slice bagel toaster by Nostalgia comes in a retro red color and has been designed in a fantastic retro shape, perfect to display in any kitchen.
Features
The lighted bagel, defrost and cancel control buttons really give this toaster an extra special shine.
It comes with 5 browning options so that you can toast your bread just as you like it, everytime.
It is easy to store, as the cord can be folded and tucked under the unit.
Pros
The slots are wider
Has a defrost setting
Adds a retro look to the kitchen top
Has a crumb removal tray
Cons
The bread doesn't pop out once it's done toasting and makes it difficult to take it out
Doesn't toast the bread evenly
Maxi-Matic ECT-4829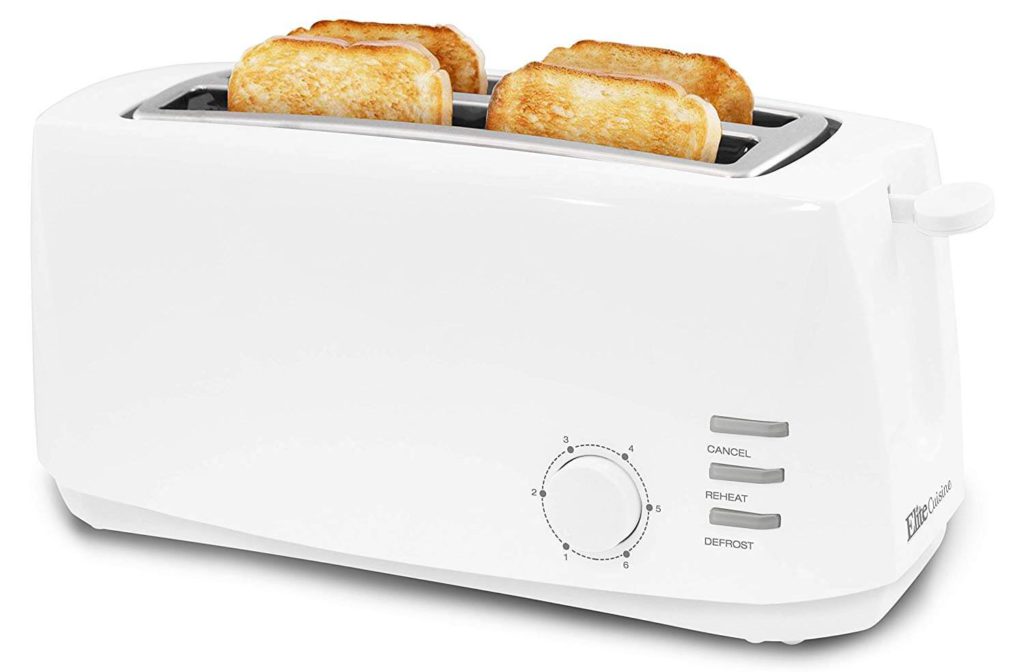 Are you often cooking breakfast for the whole family? Then we introduce you to the Maxi Matic ECT toaster, which is perfect for toasting bread in large batches than usual.
Overview
This is the perfect toaster for large families as it has a 4 slice capacity, meaning that you will be able to get breakfast on the table before the kids even have the chance to think about being hungry. Check out some of the other great features:
Features
The cool touch exterior on this toaster makes it a great toaster for families. You will no longer have to worry about anyone burning their hands on it while it is in operation as it stays cool while cooking.
It has extra wide 1.25 inch by 10 inch slots, allowing it to toast bagels, waffles and homemade bread to perfection. 
This super stylish design comes in your choice of white or silver and black, so that you can pick the model that will best match your kitchen.
Pros
Toasts the bread slices evenly
The slots are big enough for bagels and larger bread slices
Stays cool to touch
Cons
The toasts often do not pop all the way out and have to dig in to take them out of the slots.
Oster 2-Slice Toaster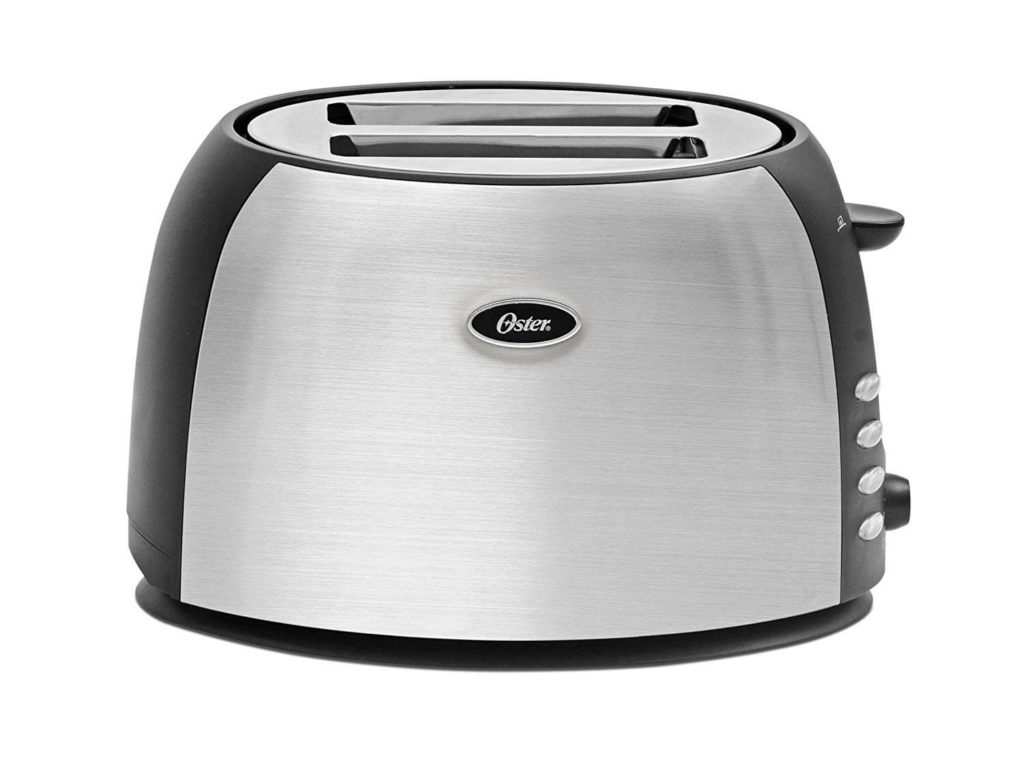 This brushed stainless steel toaster by Oster is really fantastic. But you don't have to take my word for it, have a look at what it can do:
Overview
If you love the taste of the perfect crispy toast for breakfast then this is the ideal toaster for you. This is a 2 slice toaster, that offers multiple shade settings for you to have the toast of your preference every morning.
Features
This toaster comes with 7 generous toast browning settings, allowing you to pick and choose the shade on your bread as you like and have it consistent everyday.
It is dead easy to clean as it comes with a removable crumb tray and not only that, but the removable crumb tray is dishwasher proof, so you don't even have to worry about wiping it. Nice.
It comes with an anti-jam feature that will automatically turn the toaster off should any food become jammed inside it, so that you can safely remove it.
Pros
Comes with 7 different shade settings
Easy to clean after use
Remains cool to touch
Cons
The bread slices doesn't toast evenly and consistently
The press down button often tends to get stuck
How To Store Your Toaster
Looking to save some countertop space by storing your toaster? Perhaps you are trying to declutter your kitchen and are looking for some innovative space saving tips and tricks.
Or maybe countertop space isn't really an issue, but you just don't like the way your toaster looks as a permanent feature on your kitchen work surface as let's face it, they are not the most stylish appliances.
Then look no further, as here are two handy ways for you to store your toaster that will keep it out of the way in the kitchen.
Purchase a toaster box. As previously mentioned, toasters aren't the prettiest appliance in the kitchen and when you have worked hard to get the deco of your kitchen down to a T, the last thing you want is a bulky kitchen appliance ruining that. 
A toaster box may just be the solution to your problem as they come in various designs and a variety of sizes, making them the perfect home for your toaster. You can place a toaster box on an open shelf in the kitchen alongside other nick-nacks.
The toaster box with the right design to match your decor could even become a bit of a statement or feature on a shelf when placed next to other smaller decorative storage boxes. 
Place it in a cupboard. The next best thing to do with a toaster if you want it out of the way is to store it on a shelf in a closed cupboard.
That way you can simply retrieve it when you need it and it doesn't have to live on your countertop 24/7, giving you more space to work with.
If you have a slim toaster, it may have a heating rack that you can detach and a cord that can be folded up and placed under the base of the toaster to make it even more discreet.
3 Improper Toaster Uses to Avoid
I know what you are thinking, a toaster, probably one of the most basic kitchen appliances, is it even physically possible to be using one in the wrong way? The answer is yes, and that may surprise you.
I know why. Toasters are just so simple to use that we have been operating them practically since birth. But there are few things that we neglect doing when it comes to toaster care and maintenance that often leads to buying a new toaster prematurely. 
Maybe you are looking to buy a new toaster and would like some tips on what to avoid in order to keep it in the best condition possible. Or perhaps you already have a toaster at home and are looking for some information on how to keep it ticking over for longer. Whatever the case, here are three improper toaster uses you should avoid in order to keep your toaster in tip top condition for longer.
Cleaning. Toasters like to be kept squeaky clean. I am sure that you have heard of cases where a toaster has caught fire or something inside it has blown up. That is usually the case because of a lack of cleaning. 
A toaster must be cleaned on the outside, as over time a build up of crumbs and grease accumulate on the exterior of the toaster, causing it to overheat and stop working efficiently.
It is also imperative to keep the toaster crumb free on the inside. As a build up of crumbs on the inside of the toaster will cause them to burn and eventually smoke.
The solution? Clean your toaster regularly, unplug it then wipe down the outside of the toaster to remove any crumbs or grease. If it has a crumb tray, remove it and empty it weekly to prevent the toaster from becoming clogged.
Add cheese. I hope this sounds like a rather daft idea to you, but it has been known for people to make a cheese toastie in the toaster without a toastabag. How? They tip the toaster on its side, place the cheese on the bread and slide it in carefully hoping none of the cheese touches the heating elements inevitably causing the exploding of their toaster. 
Now, don't get me wrong, there is nothing better than melted cheese on bread, but there are definitely ways of making it. Stick it in a toastabag, that way you can add all of the tasty toppings you like to your bread without worrying about setting fire to your toaster. Or if you don't own any toastabags then simply pop it in the grill. It's better to be safe than be sorry.

Extra lift. Now here's something that could be detrimental not only to your toaster, but more importantly to yourself. 
Bread comes in all different shapes and sizes and some of the smaller slices can really be quite tasty. If your bread is slightly on the small side, it may not peak up over the top of the toaster when it has popped up. What should you do? Avoid using a fork, knife or any other kitchen utensil to snatch the toast out of the toaster as this is really dangerous and could lead to electrocution, meaning the end of you and the toaster. 

Most toasters come with an extra lift feature on the same lever you use to push the bread down to operate the toaster. Instead of pushing the lever down, try pulling it up and your smaller slices of toast should peep out enough above the toaster for you to grab (with the toaster turned off of course).

So there you have it. 3 ways you should not be using your toaster. Make sure you avoid these practices in order to keep your toaster in like-new condition for longer.
Conclusion
So there you have it, 6 of the very best slim toasters on the market right now all at very affordable prices, so it is just a matter of picking the specifications you like the most, choosing a model and then you will be on your way to serving up a beautifully browned, hot slice of fluffy toast. 

Enjoy!