Weekends are the best time of the week to invite family and friends over, and if your bunch is anything like mine, there's no better way to kick start a gathering than with some piping hot slabs of smoked meat. What is the easiest way to get the tastiest results with your meat? Take a look at the Camp Chef dlx review in this article in order to find out!
Camp Chef SmokePro DLX Pellet Grill
A barbecue is not complete of course without the very best sides and drinks – an ice cold beer, or a fruity mix up of fresh Pimms, along with a side of creamy and cheesy mac and cheese, a Greek salad with spicy olives and simply some fresh burger buns with all of your favorite condiments. But as I am sure you will agree that even with the best sides and drinks on hand, a barbecue will only rate mediocre at best if your meat isn't well marinated and properly smoked. 

Camp Chef SmokePro DLX Pellet Grill Review
What will help to make smoking meat an easier task? – The very best Camp Chef DLX pellet grill. Are you looking to find out a little more about it? Then stay tuned as I will discuss the top features of this grill and show you the best Camp Chef DLX review.
Overview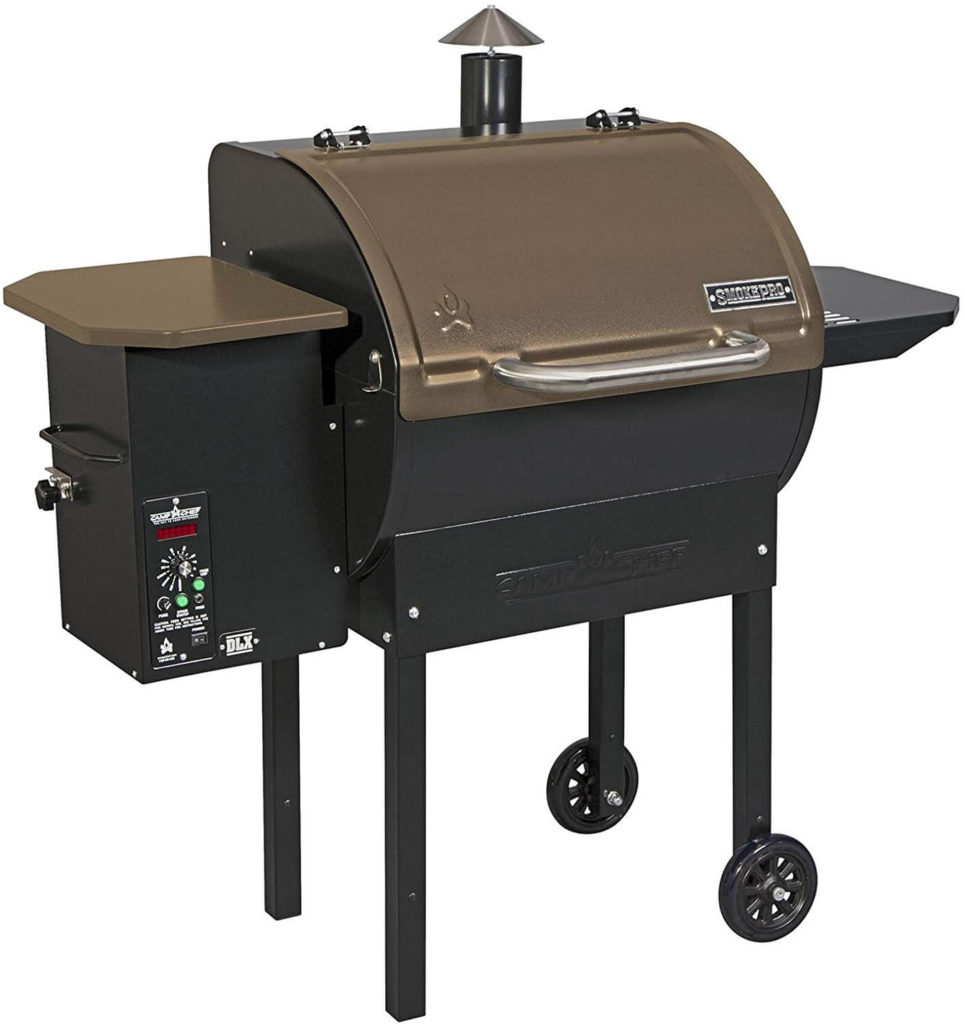 Has a shiny new Camp Chef SmokePro DLX pellet grill caught your eye? If you are looking to replace your current grill or are looking to purchase your very first one, I am sure you will want to invest in a smoker that comes with all of the best features in order to make your food as tasty as possible. Check out the top features that the Camp Chef SmokePro has to offer:
Smoker Features
This smoker comes with two handy food preparation ledges, the perfect area to rest uncooked or cooked meat or even to place cooking tools and utensils. 
Cleaning up is never fun, but this Camp Chef SmokePro DLX pellet grill makes it a speedier process thanks to the ash out system that collects all of the ash and debris into one place, ready to be removed and emptied.
There is enough room on the grill to cook for the whole family as the grill grates total cooking space measures 570 square inches.
The electronic auto start ignition makes it easy to start up the grill every time, even in cold and damp weather – there's no need to sit waiting around with this Camp Chef DLX grill by your side!
Pros
Easy to use
Has temperature control feature
Very well made and sturdy
Cons
Ashes from the grill falls and spreads at the bottom and hard to clean up
Top Features of the Camp Chef DLX Pellet Grill
Is your finger hovering over the "confirm and pay" button on that brand new Camp Chef DLX pellet grill? I am not surprised, it is a fantastic grill. But before you commit to a purchase, why not get to know your brand new, top of the range grill by looking at the following information about all of the swanky features it comes with:
Trap door
This pellet grill comes with a trap door under the fire grill where ash and debris collect, making it easier for you to clean out the inside of the grill.
Temperature control
The grill comes with a meat integrated probe display on the outside of the unit that will help you to keep an eye on the temperature of your meat at a glance. It will also assist you with cooking cuts of meat that are temperature and time-sensitive such as steak meat.
Do you like making your way around the backyard? The Camp chef DLX pellet grill is on two wheels, helping you to transport it around the backyard and on and off of the decking with ease as and when you wish.
The smoker comes with two preparation ledges that are perfect for resting cooked meat ready to serve or uncooked meat ready to grill.
FAQ
What is the best camp chef pellet grill?
The Camp Chef DLX Review is the favorite of many. It is a pellet grill of exceptional quality for a great price.
How do you cook on a camp chef pellet grill?
The Camp Chef DLX is truly a set it and forget it pellet smoker. On the control box (after filling the hopper with pellets) simply set the desired temperature, place the included probe in your meat and wait for it to be finished. Thats it! NOTE: lower temperatures produce more smoke, this smoker has a Lo and Hi temp smoke setting in addition to the specific temperature settings.
Conclusion
Inviting family and friends to a barbecue is a great way to spend the weekend, and there is nothing better than that feeling on a balmy Sunday afternoon when you tie your apron around your waist, pop an ice-cold beer on the side table and your sunglasses on and stand flipping burger patties and turning chunks of succulent meat on the grill. And of course, tucking into your meal with family and friends in the backyard and getting the happy belly smile of approval is really what puts the icing on the cake. 
Having the most amazing smoker grill to help you make the best family barbecue is essential, that is why when shopping for your next grill, be sure to consider the Camp Chef DLX range! 
Are you ready to shake things up a little and add a new flavor infusion to your grill? Then why not try cooking on flavored wood pellets the next time your fire up the smoker? You can try adding a cherry, maple or smokey pecan taste to your meat that your family will go nuts for. 
And rest assured that all of this combined with a fantastic Camp Chef DLX smoker will make for the very best barbecue your family has tasted.