Our #1 Choice
Kamado Joe KJ23RHC Classic Joe II 18-inch Charcoal Grill...
Weber 18-inch Smokey Mountain Cooker, Charcoal Smoker
Cookshack PG500 Fast Eddy's Pellet Grill
Cookshack SM009-2 Smokette Electric Smoker Oven





Smoking is one of the oldest ways to prepare food. That is why we created this guide to the best BBQ smokers. Everyone can do it in the summer, but even winter barbecues can be very romantic.
Electric smokers are widely used. Because they do not emit smoke or leave bad smells after cooking. In addition, there is no toxic fatty acid produced during cooking.
You can enjoy a safe barbecue by following some tips provided by The United States Department of Agriculture (USDA) Food Safety and Inspection Service (FSIS).
In order to cook food well:
Grilling only in open air
Barbeque away from children and animals
Clean the grill of grease
Test for gas/propane leaks regularly.
Keep observation and vigilance during the barbecue
There are several choices of smokers. You will find what you need according to your taste and needs in terms of the right price and the preferred size. Keep in mind that you do not choose a very small type that does not meet your needs or a very large one.
Be careful to choose a good and efficient smoker, without throwing away your money. Or spending them in a device that over time would prove inadequate to the task. To help you clarify the ideas, we have made a selection of the best smoker for the money.
Best BBQ Smokers In 2020
Kamado Joe KJ23RHC Classic II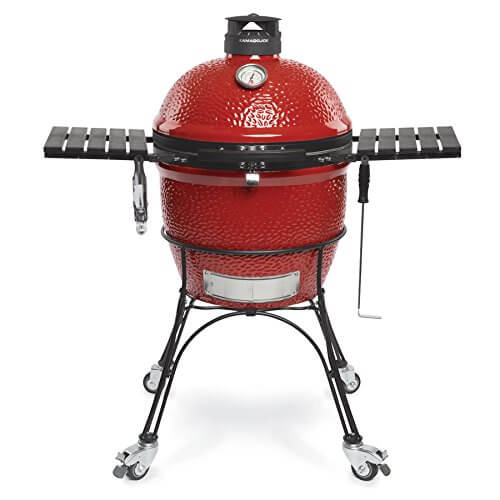 There's no more heavy lifting necessary when it comes to this Kamado Joe charcoal grill as the airlift hinge reduces the weight of the lid by 96%, helping you to effortlessly open and close the lid on the grill with just the touch of a finger so that you can keep a constant eye on the all-important meat and fish on the grills.
Time-consuming and energy-sapping clean-ups are a thing of the past as this blaze red charcoal grill comes with an ash drawer that easily slides out and can be emptied into the trash, wiped over and then reinserted.
The tier grill cooking system means that you can cook at different speeds and with different browning levels according to your guests' preferences, or simply helping to follow various recipes at once.
The blazing red color is eye-catching and will make for a great feature in the backyard.
KBQ C-60 BBQ Smoker Pit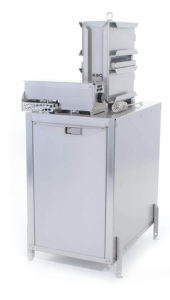 KBQ is the most innovative smoker in the world. Uses a real wood fire and gives an astonishing taste to the food. People say that it is the best meat smoker.  It is made in Texas, with laser-cut, stainless steel construction. In addition, the Control box which preserves temperature automatically.
People used to cook food above a fire. Then KBQ turns this system completely.
The inverted flame mode, make the smoke is pulled from below through the hot bed of coals.
Air vents let the oxygen pass through. And create the thin blue smoke which gives the special flavor to the foods.
The upper aperture produces visible smoke, stronger and smokier flavors.
The lower aperture produces lighter smoke and suitable for cooking sausage and chicken.
KBQ Firebox intrinsically controls the smoke trait. So, it is easy to control the temperature.
Forget the traditional stick-burner. You can make thin blue smoke and a fantastic barbecue in a KBQ pit. Each pit contains:

Cookbox contains 12 racks. Its capacity is 60-lb
Controlbox:  AutoDraft technology.
Firebox: Inverted Flame technology and Smoke Selector™ feature.
Four wire interchangeable shelves.
Wheels pre-mounted on the rear legs
Facts you should aware about KBQ
You need to add a small log or two, about every 30 minutes.
The KBQ C-60 works best on small logs. So, it is not easy to find fuel.
You should line-up a wood supply first, which are too expensive, too small, and too dry.
It is better to build a small campfire.
Weber Smokey Mountain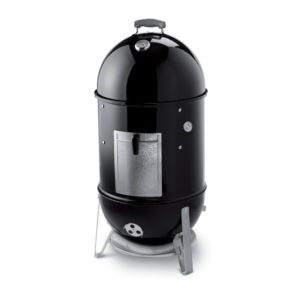 Great and brilliant design, strong structure, which has a porcelain-enameled lid, will not rust or flake. It is considered the best vertical smoker. The center section keeps the heat.
Pros
The smoker and its water pan are made of porcelain enameled steel.
It is characterized by durability, strength and beautiful design.
Moreover, the internal temperature is monitored by silicone temperature grommet, and you can use the dampers to control the smoker's temperature.
You can add charcoal and wood easily while smoking through the fuel door.
Also, you can cook more than a kind of food at the same time because it has two cooking grates.
The cooking area is 481 square inches with two cooking steel plated grates. Which means great cooking space.
It has one top air vents and three at the bottom. So that helps the airflow and stable temperature for many hours.
It is a fantastic smoker, easy to use and capable of producing great, amazing barbecue.
It is considered a good choice for beginners and veterans, alike. looking for cost-efficient.
Cons
The charcoal door is weak and can leak heat and smoke.
The Orion Cooker Convection BBQ Smoker
You do not have to wait long to eat delicious meat. The revolutionary Orion Charcoal Cooker is very fast.
It takes only two hours to cook a 20-lb. turkey. And keep the juicy flavor of the meat. So it is an amazing product, uses indirect heat inside the cooking cylinder.
Features
It gives a great taste in the quickest time; it needs half of the time needed by any other smokers.
Perfect design with stainless steel construction provided with lifting handle, poultry stand, and three cooking grates.
It has an enclosed cooking room that separates the flame from the food like ovens.
The indirect heat creates a convection influx within the cooking room.
This smoker keeps heat, smoke, and moisture.
You can cook several kinds of foods or large quantities of food at the same time with the large capacity cooking room.
It is provided three stacking cooking grates, hooks to hang racks of ribs and a poultry stand.
Cons
It needs large amounts of fuel which makes it very expensive.
It is better to use self-lighting charcoal since there isn't an effortless way to light it.
You have to put the charcoal in two separate rings
REC TEC Grills Bull | RT-700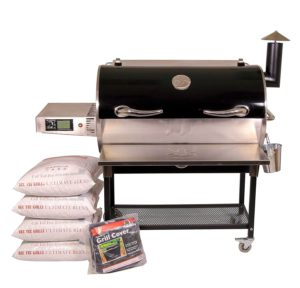 REC TEC is a high-quality innovation. Many people like it and its well built.

It is a strong competitor to other smokers in terms of price and quality

REC TEC grill is made of stainless steel inside and out to give long-lasting, and no-rust machine. So, there is no need to fear or worry about any flaking.
Excellent choice, especially if you prepare large quantities of food. Provide wonderful flavor to the meat.
You can control your food even if you are far away, with Wi-Pellet Wifi Technology.
Just download the REC TEC GRILLS App from Google Play Store.
It is characterized as containing dual meat-probes that plug into the grill's controller, so you will not need a thermometer to monitor your food.

Top Features:
Smart Grill Technology in order to keep the temperature accurately.
Grilling from the wireless device from anywhere by the smartphone thanks to the Wi-Fi feature.
The ability to raise the temperature for multiple uses such as roast, broil, bake, smoke, grill, and sear.
last a long time will never rust or warp, thanks to the heavy-duty material
Has excessive space enough to accommodate massive amounts of food, chickens, and turkeys
Digital display to inform you to make troubleshooting easy
Two grill racks made of stainless steel
Inner light to work day and night. and Automatic lighting feature
Temperatures above 500ºF.
Automatic shutdown feature
The simplicity of using this smoker is one of its biggest advantages. You do not have to make an effort to light the grill. Just put your pellets and press the power key. Then leave it to work while you sit or have a rest.
You can cook everything and it will give you a deep, smoky flavor every time with the real hardwood pellets used to fuel.
Connect to the smoker with REC TEC Grills app. If any error occurs, automatic alerts will become out
Control your preferred temperature according to your use sear, roast, smoke, grill, or bake. From 200ºF to 500ºF.
Camp Chef SmokePro DLX 24 Pellet Grill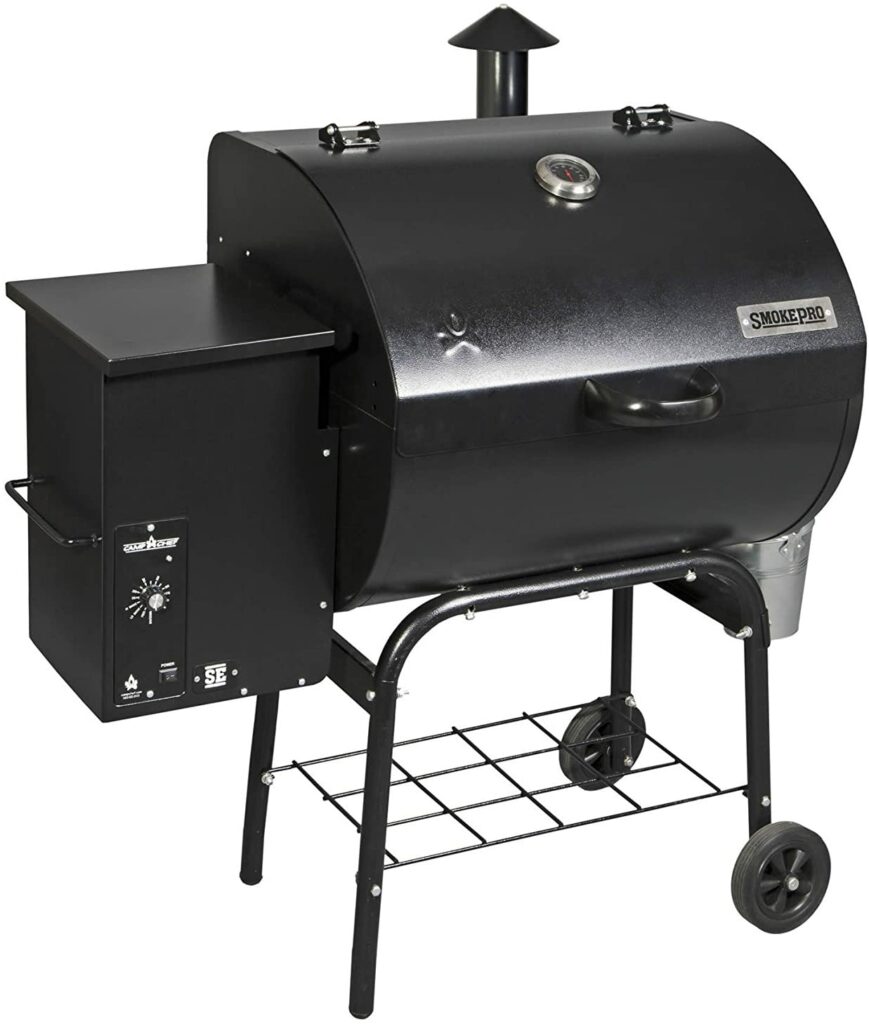 Camp Chef SmokePro is easy to use, give you reliable smoke every time.
It comes with a probe for meat, to plugs into the control panel. That help to know the internal meat temperature. The squared off back give more space for a second cooking rack.
Camp Chef offers more value and deserves more than it costs. So when you buy it you will get more than you pay for.
The Ortech style numbered dial temperature makes it very easy to use for both beginners and pro.
It is a smart grill can give you various cooking methods such as sear, roast, smoke, grill, or bake.
It is easy to clean ash. And has patented a badass Ash Cleanout system.
So, one of its worthy advantages is its clean-up system you do not have to spend hours to vacuum Instead,  just drag a lever to release the ashes from the firebox, for easy elimination.
In addition, it has a trap door on the bottom of the hopper to get rid of leftovers.
Top features
Provided smart digital temperature control
Simple and effortless to startup
cooking space is 429 square inch
Temperature  from 160 to 500° F
Provided with a digital temperature control system
Has a side rack
Pellet purge system
stainless steel construction
Included probe meat to watch the internal cooking temperature
Cons
It has a lightweight construction which means it does not keep the heat perfectly.
Royal Gourmet 30″ BBQ Charcoal Grill and Offset Smoker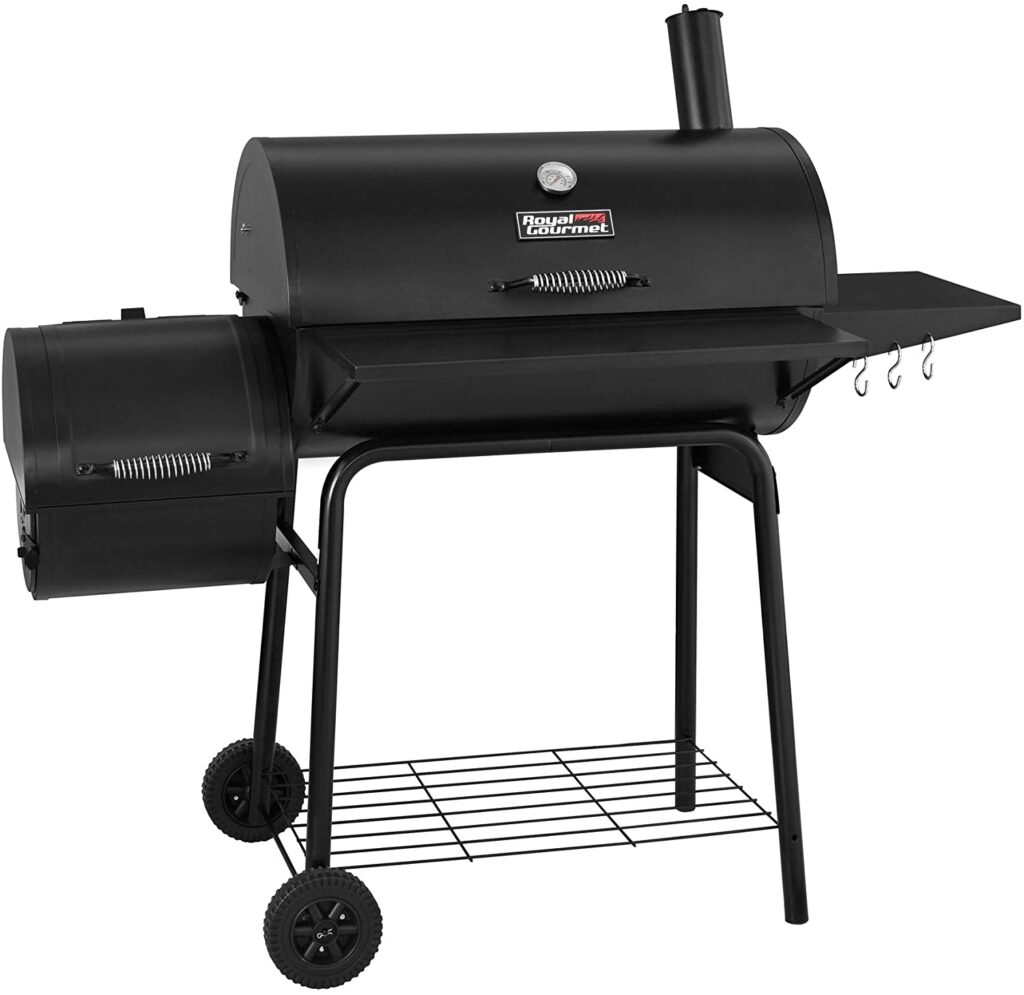 It is a good choice to enjoy an old-fashioned pit barbecue and taste delicious natural wood-smoked foods.
It gives you a real wood smoke and cooks the food slowly. So it keeps moisture and flavor in the food.
It is very convenient in use where you can put food without having to look out from time to time.
This smoker will do everything and let you enjoy your barbeque session. Just follow the cooking instructions and do not be mindful or observe the meat every moment
It offers enough space to smoke a large amount of meat without cutting.
Choose your favorite wood chip, that every wood chip gives a different flavor.
Top features
Cooking space is 800 square inches
Unique design with a strong structure has a wide smoking grate, durable frame, and compartments.
Use charcoal and wood
Easy to use
Cons
Z Grills Wood Pellet Grill & Smoker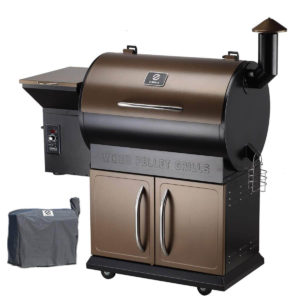 It is a great product that comes with an automated electric feed system that maintains the temperature. So you can set the grill temperature easily.
This smoker makes you enjoy the savory wood-fire taste in your food.
Z Grills can do several types of smoking, baking, roasting or braising and cooking delicious food as you like.
Top features
Hopper Capacity is 15 lbs
Provided with digital control board to set the cooking temperature.
Temperature from 180F to 475 F.
Provided with internal temperature Sensor
Electronic Auto Ignition
Smart Smoke Technology
Huge grilling area
Gives strong smoke flavor more than any other pellet smoker
Smokin-It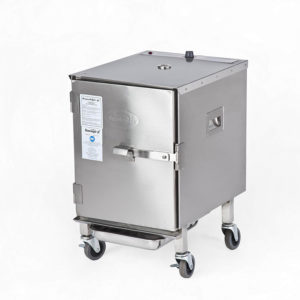 When you buy this smoker, you will find a sample of hickory wood to start immediately.
It comes with a drip pan that slides under the smoker, and a smoke box.
And has a heating element with LED indicator light, is isolated with fiberglass to decrease heat loss. Moreover, has a 12-foot power cord.
It has a large cooking capacity. So, you can put inside  22 pounds of meat.
This smoker is solid and made from 18-gauge non-magnetic stainless steel, with three grilling racks, which made of stainless steel also.
You can adjust the inside temperature easily by the built-in temperature control system.
Top features
400-watt heating element
The smoke box is large enough to put the amount of wood needed.
It is easy to clean and provided with a drip pan to catch the meat juices, and foil on the lower parts and drip pan.
Suitable for big families because it has a large capacity.
Included fiberglass to reduce the heat loss and maintain the required temperature.
Has wheels to make it easy to move
The cooking area is 468 square inches
Cons
There is no remote heat sensor. But it is not a problem for most people
Smoke Hollow PS40B Propane Smoker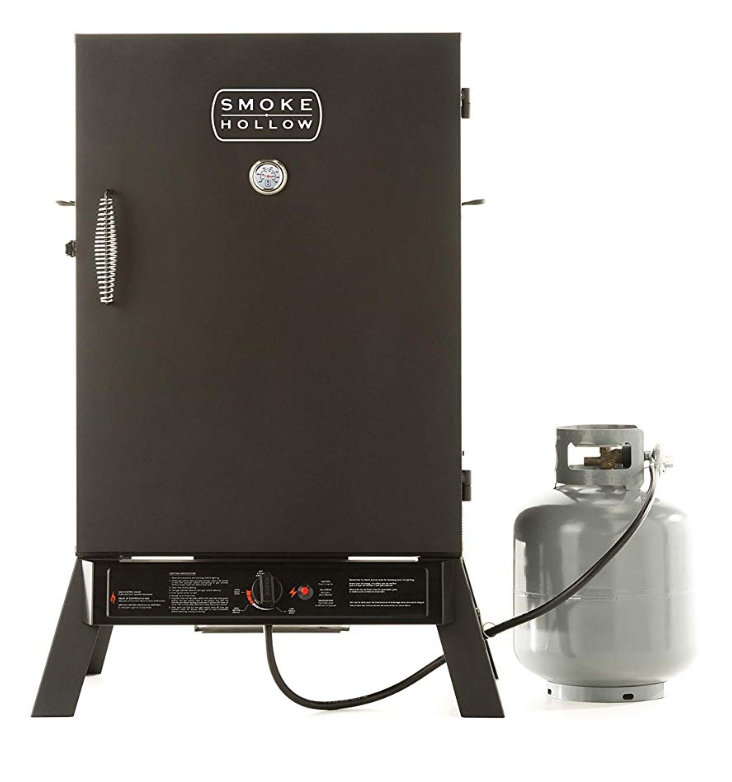 A special product, made of solid and durable steel, comes with four chrome-plated cooking racks, which you can adjust their level, as you need. In addition, it has a Sausage hanger. This system is an impressive 15,400 BTU
Push button ignition lights quickly and easily.
This unit has an adjustable air damper so that you can easily control the smoke and moisture.
This is a pretty large smoker with a larger smoking area than most, the inside dimensions are 15.25″ deep x 23″ wide x 33″ high. This provides plenty of room to smoke all of your veggies and meats.
This product is characterized that it has a gas control system, which gives you unlimited control and raises the low to the high-temperature range.
Top features
Wonderful performance and good price
Excellent temperature control
Cooking space is 15″x23″x33″
Has built-in thermostat and thermometer to adjust temperatures
Cons
The doors allow the smoke to leak out
Camp Chef Smoker
Great product you will be able to taste delicious food with several smoked flavors. You cannot get this taste with any other smoker.
Made of  heavy-duty steel
You can control internal temperatures with heat-control dials, a door thermometer, and three damper valves.
Features
It comes with a water pan, which helps to remain food moist.
You will receive recipes, and ideas to cook with this smoker.
Cleaning after roasting is very important in order to keep the smoker for long and ensure a good flavor of food every time.
Cleaning this smoker is very easy just drag the base tray and get rid the residue.
It included a built-in thermometer, with a great wide range from 50 to 550 degrees.
One of the most important features that it has an ignition system. So,  you can ignite it without effort.

You can adjust the desired temperature by three different damper valves. One valve is on the top and the others are on the sides of the smokers.
Cons
Inaccurate Thermostat
Cookshack PG500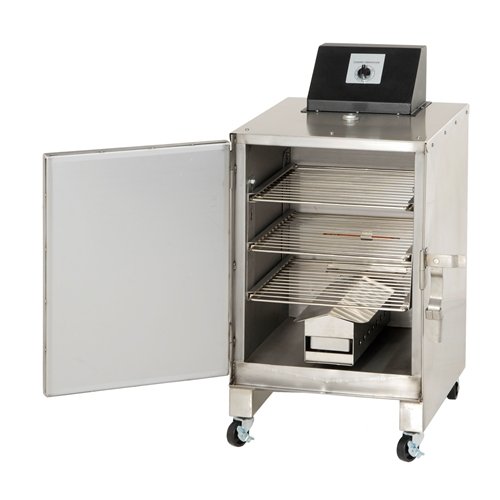 It is an awesome solid product made of stainless steel, with nickel-plated grills. It has a fully automated controller in temperatures. In addition, it is easy to clean.
Has a great capacity. So, you can cook a full turkey for the family.
Top features
Powerful direct grilling area
Precision temperature controller
Large hopper capacity
Made in the USA
The doors close tightly and The controller is accurate
It has a large upper rack
Cons
Small direct grilling space. But it can cook at very high temperatures.
Old Smokey Electric Smoker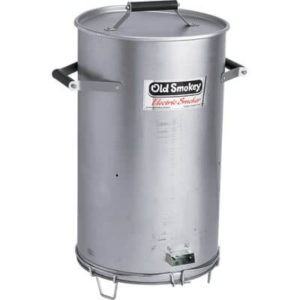 This product is made of corrosion-resistant aluminized steel. It has two cooking racks, a flat top, and drip pan which helps juices drip onto the food, so no need to use water.
Also, the wood chips tray give smoke flavor to the foods and you can control it by a heat thermostat.
Features
It has a heating element like the electric oven.
Provided with variable heat control to allow a wide variety of cooking, advanced sensors, and heat regulator.
Easy to clean with any detergent and water with some lemon or vinegar.
Easy to operate just plug in the smoker and start using it.
It has additional racks to keep the cooked food separately.
It weighs about 25 pounds and easy to move without effort. So it is great to take outside.
Provided with handles made of heat-resistant materials.
Cons
It is hard to know the present temperature without any digital thermometers. So, you can get an electric thermometer by the manufacturer.
Gets very hot when in use
Masterbuilt 20071117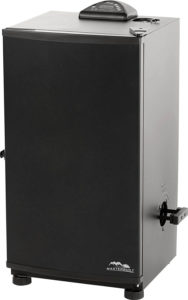 The Masterbuilt is suitable for the beginner. It is a digital electric smoker, easy to use, just plug and start to grill with simple smoking.
This product has four racks coated by chrome. And provided with side wood chip loading system. So, you do not have to open the door to add the wood chips.
It can cook slowly at low temperatures and give an astonish smoky flavor to the foods.
Cleaning is very easy, but do not use any chemicals, just use hot water and apple cider vinegar.
Smokehouse Little Chief
It is an electric and aluminum smoker, with wide capacity let you cook amount 25 pounds of meat or fish respectively.
It works with electric power.
This is a good choice for those who do not like using coals or fire.
It is a strong smoker, which gives you the smoked and distinctive taste of foods.
Easy to clean that it has a dishwasher safe drip pan.
Used outdoors only.
Cookshack SM025
It is an amazing product for old-fashioned barbecue lovers. It has many features including the large grills, and a meat probe.
You can use it easily to cook good smoked foods.
It comes with:
Meat probe
Aluminum drip pan
Operator's manual
Hickory smoking wood

Top features
Cooking space is 504 square inches
Temperature range from 100 to 300 degrees.
Has two adjustable cooking grids
Heat sensor to get consistent heat during the cook time
Measure the internal meat temperature by the attached meat probe
Cons
Not suitable for large parties.
How to Choose the Best Smoker on the Market for You
Whats better than the smell of delicious smoked meat cooked at home?
If you are looking for a barbecue for those weekends, here are some tips so you can choose the best option according to your needs and budget.
There are several types of smokers. So it is hard to make a decision.
Electric Smokers

Electric smokers are suitable for people who are new at smoking foods. There is no open fire and no dripping fats can burn. Just plug them and cook your food at a constant temperature.
So electric smokers are very popular.
Pellet Smokers
Pellet smokers have become popular. They produce various kind of food: grill over wood, bake, and smoke.
They have an auger system and thermostat. When the compressed wood pellets loaded, thermostat informs the auger system. Then the pellet smokers produce smoke to give the food wonderful flavor.
Charcoal Smokers
Charcoal smokers are ideal for people who want something traditional, love the taste and refuse to sacrifice even when it means a harder job.
If you are going to buy a charcoal grill, you should be very patient. That it requires hard work, continuous monitoring,  and observation to adjust the openings and add fuel.
The biggest reward of charcoal grills is that delicious smell and smoky flavor.
Gas smokers
Gas smokers are based on propane or natural gas tanks and can be switched on or off easily.
All you have to do is light the fire and the grill will be ready to cook that delicious meat you so desire.
A disadvantage of this type of grills is that they can not give a smoky flavor so pronounced as in the case of charcoal grills. Even so, if you have one of these grills and you want the meat to have a smoky flavor you can use a smoke box.
Types of Smokers
In our barbecue comparison, we would like to show you the difference between some types of smokers. And their advantages and disadvantages to help you find the best home smoker.
Pellet Smokers
This is an innovative grilling on pellets, practical in use, created to satisfy the most demanding people in their love of grilling.
If you are looking for a true barbecue for your needs, this unique barbeque grill is recommended, a simple and practical product. You can use it at any time of year because it has "turbo heating technology".
How do Pellet Smokers work?
Pellet smokers are wonderful products, have several uses.
They are popular grilling machines because:
You can choose from a variety of grills
You can use as a charcoal grill, a gas grill, a slow-cooking smoker.
Pellet smokers
are provided with a pellet hopper, which steadily feeds wood pellets into the fire. That guarantees fresh wood smoke continuously.
Appropriate and easy to use
Make delicious foods
Distinctive grills. So you can add the lit charcoal into the charcoal tray to use it as a charcoal grill.
Its price is high. But due to its unique composition Let's get to know the most important components that make it a wonderful product
Pellet Hoppers: A box where you can place all the wood pellets as a fuel for the smoker.
Pellet Feeder:  It has a small aperture in the lower part that holds a large pellet auger. The auger conveys pellets from the hopper to the firebox constantly. So Pellet Smoker turned on depending on the desired temperature level
Firebox: It is a rectangular structure with small holes below and a fan underneath. It works as a heat source.
Igniter: It heats up to a red level and the cooling fan pumps the air into the pellet smoker from behind the pellet auger.  The fan below the firebox fans distributing heat equally throughout the smoker.
This heat makes smoke and gives a delicious taste to foods.
Electric smokers
Electric smokers are easy to use and have the ability to maintain a constant temperature.
No need to use charcoal or clean up the ash dust. In addition, you can turn it on and go out without observation from time to time. They are popular and safe.
Cons
It is difficult to use outside because it requires an electrical connection.
They are considered expensive in terms of electricity consumption.

Gas Smokers
Gas smokers have many advantages, including accurate temperature control.
In addition, easy to cook.  There is no need to look for fuel or electricity outlets. Moreover, the price is cheap.
Cons
Produces less smoke compared to some other species.
Cost of fuel source.
Some people are not comfortable using gas as a fuel source.
Kamado Smokers
It is characterized by its oval and circular shape. In addition, its strong structure of ceramics, pottery or steel. Moreover, its low price
Available in several versions including gas, coal, and electricity.
They can be used in grilling, bake, smoke, and pizza cooking.
It has precise temperature control.
Cons
Grilling space is small.
Charcoal smokers
Charcoal smokers have a distinctive barrel or drum-shape design. They are considered the best in terms of giving an ample amount of smoke. So, they give a special taste to the food. In addition, there are a number of choices and prices to choose from.
Cons
Need experience in starting a fire and maintaining it at the right temperature.
FAQ
Which is better electric or propane smoker?
Electric smokers are super convenient however propane smokers may offer better flavor. Either one is easy for beginners to use. You won't have to worry about hot spots or controlling the temperature.
Are electric smokers worth it?
You may need to buy an electric smoker because that is your only option. However, they are some of the easiest smokers to use. They can also be less expensive. The flavor may be better on other types of smokers.
Conclusion
Generally, smokers are divided into many types.
What you should really consider is the taste you want, the time you are willing to take for cooking and the cost.
We hope that the review helped you make the right decision to buy the best smoker that you really like.
This is completely due to your taste, the money you have, the features you want, and cooking space.
Enjoy the barbecue with your family and your friends!