Are you fed up with mediocre grilling? Are you, like many consumers, tired of using a grill that takes an age to heat up and then when it does it is piping hot on one side and cool on the other? And is using a grill that is awkward and hefty to transport getting on your last nerve? Then you will need a new pellet grill, but of course not just any pellet grill but rather a Rec Tec 700 pellet grill.

REC TEC RT-700 Pellet Grill
What is so good about a Rec Tec pellet grill?, I hear you ask. Well, in order to find out just why this is one of the most ranted and raved about grills of 2020, you will have to check out the Rec Tec grill reviews included in this article.
REC TEC RT-700 Pellet Grill Review
Coming up I will show you a Rec Tec Bull review and overview so that you can take a look at some of the fancy and swanky features on this grill. I will also include a list of pros and cons that you will help you to get a better look at how it works and see what consumers say about the grill. All of this and more is coming up for you in this article!
Overview
Before you purchase a brand new grill, I am sure you are dying to know a little bit more about it and to see what the grill has to offer. That is why the following information has been provided so that you can get an inside look on the Rec Tec 700 and see just why this is the grill for you.
Features
If you like a pristine looking grill, you will love the Rec Tec 700 as the inside chamber of the grill is made entirely from stainless steel, meaning it will not peel and will remain looking like new for longer, even when exposed to the elements.
Everything has WiFi these days and thanks to the team at Rec Tec Grills, so will your brand new grill. This innovative feature will help you to control your grill from anywhere you are, adjusting temperatures from your mobile device!
The ceramic ignition system makes it super easy and safe to get the fire started on the grill, you will be able to get your food cooked straight away so that you can tend to those hungry bellies faster than ever before! It has never been easier for you to get your grill up to the perfect temperature than with the Rec Tec 700!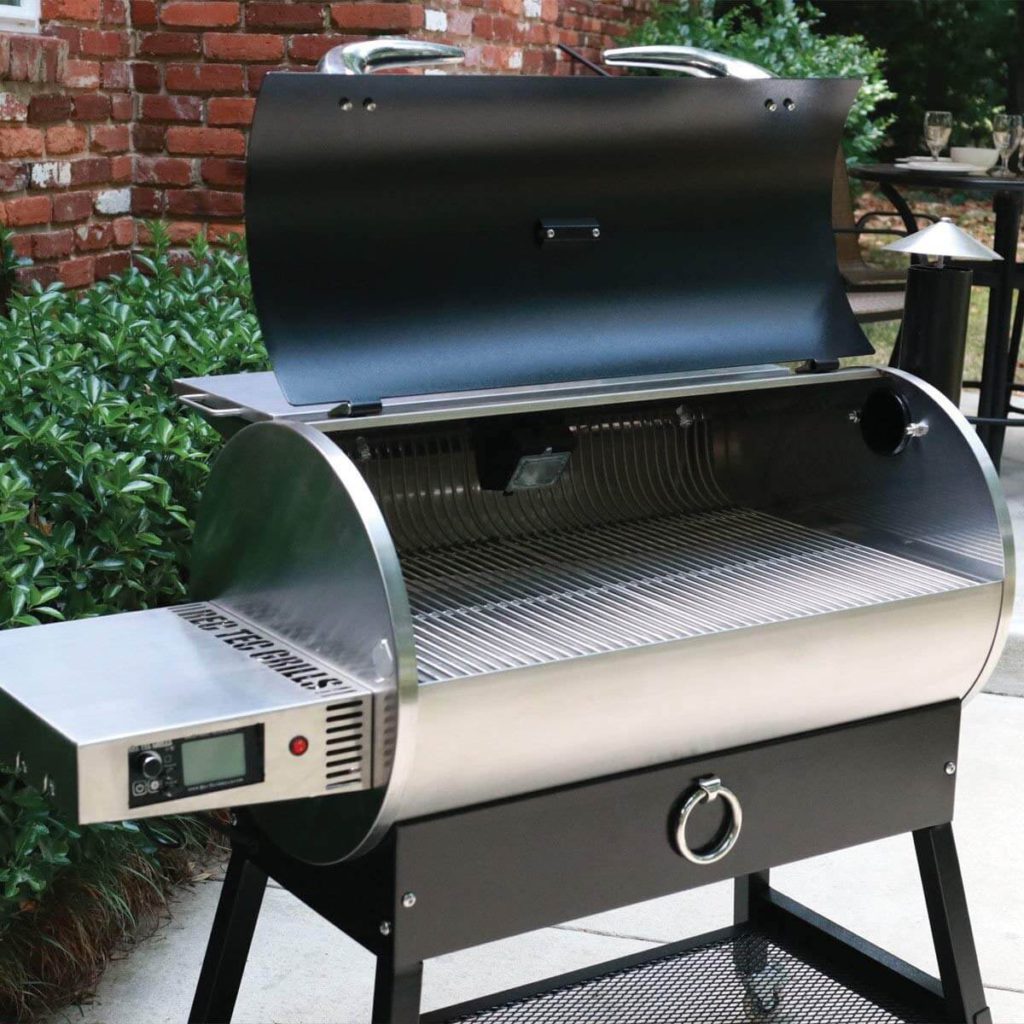 Pros & Cons
Of course, before shelling out on any new appliance I am sure you are keen to know what users are saying about it so that you can get an idea of what you are in for when unpacking the box.
That is why the next portion of this article will show you some pros and cons from users with some of their favorite and least favorite features of the Rec Tec 700. Take a look.

Pros
One of RT-700 user's favorite features on this grill is by far its WiFi controls. Consumers are able to change the temperature of the grill and keep an eye on it using a hand-held WiFi enabled device. Do you fancy controlling your grill from the comfort of your sofa? Now you can!
The grill also comes with two mesh, non-stick grill mats that will provide you with plenty of grilling space. Now you will be able to cook up something tasty for the whole family to enjoy!
Cons
The Rec Tec grill comes with two built in meat probes, but some users have noticed that the temperature gauge on the probes is sometimes inaccurate up to 10 degrees Fahrenheit and that can be a problem if you are preparing food that requires you to cook to precise temperatures.
Conclusion
Grilling is an art that is evolving, and with technology advances on the rise, we should expect grills to become better with features that help to make cooking easier, and that is definitely reflected in the way this Rec Tec 700 has been designed. 
If you are looking for a grill that is easy to use, simple to transport, with ample cooking space and that has been made from top of the range materials, you should go no further than choosing the Rec Tec 700 as your next and last grill. 
Not only is the Rec Tec 700 popular with consumers because it is WiFi enabled, is easy to transport and comes with temperature probes, but it is also loved by avid barbecuers across the nation because it will help you to grill succulent, piping hot and flavorsome cuts of meat simply and quickly. This grill will make preparing some awesome barbecue food for your friends and family a walk in the park, even if you haven't been too confident when using a grill in the past. I am sure you will fall in love with how easy it is to set up and use.
So, for an easy peasy, lemon squeezy grilling experience, make sure you get your hands on a Rec Tec 700 today!