It looks like it is time for a brand new smoker! You have landed in the right place if you are ready to check out the latest information on smokers and are looking to read the most up to date Pit Boss review as this article has been prepared for you to find out everything there is to know about the Pit Boss smoker and all of the features it comes with. 
Pit Boss Grill
Choosing a new smoker can be tricky as there are a bunch of specifications to read up on, some that are essential to the operation of the smoker and others that make cooking on the barbecue more enjoyable and easier to do without all of the babysittings that comes with your standard grill.
Pit Boss Review
So what can you look forward to in this article? This article has been crammed full of the most helpful Pit Boss smoker reviews including information on the size of the smoker, the materials it has been made from, and the outstanding specifications that come with it. 
Now then, if you are ready to get savvy on all things Pit Boss, stay tuned as during this article, we will be discussing it all!
Overview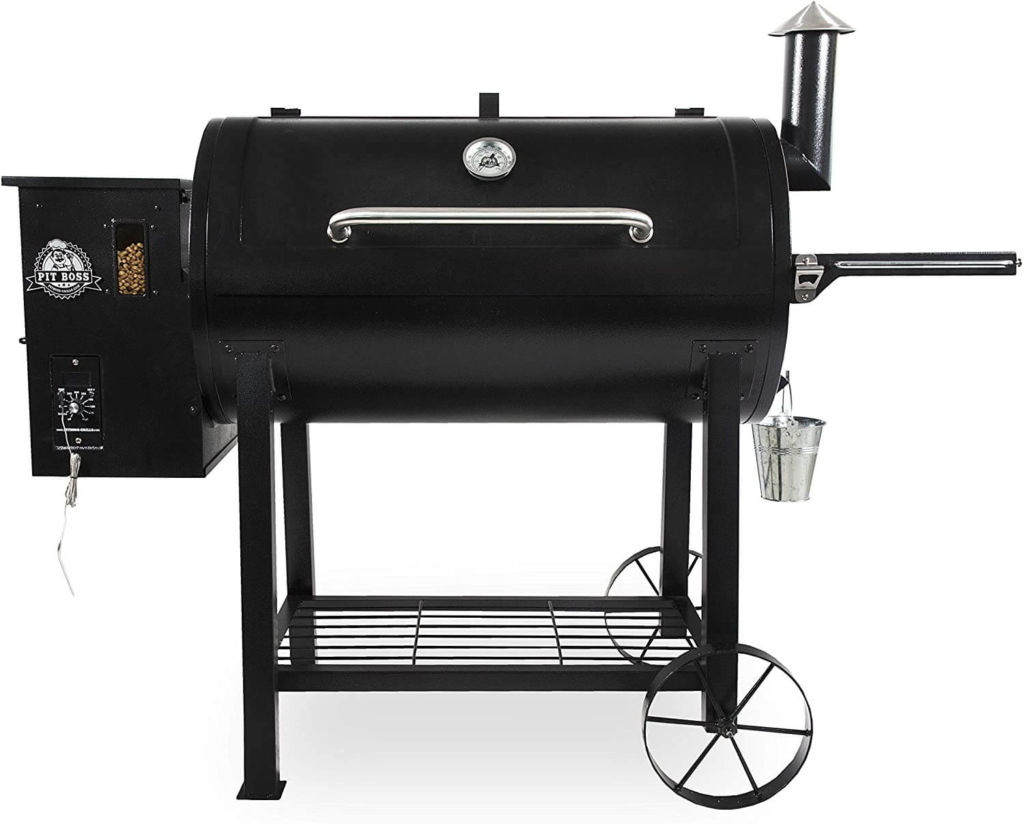 Are you itching to find out more about this smoker? Then take a look at our following Pit Boss grill impressions that will explain how it operates.
Features
With this smoker, you will be able to cook a meal for the whole family! This grill has been designed to help you do some serious grilling and truly feed the 5000. Thanks to the 1000 square inches of cooking space, you will be able to prepare something tasty for everyone this barbecue season.
This grill comes with a wide temperature range, allowing you to heat the smoker anywhere between 150 to 500 degrees Fahrenheit. The wide temperature scope makes this a great grill to use when smoking anything – from delicate asparagus or charred bell peppers to whopping slabs of brisket and beef shank. 
One of our favorite features on this grill is its versatility. Not only does it grill and smoke, but you can also use this unit to bake, roast, sear, braise, barbecue and even char-grill your favorite cuts of meat, fish, and vegetables. There is no limit to the number of different meals you can cook and the various cooking methods you can combine and experiment with thanks to the marvels of the Pit Boss!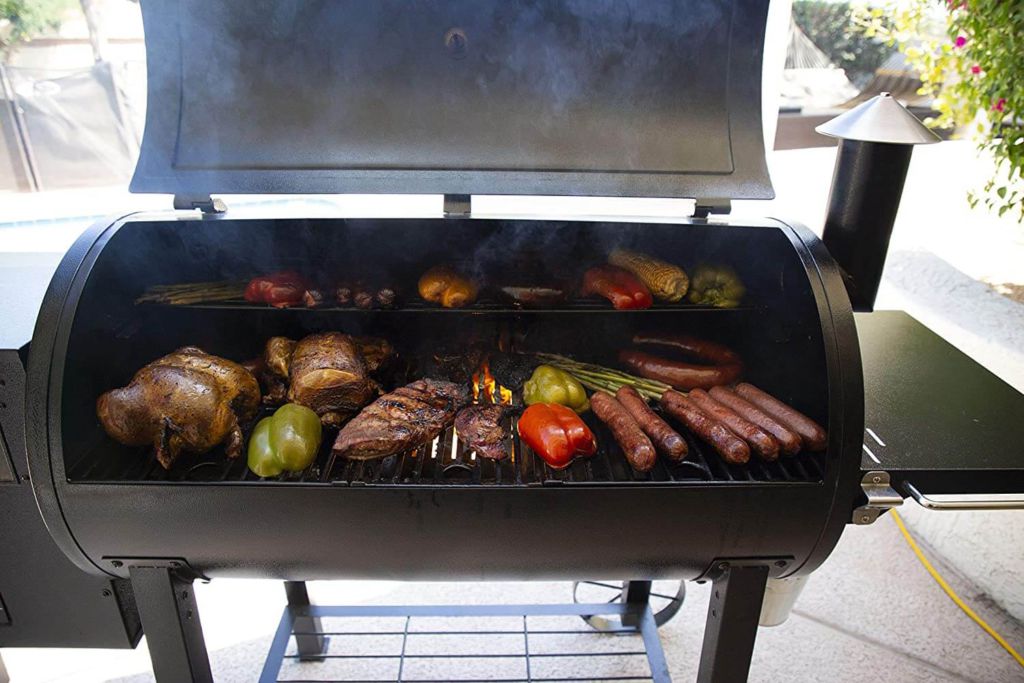 Pros & Cons 
Homeowners and avid cooks love the Pit Boss PB1000T1. The following is a list of a bunch of reasons why this model enters into our selection of top picks for your brand new smoker grill.
Take a look at the cons too, so that you can see the things that could use improvement on this grill.
Pros
This grill is run on 100% hardwood pellets, making it the ideal grill to infuse that authentic smoky flavor into your barbecued meats. Why not try cooking on flavored pellets in order to give your food an earthier and richer taste without having to heavily condiment your meat or throw a rub together. It has never been easier to get that great campfire, cooking on a log fire taste into your meat than with this Pit Boss 8 in 1 grill.
This smoker comes on two wheels that are handy for sliding the smoker around the garden and even make it a great option for taking tailgating or camping.
Cons
The only downside about this smoker is that it comes with just one meat probe port, making it somewhat awkward if you are preparing different cuts of meat at once that all need to be carefully controlled temperature-wise.
Conclusion
So there you have it, the Pit Boss 8 in 1 smoker with all of the features you need for an awesome family barbecue or a meet up when tailgating before the big game.
Once this smoker has arrived at your door and you start getting it working, I am sure you will see that it is just like an extension of your kitchen. Why can we say that? Well, the smoker has a bottom rack, just like a kitchen cupboard, that is ideal for resting cookware and other bits and bobs on.
The smoker also has a side shelf, that acts like your kitchen countertop. The side shelf will help you to keep your kitchen utensils, condiments, and everything you need to cook a fantastic meal within arms reach.
This smoker is guaranteed to last as it has been made from heavy duty cast iron that will keep the smoker in tip top condition even when it is up against the elements. The cast iron will protect your smoker from weathering when placed in direct sunlight or left to battle the rain. 
So if you are looking for a multipurpose grill that will heat up quickly and will give you enough cooking space to smoke something tasty for the whole family, then I am sure you will love them Pit Boss PB1000T1!