Choosing a new smoker can be tricky with so many options on the market. You may feel like you have been wading your way through hundreds of different models, all professing to be the greatest smoker you can buy.
But there are some specific features on this Karubecue C 60 SS BBQ smoker pit that I think you will love and in this article, I will show them to you.
Would you like your smoking experience to reflect cooking on natural wood logs like you would on an open campfire?
Karubecue C-60 Pit
If you love getting back to the traditional ways of cooking on wood with some modern technology added in the mix to make it simpler, then you will love smoking on a Karubecue C-60 BBQ smoker pit.
Cooking on this smoker will give your food that authentic and original smoky taste that everyone loves. 
Karubecue C-60 Pit Review
In this article, I will go on to show you an in-depth overview of the KBQ smoker with a list of all of the fancy features and specifications you will receive when purchasing this model.
Not only that, but I will also go on to mention some of the pros and cons of this Karubecue C 60 SS BBQ smoker pit that consumers have found handy to consider before purchasing. Take a look in order to find out everything this smoker has to offer.
Karubecue Smoker Overview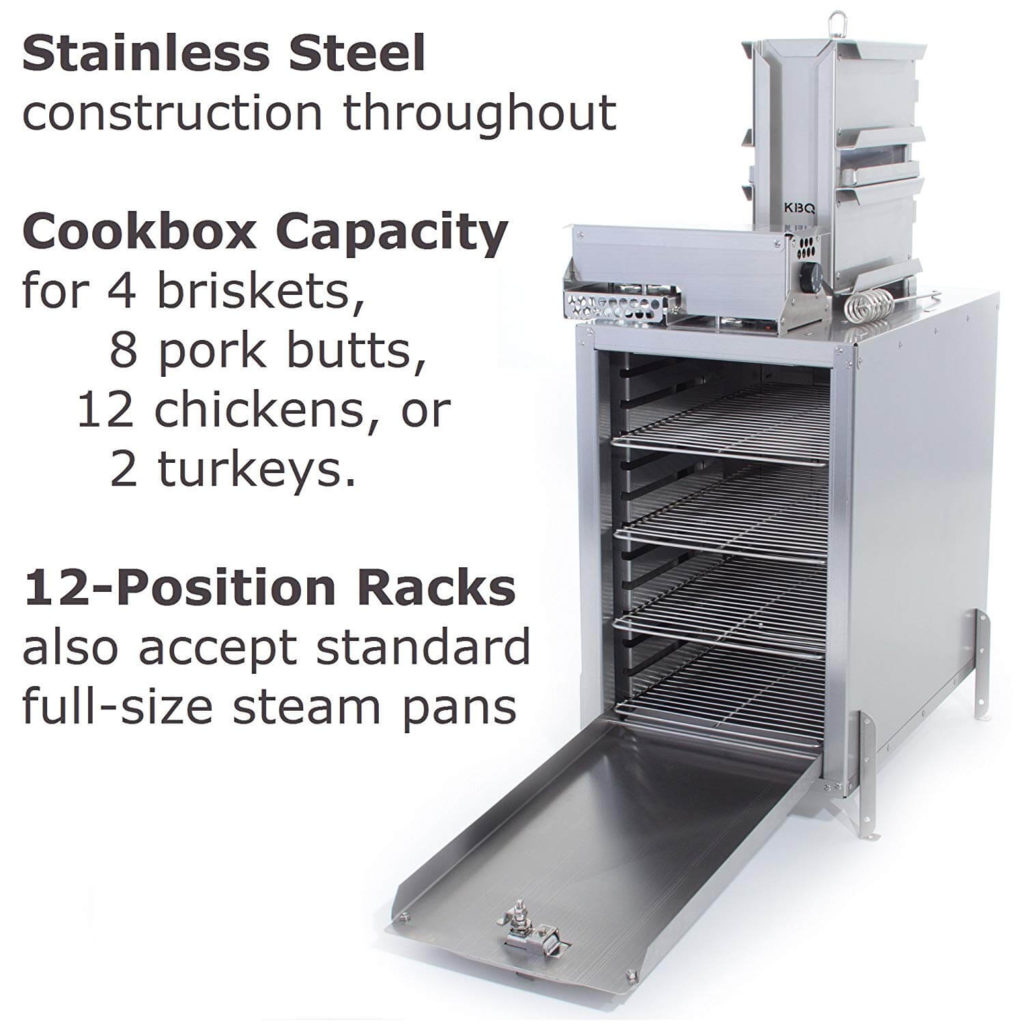 There are a few features on this Karubecue C-60 BBQ smoker pit that will remind you of cooking on a roaring open fire on a campfire, with that great smoky and aromatic taste seeping into juicy cuts of your favorite BBQ meat.
Take a look at all of the snazzy features on this smoker below:
Karubecue Smoker Features
This Karubecue smoker uses real wood to keep its fire alight, not pellets nor gas, charcoal, nor electric heat, helping you to max out on flavor when smoking on the grill.
That will help you to get that traditional campfire, smoky BBQ flavor without even trying! Simply marinate or add a tasty homemade rub to your meat and enjoy the incredible flavor when smoking on this smoker pit.
The Karubecue C 60 SS BBQ smoker pit has a whopping 60 lb capacity that will allow you to cook some awesome barbecue meat for the whole family!
The smoker comes with 12 cooking racks, providing you with ample cooking space to get your whole meal done with just one batch.
The smoker comes with a fire tending hook, that will make it easier for you to control your fire and tend to your logs and coals.
Karubecue C-60 Smoker Pros & Cons
Instead of looking through endless reviews for the Karubecue smoker pit, I have condensed consumer opinions about the smoker into the following list of pros and cons so that you can get a closer look at the appliance before purchasing it. Take a look:
Pros
If you love to get hands-on with your cooking and get a feel of the traditional barbecue experience when cooking on a log fire, then you will love this Karubecue smoker as it burns on coals and wooden logs instead of using artificial burning methods such as gas or electricity.
The wood burning process gives your food that authentic smoky taste and will require just a little seasoning to achieve great tasting meat.
The Karubecue C 60 SS BBQ smoker pit has a 60 lb capacity, making it easy for you to smoke a batch of delicious barbecued meat for the whole family to enjoy without the need to cook in multiple batches.
Cons
The Karubecue smoker pit requires maintenance and hands-on cooking as it uses real wood logs to cook.
You will need to change the logs every 30 minutes or so and be prepared to set coals because the smoker does not use artificial burning methods.
Conclusion
If you are looking to get back to the basics and teach the kids how to cook on a traditional log fire without having to hike into the woods to do so, you will love smoking meat on the KBQ C-60 BBQ smoker pit.
The Karubecue smoker will give you the authentic feel of changing wood logs and adding coals and will give your food that unbeatable smoky flavor that everyone is nuts about, and best of all, you can enjoy all of that from the comfort of your backyard, now what more could you ask for
If you ask me, smokers seem to be far too complicated today, with so many different settings and gadgets that take the traditional out of cooking outdoors whilst adding absolutely no flavor to your food. That is why I love the Karubecue smoker, as it couples an amazing cooking sensation with a superb, unbeatable taste.
Make sure you get hold of a Karubecue C 60 SS BBQ smoker pit today so that you can get smoking on a real fire in time for the family gathering this weekend! The smoker pit has plenty of cooking space for you to smoke something tasty for everyone, I am sure you will love it!