Table could not be displayed.
Finding the best pellet grill under 500 dollars can be a challenge if you are not looking in the right places. That is why I have put this article together with a list of the pellet smokers under 500 dollars on the market right now. 
Let's face it, although you may find some decent looking smokers on the internet at a reasonable price, you may not always feel confident purchasing them because of not feeling convinced by the manufacturer or it being a make or model that you are not familiar with.
That is why you can have real peace of mind when scrolling through the smokers listed in this article as they are coming from the world-renowned manufacturers, with loads of credentials and reviews to back up just how great their smokers are.

Pellet Grill Reviews (Pellet Smoker Reviews)
So now you know everything you need to about pellet grills and smokers, let's get started with the review! If you have been scrolling through what seems like endless internet pages to find a good selection of pellet grills under 500 dollars then you have arrived at the right place as the following is a list of 7 pellet smoker grills that you will love. Check them out below and then pick your winner!
Camp Chef SmokePro XT
Do you want your grill to have an extra shine or a little added pizzazz that will make it stand out from amongst the others? Then you will love this pellet smoker grill by Camp Chef SmokePro.
Overview
Camp Chef Smoke pro comes in a unique bronze color that makes this pellet grill look really groovy. But that's not all…
Features
This smoker grill comes with an ash clean out cup system, making this pellet grill so much easier to clean than your standard grill. Say goodbye to standing over the grill with a vacuum or hand broom and dustpan trying to sweep ash out of the crevices as this grill will do all of that for you!
This wood pellet smoker is on two wheels so that you can transport it across the garden or decking as and when you please without having to throw your back out.
Pros
Has a ash cleaning system which helps make less of a mess and easier to clean up after use.
Easy to use
Great temperature control system
Cons
Food tends to stick to the grill while cooking but that can be dealt with a light coat of oil before use.
Z GRILLS Wood Pellet Grill and Smoker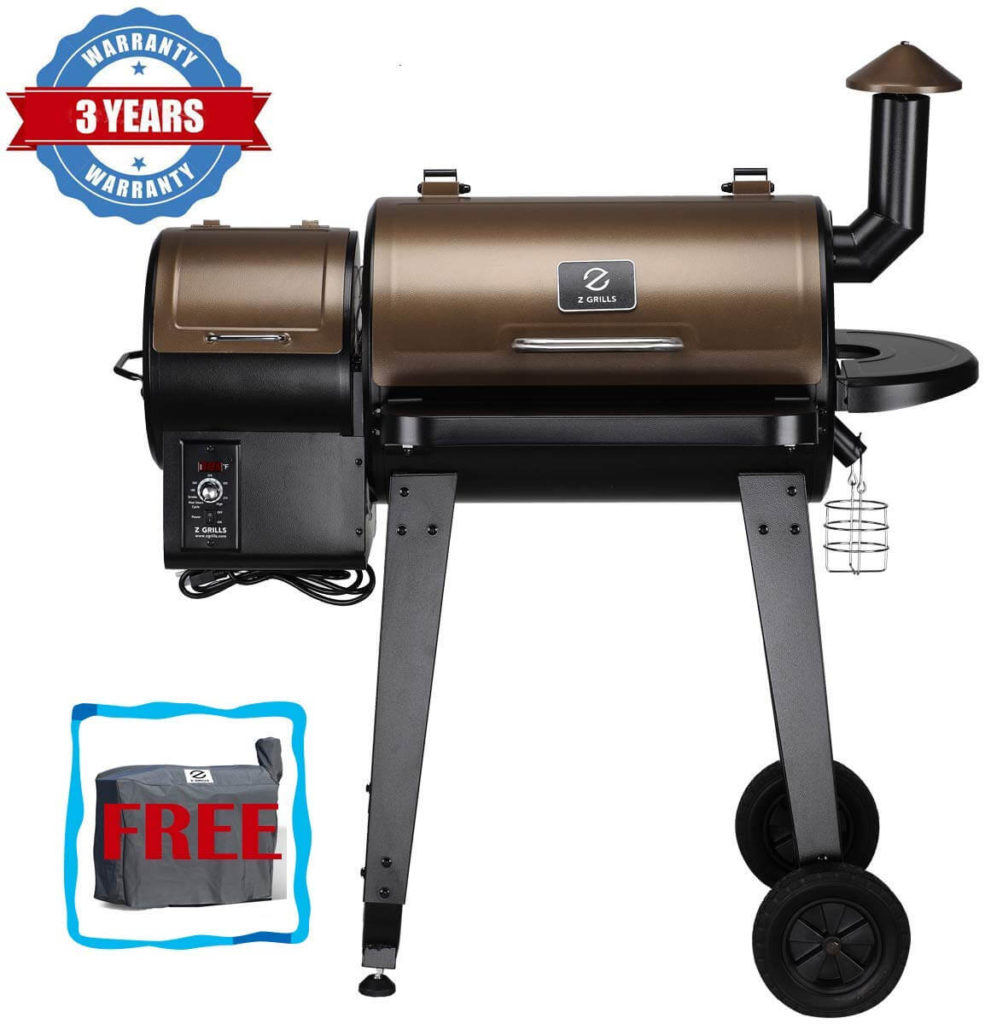 Are you on the hunt for the best budget smoker? Then take a look at this beauty by Z GRILLS. 
Overview
Z Grill wood pellet is an absolute must-have if you like to bbq but are looking for a machine on a budget. This grill comes with all the features that you would want but at a super affordable price.
Features
This best pellet grill under $500 can do just about anything! It can be used for grilling, smoking, baking, roasting, braising, and barbecuing all on the one grill! Talk about multitasking!
This smoker and grill also comes with a mini preparation station, the perfect place for you to present cooked food or to store uncooked meat until it is ready to be placed on the smoker.
Pros
Great value for money
Easy to assemble and use
Very easy to clean up the grill after every useage.
Cons
Might have to oil the grid before using as food will stick to it while cooking.
Mainting temperature is a bit difficult and have to be very observant while cooking the food.
Camp Chef SmokePro
Here is another fantastic smoker, but this time it is coming to you by Camp Chef SmokePro. Have a look at what this pellet smoker has to offer:
Overview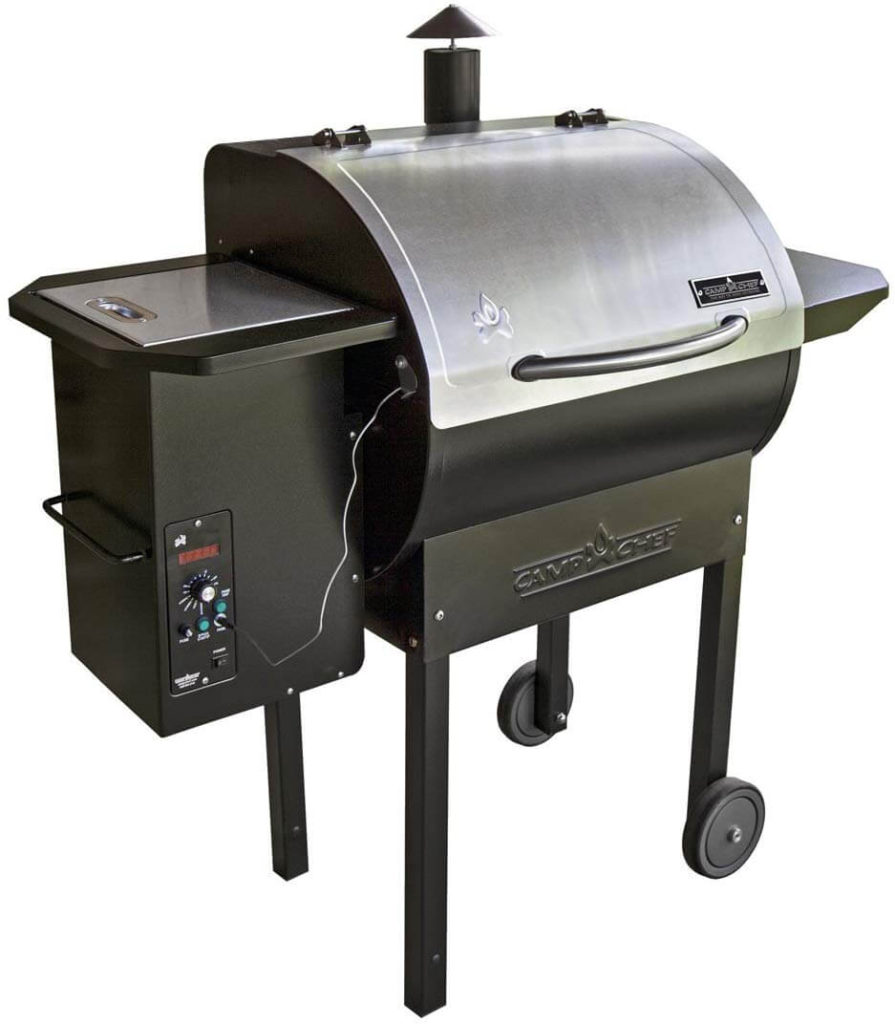 This Camp Chef smoker has the perfect amount of space for smoking a delicious meal for family and friends to come together and enjoy at the weekend.
Features
This smoker boasts a large cooking area measuring 19.5 inches by 22 inches.
Don't worry about your food getting cold while you are waiting for guests to arrive!
This smoker grill comes with a 6 inch by 24 inch warming rack that will keep your food toasty and warm while you wait for your last guests to get settled. 
Pros
Very spacious and is perfect for cooking for family gatherings.
Has a built in rack to keep the food warm for longer
Great temperature control
Cons
Might be a bit of a struggle to assemble and prepare it for cooking.
Green Mountain Grills Davy Crockett Pellet Grill
Overview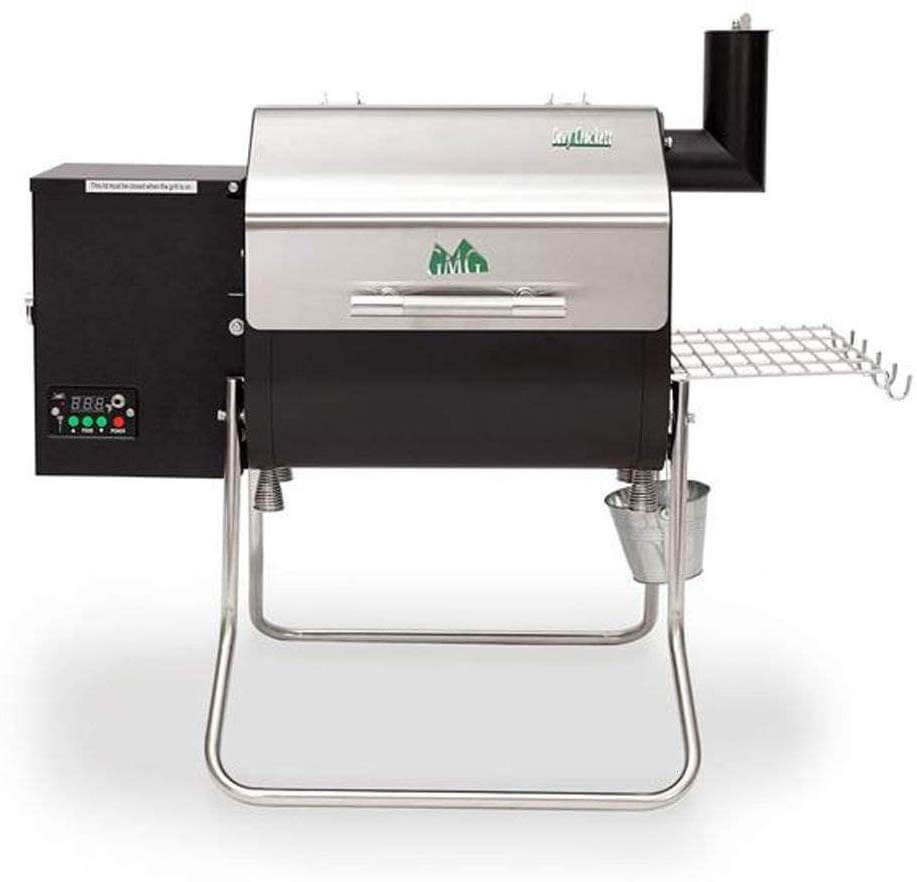 Some of the best budget smokers can be purchased for less than 500 dollars. Here is a great example of one of them.
Features
This is the perfect smoker grill for smaller backyards as the legs fold up and double as handles, making it easy to transport if you like taking your smoker grill camping and making it easier to store in the winter months while you are not using it.
The grill comes with a convenience tray with hooks so that you can display your food on the tray and use the hooks to dangle your kitchen utensils and tongs ready for turning your meat when necessary. 
Pros
Easy to monitor temperature and comes with a thermal sensor feature
Easy to store away after use
Cons
A bit tricky yot assemble it together and can be time consuming but once it is all set to use it's pretty great smoker.
Z GRILLS ZPG-7002E
Overview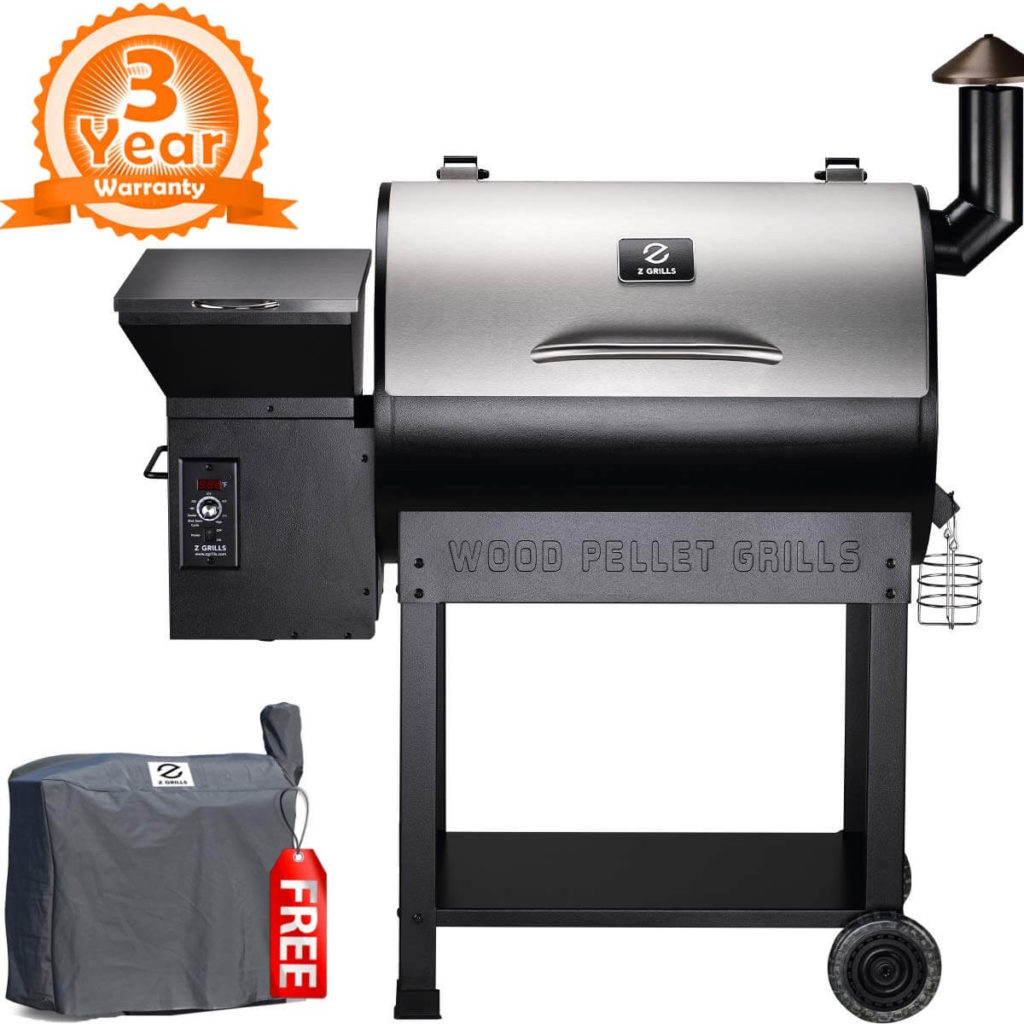 If you love to multitask then you will love this 8 in 1 smoker grill by Z GRILLS.
Features
This smoker grill is perfect for grilling, smoking, roasting, baking, braising, searing, barbecuing and char-grilling your favorite meat, poultry and fish. 
The smoker grill comes with a handy warming rack for you to keep food toasty while you wait for your guests to arrive.
Pros
Great temperature control and easy to monitor it while cooking
Includes a rack to keep food warm
Very spacious and perfect for family bbq gatherings and parties and can cook in large batches
Cons
Food will stick to the grill while it's cooking so might have to be careful on that part.
Cuisinart CPG-4000
Overview
This Cuisinart grill and smoker comes with all of the storage space you could ask for!
Features
It comes with a side shelf and a collapsable front shelf  – the perfect place for you to store cooking utensils and food that is ready to be smoked or cooked and waiting to be served.
The exterior of this smoker grill has been made from water and wind resistant materials, helping your grill to stand the test of time and be resistant against rust and water retention. 
Pros
Very convenient to store after each use due to the collapsable feature.
Easy to assemble
Easy to operate and great for family gatherings
Cons
Not the most ideal in terms of temperature control and have to be monitored frequently while cooking
Masterbuilt
Overview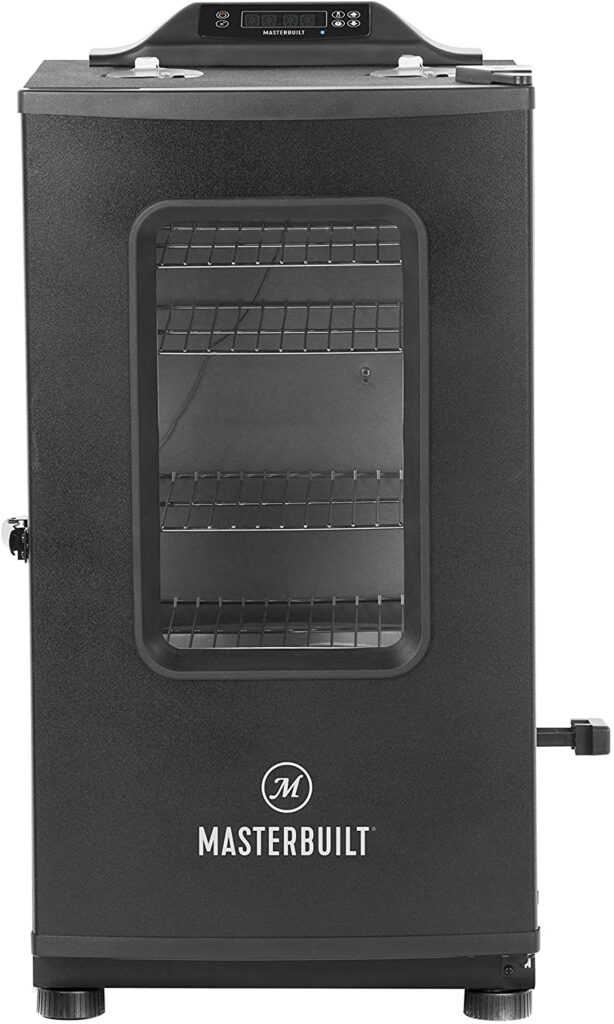 Are you looking for the best vertical pellet smoker? Then you are in luck as listed below is the best vertical smoker on the market right now.
Features
This Masterbuilt smoker comes with meat probes so that you can test the internal temperature of your meat to make sure you get perfect results every time.
This pellet smoker has a removable ash out system that makes it a whole lot easier to remove the ashes from the smoker.
Pros
Easy cleaning. There is no more dusting and sweeping to do as all of the ashes are emptied out into one place.
Great temperature control
Easy to opertate
Cons
Assembling the machine can be a struggle and takes a lot of time.
What is a pellet grill or a pellet smoker?
Today we won't just be talking about any old grill or smoker, we will be concentrating on the best pellet grills or pellet smokers. But perhaps you are not too familiar with the term pellet grill. If so, then take a look at the following explanation that will look at the difference between a pellet and a normal grill. 
A pellet grill works by burning wood pellets made up of 100% sawdust so you are burning on pure wood 24/7. What's the impact of smoking your food directly onto wood? You will find that your food has a more intense woody flavor when cooking on a pellet grill rather than a gas or charcoal grill.
Food that is cooked on a gas grill, however, will not have any additional flavor thanks to cooking it on a gas grill. All of the flavors that you want to come out of your food when cooking on a gas grill have to be added to your meat in the marinade, rub or in a sauce to drizzle on top. So it is easier to get more intense flavors when cooking on a pellet grill.
Gas grills are usually a lot cheaper to purchase than pellet grills because they are a bog standard grill that adds little to no flavor to the taste of your meat. But don't worry, things won't have to get too expensive if you check out some of the pellet grills for under 500 dollars that are listed in this article. 
The operating costs of a gas grill vs a pellet grill can vary as your gas grill will require you to buy a supply of propane periodically in order for it to work, but a pellet grill will need you to buy a supply of wood pellets in order for it to operate. As you can see, both smokers come with additional costs that the consumer will need to consider. 
So why settle for a pellet grill? The thing that has won me over to the world of pellet grills is definitely the excellent taste behind your food after cooking. Cooking on wood chips infuses your food with a woody taste sensation that is simply unbeatable. Combine that with your rub or marinade and a sticky dipping sauce or garnish and you will be on your way to barbecue heaven this weekend.
What's coming up…
If all of that information has been enough to convince you into purchasing a pellet grill or smoker then you will love what I have in store for you by means of this article. During this article, I will go on to explain what to look for in a pellet grill/smoker so that you can keep an eye out for the specifications and features that make a great pellet grill in time for when you come to purchase. 
If you are purchasing your very first pellet grill then you may not be too sure how to operate one. Not to worry, as during the course of this article I will also go on to explain how a pellet grill works and some steps that will help you to get yours up and running.
Most importantly though, I will also show you a pellet grill review of 7 fantastic pellet grills that are storming the nation and becoming increasingly popular this barbecue season. Skip straight to this section if you are itching to purchase your brand new pellet grill and get it set up and ready to smoke this weekend.
So with all of that and more awaiting in this article, let's get started!
What To Look For In A Pellet Grill/Smoker
If you are looking to purchase the best smoker grill under 500 dollars then you must know what features and specifications are essential for you to have on your smoker grill. That way you will be able to narrow down your search to all of the pellet grills that contain your required features and it will be easier for you to purchase what you want. But just what should you look out for when purchasing? Take a look…
Protection from the elements.
A good pellet grill smoker will be well protected from the elements such as rain and high heat. Look for a pellet grill that has a powder coating or an enamel coating that will prevent the unit from rusting or being destroyed by soaring temperatures in the summer. 
Heat retention.
A great smoker will be well sealed to keep heat in. Smokers that are poorly sealed will lose heat fast and require more fueling and ultimately more money. A smoker that is well sealed will also help your food to cook faster and more evenly. 
Large cooking area. 
If you often have family over to enjoy a barbecue or enjoy inviting friends round to sample your latest creations then you will need a smoker grill that is large enough for the challenge. Choose a smoker grill with a large amount of cooking space and a preparation tray or two that will give you a space to prepare food and display cooked food for your guests to nab when they're ready.
Price.
And of course, look for a pellet smoker grill that is under 500 dollars! That is what this article is all about. Keep scrolling to find some of the best makes and models under 500 bucks. It is so refreshing to know that you don't have to spend an arm and a leg to get the very best pellet grills!
How Pellet Grills Work
If you are looking to purchase your very first pellet grill you are probably intrigued to find out how they work so that you can get the most out of your first pellet grill. Let's face it, reading the manual is just no fun so having something explained in a few easy steps without all of the unnecessary jargon is far more pleasing to the eye. That is why I have prepared the following easy peasy explanation of how pellet grills work so that you can get the most out of yours. 
Whereas gas smokers burn propane and electric smokers run on electricity and charcoal smokers use charcoal as their main source of fuel, a pellet smoker grill will burn wood pellets as its source of fuel. The pellets added to a pellet grill are not your bog standard wood pellet, rather they are made up of compressed sawdust, making them smoke for longer on the grill then normal wood chunks or your average bag of wood chips.
As pellet grills work with sawdust only as their source of fuel a pellet grill gives off an intense woody flavor to your food. This makes your food have a heartier flavor than it would do when cooked on a gas or electric smoker.
Conclusion
So now that you have seen some of the best pellet smokers 2020 has to offer, I am sure you are ready to pick a pellet grill make and model that suits you. But before you do, be sure to make a list of all of the specifications and features that are really important for you to have on your pellet grill, whether that be a preparation table, an extra large cooking area or a grill and smoker combo. Once you have made a list of the specifications that you require you can begin to narrow down your search until you find the pellet grill smoker that you have been looking for. 
All of the makes and models listed above have been designed and put together by some of the top pellet smoker grill manufacturers around so I am confident that if you choose from this list, you will be able to find a pellet grill that suits you and your style of cooking. 
Happy grilling!