If you are shopping for quality and next level technology, then you cannot go wrong when investing in a Z Grills product and the same can be said for their smokers.
Z Grills Wood Pellet Grill & Smoker
Are you looking for a ZGrills smoker with all of the latest and most innovative features that will make smoking a mouth-wateringly awesome cut of brisket as easy as one, two, three? Then I am sure you will find this  Z Grills review handy as it will go through everything you need to know about the Z Grills Wood pellet grill and smoker. We will also provide you with a super handy link so that you can get your hands on one pronto.

Z Grills Wood Pellet Grill & Smoker Review
So what's in store for this ZGrills review? Not only will I go into more detail about the smoker, but you will be able to picture it in all of its glory as I will be discussing all of the prime features on the smoker that make it a truly fantastic piece of grilling equipment that is esteemed by barbecue enthusiasts across the nation. 
Overview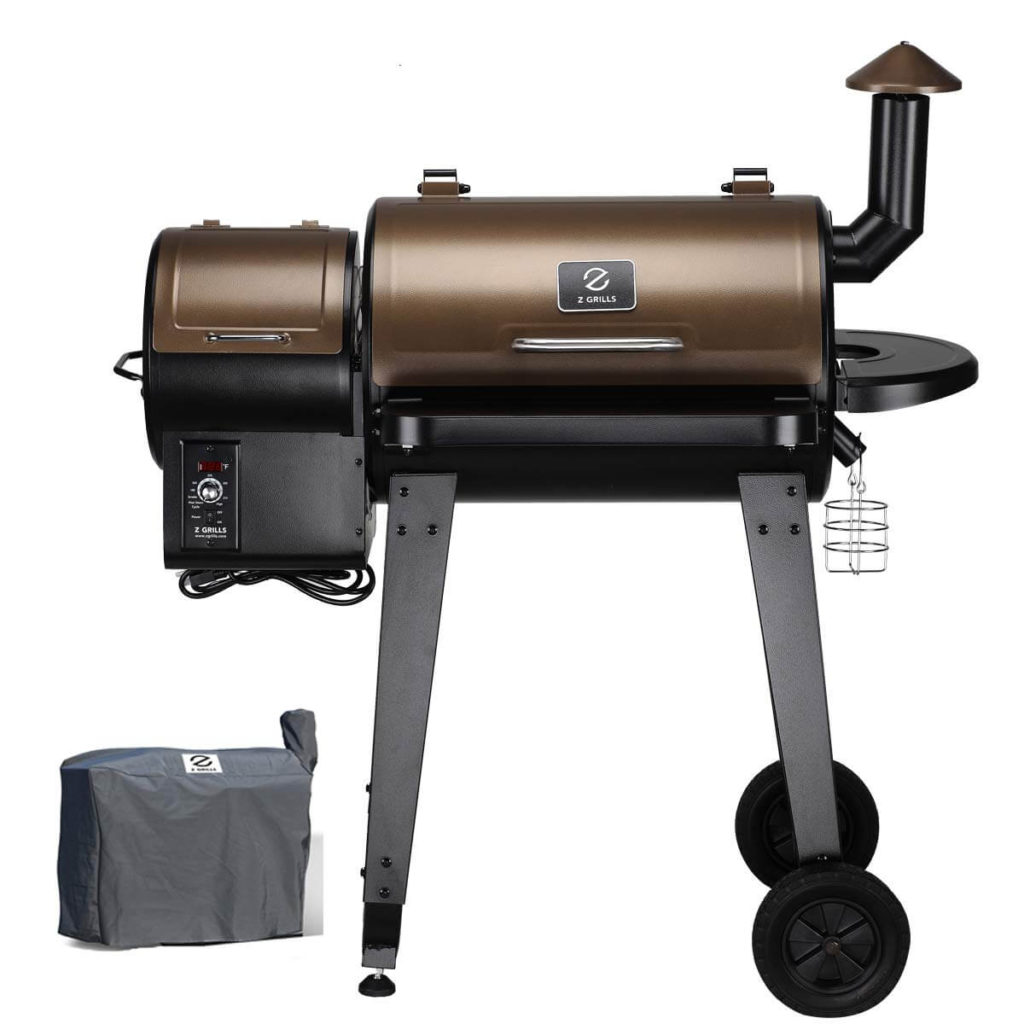 On your marks, get set, grill! Let's take a look at some of the stand out features on this Z Grills Wood pellet grill and smoker so that you can get an all-round picture of this brilliant smoker and grill.
Features
Multifunctions. Multipurpose appliances are a great way of getting more out of your money, and this smoker is definitely up for the challenge. That is because it operates 8 of the most sought-after functions on a smoker grill. This smoker grill can do all of the following: bake, roast, braise, sear, char-grill, barbecue and not to mention smoking and grilling your favorite cuts of tender meat. 
Temperature regulation. There's no babysitting required when it comes to this grill! This grill comes with a temperature regulation feature that helps to maintain a constant internal temperature under the lid of the grill. That way you can set your food and get on with other bits and bobs around the house while it sizzles away nicely under the hood.
Massive cooking space. This grill comes with 452 square inches of grilling space and 128 square inches on the warming rack, giving you ample room to grill together a feast for family and friends to sample. 
Pros & Cons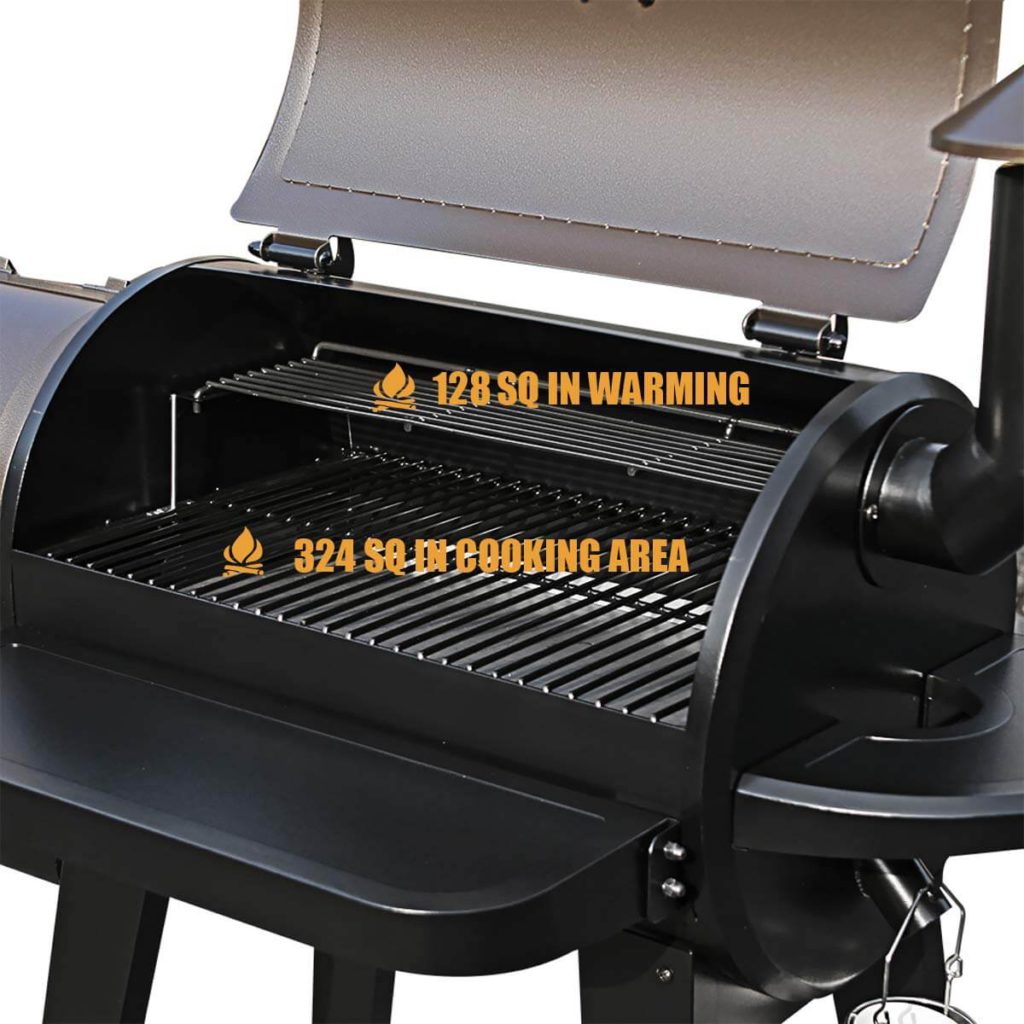 What are some of the main features you have got to look forward to on this Z Grills? Take a look at the following list of pros and cons that will show you some of the best points and some of the ones that you should perhaps be aware of before purchasing.
Pros
Wood pellet grill. This grill is fueled by wood pellets, helping to infuse that natural smoky flavor into your meat without any added spices or flavorings. Thanks to the team down at Z Grills, it is now possible to get that log fire, out back taste into your meat without having to venture out of your backyard!
3 year warranty. There is nothing that will put your mind at ease further than knowing that this grill comes with a generous 3 year warranty. Seeing a company that stands behind their product for this long helps ease your mind with such a purchase.
Cons
Size. This is a large smoker measuring 42 x 51 x 22 inches, so it will take up a moderate amount of space in your shed or on your patio. This smoker is ideal for cooking for large families, but if you are looking for a compact smoker that you can squeeze into a corner and forget about, then this may not be the model for you.
Conclusion
I am sure you would agree that there is simply nothing better than hanging out in the garden on a Sunday afternoon with your flip flops on, an ice cold beer at hand and a plate stacked high with a mixture of your favorite smoked meat on your lap. All of this and more is possible thanks to the Z Grills wood pellet grill and smoker.
And with barbecue season just around the corner, there has never been a better time to get a smoker on order and start practicing your amazing brisket rub in time for that family gathering you have been organizing. 
If you are looking to prepare an array of tender barbecued meat for the family this summer, then there is no better way to go about doing it than with a Z Grills smoker behind you. And with all of the great functions and features available on this smoker, it has never been easier to cook innovative and exciting meals that your family will go nuts for.
So, time is of the essence! Make sure you get one of these smokers on order asap so that you can start perfecting your grilling skills in time for the family meet-up. 
Happy grilling!