Le Creuset MS1605-16SS Signature Enameled Cast Iron Cookware...
Our #1 Choice
Uno Casa Enameled Cast Iron Dutch Oven with Lid - 6 Quart...
Le Creuset MS1605-59 Signature Enameled Cast Iron Cookware...
Le Creuset Marseille Blue 20 Piece Cookware Set with 4.5...
Cooking is a passion and a form of art that comes from the heart. You put all your effort and love to create tasty delicacies for your family and friend, but every artist needs the right tools to create their masterpiece. Check out the best enameled cast iron sets to see why they are the best friend of anyone who loves to cook.
Product Reviews
Uno Casa Enamel Coated Cast Iron Dutch Oven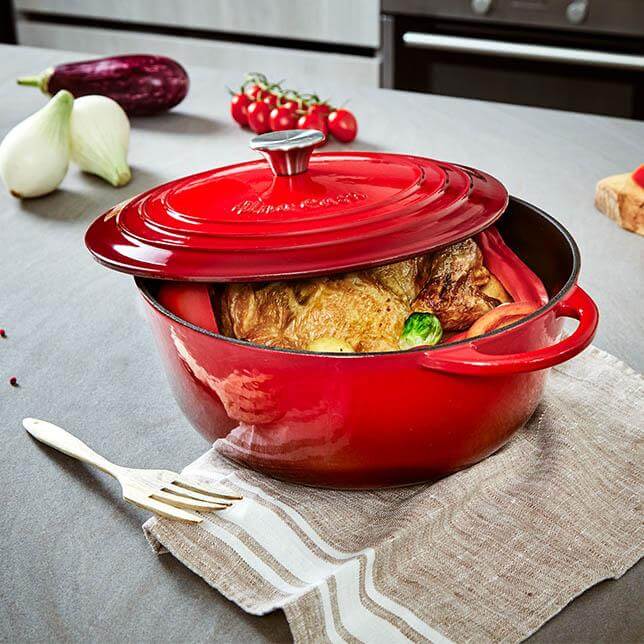 The Uno Casa Dutch oven is probably our top pick on this list. First off, it's beautiful. The deep red color will make any kitchen pop!
We have also extensively reviewed this product as you can see with our video here.
Features
This dutch oven has built in bumps underneath the lid that create a rainfall affect. As the condensation rises from the food it collects on these bumps and is distributed back down on the food evenly. Talk about juicy, tender food!
It also comes with neat heat resistant grips and a pad that allow you to handle the dutch oven while it's hot.
Finally, the craftsmanship is hard to beat. You can just feel the quality and love that is put into this product when it is produced. The Uno Casa Dutch Oven is definitely worth a look.
Le Creuset 5 Piece Signature
Cast Iron cookware is a good cooking material, especially when they are coated with vibrant and shiny enamel coating.
Features
This amazing 5 piece set consists of a stunning Round Dutch Oven with lid, a signature saucepan with lid and the best enameled cast iron skillet with an iron handle.
The set is extremely durable and the enamel coat makes it resistant to scratches and gives it a non-stick finish. It is useable on all kinds of stoves and oven both gas and electric.
These heavy duty pots and pans will surely last you a lifetime. This is a must have set for your kitchen and especially for those who are new homeowners and are looking for great cookware.
Bruntmor 21 Piece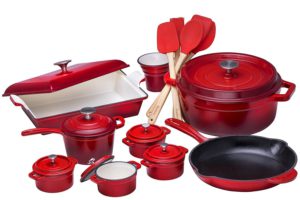 This amazing, fire red, 21 piece Enameled Cast Iron Cookware set is designed to change the complete outlook of you kitchen and give it a vibrant look.
Pros & Cons
It not only will enhance the look of your kitchen top but will be your best friend while cooking. Enamel cast iron pots are amazing to cook as it never reacts with foods.
This set contains a dutch oven with lid, a saucepan with lid, an amazing enamel coated skillet, 5 silicone and wooden utensils and accessories like cutlery holders and four mini cocottes with lids and also a rectangular baking dish along with a lid.
This is an all in one set that consists of all the things that you will possibly ever need in your kitchen. This pots and pans will last you a lifetime and enhance the quality of food and make cooking much easier.
Le Creuset 5 Piece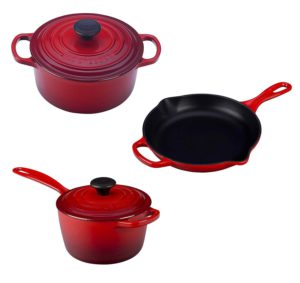 For those of you who are looking for a great dutch oven and also some matching pans and pots with it then this is just the set for you.
Features
This is a 5 piece enamel cast iron cookware set that includes a large, round cast iron dutch oven with lid, a cast iron skillet with iron handle and amazing cast iron, enamel coated saucepan and the whole set comes in a mesmerizing vibrant cherry color.
You can cook and bake amazing pot cakes and doughs in the heavy duty dutch oven. Cast iron is a great heat conductor and heat distributes evenly throughout these pots and pans and hence, these are the best cookware to cook meals evenly.
It is a must have essential for every kitchen and no kitchen will be complete without these amazing and vibrant cast iron skillets.
Moreover, the smooth finish and enamel coating on the interior and exterior of the pans makes them best cookware to make sauce and slow cook meals.
Le Creuset Signature Marseille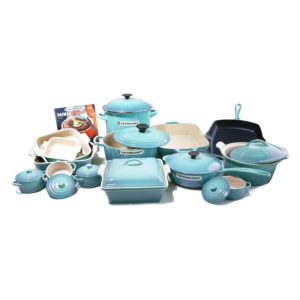 This 24 piece Enameled Cast Iron set is all that you will ever need to invest in for your kitchenware. From cast iron roasting pan to heavy duty french oven, this set has it all.
Features
Every piece in this set is coated in a vibrant colored enamel coating which will surely enhance the look of your kitchen even more.
Not only does it have a sturdy and glossy exterior but it is also coated with a non-stick layer in the interiors of each of the pots and pans.
The set consists of stoneware cocottes, cast iron skillet grill, enamel coated cast iron french oven, saucepan, roaster, a great stock pot, stoneware baking dishes and casserole dishes and lids.
The lids are specially designed with a secure fitting technology to trap in the moisture and heat in the food. This set is all that you have to invest in for your kitchen and is guaranteed to last you for a lifetime.
Cast irons are extremely durable and long lasting and the special and colorful enamel coating no only makes the cookware look good, but makes it rust proof and resilient.
This is an absolute must have for your kitchen that you must not miss out on.
Le Chef 8 Piece All Enamel Cast Iron Orange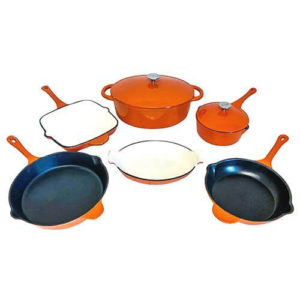 Enamel Coated Cast Iron Cookware is any cooks best friend in the kitchen. These are heavy duty and extremely durable and long lasting once you maintain then well.
Pros & Cons
This set is specially designed for those you love to cook delicious meals for their family and friends and themselves. This 8 Piece All Enamel Cast Iron Orange Cookware Set is a dream of every person who loves to cook.
The set includes a 7 quart dutch oven, a 2 quart saucepan, a 10 and 12 inch rounded skillet, a 13 inch oval roasting dish.
The interior is coated with a stylish enamel beige and matt black coating and the exterior is coated in an amazing and vibrant orange enamel.
This 8 piece set has all the essential pots and pans that you will need and is great for those who are new cooks and wants to start their cookware collection.
This set will give your kitchen a vibrant outlook and also enhance the cooking.
Bruntmor Heavy Duty 3 Quart Skillet and Lid Set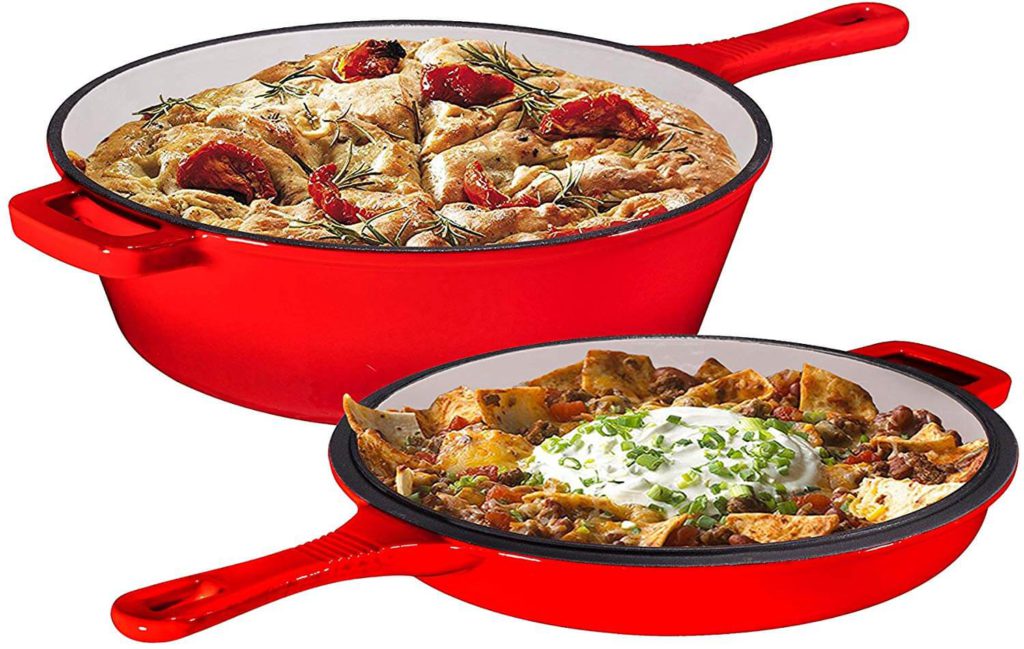 Are you looking for a cast iron set that will pass the test of time? Then you will love this two in one multicooker by Bruntmor.
Features
This set is very eye catching and will shimmer like pieces of artwork in your kitchen as it comes in a striking red – the perfect color to match both modern and more traditional style kitchens.

Do you hate cleaning up just as much as I do? Then you will love this cast iron set as it has an enamel layer which acts as a 100% non-stick coating – helping to prevent your food from sticking to the base of the pan and from burning.
The best thing about this cast iron set is that it is coming to you pre-seasoned – that means all of the hard work has been done for you and the set is ready to be used straight away. Result!
Why enameled cast iron, is it worth the money?
The colorful enamel coated cast iron pans are not only just a vision to look at but have numerous benefits. The enamel coating makes the pots and pans rust resistant and gives it a glossy finish.
Many materials tend to react with acidic food like tomatoes, but with these beauties, you will never have to worry about that metallic taste and reaction with your food. It is the best pots to cook amazing slow-cooked dishes.
The coating will prevent the seasoning on the dutch ovens from ruining. But the best part of choosing enameled cast iron cookware is that its non-stick technology which makes cooking and cleaning a thousand times easier.
Hence, it is 100% worth the money to go for these amazing colorful enameled coated cookware for your kitchen.
How to clean your enamel cast iron pots and pans?
Enamel cast iron pots are extremely durable cookware if you manage to maintain it and clean it in the appropriate ways.
It can often be hard to take away that stains that you end up with at the bottom of the pans from caramelized onions or any other slow cooked dish. But have no worries for these ideas will help you to clean these pots and pans in no time.
Boil it up:
Take your enamel coated pot or pan and fill it up to the brim with water. Add a spoonful of baking soda to the boiling water and wait for it to fizz up. Once the bubbles rise, use a spoon to scrape away the stubborn stains and then wash the pot away with dishwashing liquid and a sponge and you will be looking at a good as new enameled pot.
Marinate it:
If you have severely burnt the bottom of your enamel pot or pan then you need a much stronger solution. Take a few spoonfuls of baking soda and a few drops of water. Mix them together to form a thick paste. Coat the burnt pan completely with the mixture and leave it for overnight. Scrape away the mixture the next morning and rub it away with an abrasive sponge and dishwashing liquid. Repeat the process if the stains are not out the first time.
Enameled Cast Iron vs Cast Iron
Both of these pans are made up of the same material but there exists only one difference that is the enamel coating.
Cast iron:
These pans are heavy and extremely durable and very good heat conductors that help to cook food evenly throughout the pan or pot. However, they seem to heavily react with acidic foods as these are forged from iron. But if maintained properly these pots will last in over 100 years.
Enameled Cast Iron:
These are also made up of cast irons and is extremely durable and heavy duty and great heat conductors. However, these beauties are completely coated, inside and out with colorful enamel coating which makes them the best option for slow cooking. Plus, the enamel coat gives then a non-stick finish which makes it extremely easy to cook in and will never ever rust.
However, you mustn't use steel utensils with these pans as it may scratch the non-stick layer.
The coating also prevents the iron from reacting with acidic foods like tomatoes etc. If you maintain them properly these beautiful and colorful dishes will last you a lifetime.
FAQ
Which is better cast iron or enameled cast iron?
Enameled cast iron Dutch ovens do not require seasoning. The enamel layer protects it from rust and hence, it is definitely the easier one to maintain compared to cast iron.
How safe is enameled cast iron cookware?
Enamel coated iron cookware is considered to be completely safe to cook food in, according to the FDA's Center for Food Safety and Applied Nutrition.
Conclusion
Hopefully, by now you can see why so many cooks love to use enameled cast iron sets in their kitchen. Which one is right for you will depend on your individual wants and needs.
Just remember, what works well for others may not for you and vice versa. However, if you are looking to get started with cast iron, these sets are a great place to start.
Do you have a favorite enameled cast iron cookware set? Let us know in the comments below!