Table could not be displayed.
Smokers are a must have in any family that loves grilling and feasting on meats, who wouldn't love to devour tasty grilled meals courtesy of a good smoker, these unique kitchen appliances are believed to be most pricey and unaffordable. But with the best smoker under $200 you can own these kitchen appliances that appear unaffordable and inaccessible, with just that, voila! Cooking just got easy!
It's totally needless saving up for months to get these smokers (electric or charcoal) or grudgingly squeezing through your account just to purchase a good model, these smokers work amazingly great, most times better than what we had envisaged.
Let me take you through the ride so as to choose the best electric smoker of your choice

Best Smokers Under 200 Dollars In 2020
CAMP CHEF SMOKER
The 18 inch smoke vault is an adjustable and mobile smoker that suits varieties of needs, the smoker is made up of two adjustable smoking racks, one jerky smoking rack, water pan, removable porcelain tray to aid up the cleaning process,  three adjustable damper valves; one on top and the others on each side.
Overview
This smoker comprises of the best features to look out for when purchasing a smoker and this makes it easy for you to get great value from a $200 budget smoker.
Features
It also has an easy to read door thermometer from 50 to 400 degrees, with its fully adjustable heat control dials, (note: and that is a great feature to look out for when purchasing a smoker) three damper valves, the door thermometer helps you control internal temperatures.
Most times the cooking temperature can vary from 160°F to 400°F .
The smoke vault also extends its usage to other varieties of food, such as salmons, baked pies and bread. This smoker comes along with its own recipes and cooking tips and that's a very good help to anyone that is unable to cook.
Pros
The smoker is very versatile and multifunctional.
It is a great choice for camping and outdoor gatherings.
It has an easy to read door thermometer from 50 to 400 degrees
It is very easy to assemble.
Cons
It is limited as to how well to close the damper.
DYNA- GLO DGX780BDC-D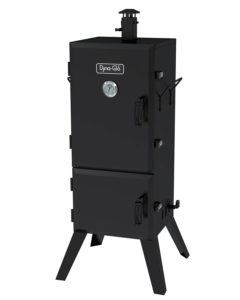 The vertical charcoal smoker saves as a multifunctional smoker and is very convenient both for outdoor and indoor activities.
Overview
Vertical charcoal smokers are great and 100% ideal for capturing maximum smoke flavour, which will mix up with the natural flavour of your grilled food, providing it with a taste and savory flavour that cannot be beat.
Features
It has 4 cooking grates with a 25 pounds capacity, 754 square inches of total cooking area,  it possesses a charcoal chamber, charcoal grate and removable ash pan to be able to manage the ash that comes from the smoker.
It also has an adjustable flue for additional flavor and temperature control, for an improved burn efficiency, it has the porcelain enamel steel charcoal chamber.
It has a built-in stainless steel thermometer that helps in showcasing the ideal temperature for infusing smoke flavor.

Pros
It has a well made and sturdy cooking grates with no signs of corrosion
The gasket/ door seals work perfectly fine.
It has all parts included and functional.  
Cons
It is enormous in size and weight and quite heavy to move  
It has a narrow water tray.
CUISINART COS – 118 – Best Budget Smoker
The smoker is portable and user-friendly, the best choice for most chefs, cooks and grilling fans. It stands 45 inches tall and it's easy to maintain and clean.
Overview
The charcoal smoker is of 18 inches and it is versatile, its smoking abilities don't end with grilled meat, you can smoke varieties of foods example,  cheese and vegetable, easy to set up, it includes everything except charcoal and wood chunks.
Features
It has an enameled porcelain steel bowl that holds water and also a vertical door by the side for easy access to water and fuel.
It possesses two vents that can be opened or closed as to be able to manage the amount of smoke and heat leaving the chamber.
It has a two steel wire rack that can be stacked inside the 3.45 square foot smoking chamber.
Pros
It is easy to assemble and user-friendly
It has a very strong a sturdy Construction
It is Portable and easy to move.
Cons
Shallow water pan and not very convenient for usage.
Difficulty in reading the temperature gauge.
Dyna-Glo DGO1176BDC-D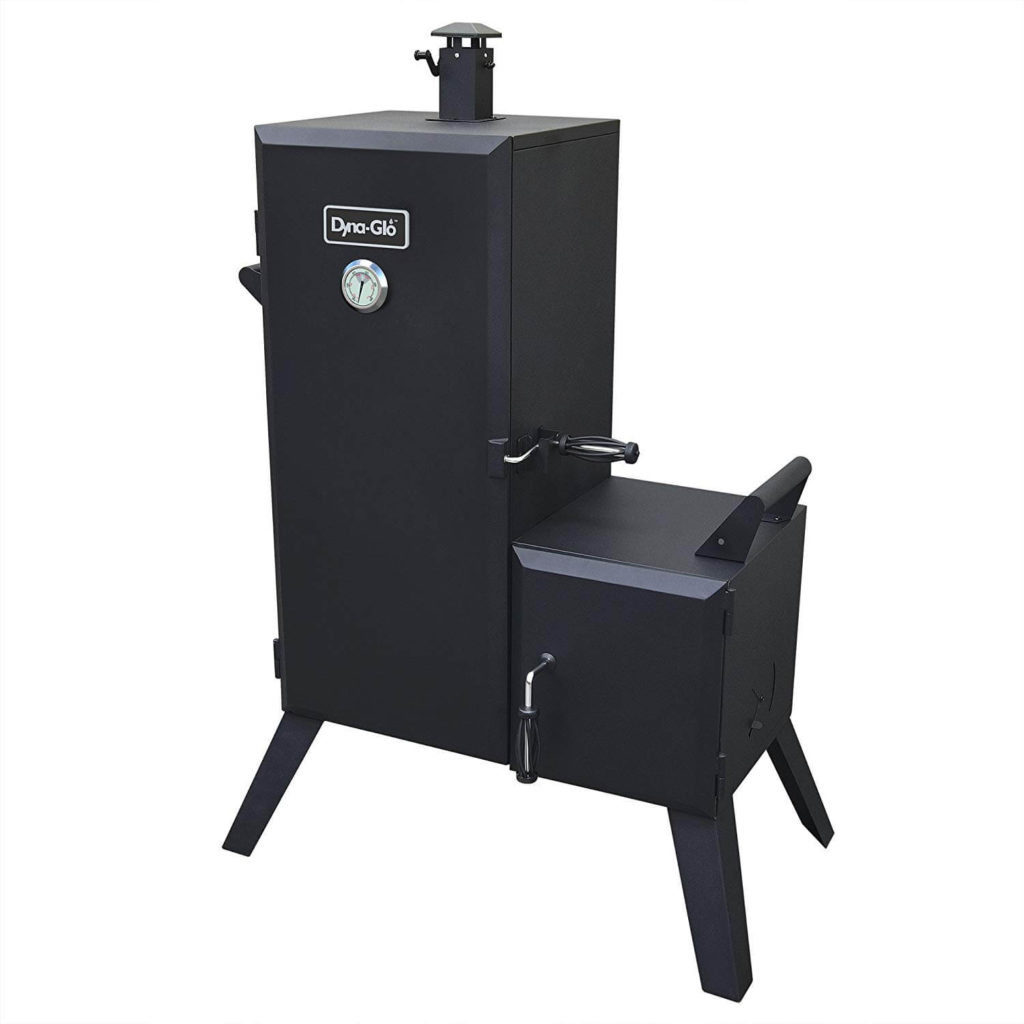 This Dyna-Glo charcoal offset smoker is perfect for families, or for use when cooking for larger amounts of guests.
Overview
It comes with 784 square inches of the generous total smoking area, giving you enough room to lay out tasty cuts of meat and fish on the smoker for all to enjoy.
Features
This smoker comes with a handy dual door design which helps to keep the heat and high temperatures locked in the smoker, whilst you add in more wood chips, making smoking faster and helping you to get dinner on the table at record speed.
It has been specially made of heavy duty steel, meaning it will last longer in great condition and also helps to increase burn efficiency.
The stainless steel temperature gauge outside display with the "Smoke Zone" indicator will help you to keep an eye on the heat without having to unnecessarily interrupt the cooking process.
Pros
Easy to operate
Great temperature control
Cons
Cleaning process can be a bit of a hassle.
SMOKE HOLLOW SH19079518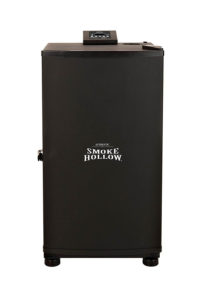 This digital electric smoker is very much user-friendly,  simply plug it in and set the digital controls preferably and let it smoke.
Overview
This smoker's digital control has been designed effectively to regulate the on/of, temperature and time of the smoker, it has the removable drip pan which aids up the cleaning process, the removable water bowl adds moisture and flavor to the smoked item.
Features
Also, this smoker is fully kitted with 800 heating element for even and consistent smoking,  it also has an adjustable air damper for smoke control.
Smoke hollow has a three chrome-coated smoking rack which allows you to smoke more meat at the same time, this way it is time conserving and also energy preserving.
It has a great integrated thermostat temperature which aids for even and consistent smoking.

Pros
Its assembling process is easy and the smoker is simple to manipulate.  
It has enough room to grill as much meat as possible, compared to other smokers
Cons
The control panel is a bit fragile and needs to be handled with care.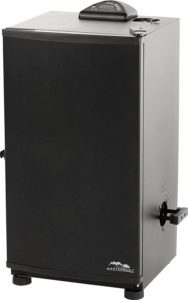 MASTERBUILT 20071117
Overview
This is the best smoker any chef or lover of good and excellently grilled meat can get at such an affordable price, I mean, it saves every need and you totally get the worth for your money, the masterbuilt digital electric smoker works perfectly well for anyone, be it a professional or novice.
Features
The smoker works just fine when simply plugged in and the controls panel set accurately, with masterbuilt, smoking is made easy and convenient.  
The smoker is compacted with a fully -insulated smoker body,  digital panel controls on/off, temperature and time, all to aid up the smoking process.
It has an integrated thermostat temperature control for even, consistent smoking, it also has a four chrome-coated smoking rack to aid fast smoking, alongside a patented side wood chip loading system.
Cons
The temperature gauge could suffice as a challenge
CUISINART COS-330
Like most electric smokers, the Cuisinart electric smoker is easy, versatile, simple, user-friendly intuitive and convenient to use.
Overview
It has a three chrome-coated rack which aids smoking. It is a great choice for casual or better still first-time smokers,  it has a built-in thermometer on the front door which makes it very convenient to watch over the temperature.
Features
It is lightweight and easy to move and it has a chrome spring door handle.
It has a 1500- watt heating element which will produce a temperature from 100°F to 400°F.
This smoker can always pass as a great gift.

Pros
Easy to move and versatile
Very convenient and great for beginners
It is strong and sturdy
Cons
It is likely to generate less smoke and attention should be paid while smoking
WHAT TO LOOK FOR IN A BUDGET SMOKER
The best can be achieved at an affordable rate without being tagged inferior,  and the same theory applies to the hunt for the best smoker, and to get the best at that rate, certain paradigms need to be considered:
PRICE: The main purpose of having to choose amongst other smokers was to cut cost,  I mean! why still have to buy under budget when there was enough to be spent, but since the reverse is the case, the price needs to be checked.
DURABILITY/ SPACE: Looking out for the durability of the smoker should be one of the top priorities, also your envisioned smoker space should be that which will fit the size of your smoker.
ELECTRICITY COMPLIED: The core idea was to get an electric smoker,  that which will work perfectly well without any need to attach any other form of heat to it, already its known that these smokers are easy to use and are way more versatile than the charcoal smokers, so it is necessary to check properly to be sure that it makes use of electricity in other to achieve a great deal from its usage.
TEMPERATURE: Every control panel(thermometer, dampers and vents) responsible for the temperature regulation of the smoker must be in good shape.
FREQUENCY: Consider the frequent usage period of the smoker and if it will meet your intent, so as to make a good choice on which to buy and not to buy an overly expensive smoker when an affordable one could as well give you the maximum satisfaction required.
FAQ
What is the best inexpensive smoker?
We like the Dyna-Glo DGX780BDC-D 36″ Vertical Charcoal Smoker but there are several great options. We recommend reading several reviews to see which one fits your specific needs and wants.
CONCLUSION
Be that as it may, the above-mentioned smokers are great and awesome smokers you can get for under $200, you do not need to break a bank to be able to achieve the best when it's been dropped at your fingertips already.
All you need is a little more research, comparing the pros and cons of each smoker,  the different price range and choosing which best suits your needs and budget.