If you are looking to impress family and friends this holiday season with the best barbecued meat they have ever tasted, then there is no better way to go about it than with a Fast Eddy PG500 by your side.
The Fast Eddy pellet smoker is a super speedy, top quality smoker that is on the market for serious barbecue enthusiasts. It has been designed with all of the greatest and most innovative barbecuing features and has been put together with long lasting materials. If you are looking for a premium smoker that will help you to achieve the best possible results this summer, then you cannot be without a Fast Eddy's Cookshack.
Are you ready to find out what this Fast Eddy's by Cookshack PG500 smoker has got in store for you? Then make sure you stick around, as, in this article, I will give you a run through on everything you can expect from the smoker, including its specifications, the materials it has been made from, the whole shabam. Not only that, but we will provide you with the details to increase your confidence when purchasing this premium smoker.
Don't miss out!
Overview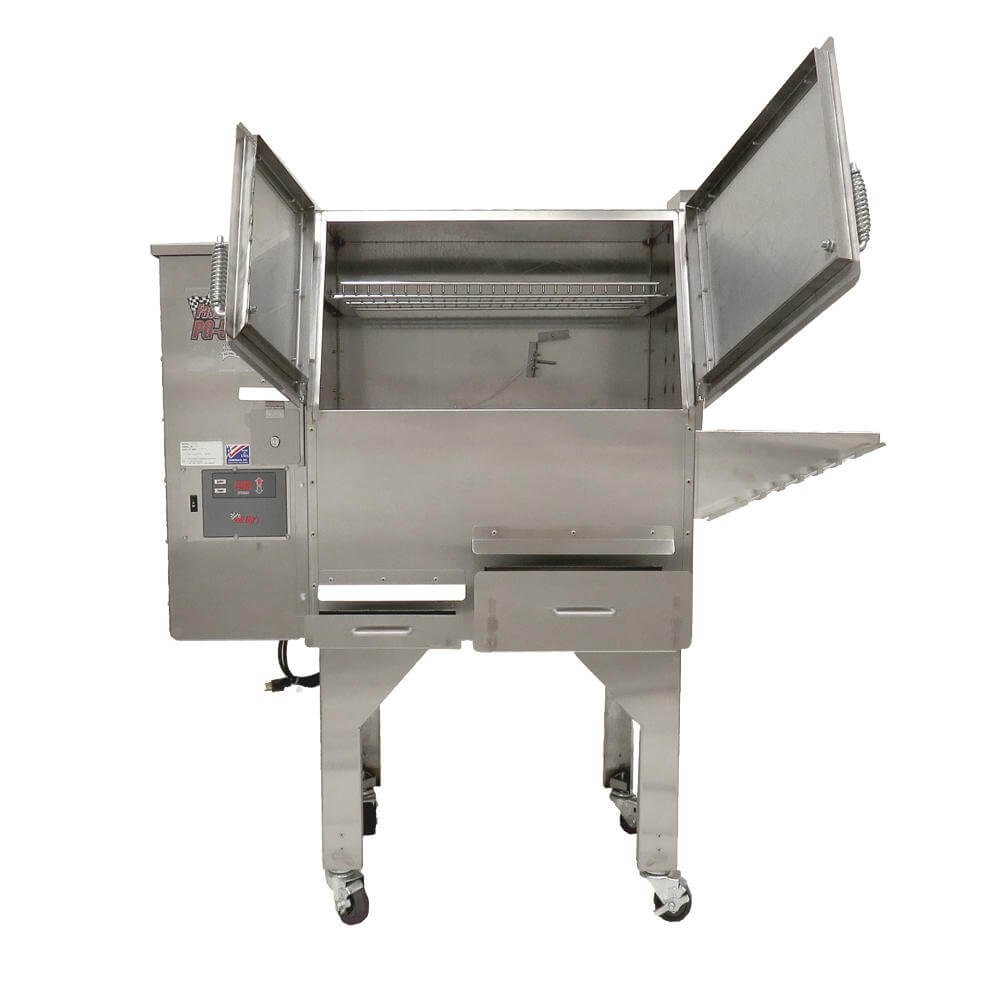 Some are calling this model one of the best pellet smokers for 2020. Take a look at the overview below which will tell you why.
Enormous cooking space. Fancy calling your family, friends, neighbors and everyone you know for a get together? Not to worry, this Fast Eddy PG500 can handle it thanks to its 784 square inches of cooking space. This smoker is equipped for both direct and indirect cooking. It also has a warming drawer and a top rack, so that you can experiment with a variety of different recipes and cooking methods on the comfort of one grill.
Wood pellets. This smoker is powered by wood pellets, helping you to get that traditional smoky flavor infused into your meat without all of the hassle that comes with cooking on a log fire.
Shelves. The Fast Eddy PG500 comes with two handy working shelves that are ideal for placing food platters and meat onto. There is nothing better than having all of the tools you need to cook a mean barbecue at arm's reach!
Remote controls. This smoker can be powered from a smartphone, meaning you can get the smoker heating up on your way home from work so that it is sizzling by the time you come through the door or use the controls to keep an eye on the temperature while you are in another room.
Pros & Cons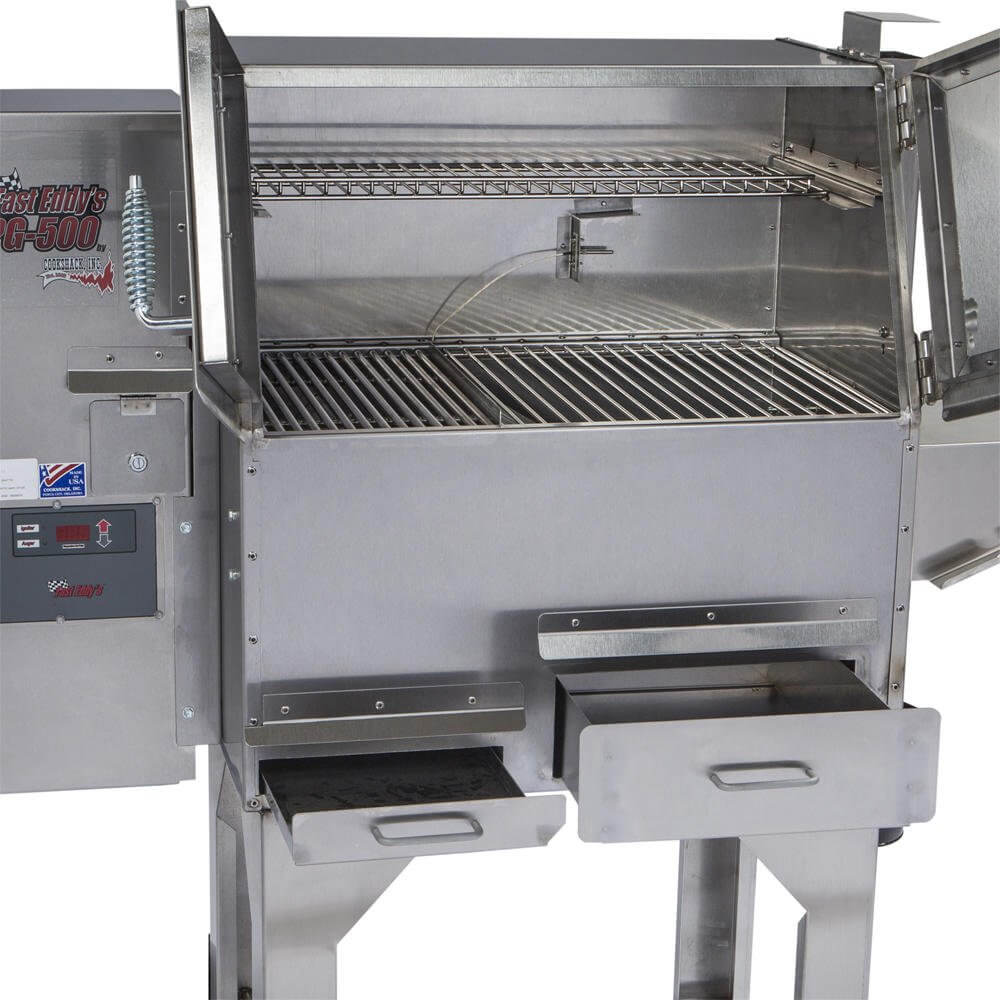 Certainly a smoker of this quality cant have any cons, or can it? Take a look at the list of pros and cons below to find out.
Pros
High temperatures. Do you love that seared finish on the perfect cut of steak and are ready to achieve that look at your next barbecue? This grill is perfect for searing meat on the direct grill thanks to the high temperatures – it reaches over 900 degrees Fahrenheit!
Pellet drop. Fancy changing up your wood pellets to a different flavor? Not to worry, as the smoker has been built with a handy pellet drop feature that will release the pellets inside the chamber so that you can change them over without getting your hands dirty.
Stainless steel. The entire unit has a stainless steel construction that is easy to clean and is resistant against stains, rust, and corrosion.
Cons
Price. One of the biggest and probably only cons that have come up about this product is the price. It is an expensive grill, but I think that is to be expected considering the large number of features it comes with and its high quality build. So many users have been impressed by this model so it is safe to say it will be your next and final smoker!
Conclusion
With barbecue season just around the corner, I am sure you are anxious to get a hold of the best pellet smoker that will help you to create the best barbecued meal for your family and friends. Why fight with a rickety, old pellet smoker that is tricky to clean and that has to be babysat 24/7 when you could have a brand new, stainless steel, Fast Eddy's smoker with all of the latest features that make grilling something tasty for family and friends a piece of cake?
Not only will this smoker help you achieve scrumptious results that the family will not be able to stop talking about, but thanks to its stainless steel finish, it will look ever so classy when poised on your backyard patio or on the lawn.
So, if you are looking for a grill with an excellent build, super hot working temperatures and digital controls, this Fast Eddy's PG500 Cookshack is the model for you. Simply follow one of the links on this page to add one to your basket. I am sure you will be dying for the weekend to fly around so you can crank up this grill and give it a whirl and the results will by no means disappoint!
Happy grilling!