Any individual who does not like how grilled beef or pork tastes, needs to have a check on their taste buds. When these foods are smoked, they have a tasty flavor which comes with it. That is why we created this guide, to help you find the best smoker for beginners!
As regards the preparation of tasty smoked food, there is nothing as fitting, as having to apply the suitable temperature which would ensure that the food is smoked in a regular manner and pattern. Now, irrespective of the kind of smoker you have, a good number of them come with an enhanced technology, which aids your meat in getting smoked in an effortless manner.
With the use of a smoker, you can smoke any type of food according to your discretion. There is no need for you to undergo some form of training before using a smoker.
Having to select your first smokers from a list of smokers, could be a herculean task, based on the fact that there could be quite a number, and as a beginner, you might be at a loss as to how to make the right choice.
However, it is needed for you to have the basic knowledge of how easy there operation would be, and the cost of purchase alongside the performance. With time, you will get to realize that there is a need for an upgrade.
Best Beginner Smokers
Z GRILLS ZPG-7002E 2020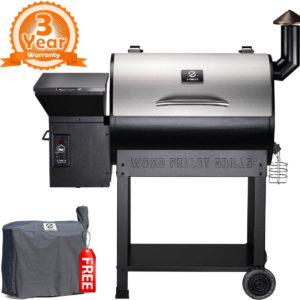 The Z Grills ZPG-7002E 2020 New Model is an 8 in 1 smoker which perfectly substitutes the want for a grill, thereby enabling a multi-functional environment which would involve baking, grilling, roasting, braising and smoking.
There is a pellet and temperature feed control system, and also a digital control board which activates the grill, and enables you to calibrate the cooking temperature. In addition to this, the Automated electric feed system regulates the heat and gives rise to an appropriate amount of smoke. So, all you need do is set it and it does its job.
This smoker also comes with stainless steel built which has high defiance to deterioration, this ensures that you would use it to grill much longer than usual.
Pros
The smoker is multifunctional and highly versatile, as it has an 8-in-1 build
It is very easy to operate
It is highly efficient, as you can cook around 20 pounds of pellets for about 20 hours
It is very accurate when it comes to the temperature calibration
It gives the food a nice flavor
Cons
The Grill smoker is quite heavy
The temperature control might be quite difficult
Masterbuilt 20071117 30″ Digital Electric Smoker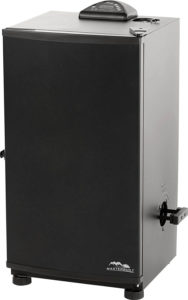 This Masterbuilt Digital Electric Smoker is the best for either a beginner or a professional. Without having to use charcoal or propane, you can achieve great and fast results. Basically, you just need to plug in, calibrate the digital settings and it begins to work.
It has a plug and play utility function which makes it easy for those who are beginners in smoking. There is a digital panel which is responsible for the control of a good number of the functions of the smoker.
You can also decide to set the time for cooking or the appropriate temperature. This smoker comes with four racks, which gives room for more food to be smoked.
The smoker is well insulated, so you can be sure that its temperature management function is top-notch. It can attain a maximum temperature of 275 degrees. After smoking, you can still retain the heat, thereby giving your meat appropriate warmth while it lies in the smoking cabinet.
Pros
·   The control panel is user-friendly
·   The construction makes it a durable unit
·   The wood chips are easily loaded
Cons
·   Problems could be encountered with the temperature gauge
·   The unit could experience swelling
Z GRILLS ZPG-450A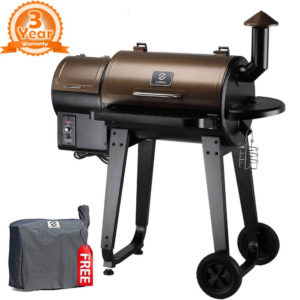 The Z-Grills smoker is a multifunctional one which comes with the wood pellet technology, that allows you to get wood fire at the accessibility of gas or propane. With this smoker, you can cook 20 pounds of pellets for 20 hours.
It is very versatile with a broad temperature range between 180-450 degrees to smoke, grill, roast, bake, braise or BBQ.
This smoker is very easy for beginners to use. It has an ignition which can auto-start, it also comes with a digital auto temperature control and a LED temperature display.
Also, it has a stainless steel build which implies that it has a tough defense against corrosion, which ensures that it lasts longer. The pellets are automatically added by the Digital temperature control in a bid to normalize the temperature.
Pros
The smoker is highly efficient
It is highly versatile
It gives the food a wonderful flavor and aroma
Cons
The control panel could be faulty at times
The customer service is non-responsive
EasyGO EGP-FIRE-017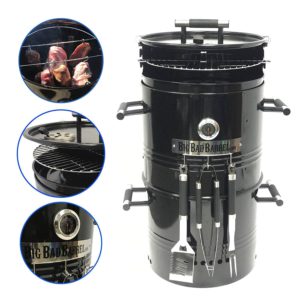 For those who are new to smoking, this charcoal smoker has all the necessary features to help you to your feet. There are stainless steel hooks, about 6 in number, with 3 utensils which can be easily hung on the grill to make your cooking easier.
It is also well packaged, as it can be effortlessly set up. It also saves space, so you would not have to complain about where to position it. The special design of the smoker enables it to achieve and regulate the temperature at 225 degrees for several hours, in order to get a great taste for your food.
Pros
It is a portable smoker
It is versatile
Beginners can easily adapt to its usage
It provides the right temperature for smoking
Cons
It is quite difficult to use in winter
Char-Broil Simple Smoker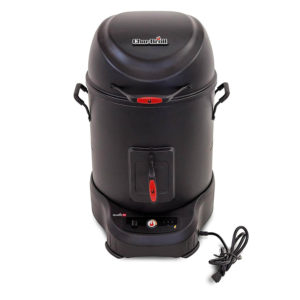 One of the major differences between a digital electric smoker and a simple smoker is the capacity and size. The Char-Broil simple smoker has a small capacity, which makes it a great unit for both amateurs and professionals.
While smoking, there is no need for you to keep a regular check on the food, because the SmartChef app controller gives you constant updates until when the meat is fully smoked. The smoker also comes with some recipes and cooking instructions for beginners.
There is a digital controller which can be programmed and has an incorporated meat inquiry which would always give you the readings of both the cook and internal meat temperature.
This smoker allows you to have a swell time, as your cooking routine gets as simple as ever, and you can regularly enjoy well-cooked meals. You can calibrate the smoker to inform you when the meal is ready, this enables you to utilize the ample time to enjoy yourself with friends and family.

Pros
It has a Wi-Fi connection, which allows you to monitor the food from any given point, as far as you are connected
It is the ideal smokers for beginners, and professionals would also find its usage quintessential
It has a wonderful design
The meals are always well-prepared
It needs little monitoring
Cons
It is quite difficult to clean-up
The recipes are not sufficient
Char-Broil The Big Easy TRU-Infrared Smoker Roaster & Grill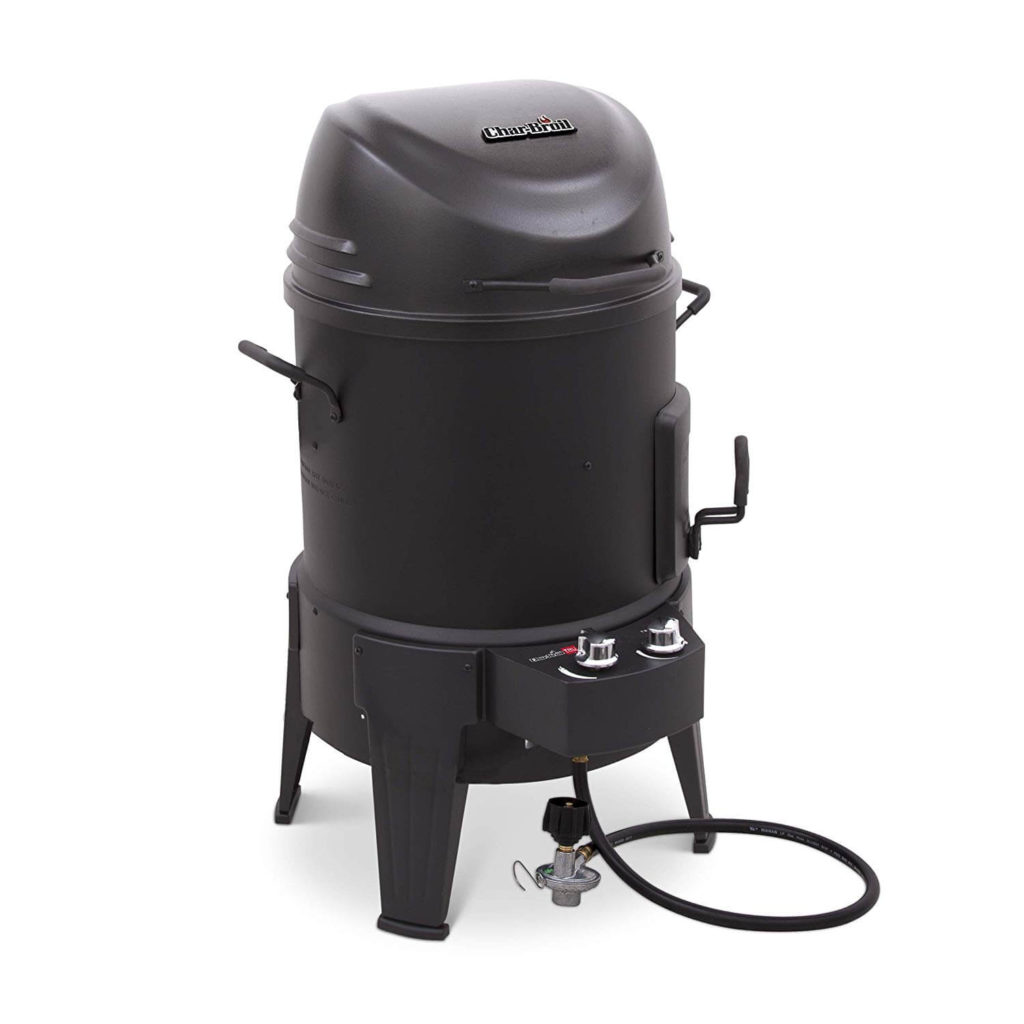 Here is a fantastic three in one smoker, roaster, and grill by Char-Broil, it is great for cooking up a storm for the whole family as it holds a generous 25 pounds of meat for roasting and has 180 square inches of cooking space on the grills, helping you to get the job done, faster.
Features
This smoker, roaster, and grill is portable and can easily be placed into the back of a car.
Given that it only weighs a mere 22.7 pounds, it can easily be transferred around the backyard without any unnecessary strain.
This smoker, roaster, and grill will also help you to cook more healthy meals as it uses a TRU infrared grilling surface cooking technology which helps produce fried turkey or chicken, but without all of the extra added oil.
This smoker, roaster, and grill come with a side-mounted smoker box which can be accessed to add wood chips without opening the smoker, helping it to maintain its heat.
What to Look for in Your First Smoker
Before you purchase your first smoker, it is important that you take note of some important features:
1. Build Quality:
This is one of the most essential factors to consider before you get your first smoker, and the build quality is not dependent on the price, and neither the skill level. If you purchase a smoker which has leaks, or very thin walls, it would be difficult to regulate the temperature.
For units which are powered with charcoal, the heating ability is dependent on the quality of the charcoal bought, the same applies to the heating element of a smoker if the propane or electric powered units are not the quality type.

2. Efficiency:
The efficiency of a smoker is dependent on the amount of fuel which the smoker must utilize in having a good solid smoking temperature. This still leads back to the build quality. If heat is leaking from the smoker, and it smokes in places where it is not supposed to, then your smoker might have to consume more fuel to keep up with the temperature.
This might be frustrating with charcoal units, as you would have to remove the food and add more charcoal.

3. Fuel Source:
This is another vital factor which must be considered. Selecting the appropriate fuel source has a prominent impact on your food and the frequency of use. Some people prefer using charcoal because of the flavor, while some would rather use electric and propane because they are very easy to use. So, it is advised that you consider your space and schedule before making a choice.
FAQ
What is the best smoker for a beginner?
Z GRILLS ZPG-7002E 2020 New Model Wood Pellet Grill & Smoker, 8 in 1 BBQ Grill Auto Temperature Control
Masterbuilt 20071117 30″ Digital Electric Smoker
Z GRILLS ZPG-450A 2020 Upgrade Model Wood Pellet Grill & Smoker, 6 in 1 BBQ Grill Auto Temperature Control
EasyGO EGP-FIRE-017 Big Bad Barrel Charcoal Barbeque 5 in 1 Can be Used as a Smoker Grill BBQ, Pizza Oven, Table & Fire Pit
Char-Broil Simple Smoker with SmartChef Technology
Char-Broil The Big Easy TRU-Infrared Smoker Roaster & Grill
How much is a good smoker?
The range for a smoker can start at $100 and go all the way up into the thousands. However, for beginners, you can find a good one to get started for around $200.
Are vertical smokers good?
Vertical smokers are good if you don't have a lot of space. Because of their design, they can also be more efficient than some of the larger offset smokers. They won't require as much fuel to operate.
Conclusion
The aforementioned smokers are among the best smokers for beginners who would find useful. So, as a beginner, using one of these would be highly beneficial.
However, it is advised that you take a thorough review of each of the smokers, checking out the features, pros and cons, and make an analysis of the smoker which matches your need.