Viking 3-Ply Stainless Steel Roasting Pan with Nonstick Rack...
Circulon Nonstick Roasting Pan / Roaster with Rack - 17 Inch...
Precise-Heat Multi-Use Baking and Roasting Pan with Easy...
All-Clad E87599 Hard Anodized Aluminum Scratch Resistant...
Our #1 Choice
Calphalon Contemporary 16-Inch Stainless Steel Roasting Pan...





Viking 3-Ply Stainless Steel Roasting Pan with Nonstick Rack...

Precise-Heat Multi-Use Baking and Roasting Pan with Easy...

All-Clad E87599 Hard Anodized Aluminum Scratch Resistant...

Our #1 Choice
Calphalon Contemporary 16-Inch Stainless Steel Roasting Pan...

Whether you are a home cook or a professional chef at a restaurant, there are some staple utensils and cookware that you must have around your kitchen. One of such cookware is the best roasting pan.
A roasting pan is a very handy cookware item for those who love making those Sunday family roasts. Whether you are planning on roasting a beautiful turkey or cut of beef, you will definitely need a roasting pan for the purpose.
But of course, when you make up your mind on getting a roasting pan for your kitchen hold, the very predictable question arrives, "which one to get? " or " how to recognize the ideal roasting pan?"  
We can completely understand your dilemma for choosing a single pan from numerous others. The fact that these pans are rather on the expensive side, it is relevant that you know which one to put your money on.
Hence, we have prepared this article to help you all to come out of the dilemma and listed all the information that you would like to know about the ideal roasting pans.
We have even gathered up a list of the top roasting pans that you can choose from. Come, let us have a peek at it.
What Is The Best Roasting Pan?
Viking Culinary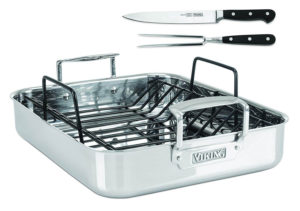 Amongst hundreds of cookware brand, there is one brand whose name always shines through and that is Viking Culinary. They are renowned for their premium quality cookware and cutleries.
Overview
If you are looking for a large roasting pan to cook delicious slow cook meat then we have found you the perfect match. This 16 inch by 13-inch stainless roasting pan is ideal cookware for roasting largely sized poultry or a loin.
Features
This particular Viking roasting pan set is a dream come true for many passionate cooks who love to prepare roasts for their family on the weekend. Not only does this set has a built-in non-stick rack, but it also comes with a fine carving set.
The rectangular roasting pan is ideal to roast a whole turkey and is completely made of high-quality stainless steel. The stainless steel interior will prevent it from reacting with the food.
Moving forward, whether you have an electric stove or griller, this pan is compatible with it all and is safe up to a high temperature of 600 degrees F. The V shape rack is also made from non-stick material and is therefore great for roasting purpose.
The handles are strong and riveted thrice which means it will not give you any hazard or fall apart while lifting that heavy and delicious Thanksgiving turkey. The carving set adds on as a bonus to the set.
Although the set is on a bit pricey side it is completely worth every penny. This set will last you a long time as it is made from premium stainless steel and is completely rust proof plus it will hold the shine for longer.
Pros
Heavy duty and fridge safe
Safe to 600 degrees Fahrenheit
Roasting rack with high handles for comfort/ease of use
Cons
roasting rack is not dishwasher safe
pan quality is great, rack quality is not as excellent
Circulon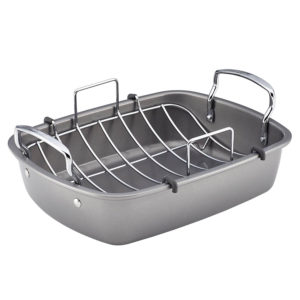 We must talk about this amazing non-stick roasting pan by Circulon. This pan would be an ideal fit for many as it comes in an amazing price point and has promising features.
Overview
The pan has been constructed from very high-grade carbon steel which allows proper heat distribution throughout the pan while cooking. The pan is coated with a non-stick layer to prevent the food from clinging on and also eases up the cleaning process for you.
Features
It's a very heavy duty pan amongst the lot, and is great for roasting turkeys, porks or beef, whichever you desire. The great thing is that this pan comes in two different sizes, so you can choose according to your requirements.
This roaster is a great option to pick health-wise as the material its made from will not react with the food. It is oven safe and comes with a U- shaped rack as well to place the meat on.
If you are looking for a more affordable roaster that offers promising performance then this Circulon bakeware is an ideal option for you.
This rack is oven safe to 450 degrees Fahrenheit.
Pros
Nonstick coating, easy to clean
Lifetime guarantee
Heavy construction means even heat distribution
Cons
Hand wash recommended to preserve coating
Be aware of 450 degree Fahrenheit max
All-Clad E87599
Food sticking and spending time scrubbing has really become a thing of the past with this All-Clad roasting pan. Not only does it have scratch resistant properties but it is also nonstick, making cleaning up a whole lot easier.
Overview
This excellent roasting pan is great for large cuts of meat with its v-shaped roasting rack. This high straight walled roaster helps keep your oven clean. Made by a brand you can trust that's been around the kitchen scene for a while, All-Clad you certainly can't go wrong with this pan.
Features
This roasting pan is also dishwasher safe, giving you less work to do at the end of the evening.
This pan also helps you to keep your oven cleaner as it has been made with tall sides to help stop cooking juices from splashing and spilling. The taller sides also give you more cooking space and room for bigger cuts of meat.

Pros
Quality non-stick coating
Dishwasher safe
Quality construction pan AND rack
Cons
Handle rivets could be better
Rack could be adjustable (commonly not, so no surprises here)
Calphalon Contemporary
If you are considering to invest in a high end premium quality roasting pan than you must consider this Calphalon Contemporary 16 inch pan. It is a heavy gauge pan with a solid aluminum core which has been placed between double layers of stainless steel.
Overview
The multiple layers along with an aluminum core make the pan indestructible and extremely durable. The purpose of placing a metal core in the roaster is to enhance the heat conductivity of the pan so that the food is cooked evenly.
Features
To help you place the turkey or pork in the right position Calphalon as also included a V-rack in the set which can ideally hold a turkey of almost 5 pounds.
But are you worried that will the handles might break or bend while lifting such a heavy pan with a heavier bird on it? Well, to ease that worry, the handles have been riveted thrice and crafted with durable and strong material so that you have no difficulty in lifting.
Although this pan falls on the pricier end we can assure you that it will be a worthy investment. This pan will last you forever as it is made from the finest material and is extremely hard-wearing.
This hefty unit can hold up to a 25lb Turkey, making it one of the larger ones we have reviewed.
Pros
Extremely rigid strong construction
Trusted Company (Calphalon) and carries a lifetime warranty
Dishwasher safe
Cons
Price
Curved in handles is slightly different (splitting hairs here)
Farberware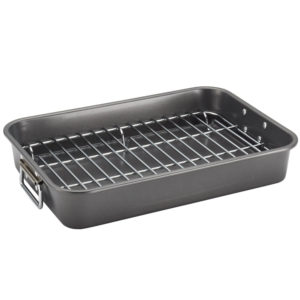 There are so many people who rather prefer opting for a more budget-friendly roaster than investing hundreds of dollars in one single pan.  Here we have come up with a great option for you.
Overview
The Farberware nonstick bakeware is an affordable and high-grade roasting dish. It's 11-inches by 15-inch frame is ideal to roast a medium to large sized turkey for your lovely Thanksgiving dinner.
Features
It is a flat, rectangular roasting pan with rounded corners with a complete non- stick technology specially designed to allow you to pour the contents without any hazard. Cleaning the pan afterward becomes an easy task as well due to the non-stick layer.
The heavy-gauge pan comes in a gunmetal shade and gives the pan a stylish outlook.
Furthermore, a flat has been provided along with the pan which will prevent the meat from touching the surface of the pan and about any burning.
Overall, it is a great pan in an amazing price point that offers you high-quality performance.
Oven safe to 450 degrees Fahrenheit.
Pros
Budget Friendly
Nonstick pan with rack
Cons
No handles on rack
Not as durable as others reviewed
Mauviel Roasting Pan
Nothing looks more classy and traditional than a copper roasting pan with bronze handles. If you fancy a pan that looks spectacular and delivers optimal performance, then you need to have a look at this Pan by Mauviel.
Overview
Mauviel has constructed this pan with a thick exterior made from polished copper. They have even placed a metal core of high-quality aluminum in between the layers of stainless steel in order to enhance the heat conductivity.
Features
With such a heavy bottomed pan it is vital that the handles are made strong too otherwise, it might bend or flex while lifting it fully. But Mauviel has kept that thought in mind and has thoughtfully designed the very robust riveted handles for your convenience.  
Like most roasting pans, this one also comes with a roasting rack so that you can place the meat in a level that doesn't touch the bottom.
This is a big roasting pan with a 16-inch by 12-inch dimensions and is ideal to roast a medium to large size turkey. All in all, it is a spectacular pan for roasting and slow cooking the meat and if you like traditional copper pans then this is a solid option to choose.
Pros
Lifetime warranty
One of the most attractive pans we have reviewed
Excellent quality construction
Cons
Rack handles are kind of small
A bit pricey (though quality item)
Nordic Ware Turkey Roaster with Rack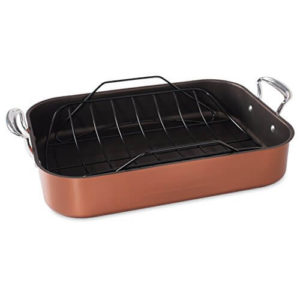 Most of the time people struggle finding a roasting pan with a flat bottom. Usually, the pans have a curve in the bottom to increase its strength so that it can hold heavy loads of meat and the flat bottom pans are usually not heavy.
Overview
Nordic Ware has designed this amazing heavy flat bottomed pan that is great for roasting vegetables and meats. It is hence compatible to use on ceramic or electric stovetops, ovens, and induction stoves.
Features
The pan has great heat conductivity due to the aluminum core which has been sealed between multiple layers of high-grade stainless steel. The non-stick layer prevents the food from sticking on the pan and makes the cleaning process much easier and effortless.
Overall, it is a good turkey roaster and is very price friendly. For those who don't prefer paying hundreds for a single pan, this one is a great option to check out.
Oven safe to 400 degrees Fahrenheit.
Dimensions of this pan are 18x13x3.75
Pros
Budget friendly pricing
Large handles
Better construction than many in this price range
Cons
Not dishwasher safe
Lower max oven temp than others (400 degrees F)
Gibson
It is a challenge sometime to find an affordable roasting pan that comes with a lid. In usual cases, only the high-end brands tend to offer accessories with the pan itself.
Overview
But we have found a great roasting pan with a lid that has a very reasonable price point. The Gibson home top roast oval roasting pan with lid is a unique creation that you can add to your kitchen cookware collection.
Features
Not only does this pan comes in with a lid, but it also has a rack to help you place the meat and vegetables on an ideal level for roasting.
The entire pan is made from premium stainless steel that will hold its shine for a long time and will not rust or corrode. It is a 16-inch pan and you can easily cook a turkey or meat loin in it.
With a price so good and quality so superior, you simply cannot hold yourself from falling in love with this cookware.
Pros
Includes lid
Lid vents to prevent steaming of food inside
Quality pan
Cons
Rack is a bit flimsy.
Overall construction could be a bit more hardy for the price.
Mr. Rudolf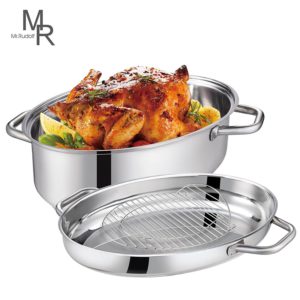 Another great roaster that comes along a lid is this beautiful creation by Mr. Rudolf. It is an 18 by 10  stainless steel roaster that is perfect to roast poultry, and slow cook meat in.
Overview
This pan looks absolutely spectacular with a fine mirror finish due to the all over stainless steel coating, and trust us, it will not discolor over time.
Features
The pan has been crafted with a triple ply coating so that heat is distributed evenly throughout the pan. The best part is you can use it on any kind of stovetop.
A common question that everyone has while purchasing a roasting pan is whether the handles are sturdy enough as the pan becomes incredibly heavy when you put all the ingredients in.
To support that, Mr. Rudolf has made sure that the handles are built with solid stainless steel that is extremely durable and will not break whatsoever.
Oven safe to 550 degrees Fahrenheit.
Pros
Quality triple-ply construction
Lid included
Dishwasher safe
Cons
Included rack could be nicer
Durability
Viking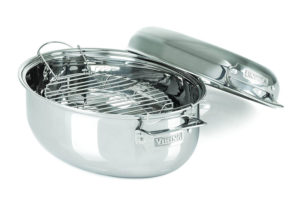 Viking is one of the leading cookware manufacturers in the industry which produces some of the most spectacular cooking tools.
Overview
Although they generally come at a very high price point, the quality is simply worth it. With a quality lid included this is a great addition to any kitchen.
Features
The 3 ply stainless steel roaster is a classic product of Viking Culinary. This roaster comes with a lid and a rack to help you cook a decadent pot roast.
It is a 3 in 1 roaster and you can even use it like a Dutch oven or a stockpot and of course, it is completely compatible with gas, electric or induction stoves, grill and boiler as well.
However, it is an oval shaped pan and might be a challenge to accommodate two whole chickens. Overall it is a great dish to invest your money on considering that you can achieve versatile use out of it.
Pros
Dishwasher safe
The best lid included roasting pan we have reviewed
Best rack in a lid included pan combo
Cons
If repeatedly using the lid as a pan, it may not fit as snug as before
Not as large as other pans reviewed.
Calphalon Classic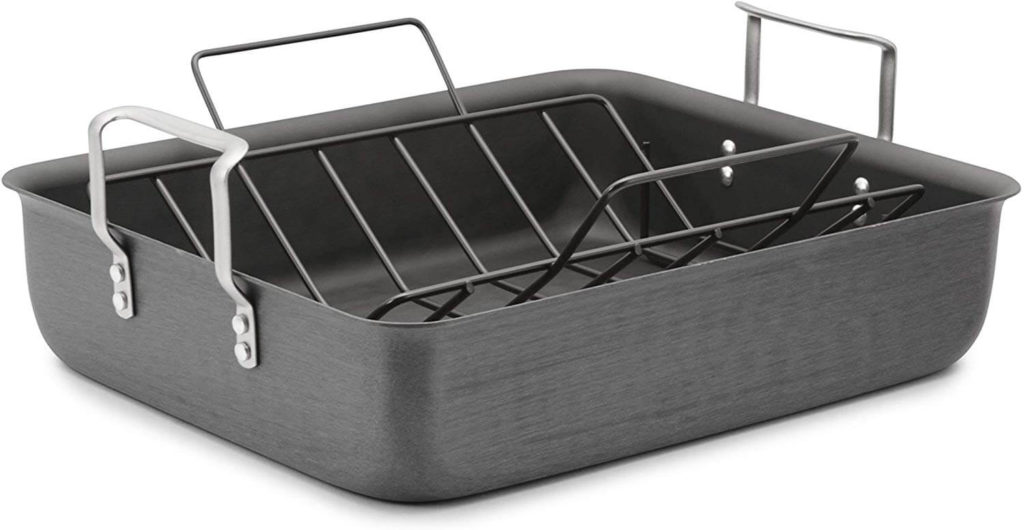 Are you looking for a state of the art roasting pan? Then you have just found it thanks to the makers down at Calphalon.

Overview
This 16 inch roasting pan is the perfect tool for roasting vegetables or a turkey or chicken for the family to tuck into this weekend.
Features
If you are anything like me, then you hate messy cleanups, but not to worry as this roasting pan has got your back. The interior of this roasting pan has been lined with a non-stick coating that helps your food slip off of the pan on removal and makes it a dream to clean.
Don't feel afraid to turn up the heat on this roasting pan because it is oven safe for up to 450 degrees Fahrenheit or 230 degrees Celsius.
This roasting pan also comes with a non-stick rack that you can use to elevate food to help it to brown faster.
Pros
Price
Non-stick rack and pan
Quality aluminum construction
Cons
Hand wash pan only
Texture makes hand washing difficult
Why Use A Roasting Pan?
It is a pretty obvious question that comes to mind when you are considering to purchase a good roasting pan. What is the use of a roasting pan or what size roasting pan for a 25lb turkey?
These pans have been designed in a way that the heat inside can flow around the meat and cook it thoroughly.  When you roast large portions of meat, it is essential that the heat circulates around the entire rack of meat so that any of the sides don't remain undercooked.
Roasting pans often have a built-in inner frame, but if you want a better circulation of heat then it is ideal to choose ones without it. Even distribution of the heat and proper air circulation are key features that only an ideal roasting pan can have.
Roasting pans have a high raised side so is ideal for cooking pot roasts and easy to pour out the gravy in the end as well. If you are roasting a large turkey then you can get the larger roasting pan.
What Is A Roasting Pan For?
You can obviously cook your chicken or meat in any large ceramic or stainless steel pot the thought does cross the mind that what really is a roasting pan for?
Is it only a gimmick or just the matter of displaying the roasted turkey on a Thanksgiving dinner? Well, a roasting pan is a high edge pot that is specially designed to slow cook foods and hence, it's ideal for roasting meats.
These pans are great for heat circulation and cook the meat evenly which is not the case in any other pot or pan. So if you love roasting meats and delicious pork or turkey for your family then it is vital cookware for your kitchen.
How To Pick A Roasting Pan?
If you have set your mind on getting a roasting pan instead of cooking the turkey in some other pots or pans, then you might as well get to know the tricks on how you should be picking the ideal roasting pan.
It is important to know the key features of a roasting pan in order for being able to choose one from the supermarket. Here are some easy tips on how you can do that.

The larger the better is not ideal for this matter
While picking a roasting pan it is essential that you chose a pan that is large enough to contain the entire portion of meat that you are planning to roast. But, the space inside should be just adequate.
The trick is to observe that when you put your turkey or pork loin, the meat is not touching the sides of the pan.
Too much space within the pan will cause the juices to burn and stick to the bottom.
Pick the one that is heavy
A heavy pan will not twist or flex while you lift it along with the large and heavy roasted turkey. The juices will not stick by burning up to the bottom of the pan if you pick the heavy bottomed ones.
Material
It is always ideal to choose a good quality, heavy stainless steel pan or a copper pan. Enamel coated ones will weight impossibly heavy when you put the meat in it and will not be practical at all.
The height
The key feature of a roasting pan is the height of it. If you pick one that is way too high the air will not circulate around the food ideally. So, try to opt in for a 3-inch high pan.
The Shape
It is always a great idea to get the rectangular pans with rounded corners. With these pans, you can roast two chickens together which is a great trick for occasions and dinner parties.
The oval roasting pans are great too, but not that spacious. They are great for a single turkey on Thanksgiving dinner though.
How To Use A Roasting Pan
There are a few simple steps on how to effectively use a roasting pan to make those succulent meat roast dishes.
Step 1: A roasting pan will often include a built-in frame or rack. The first job is to carefully place the turkey or beef on that rack.
Step 2: Place the meat on the rack in a manner that it doesn't touch any of the surfaces.
Step 3: Preheat the oven prior hand and place the roasting pan on the center. This will allow the pan to get heated evenly.
Step 4: Cover up the entire opening of the pan with a lid or with foil properly so that the air cannot escape the pan.
Step 5: Once the meat is cooked and the aroma fills the air, take the pan out of the oven and let the meat rest for at least 10 to 15 minutes. This will help the meat absorb in all the delicious juices.
How to Clean a Burnt Roasting Pan
There are so many things to do in the kitchen when you are preparing dinner for the family. Get the plates, glasses and cutlery ready; chop and condiment the salad; take the bubby out of the fridge and before you can turn around, whoops, the rice has started to stick to the bottom of the pan.

It can be really frustrating and time-consuming scrubbing burnt pots and pans. You may be wondering, is there any way to get this done faster? You will be delighted to know that yes, there is!

Listed below are a few steps to help you to restore your burnt roasting pan back to life, follow them closely for the best results with minimal effort.

Squirt some detergent into the burnt roasting pan and then fill it with hot tap water. Alternatively, squirt some detergent into the sink and the roasting pan, put the plug in and fill the sink with hot water. Soak for 45 minutes.
Scrub the burnt areas gently with a non-abrasive sponge or scrubbing pad. If burnt patches are particularly tricky to remove sprinkle baking soda onto the burnt part of the pan and scrub gently with the sponge.
Rinse the pan and if the burnt patches have not been washed away cover them in white vinegar and salt and leave for an additional 35 minutes.
Scrub gently using a non-abrasive sponge, hot water and detergent, if stains persist sprinkle some baking soda onto the sponge when scrubbing.
Rinse the pan with hot water and towel dry.
And there you have it, a few tips and tricks to help you get your roasting pan squeaky clean this dinnertime.

FAQ
What is the best roasting pan to buy?
Viking Culinary 3-Ply Stainless Steel Roasting Pan with Nonstick Rack + Bonus 8″ Carving Set, 16 Inch by 13 Inch.
Circulon Nonstick Bakeware 17-Inch by 13-Inch Roaster with U-Rack. Precise-Heat Multi-Use Baking and Roasting Pan with Easy Lift Wire Rack.
All-Clad E87599 16-Inch by 13-Inch Large Roaster Roasting Pan with Nonstick Rack.
Calphalon Contemporary 16-Inch Best Roasting Pan with Rack. Farberware Nonstick Bakeware 11-Inch x 15-Inch Roaster with Flat Rack, Gray.
Mauviel Roasting Pan with Rack (Bronze Handles).
Nordic Ware Turkey Roaster with Rack. Gibson Home Top Roast 16-Inch Oval Stainless Steel Roasting Pan with Lid and Rack.
Mr. Rudolf 18/10 Stainless Steel 15-inch Oval Roaster with Rack and Lid.
Viking 3-Ply Stainless Steel Oval Roaster with Metal Induction Lid and Rack.
Calphalon Classic Hard-Anodized 16 Inch Roasting Pan with Nonstick Rack.
Are stainless steel roasting pans good?
Yes, Stainless steel has the quality of resisting marks and maintaining its shine for a long time and is very easy to clean.
Can you put the roasting pan on the stove?
An aluminum pan or copper core pan is only useful if you wish to put it on a stove burner later and make gravy in it while other roasting pans with thinner bottoms may warp while used on a stovetop.
Conclusion
It is very essential to know the features and price point of a variety of different roasting pans before you decide on purchasing one. Since this is a pan that you shall be planning to use for a long time, it is crucial to get a general idea first.
We hope that this information will help you in choosing the right roasting pan for your kitchen. It is all about the material and some features that you need to check on before making the purchase.
Do you use one of these pans? Let us know how you like it in the comments below!