Table could not be displayed.
Old is gold and there are some great cultures that we may not have to do away with because they are really fun. There are a number of meals that we find very interesting and best to cook in the old fashioned way sometimes on the stove.
It's prudent and very healthy to add some new variety to your diet and to your dining room table and that's where the smokers perfectly come in.
The best propane smokers are great for making your favorite and all your delicacies to be shared among your family and it's very simple to use and also a source of great fun.
If you don't have one already then this is the best time to have one, they are very essential especially during holidays when you have friends or guest visiting, it offers you great ability to get creative with your turkey.
The versatile device is also perfect for summertime but it is great if you have it all the times because you never know when the craving may hit.
Propane Smoker Reviews
Masterbuilt 44241GW 2-Door Propane Gas Smoker with Window 44-Inch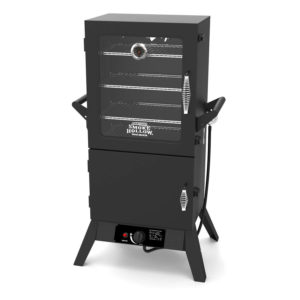 The Masterbuilt is the perfect size that you can use to smoke cook for a large group of people like 6-8 or even more. It's the most ideal for those with big families and or for holidays when you have friends or relatives visiting.
Overview
This new model features an upper door with large temperature windows to allow the user to check on the food's progress without having to open the door.
The two-door system minimizes or prevents heat loss when adding water or wood to the device. It comes with sausage hunger at the top inside.
This model of propane is designed with chrome-plated cooking grids that are adjustable and can be adjusted to various cooking heights. This allows for smoking a variety of foods like fish, pork, game meat, beef and poultry among others.
Features
Porcelain-coated water bowl and wood plan
Capacity of 6.5 cu. ft
Four cooking grids, two jerky grids, a rib rack and a sausage Hanger
Cool touch spring wire door handle
2 Door design
Dual burners operate independently for superior performance and temperature control
Pros
Extremely durable
Great heat circulation
Easy to assemble
Easy to operate and put together
Cons
The door might sometime cause trouble while closing it
Masterbuilt 20051311 GS30D 2-Door Propane Smoker 30″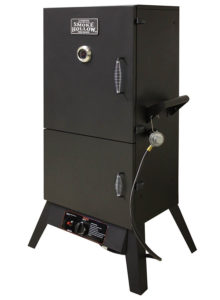 This first runner propane smoker displays great features. It's very pocket-friendly and very easy to set up and perfect to use. It includes four Chrome plated grills with a number of adjustment levels.
Overview
This feature also allows the user to easily add wood and water without having to open the top door.
The gas control system for smoke hollow 30-inch gas smoker is perfectly designed to give you ultimate control and to increase the low to high temp range.
Features
External temperature gauge
Push button ignition system
Locking door with with temperature gauge
Upper and lower vents
Four-Chrome plated cooking grids with multiple adjustment levels.
717 square inches of cooking space
Pros
The two-door design system makes it very cool to use and to control because the user has full control over heat and moisture.
Easy to assemble
Cons
It is a bit on the expensive side of the list
Cuisinart COS-244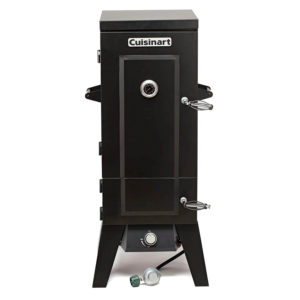 The Cuisinart Vertical 36-inch propane smoker provides ultimate control over the oven temperatures. If you've been longing to smoke your food by yourself then this second runner propane smoker is perfect for you.
Overview
It's very ideal for any barbecue chef. It gives you control over the smoke produced by the oven and the adjustable gas supply also allow you to have full control over the heat. The user can open or close rear vent to control the amount of smoke and heat that exits the oven.
The 36-inch propane smoker is very easy to set up. It comes with 40 inches hose and a regulator that easily attaché to the propane tank. Its doors are lightly sealed with a twist on the handle.
With this wonderful propane, you can cook all types of food like seafood, beef, vegetables, pork, ribs, chicken, whole birds, fish and large cuts of meat.
Features
Full control over smoke and heat
Built-in thermometer
Twist-lock handles that seals the door tightly
14 x 14 removable stainless shelves
Roomy 5.452 ft of interior space.
Pros
Extremely durable
The footprint makes it great for barbecue and patios kitchen.
There is a very easy to read thermometer fitted at the front door that helps the user to easily monitor the internal temperatures.
The smoker comes with stainless steel racks which can be removed with a lot of ease when smoking large food potions like whole birds.
Cons
Difficult to assemble and takes a bit too much time to do so
Camp Chef Smoker
Latch the delicious smoked flavor of your meats with smoke vault 18. This simple but effective smoker will smoke your meat in a low and slow heavy-gauge steel wood. Camp chefsmoker 18 empowers your favorite meat with the most appetizing taste that you won't get from anywhere in the world.
Overview
You can use this device to smoke a variety of food from salmon to ribs and others. The device is fully designed with heat adjustable heat controller, door temperatures that help control internal temperatures and three damper valves.
The package comes with cooking tips, recipes, and ideas. This means that even beginners can enjoy using this amazing product that cares for everyone.
Features
Heavy gauge steel wood chip
Protected burner drum
Cooking tips, recipes, and ideas included
Water pan
Removable porcelain base tray, easy to clean
3 adjustable damper valves
Convenient matches snap ignition
Jerk smoking rack
Pros
The cooking temperatures
The perfect tray and water pan helps create smoke and also keep your meat moist.
Easy to read thermometer
Cons
It is a bit difficult to close the damper.
Dyna-Glo DGW1904BDP-D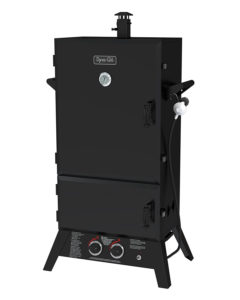 Want to take your cooking to the next level? Propane smoker presents to you another new model that will color your dining room and provide your family and friends with a great gathering centerpiece for a number of years.
Overview
The product has a good reputation for long-lasting record. This distinct smoker offers a great opportunity for a variety of custom cooking options. Designed with double doors to help the users minimize the cooking temperatures when they want to increase the temperatures or add more water.
The product is very durable, it can last for a very long time because it's powder-coated.  It's perfectly designed to help the user achieve the professional condensation s management system for easy cleaning and maintenance.
This professional smoker is designed to help you enjoy the smoked flavor of steaks, chicken, and ribs amongst others. The adjustable grates make it perfect for all sizes of food. It has six adjustable cooking grates.
Features
Custom-fit Dyna-Glo premium cover protects your smoker
Six adjustable cooking grates
12352-inch cooking space
Powder coated firebox materials
Dual cast iron burner
Pros
The pre-installed door seals help in retaining the heat and minimizing smoke loss for efficiency and perfection.
It's very reliable in all seasons with electronic pulse ignition.
Pre-installed sausage hooks and the removable rib rack provides great cooking flexibility.
Cons
It is a bit of a task to put the machine together so might have to follow the manual properly
Pit Boss Grills 77435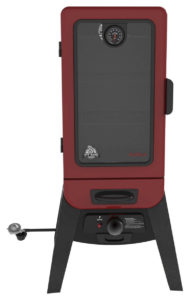 The dual valve burner system presents a great stainless steel burner that is dedicated to the wood chips for cabinet temperatures (3500 BTU and 10000BTU). The two valves are controlled by a single knob that allows for temperature regulation.
Overview
The push button piezo ignition makes it very simple and quick to light.  The system is fitted with four porcelain coated cooking racks with a cooking area of 8842 (3.4 cubic smoking spaces).
Features
3-Porcelain coated cooking grids 6762 inches.
Stainless steel burners
Dual valve burner system providing a temp of 100-350
External access to wood chip drawer
Pros
Large viewing windows
The large high temperatures glass viewing windows and the sealed doors provides a great smoking experience.
Cons
Need to keep an eye for monitoring the temperature
Landmann USA 3495GLA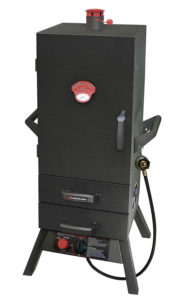 This awesome propane smoker features two heat saving and easy to access drawers. The drawers are perfectly designed to help you have easy access to the wood chip box and also an easy way to reach water pan without necessarily having to open the main chamber.
Overview
Landmann Smoky Mountain vertical gas smoker helps you to save a lot of heat, it's very economical and eco-friendly. Its unique features allow the user to maintain an even temperature as they prepare a variety of meats such as venison, fish, chicken, beef or turkey.
The magnetic closures ensure security and they are also very easy to open. It's fitted with large nylon plastic door handle with four adjustable chrome cooking grates and meat hunger.
Features
Meat hunger
Cast brass cap
Rotary igniter
Cast brass burner
13500 BTU with adjustable heat control.
Heat saving easy access drawers.
Pros
It has four-adjustable Chrome plated cooking grates
it's square wide stranded legs are great for stability
Easy to assemble
Cons
The smoker is a bit too narrow space wise
Masterbuilt MB20050511
Just as the name suggests, this propane smoker is a real master. It's a workhorse that provides a great number of rooms where you can smoke all your favorite foods.
Overview
The two chrome-coated racks offer a wide space where you can smoke a good number of food like 4 chickens, 2 racks of ribs, or 2 pork butts.
With push-button ignition you can easily and quickly light the smoker, helps you save a lot of time and it is also very pocket-friendly.
Features
Legs add height for easy access
Push button ignition for an easy and quick light
2 Chrome-coated smoking racks
Pros
Very spacious
Has great heat circulation
Easy to operate
Cons
It is a bit on the pricy end.
Masterbuilt 20071117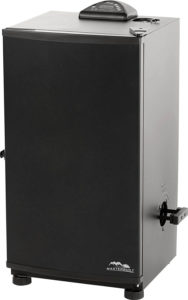 Enjoy your delicious slow smoked food in all seasons with Masterbuilt. This gorgeous propane smoker is very spacious and can contain up to 64 sausages, 6 whole chickens, 24 burgers, 8 racks of ribs, 4 pork butts and 2 whole turkeys.  
Overview
When you talk of wood then there are some that would perfectly fit into your Masterbuilt. The hickory chips are mild and pair perfectly with most meats. Alder is s good pick for smoking fish. For beef smoking, Mesquite would be the most ideal. Applewood is the best for chicken and pork.
Digital control panel kills it all. With this great feature, you just set time and temperature and let the smoker do everything for you.  Masterbuilt is perfect for both beginners and pros.
Features
Patented side wood chip loading system (add wood without opening door)
Digital panel control temperature and time
Adjusted air diameter for smoke control
Integrated thermometer.
Pros
Fully insulated smoker body
Has 4 chrome-coated smoking racks.
Cons
Sometime it doesn't generate sufficient smoke so need to keep a keen eye
Broil King 923617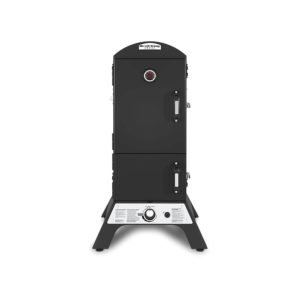 This type of smoker is available in both propane and charcoal models. It has been engineered to create a mouthwatering smoke flavor. Sure lite electronic ignition system makes it very simple to light.
Overview
Stylishly created, this device is very durable and attractive. For great flavor and unity, Broil king is the best ahead of the rest.
Features
Premium epoxy high heat paint
Extra-large stainless steel water bowls and smoke tray
Cooking capacity of four cubic feet
4 adjustable stainless steel cooking grids.
15,000 BTU stainless steel burners with an output of 770 sq.
Pros
It has 2 rugged steel doors with silicone gasket
Very durable
Has cooking grids
Cons
The paner is a bit too narrow
Masterbuilt 20050116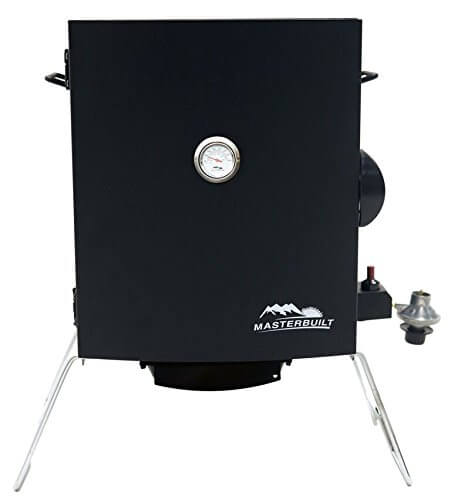 You can take this portable smoker with you anywhere you desire!
Overview
Simply fold the legs under the smoker to transport it. Say goodbye to messy clean-ups as this smoker comes with a removable grease tray that catches grease and debris and can easily be shaken into the trash, wiped and reinserted, keeping cleaning to a minimum.
The wood chip tray also slides out and can be removed in order to dispose of the ash build up.
The smoker also comes with a handy water bowl that can be placed inside the smoker while in operation, which keeps the meat hydrated while cooking, helping it to soak in more flavor.
It is lightweight, weighing a mere 22.2 pounds, small and compact, making it ideal to stick in the back of a car or simply to transport to the other end of the backyard for a bit of a change of scenery.
Pros
Lightweight and easy to move and carry for dayouts.

Compact and easy to assemble
Cons
This model is a bit fragile and has to be handles with care
How to Use a Propane Smoker
If this is your first experience with the best propane smoker, be sure to carefully read all the manufacturers' instructions. This guide is going to help you know how to use the best propane smoke that we've picked for you.
The smoker is very simple to set up and use and also very pocket-friendly. Most of the gas smokers normally use the same design. At the bottom, there is a burner which is connected to the propane tank though in some cases which is very rare may be connected to the natural gas line.
Before you pile any food on the shelves, "run dry" the smoker; seasoning and burning off any manufacturing oils or any residue on your propane smoker. Just above the burner, there is a tray or pan for smoking chips, sawdust or wood chunks.
There is a water pan located between the burner and smoking chamber to keep the atmosphere moist during long cooks. There is also an adjustable damper or chimney at the top to expel the smoke. Use this simple guide to set up and   use your propane smoker:
Use water, beer or cider to fill the water pan. You may consider lining it with foil to make cleaning easy.
Connect your propane tank to the smoker and then open the valve. Ensure the door is open then light the burner as you follow all the instructions given by the manufacturer.
Something to note when doing this; if the burner does not light in the first attempt, just turn off the gas supply and wait for some time before making the next attempt until when the gas has cleared.
After establishing the flame, the next step is to set the temperatures. The normal temperature should be 2250 to 2500 for slow and low barbecue.  Confirm the temperature range from the manual to be certain.
Preheat until when the temperature is steady for about 10-15 minutes then adjust the damper or chimneys as needed.
Now depending on what you have, add sawdust, wood chunks or chips to the pan or tray above the burner. Continue with preheating until when all the smoke have bellowed from the dampers or chimney.
In the shelves or hooks provided, add or arrange all the food to be smoked.
Consistently, replenish water and wood as required. Ensure the gas flame is not off lets a very dangerous gas build up.
After the food has been smoked to your most desired taste, remove it. Turn off the flame and disconnect the tank. Wait for the smoker to cool down then clean it.
What Makes Propane Smokers so Great?
Who does not like to get the best? When buying any item it would be very wise to go for the most perfect and when it comes to your dining, propane smoker would give your room a decent look.
Smoked foods have a great flavored taste that you can't get from evens grill or oven. Gone are the old days when you had to build a smokehouse to smoke your foods. The art of smoking has really come a long way and has made some good steps.
Due to improved technology today there are so many smokers and they all have different unique features. Every unique feature brings a different benefit. Due to this one may find it very hard choosing the best.
After considering a number of factors, we would say that propane smoker could be the best in the market.  Propane smokers could be the best alternative to electric smokers.
This smart device is very easy to set up, easy to understand and use. It's perfect for anyone including beginners.
Propane smoker burns cleanly and very efficiently, this means your food will be clean and free from any soot or deposits.
Compared to other smokers like offset barrel smoker, propane smokers have a small footprint making them ideal for those with small outdoor space.  
When using propane you're not worried about losing electricity and spoiling your precious meat. The device is very portable since it does not require to be plugged.They offer a greater taste than any other smoker that you have ever known. Propane is much better than other smokers like pellet or charcoal smoker. They are perfectly designed with great features like push button for ignition and with temperature gauge.
FAQ
What's better electric or propane smokers?
These two types of smokers are very similar and each have their own pros and cons. Propane gas burns clean and could potentially give you a better smoky flavor. Electric smokers offer convenience that is hard to beat.
Conclusion
There are a variety of smokers to choose from, don't be stranded on which one to purchase. After going through each the best propane smokers you can easily make decision-based on what you want and the size of your pocket
Thank you for reading through. We hope we've answered your question and believe that this article is of great help.  Feel free to leave your comment in the box below and don't forget to share with your friends.