Our #1 Choice
Weber 18-inch Smokey Mountain Cooker, Charcoal Smoker
Backwoods Chubby 3400 22.5 x 20 x 31.5 Inch Portable Outdoor...
Cuisinart COS-116 Vertical Smoker, 16" Charcoal
Sougem Charcoal Smoker Grill 14 inch Smoker Grill Vertical...
Char-Broil Bullet Charcoal Smoker, 16"





What is the secret to cooking succulent, flavorsome meat? The answer is simple. A charcoal smoker. The good news is that it won't be difficult for you to find the best charcoal smoker, with a little help from some of the tips mentioned in this article.

In this article, I will share a few of the specifications and details for some popular charcoal smokers, so that you can win over your family, every dinner time.
Here Are The Best Charcoal Smokers In 2020
So which charcoal smoker do I go for? Now there's a good question. As you know there are many charcoal smokers on the market, so I have reviewed a few of the most popular charcoal smokers to help you make the best decision.
Weber Smokey Mountain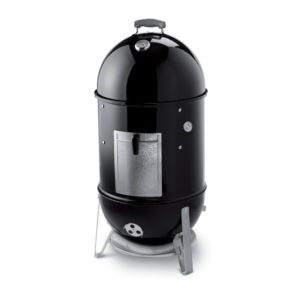 This cooker has a porcelain-enameled lid, bowl and center section, meaning it will keep your meats piping hot while your waiting for your guests to settle down so you can serve up the grub. Now no one has to worry about reheating, or shouting "hurry up the foods getting cold", now there's a relief!

Overview
Weber Smokey Mountain Cooker has two cooking grates, and allows ample space for more than one meat to be cooked at a time, which means double the taste and twice as fast.
Features
Steel material
Authentic Smokehouse Flavor
Can accommodate a whole turkey
Pros
Large in size
Made from porcelain-enameled steel
Includes a water pan
Backwoods Chubby 3400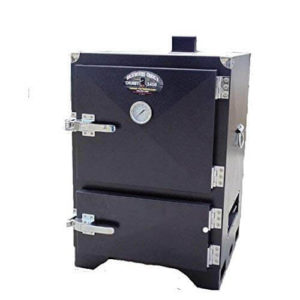 I will start with my favorite feature of this charcoal smoker.
Now, who doesn't want a simpler, more stress-free life and this charcoal smoker is offering you just that. It will come to you fully assembled, yes, that means no painstaking long hours pondering over a poorly written instruction manual are required for this charcoal smoker, as it'll show up at your door ready to be used.
Overview
A cooker with a clever double-wall design that is fully insulated, and will keep your creations toasty as well as warm while you run around getting the garden chairs.
You'll be able to cook at any level with this Backwards Chubby charcoal smoker.
Features
Heavy-duty
Water Smoker
Doubles As a Grill
Large Capacity
Pros
Durable
Simple Design
Easy to use
Cuisinart COS-116
Do you feel like you need a bigger kitchen? Maybe you just need a bigger cooking space and this charcoal smoker is offering you just that.

This charcoal smoker brags a generous 402 square inches of cooking space, now that I would call 402 square inches of griller's heaven! It comes with two 16 inch stainless steel racks, plenty of space for you to lay out cuts of meat for all the family.

Overview
You won't have to deal with waiting times, as your sausages will cook while utilizing all of the space available to them. This charcoal smoker has a vertical barrel design that distributes heat evenly across all of the meat, which helps you cook everything evenly at the same time.
Features
Two 16" stainless steel racks
402 square inches of cooking space
Porcelain enamel water bowl
Pros
Compact Size
Easy to Clean
Evenly Cooks
Sougem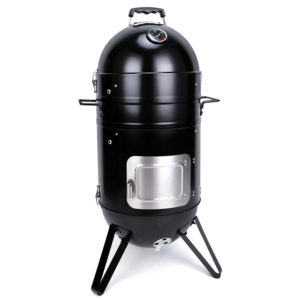 But, I'm not just a meat-lover, you may say. Don't worry, because this Sougem charcoal smoker has a special feature that fish fanatics will be in a frenzy over.

It's never been easier to please everyone with this Sougem smoker, as it comes with a smoking rack and 6 hooks, which are simply ideal for smoking fish. Swordfish, tuna, snapper, whatever tickles your fancy can go straight onto the smoking rack, giving your fish that tasty smoky finish.

Overview
This smoker is extremely versatile, and one of the best things about it is the fact that it does not require any refueling. This is due to the fact that it boasts a fantastic and easy-to-use horizontal hinge door that will make it much simpler for you to add charcoal or wood to control the temperature itself, while never moving your attention away from the rack of lamb.
Features
14" Charcoal smoker
Two grates that provide ample space
Uses little fuel
Pros
Fuel-efficient
High quality materials
Built-in Thermometer
Char-Broil Bullet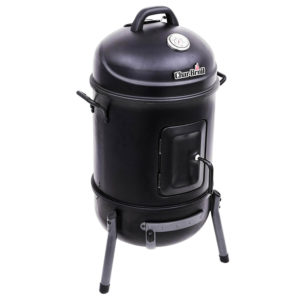 If you're like me, cleaning up after cooking is the most laborious and boring part of the job and that's what I love about this charcoal smoker, it has an amazing feature that facilitates cleaning. But can a speedy wipe down on a charcoal smoker suffice? You will see it really can.

Overview
This is a charcoal smoker that has a porcelain coated steel body, which means that it can be cleaned with a simple wipe down, which in turn will get rid of any grease or debris. It's easy to clean, and this is what I genuinely love most about it.
Features
370 sq in cooking surface across 2 porcelain-coated grates
Innovative airflow control system
Porcelain-coated body
Pros
Two chamber-lift handles
Formed fire access door that seals the smoke chamber
Comfyoutdoor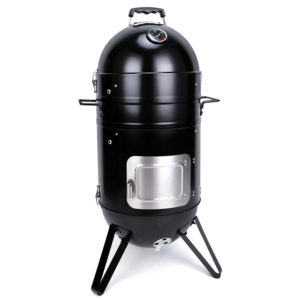 You want your charcoal smoker to stay in pristine condition as long as possible but, I get it, it doesn't seem possible to prevent it from getting a little rusty and tired looking as time goes by. This 14-inch charcoal smoker has just the solution for you.

Overview
The Dualit toaster has a polished chrome finish that genuinely looks stylish and as such, makes it easy to clean and nice. The toaster is available in 2 slice and 4 slice capacities, so you can get what you really need. You can also get any color you'd need, giving your kitchen the look it needs in order to truly strive and become great.
Features
2 nickel-plated, 14-inch-wide cooking grates
310 square inches of cooking area
Porcelain-enameled water bowl
Pros
Built-in lid thermometer
Top and bottom five vents
Dust cover
Dyna-Glo DGO1890BDC-D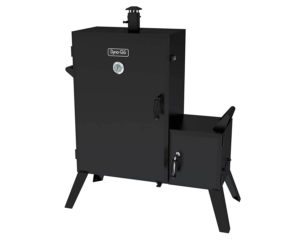 Go ahead, invite the whole family and I mean the whole family with this charcoal smoker beside you. Never worry again about space, timing and squeezing and strategically maneuvering bits of meat around the grill.

Overview
A charcoal smoker that has 1.890, square inches of cooking space, all of which is divided over 6 spacious cooking grates. It has a 25-pound meat capacity, which is exceptional.
Features
Six height-adjustable cooking grates
Porcelain-enameled steel
Charcoal and ash management system
Pros
Vertical design
Adjustable flue
Built-in stainless steel thermometer
Southern Country Smokers Meco 5025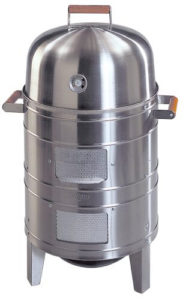 Have you burnt yourself on a grill one to many a time? Me too, but rest assured that this charcoal water smoker has something to say about that.

This Southern Country Stainless Steel water smoker has a heat resistant wooden side and hood handles, which means adding water, wood and charcoal whilst cooking just became a whole lot easier and pain-free! That's right, you can put the ice pack away and put the aloe vera plant back where it was because burning yourself on the grill will be a thing of the past.

Overview
The handles mean that this water smoker can be transported a lot easier, and now you can cook anywhere you would like to. This is one of the best features it has honestly if you are the kind of person that goes from one place to another often.
Features
352 square inches of cooking space
2 chrome-plated cooking grids
Stainless steel design
Pros
Easy to transport
Lightweight
Unique design
Cons
Does not offer much flexibility
Masterbuilt 20060516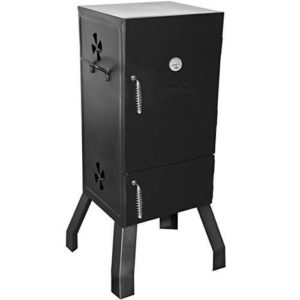 Great food is the thing that really unites my family and I'm sure that's the case with yours too.
It's great to have a grill with the capacity to feed your whole family, without you having to stress about how long you will have to wait for each batch of meat to cook, frantically thinking about what you can do to entertain hungry guests.

The answer is simple, the Masterbuilt Vertical Charcoal Smoker being the key.

Overview
This charcoal smoker can be used to smoke up to 50 lbs of food, and it does not matter who you invite, you can put the meat in two chrome-coated cooking grates and watch it cook up in no time. This smoker fits a 7 to 8 bone large prime rib.
Features
Two chrome-coated cooking grates
Porcelain-coated charcoal pan
Pros
Dual-door design
Built-in door gauge
Side air dampers
Char-Broil Deluxe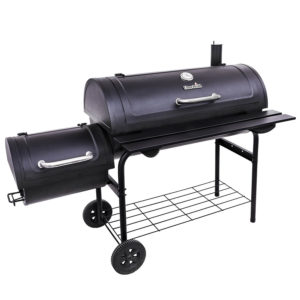 Last, but by no means the least! This smoker has some great features you will love.

I know one of the things that is really tedious about grilling are those endless trips back and forth to the kitchen fridge to get the marinated meat.
But all of that will no longer be necessary with this Char-Broil Deluxe Offset Smoker.

Overview
This smoker features large 8-inch wheels and a transport handle on the side that can make it easier for you to relocate it. It also has 895 square inches of cooking space, and it is ideal for summer get-togethers as well as entertaining family members.
Features
3-piece smoking chamber
Porcelain-coated cooking grates
Firebox features ash drawer
Pros
Easy to transport
Easy to clean
Excellent quality
Dyna-Glo Signature Series DGSS1382VCS-D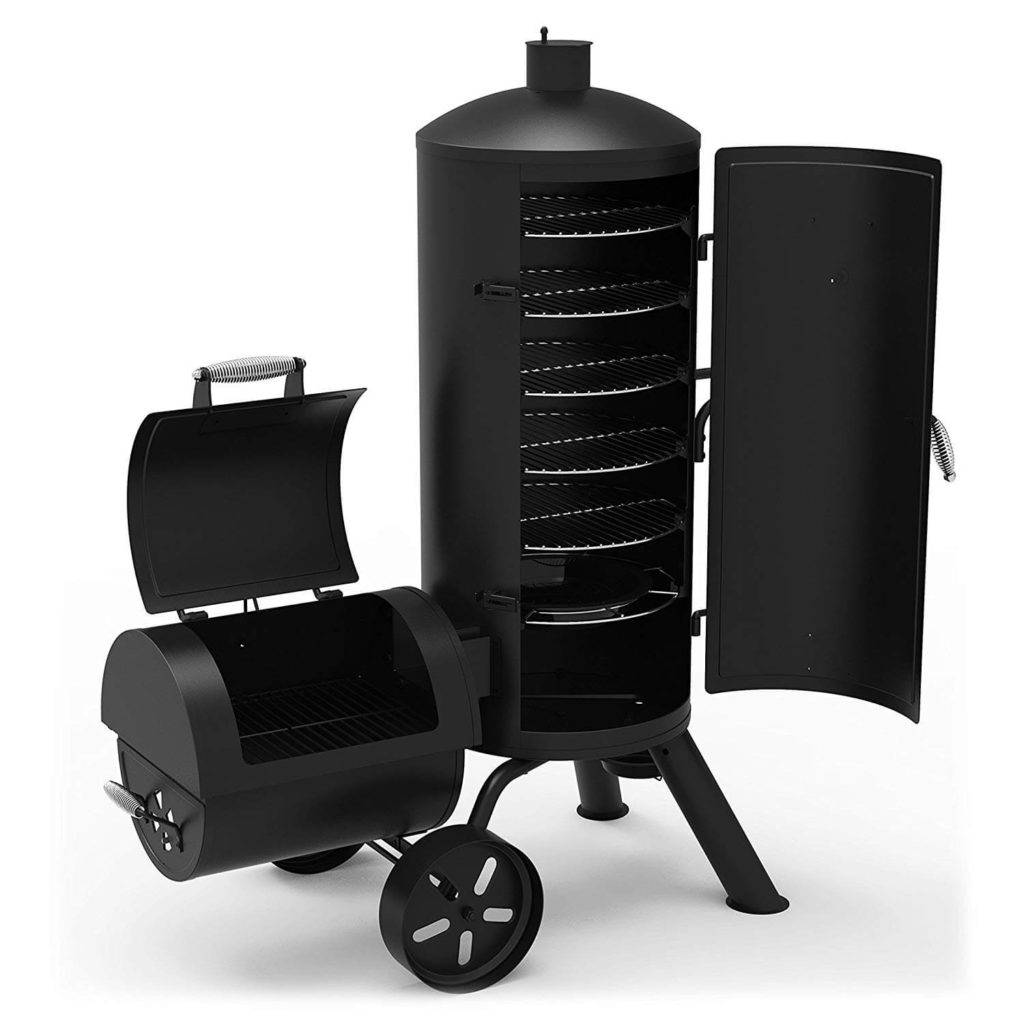 Looking for a charcoal smoker and grill that will be capable of providing for all of your family and friends?
Then this Dyna-Glo signature series heavy-duty smoker will be perfect for you.
Overview
This smoker has 5 chrome-coated cooking grates and has a cooking space totaling 1382 square inches which give you plenty of room to rustle up something truly tasty for the entirety of the family, and the steel wheels make this grill easier to transport on the decking in the backyard.
Features
Pro Heat System that evenly browns the bread
Insulated stainless steel body
High lift mechanism
Removable crumb tray
Pros
Looks great
Easy to Clean
Excellent feature set
Cons
Feels cheap on the buttons side
Why Use a Charcoal Smoker?
The answer is simple. There are countless benefits and here are just some of them.

I'm sure you've found in your grilling days that most smokers leave behind a rather unpleasant charcoal taste in your meat. But that will definitely not be the case with the right charcoal smoker.

A high-quality charcoal smoker will retain your meats original flavors, giving them that traditional outdoorsy smokey taste, rather than leaving you a burnt charcoal taste lingering on your pallet.

Another benefit would be that charcoal smokers are actually great value for money. They come with loads of features and options and are very often cheaper and more practical to use than your typical grill.
Charcoal grills are also perfect for those who love to travel, as there are many high-quality portable grills on the market today which are suitable for you to pack up and take where you desire. Sounds good, right?
Electric vs Charcoal Smoker
This topic has opened up many a debate in my time. But let me explain to you why I am the charcoal smoker kind of guy.

First of all, what is grilling all about? For me, it's all about turning coals, getting that outdoorsy feel, that therapeutic smell of hot wood chips… none of which is possible with an electric smoker.

Now, don't get me wrong, an electric smoker will cook your food, but it won't give your meat that special grilled look, whereas meat that has been cooked in a charcoal smoker has that lightly charred exterior that gives it that special grilled touch.

Not to mention the temperature factor. While most electric smokers aren't able to cook above 325 to 350 degrees, a charcoal cooker can vary and regulate its temperatures a lot easier and can reach higher temperatures, giving your meat that crusty texture that everyone loves.

But most importantly, the flavor. Charcoal grills cannot be beaten on the unique flavor they infuse into their meats, while electric grills are much more limited in this regard.  
How to Clean Your Charcoal Smoker
Well, here comes the tricky part, you may think! But that's not so with a charcoal smoker and you'll see why.

As you know, it's important to clean your charcoal smoker regularly as ash and debris build up quickly. But cleaning a charcoal smoker doesn't have to be a chore or something you have to psych yourself up to do, as the features of a charcoal smoker make it easier than ever to get things squeaky clean.

Charcoal smokers are extremely easy to assemble and take apart, meaning that cleaning has just got a whole lot easier. Some charcoal smokers even have a convenient ash pan that can be emptied, making it a whole lot easier for you to get rid of those pesky ashes.

Some charcoal smokers have a porcelain-finished water bowl and charcoal pan, which makes cleaning easier, (no nooks and crannies that you have to get into and clean). A simple wipe down and you are good to go.

Charcoal smokers have no electrical components or gas pipes in the way that will obstruct cleaning, which makes things a lot easier when it's time to put it all away.
FAQ
How do you keep a charcoal smoker at 225?
Most smokers will have two dampers, one at the top and one near the firebox. It may take a few tries to get to know your smoker but practice makes perfect. In general, you want to ease the smoker into the temperature you want. Remember, the more airflow the hotter your wood or coals will burn. When you get about 50 degrees from where you want the smoker close the dampers almost all the way until there is just a little airflow. From there monitor the smoker every thirty minutes or so adjusting the dampers as needed.
How long does charcoal burn in a smoker?
This depends on how much charcoal you are using and at what temperature you are smoking. A couple of pounds of charcoal could last over 12 hours if you are only cooking at 225 degrees.
Conclusion
So, to wrap it all up. Make your life easier when choosing your charcoal grill and make sure your grill ticks the following boxes before you purchase.

Large grilling space. No one likes waiting around for endless batches of meat to cook, so  do yourself a favor, choose a grill that has ample space for you to grill up a storm for your family and friends this summer.
Easy to clean. The clean up is the least exciting part of the day but it can be made easier with an ash and debris tray, so that you can get rid of all the waste in one clean sweep.
Temperature control. Make sure the charcoal grill is well insulated so that you don't have to worry about reheating meals but can sit back, relax and enjoy time with your family.
Easy mobility. Moving a grill around can be back breaking work, so choose a charcoal grill with handles or wheels that will help you to get things moving easier.
Heatproof handles. Having heatproof handles will make it a lot easier for you to regulate the temperature and add wood or coal to your grill without the risk of pesky burns which, let's admit it, are no fun at all.
Water grill. This will steam your food while it is grilling, giving it that breaks-off-the-bone texture that is simply divine.
Of course, these are just my opinions, but I hope they can help you to have a more enjoyable time cooking for your family. Happy grilling!.