Nothing says 'weekend' better than preparing your favorite meat on a charcoal grill and it is great fun to invite family and friends over to enjoy some of your latest barbecuing creations and spend some time chatting and chilling out in the backyard. But if your charcoal grill is up the creek, you may feel slightly reluctant to do so. Why? Well, a charcoal grill that takes ages to heat up, or that unevenly cooks food or looks a little rusty is simply no fun to use, and can put you off of having a great barbecuing experience. What can help you put the fun back into grilling? The answer is simple: you need a Kamado Joe Classic III.

So you may be wondering, what is the Kamado Joe Classic III? What features and specifications does the grill come with and what are the pros and cons about the grill? All of these questions and more will be answered in this article by means of Kamado Joe reviews from consumers who have tried the product and given their opinion. If you are considering purchasing a brand new grill, you should check out the Kamado Joe reviews listed in this article.
So without further ado, let's get grilling!
Overview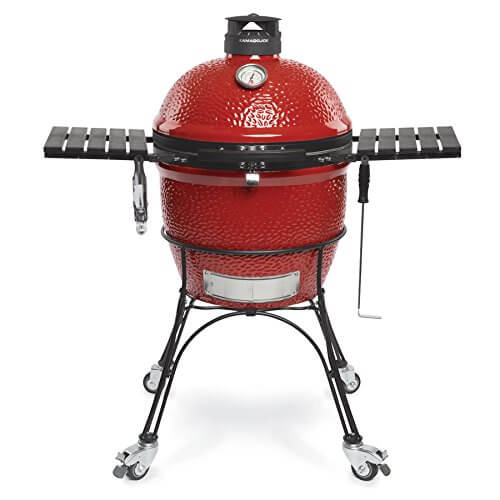 In case you are not too familiar with the Kamado Joe Classic III, you can take a look at the following product overview that will give you an inside look at the specifications and features on this fantastic charcoal grill.

Easy to transport
The grill is on four wheels that lock with casters, making it easier to transport the grill and stabilize it on your decking. The four wheels make it a great grill to take out tailgating or even simply roll it to the other end of the backyard for a bit of a change of scenery when grilling.
Side shelves
The Kamado Classic III comes with two side shelves that are perfect for placing cooked food that is ready to serve and uncooked meat that is ready to grill or cooking utensils on.
Great quality design
The grill has a thick-walled heat resistant shell that will help you to lock in heat when you are cooking. This will help your food to cook faster and will distribute the heat more evenly. The thick walls will lock in moisture when cooking, resulting in succulent and juicy cuts of meat.
Temperature control
The smoker comes with a built-in thermometer that will help you to keep an eye on the internal temperature of your grill and adjust it according to your requirements.
Pros & Cons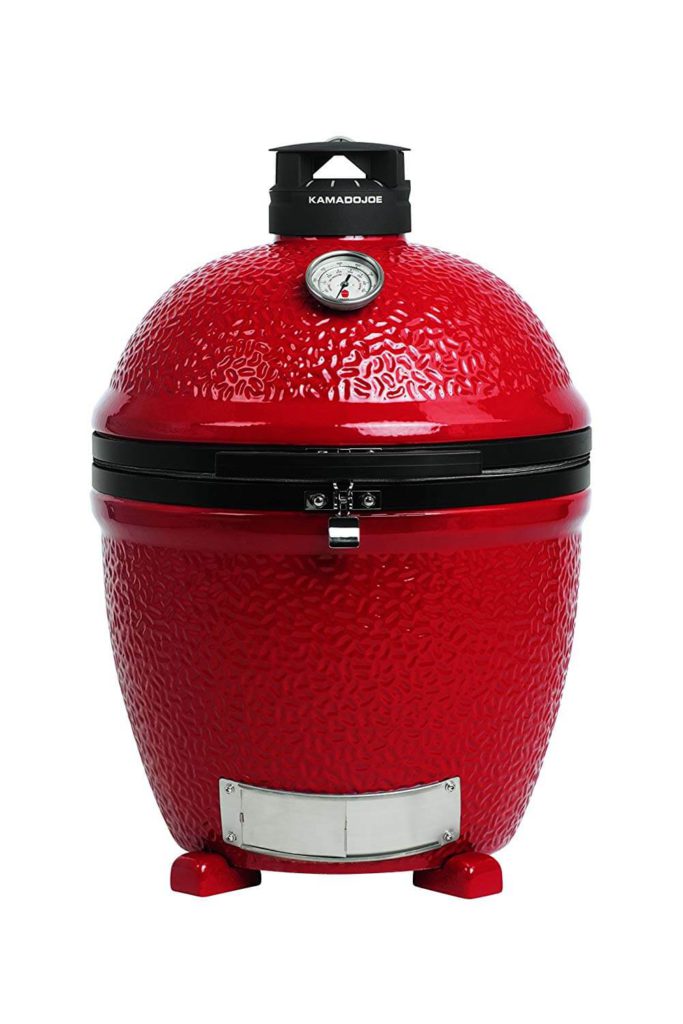 The Kamado Joe Classic III is a truly magnificent grill, with lots of added features that make grilling super simple and enjoyable. But you don't have to take my word for it. Take a look at the following pros and cons that will give you an in-depth look at this charcoal grill, what it has to offer and how consumers feel when using it:

Pros

Great temperature control. The Kamado Joe Classic III has a vent that allows users to easily control the internal temperature of the grill. Using the vent will allow you to get the grill to heat up faster and will also allow you to cook more succulent cuts of meat, locking in flavors.
Phenomenal insulation. The Kamado Classic III is well insulated and holds in heat, meaning it requires less fuel to operate than your standard charcoal grill. In the long run this will save you time and money on refueling the grill.
Cons

Price. The Kamado Joe Classic III is considerably pricer than your bog standard charcoal grill, but when taking into account the special features it comes with and the quality and makeup of the grill, it really works out as great value for money.
Conclusion
If you are looking to purchase a brand new charcoal grill, then there is nothing better than considering a Kamado Joe Classic III and I am sure the Komodo Joe grill reviews you saw in this article have proved that to you.

A great charcoal grill needs to have good temperature control, vents, an internal thermometer, ample cooking space and a solid, well insulated grill body that will lock in heat and maximize the great taste of your food. The team down at Kamado knows all of the features that go into the perfect grill and that is why they have worked at including all of them in this charcoal grill model.

If your current charcoal grill is looking a little worse for wear and is not operating as you would like it to, you should treat yourself to your next, and final charcoal grill – the Kamado Joe Classic III, one of the only grills I would recommend using throughout the year, even in winter thanks to its sturdy build and amazing ability to lock in heat and flavors.

So, for an excellent grilling experience with the whole family this weekend, add a Kamado Joe Classic III grill to your shopping cart today and you will be grilling on a fine piece of barbecuing equipment in next to no time!