Our #1 Choice
DALSTRONG Fillet Knife - 6" - Gladiator Series - German HC...
Bubba 12 Inch Flex Curved Fillet Knife with Non-Slip Grip...
KUTLER 6" Stainless Steel Curved Boning Knife - Ultra Sharp...
Dexter-Russell Fillet Knife, 7", White
Wusthof Grand Prix II 7-Inch Fillet Knife





A knife is a very important utensil that you cannot work without especially when it comes to filet fish. Hence, it is very important to invest in the best fillet knife so that it lasts long and helps you to de-bone & fillet the fish that you love to eat effortlessly.
When you walk into the kitchen aisle of the supermarket you can see layers of different branded fillet knives hanging from the shelves, and it is so overwhelming to pick just one out of all those hundred brands. But worry no more, as we are here to solve all your dilemmas with this Best Fillet Knife Review.
As fillet knives don't come cheap and has so many varieties it is important to do your research before purchasing one. Understanding which length and shape of the knife will be ideal for filet each type and size of fish is vital.
Therefore we bring you these reviews of some top listed brands in the market that manufactures the most premium quality filet knives. If you are someone who loves fishing and cooking it on your own then the filet knife is something that you need to have in your knife set. Whether you are on a fishing trip or cooking it in the comfort of your home,
these knives will always help you get a clean cut fish fillet. Moreover, there are several other uses if these knives other than just filet fish, so without further due let's have a look at some of the uses of the fillet knives and the list of the best fillet knifes you can come across in the supermarket.
Best Fillet Knife 2020 Reviews
DALSTRONG Gladiator Series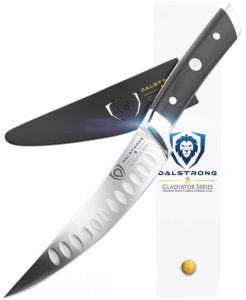 If you are looking for an ideal filet knife then this Dalstrong gladiator fillet and boning knife is an ideal one to choose. When it comes to manufacturing kitchen tool and knives, Dalstrong is one name that cannot be left out. This knife is one of the top filet knives amongst hundreds of others in the market.
Features
This is an all in one filet and boning knife. The 6-inch gladiator series knife is not just limited to filet and is also ideal for boning, skinning, trimming and also butterflying fishes and other games as well. The slender and moderately flexible blades offer better trimming around the edges of the bone and help to detach the tantalizing meats.
The blade on its own is made from a single tang out of high-quality German steel and has been polished on both sides at 14 to 16 degrees for razor sharp edges. It has been engineered so that the blades can slice through the meats and flesh with minimum resistance. Overall, it is an award-winning design and is one of the best filet and boning knife to have in your kitchen hold.
Bubba Blade 12 Inch Flex

The Bubba blade flex curved knife is a unique and professional filet knife made up of a full tang stainless steel and titanium blade.
Features
The unique mixture if the material makes the blade non-stick and resilient. The razor sharp blade is 12 inches in length and has promising durability.
The knife is ideal to slice through the fish flesh with absolute precision. The design of the blade is thin which makes it best for removing the meat from the bones without shedding much.
The handle is made up of a non-slip technology which prevents your hand from gliding and gives you a better grasp. The knife is extremely reliable and easy to use as the blades glide through the flesh separating it from the spines like butter.
You can even use it to scale the fish easily. The knife comes in a synthetic sheath along with a belt to hold it in position while carrying it.
KUTLER 6″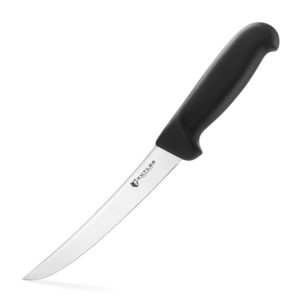 Kulter is renowned for making professional-grade kitchen knives for all purpose. This curved boning and filet knife is crafted using a full tang stainless steel of the most premium quality which makes the knife anti-corrosive and prevents discoloration.
Features
The blade is curved at the perfect angle and is flexible enough to cut the flesh away from the bone or spine of the fish.  
The 6 inches narrow blade can reach even the trickiest parts to de-bone the meats without wastage and hence is very efficient.
This is a highly versatile knife that is not just made for a filet. It has been designed so that it can even skin the fish efficiently plus segment and slice fruits and slices even the hardest cheese available with ease.
Given that the blades are made up of the most superior quality stainless steel, it is going to retain the sharpness for a longer period of time and can be maintained and cleaned easily.
Dexter-Russell (S133N-7PCP)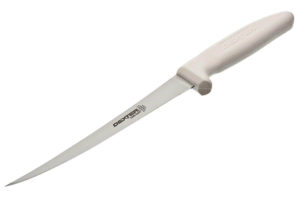 The Dexter–Russell fillet knife is a high-quality professional grade filet tool that is a staple to have in your kitchen if you are a fish lover.
Features
The knife had a razor sharp blade made of high-quality material. Its narrow and flexible shape is ideal to slice off the flesh from the spine without dragging any excess amount of meat. The knife is lightweight and easy to handle.
The blade is 7 inches long which is a perfect size to fillet a medium-sized fish. The pointed tip helps you to slice and fillet the fish with precision.
The handle is made up of good quality plastic and gives you a better grip while filet.
It is very user-friendly and convenient as well as has an affordable price tag which makes it a must to invest item for your kitchen.
Wusthof Grand Prix II

Are you looking for a premium quality best fillet knife? Then your hunt is over my friend.
Features
Another amazing brand Wusthof cannot be left behind while listing the top grade filet knives.
Wusthof is renowned for their Kitchen knives collections and one of their best is this 7 inches fillet knife. The knife is efficient at de-boning, scaling and skinning delicate fishes.
The flexible and super durable blade is highly effective at the slicing the meat off the spine without wastage.
The blade is made up from a single tang stainless steel along with an ergonomically designed handle that looks sleek and feels comfortable to grip for a longer time.  
This is a knife preferred by professional chefs as well and is absolutely one of the best ones in the market that you can invest in with confidence.
Its superior quality blades will last you years if maintained well.
Victorinox Fillet Fishing Knife

Victorinox is considered to be one of the best brands around the globe to manufacture tools and knives.
Features
The Victorinox fillet knife is a great knife to invest in if you are looking for a high-grade professional fish fillet.
A fish fillet has to be smooth and precise without any marks of shedding and dragging and this knife is very effective at helping you to achieve the perfect piece of fish fillet.
The Victorinox fish fillet knife is compact and robust and is very easy to control. The blade is 8 inches long which is an ideal length for filet a moderate sized fish.
The knife consists of a fibrox handle in the shade black which gives the knife a sleek and classy look and a great surface to grip on.
It is a professional grade knife which is worth the money you invest in it as it is very good in quality and will last you a long time.
DALSTRONG Filet Knife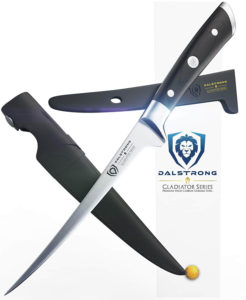 If you are looking for a high-quality fillet knife then Dalstrong is a brand that you can put your trust in.  The Dalstrong gladiator knife from their series 7 is one of their best-designed filet and de-boning knife.
Features
The use of this tool is not just limited to filet but is even great for trimming, and scaling and butterflying the flesh like a pro.  Whether it is fish or poultry, you can use it in all.
The knife has extremely sharp blades made up of high-grade German steel which is best for knives. This material makes the knife resistant to rusts and corrosion as well as prevents it from wear and tear or discoloration.
The knives are polished at the edge on both sides at 14-16 degrees which makes them super sharp for the filet job.  
The handle if the knife is made from pakkawood which has been riveted thrice and gives you a better grip and comfort. In addition to all that, the knife has been tapered prudently to make the knife more durable and add flexibility.
The knife comes with two different sheaths one for indoor storage and one for carrying outdoor as well.
This luxurious filet knife is worth every penny and you won't regret it a bit.
Rapala Fish N Fillet Knife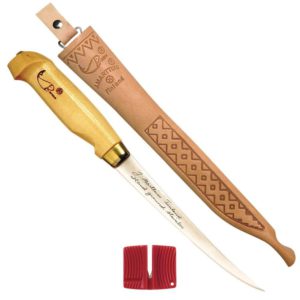 Rapala is a brand that has to be mentioned while we discuss filet knives. They are well renowned for their kitchen tools and knives and manufacture some of the great quality knives that you will come across in the market.
Features
This knife is an absolute piece of art that you are bound to fall in love with. The sharp blades are great for filet the fish with precision.
The knife is narrow, razor sharp and pointed at the top which makes it ideal to reach the difficult points while filet and the wooden handle will give you a good platform to grip on while working. The knife comes along with a sheath which on its own is an artwork.
If you are looking for a knife that has a different and rustic look to it along with superior performance then this one is the one for you.
Zwilling J.A. Henckels
The Zwilling J.A. Henckels filet knife is made from high carbon stainless steel which is one of the best that you can find in the market. The material makes it resilient to any rust, corrosion or stain and helps it to retain the shine and polish for a longer time.
Features
Moreover, the blade has been forged from a full tang of stainless steel which makes it durable and strong.
The ergonomically designed handles are great to grip onto and are very comfortable to hold as we. The knife has an edge that is angled at 15 degrees which gives it the razor sharpness to slice the fillet precisely.
Although this retails at a high price range, it is definitely worth the price and you will not be disappointed with its performance.
If maintained well the knife will last you a lifetime.
Bubba Blade

The bubba blade knife is a razor-sharp filet tool with the most stylish outlook. The blade of this knife is 9 inch in length which is ideal to fillet a mid to large sized fish.
Features
The knife comes with a non-slip handle which makes it very easy and safe while using.
Its durability comes from the high-quality carbon stainless steel blades that will never rust or lose its shine over time.
On top of that, the blade had been coated with Ti-nitride making it rust proof and sharp enough o even de-scale the fish.  
The best part is that it comes in a sheath which makes it very convenient to carry for outdoor fishing trips as well.
YOUSUNLONG 10 Inch Sashimi Fish Fillet Knife
Yousunlong has been creating knives in both Germany and Japan for over ten years and has really become experts in knife technology and this 10-inch Sashimi fish fillet knife is another great creation of theirs.
Features
The thin blade makes it the perfect tool to use with both meat and fish. This knife has a very clever hammered pattern on one side and a Damascus pattern on the other that encourages meat and fish to fall away from the blade of the knife when cutting, instead of sticking to it.
These beautiful patterns make this fillet knife the perfect gift for friends or family that love to spend time in the kitchen.
The knife comes with a walnut wood sheath and a flannel knife bag that make it presentable as the perfect gift. The sheath also acts as a protection for you and your family from the dangers of a sharp blade.
What Makes Up a Fillet Knife?
Whenever the word fillet comes up it automatically refers to boning a fish. Fillet knives are specially used for smoothly slicing the fish away from its bones. But the question is how is it any different from other boning knives and what really makes a good fillet knife.
A good knife is the one that is much leaner and thinner than a boning knife. Fish tends to be much more tender than any other meat.
Hence the knife you want to fillet it with must be flexible and sharp enough to cut through the skin and tender flesh and de-bone it effortlessly with minimum abrasion and tear.
So it can be summed up that a good one is the one made thin a has extremely sharp blades. These knives come in various sizes ranging from 4 inches to 9 inches and are therefore convenient to fillet any sized fish.
The smaller sized blades tend to be more flexible than the larger ones. With these knives, you can even fillet the tiniest fish of only a few inches with ease.
Other Fillet Knife Uses
Did you know that a fillet knife has got so many other fun and versatile uses other than just de-boning fish? Well, then this fillet knife review will absolutely leave you stunned when you will hear about the things you can do with it. Other than just scaling the fish and slicing it away from the bones a fillet knife can also be used for other purposes as well and some of them has been listed down below.
To trim the fat
We are all familiar with the silver skin of small game animals' meat that needs to be sliced off. But it is very difficult to do so with an ordinary slicing knife. With a good flexible fillet knife, you can easily trim the fat layer without tearing the meat away.
Slicing and skinning vegetables and fruits
A fillet knife is an excellent tool to peel off the skin from fruits and vegetables. It peels it off effortlessly without dragging on excess fruit flesh. Peeling a mango, avocado or any other tender fruit is like a dream while doing it with a fillet knife. That way you do not waste the pulp even a bit.
Fruit segmenting
This is a technique used by many chefs and home cooks as well especially if you are preparing fruit platters or salads. It is very difficult to segment citrus fruits with bigger knives. The flexible blade of a fillet knife makes the job a thousand times better and easier.
What Makes The Best Fillet Knife for Fish?
If you are someone who loves to catch and devour fish and prepare it by yourself then this is the right place to know what basic tools you need. Once you have your fish caught and set to be prepared it is time to fillet it and to do that you need a good-quality filet knife.
So what really makes the best fish fillet knife? That my friend is a very good question to find the answer fo before you invest in a fillet knife. These are some important characteristic that a fillet knife should have.
Razor-sharp blade
the blade the main and most important component of a knife. It is wiser to opt-in or the fillet knife that has stainless steel blades as this material is anti-corrosive and rust proof. Stainless steel blades are very durable and sharp and the best fit for a filet knife.
Size and shape
Often people tend to avoid and neglect this criterion whereas the size of the knife is as important as any of its other components. FIllet knife blades come in various different shapes and size. The size you choose will depend on the size of the fish. But when it comes to filet, the shorter the blade the better precision you get while de-boning the smaller sized fishes. For trout or any other medium length fish, you can choose the 7 ½ inches blade. The simple formula to follow here is the larger the fish the bigger knife you will need.
Strength and durability
filet knives can be found in several different thicknesses. Some are thinner and more flexible than the other. It is better to choose the thinner and flexible ones for the smaller fishes so that the knife can reach each bone with precision. However, when you will be filet a bigger fish, you need a larger and thicker fillet knife. This is because the smaller knives will bend if you fillet a big fish with it because of its flexibility.
FAQ
What size fish fillet knife is best?
The size you choose will depend on the size of the fish. But when it comes to filet, the shorter the blade the better precision you get while de-boning the smaller sized fishes. For trout or any other medium length fish, you can choose the 7 ½ inches blade. The simple formula to follow here is the larger the fish the bigger knife you will need.
What is the difference between a filleting knife and a boning knife?
These knives are very similar, boning knives are used to remove meat from bones while fillet knives are used to remove the skin from the meat. There is a decent amount of overlap here.
Conclusion
For someone who is passionate about cooking and preparing delicious meals, it is important to have an ideal knife collection for every purpose. A filet knife is as important as any other knife in your kitchen holder and is absolutely vital to choose the right one.
The major point to keep in mind is that you should opt for a knife that is the size, sharpness, flexibility, and durability.
These three are the key features of a good filet knife. Before considering to buy one you must judge whether the knife has all these features and whether the material is superior quality or not.
A good brand knife will never tend to disappoint you in this case hence do have a look at these leading filet knives and we are sure you will find your perfect one out of these.
Do you use one of these fillet knives? Let us know how you like it in the comments below!