A fillet knife is an essential tool for your kitchen especially if you love to prepare fish for meals. If you are a passionate cook you will definitely know the importance of a high-quality knife.
When it comes to knives the Japanese ones are the ideal ones to pick. Not only are the Japanese fillet knives ruthlessly sharp but they last a long time and serve you for years.
Japanese fillet knives have been praised from the ancient of times due to their specialty in knife making as they craft the sharpest knives with ideal shape and size.
If you are interested in investing in a good quality Japanese fillet knives then we have got the perfect suggestions for you. Below we have listed some useful information about Japanese fillet knives and why they are the best amongst others.
The reviews of these top listed Japanese knives will help you to understand which one will be the best option for you.
Plus, we have listed the best Japanese fillet knives for you to help you choose the ideal knife for your kitchen. Let us have a look.

Japanese Filleting Knife Reviews
KEEMAKE Knife Review – 8.25 Inch Deba Japanese Fish Fillet Knife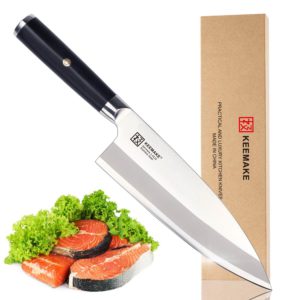 For filleting a fish with absolute precision you need to have a knife that is extremely sharp and resilient so that it can easily slide through the flesh with minimum effort. So we introduce to you this amazing slicer by KEEMAKE which will live up to all your expectations for a fillet knife.
This is a classic Deba knife with an 8.25-inch long blade which has been designed especially for filleting, gutting, and chopping whole fish. The best part is, you can even use it for cutting vegetables, poultry or meats.
The KEEMAKE Deba knife is made with high-quality German carbon steel that is stainless. Therefore has the best durability and strength amongst others. Not only is the blade brutally sharp but is also thick and heavy which is perfect for the butcher of large fish.
This is a professional grade knife used by chefs for preparing restaurant quality fish fillets. Every piece of fish that you cut with is precise and has clean edges without any kind of tear or drag.
Like a traditional Deba knife, this one also has a single beveled edge which prevent food from clinging on the blade while slicing. Moreover, single bevel knives are angled perfectly and hence are sharper and can create flat cuts of fish fillets.
The handle on this knife is well riveted and made ergonomically so that you can work with it without any hassle.  Overall, it is a great Japanese knife that you can add on to your kitchen knife set for filleting purpose and you will absolutely love using it on a daily basis.
Kai Wasabi Black Deba Knife Review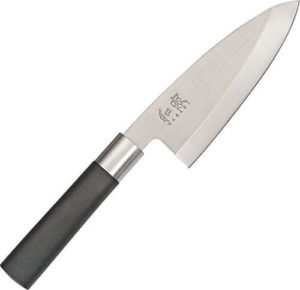 If you are looking for a knife that is great to fillet a medium sized fish then you must give this fish fillet knife reviews one a look.
This knife is a 6-inch Wasabi black Japanese Deba knife which has been made to help you slice fish up like a professional.
You can make the finest slices of fish with this knife by exerting minimum effort. You can create fine cuts of fillets without destroying the flesh of the delicate fish.
The blade of this knife has been made using a very high-grade carbon stainless steel that has been further bead- blasted in order to give the knife an alluring and shiny finish.
This traditional Deba knife has a single bevel side and a flat side which is great for slicing fine flat fish fillets efficiently without any drag or resistance.
However, you get an option with this knife as it also comes in a double beveled edge, so you can pick the one that you feel is most convenient for your use.
The handle has been made ergonomically with a pakkawood material which is very comfortable to grip and is anti-slip to protect your hand from slipping away while cutting the fish.
However, with this knife, it is best to hand wash it and dry immediately after use.
Mercer Culinary Asian Collection Deba Knife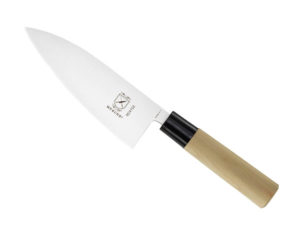 Mercer Culinary has crafted a great Deba knife for filleting fish and is ideal to be used for home cooks as well as professionals. This knife is from their Asian collection and has been created with all the features that a Deba knife must have.
The knife is made from a very good quality stainless steel with high carbon features and is therefore very strong, durable plus can resist any rust or corrosion. Not just that, the stainless steel will prevent it from any discoloration and help it retain the shine for a long time.
The blade of this knife is 6 inches long and ideal to fillet moderate sized fish.  The single bevel blade is great to fillet fish smoothly and also has a taper ground with a good stone finish.
The knife has a traditional wooden handle that is NSF certified and is slip-proof therefore, is perfect to work with for longer ours with comfort.
DALSTRONG Deba Knife – SHOGUN Series 'S'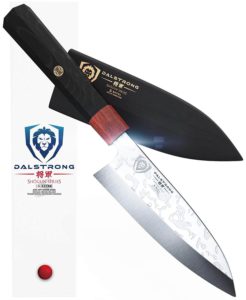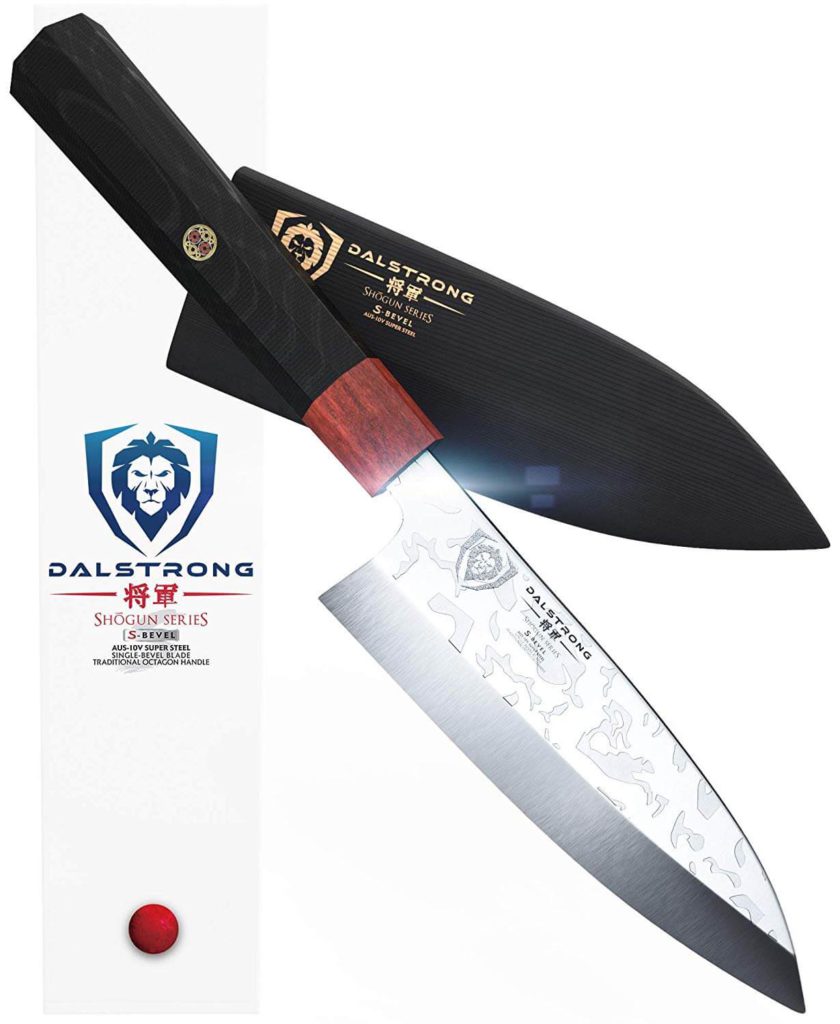 When it comes to kitchen knives Dalstrong is one of the best one to go for if you are willing to spend a few extra bucks. Although their knife doesn't come cheap, the quality is something that you cannot miss out on.
This is an elegant looking Deba knife with a 6-inch blade and a stylish black handle and is the ultimate butchering tool for fish.
The Shogun series knife is traditionally used around Japan for filleting, gutting, chopping and slicing whole fish effortlessly.
The blade is so ruthlessly sharp that you have to exert the most minimum effort to get the work done. The fillet that is produced using this knife is clean cut without any kind of tear and drag.
The specialty about this knife is its Shinogi surface which lays on the flat edge of the blade which allows the knife to have a razor-sharp finish and hence, you can create the most proficient fish slices with it.
The beautiful lamination on the blade patterned like a metal storm help to minimize the amount of drag and prevents food from sticking to the knife.
The knife further has a super steel internal core that contains high carbon to make the knife stronger and sharper.
This japanese fish fillet knife is not only the best in terms of performance but is even unbeatable in terms of looks and is therefore worth every penny that you spend to get it.
Kai Seki Magoroku Knife Review -Kinju ST 180mm (AK-1103)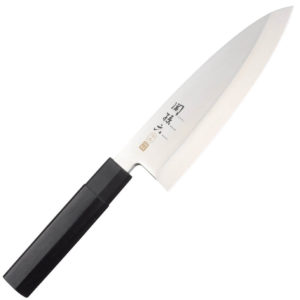 While choosing a knife for filleting fish you must keep some crucial factors in mind. The knife must be extremely sharp and the blade must have the perfect amount of flex and strength so that it can slide through the fish effortlessly without any kind of drag or resistant.
Kai has made this knife considering all the primary features of a traditional Japanese Deba knife.  The material of the blade is of molybdenum vanadium steel which is stainless in nature, therefore, is very sharp, strong and shiny in appearance.
The sharp blade will allow you to create fine and precise pieces of fish fillets. The handle of the knife is made from nylon and is made heat resistant up to a temperature of 90 degrees which is a great feature to have while you are working in the kitchen.
The handle has also been laminated with wood in order to further strengthen it and make it comfortable for you to hold on for long working hours.
Wusthof Classic 7-inch Deba Wide Chef's Knife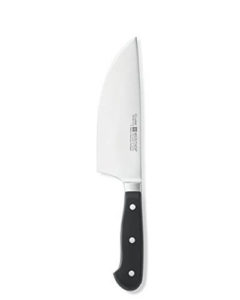 The Wusthof Deba knife is a classic knife with a 7-inch blade that is an outstanding all-rounder chef knife which is not only proficient for filleting fish but is also a great tool to be used on meat and poultry.
The knife has been designed with a curved edge that helps to work with a rocking motion while you are chopping vegetables and fruits. Yes, you heard it right, this knife is even ideal to be used on fruits and vegetable as well as on fish and meat.
The blade of the knife has been forged from a one piece of strong stainless steel that is high in carbon. Its high carbon stainless steel material prevents the knife from catching rust and corrosion and also helps to maintain the shine and sharpness.
The knife is made from a full tang and is riveted will with the handle for extraordinary control, balance, and durability.
If you want an all-rounder Deba knife that you can use for multitasking then this one is a great option for you amongst the rest.
Global G-7-7 inch, 18cm Oriental Deba Knife

The Global 7 inch Japanese Deba knife is another one of the high end kitchen tool that has been crafted with the most premium quality material to help you achieve the perfect cut of fish fillet.
The knife has been made in a way that the blade is perfectly balanced with the handle and hence you will have better control over it while you are handling it.
This blade has been made from very premium quality vanadium stainless steel which will provide you with ultimate sharpness and cut through the fish like butter.
Plus, this material helps to retain the sharpness for the blade for longer period of time.
The handles are even made from stainless steel which gives the knife an overall appealing look and helps to maintain the shine for longer. The handle is designed so that it is comfortable to hold and has dimples on the surface for better grip.
If you are looking for a professional grade fillet knife then you can definitely check this one out. Even though the price is a bit high but you will be able to use it for a really long time and the quality is absolutely the topmost you can find, so it is worth the money.
Kotobuki High-Carbon SK-5 Japanese Deba Fish Filleting Knife

A high carbon Deba knife is great for filleting fish and cutting meats as this material tends to be very strong and sharp plus is very durable.
The knife is designed in a Deba shape and is great for processing and preparing whole fish. You can use it for slicing, gutting and cutting fillets of the fish effortlessly which is what everyone looks for in an ideal fillet knife.
The knife has been made to have the perfect amount of balance between the blade and the handle so that you can have better control over it while working.
The 6 and a half inch blade is great for filleting a moderate-sized fish with its cutting edge sharpness. The knife has a classy look of a traditional Japanese fillet knife and you will love having it around in your kitchen due to its proficient performance.
MSY BIGSUNNY 7 inch Deba knife Kitchen Cooking Chef Sushi Knife High Carbon Stainless Steel Blade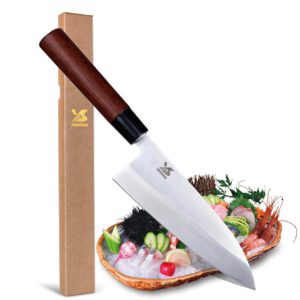 The MSY Bigsunny produces great kitchen cutleries. This is one of their Japanese Deba knife that is something you must consider owning if you are a sushi lover as it fillets and cuts a fish like a pro.
The 7-inch blade on this knife is extremely sharp and is hence ideal to cut through the delicate fish flesh without destroying it. Sharpness and strength are two of the most important features that a fillet knife must have and this Deba knife does justice to all those features.
Not only is it razor sharp, but it looks absolutely stunning with the shining stainless steel blade and dark wooden handle. The traditional appearance of this knife will look great on your kitchen counter.
The best part is that the price of this knife is very attainable and affordable, hence if you are seeking a great fillet knife in a low budget then you can surely give this one a go.    
YOUSUNLONG 10 Inch Sashimi Fish Fillet Knife
Here is a knife that you can rely on. Yousunlong has been carefully designing and crafting knives for more than 10 years in both Germany and Japan and the word about just how good their knives are is spreading fast and of course, this 10-inch Sashimi fish fillet knife is no exception.
Not only is this knife streamlined with the perfect sharp blade, but it also comes with a mirror polished finish, making it easier to clean and to keep clean.
This blade comes with an ingenious uneven hammer pattern, meaning that you can slice through your choice of meat or fish reducing the possibility of food sticking to the blade.
The handle has been made from natural black ebony wood, giving it an excellent texture and non-slip properties. The handle has also been created to better the balance of the knife, reducing wrist fatigue, helping those who are in the kitchen for long periods of time.
What is a Deba Knife?
Deba knife is ideally known as the Japanese knife for filleting fish and is especially used only for this purpose.
A classic Deba knife comes in various sizes and they are crafted to produced perfectly shaped fillets.
In a western fillet knife, the blade tends to be thinner whereas in a traditional Deba knife the blade is much sturdier and edgewise. These type of knives usually have a single beveled side or slightly concave edges.
Another specialty about the Deba knife is that it has only been designed to be used by individuals who use their left hands.  
Overall, you can say that this Deba, japanese fillet knife, is the ideal tool for cutting fish fillets and has been solely made for this purpose. The beveled edge prevents the food from clinging onto the blade and therefore very precise cuts of fish can be achieved.
What makes Japanese Fillet Knives Different?
When it comes to making professional grade fillet knives no one does it better than the Japanese. A traditional Japanese fillet knife has the ideal blade to pierce through the delicate fish flesh with absolute precision and created fine pieces of fillets.
The thing that makes these knives different from any other fillet knife is their blade. The blade is sharp, thick and heavy so that you can easily fillet the fish and gut it properly. With the help of these knives, you can easily obtain consistent and clean cut fish fillets.
A Japanese slicing knife is usually crafted with only a single beveled edge and hence they are sharpened in only one of the sides. This single beveled edge helps the knife to slide through the fish and make slices without creating tears and without letting it stick to the edge of the blade.
However, there are a few differences in terms of material that is used to make these knives. Many traditional Japanese knives are not crafted out from stainless steel but with proper care, you can actually prevent it from catching on rust.
So you can definitely conclude that this Japanese fish knife is a very sharp and perfect tool for the filleting purpose and is therefore used by professional chefs worldwide.
How to quickly Fillet a Fish with a Japanese Deba Knife
Now that we have gathered some knowledge regarding the Japanese Deba knife it is time to learn some techniques about how to use it for filleting fish. The thick and sharp blade with a single beveled edge helps to fillet an entire fish within just minutes.
Start by laying the fish flat on the surface of the cutting board and drag the knife behind the gills to slice it through.
Then cut a slit on top of the spine and with gentle strokes slice it through so that the flesh comes off of the bones. Once you are done with one side, turn the fish and repeat the same process starting by chopping off from behind the gills.
Then cut off the flaps on the belly and then cut the fillet in half vertically. Then drag the knife through to separate the skin of the flesh and voila! Your fish fillet is all ready to be cooked.
Conclusion
This article has been solely designed to help you with all the queries you have regarding Japanese fillet knives. The listed knives above are the most premium quality ones that you can find in the market and you can choose any one from it whichever fits your required criteria.

Do you use one of these knives? Let us know how you like in the comments below!