Nobody likes to feel like when they are eating their steak or really any meat that they are chewing on an inedible dog chew toy. Not all cuts of meat are created equal in how tender they are so often it is a good idea to use a meat tenderizer. 
A meat tenderizer tool is a sure way to take any mediocre cut of meat and improve it significantly. In addition to softening up your meat a meat tenderizer also opens up your meat more to allow it to absorb more flavors whether through marinating or cooking. 
By choosing any of our best meat tenderizers reviewed below you will not only enjoy meat easier to chew, easier to cut but also more full of flavor.
Top 5 Best Meat Tenderizers Comparison Chart
Cave Tools Meat Tenderizer Tool and Mallet Hammer For...
KLEMOO Meat Tenderizer Tool - 48 Ultra Sharp Needle...
Chef-Master Meat Tenderizer Tool, Stainless Steel Sharp...
Weston Manual Heavy Duty Meat Cuber Tenderizer , Sturdy...
Our #1 choice
Jaccard 48-Blade Meat Tenderizer, Original Super 3 Meat...





Top 5 Best Meat Tenderizers In 2020 Reviews
Jaccard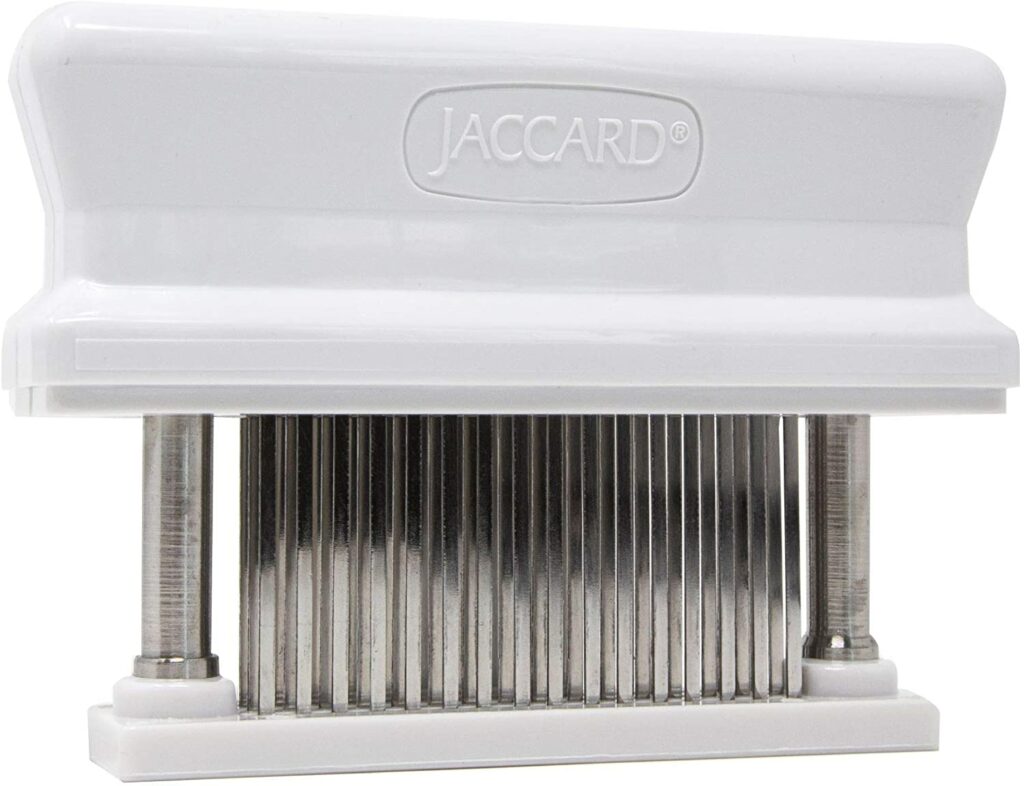 First up for review is the Jaccard Supertendermatic 48 blade tenderizor.
Overview
This is a handheld meat tenderizer that works by being pressed onto the meat and as you push on it the mini "knives" slightly cut the meat all along the bottom part. 
Features
In our tests we found that this unit was dishwasher safe, which is great for maintenance, and without too many moving parts it was fairly easy to use.
Our only concern with this model for longevity is if any of the blades fall out of alignment this unit gets much more difficult to use.
With proper care though this is a great meat tenderizer at a great price.
Pros
The blade is sharp
Easy to use
Cons
The blade tend to fall out of alighment sometime
Weston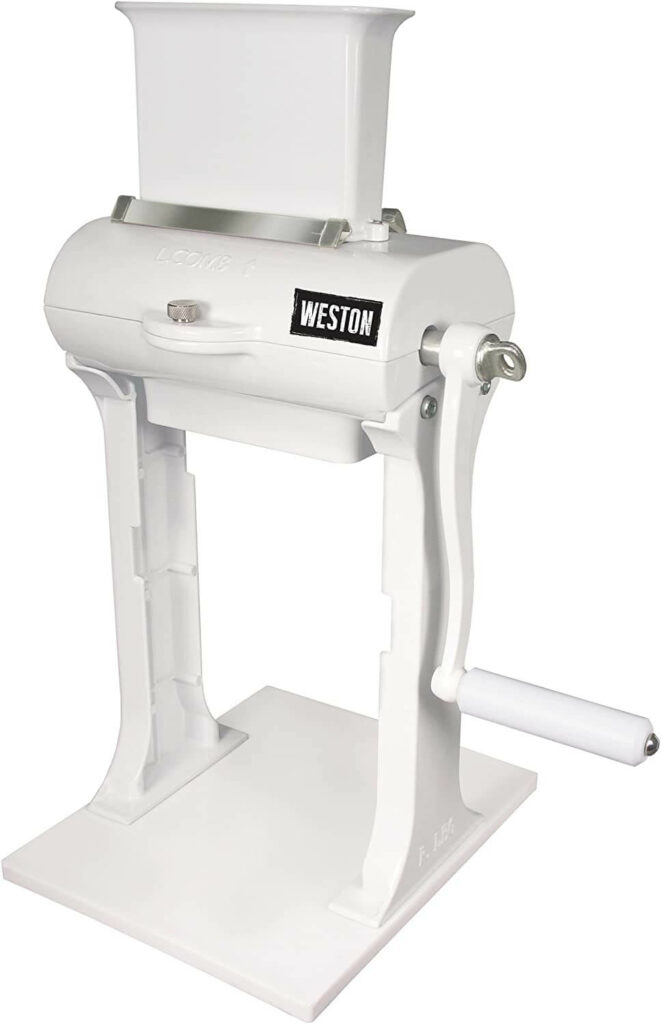 The Weston Manual heavy duty meat tenderizer is a dual purpose tenderizer and cuber.
Overview
Unlike many tenderizers we covered in this article this is a kitchen counter top unit that needs a fair amount of space to be used. 
Features
This unit however, is one of the fastest for getting through a bunch of meat.
Its heavy duty countertop design with 31 stainless blades ensure your dinner/cookout prep is fast.
This unit all metal construction ensures it is built to last. In our tests, this was the most awesome mechanical meat tenderizer in speed and at "flattening" out pieces of meat. 
This unit says the blades can be washed in the dishwasher however the unit itself is so big and bulky anway we would just suggest cleaning the blades with the whole unit by hand at the same time.
In our reviews this was the best meat tenderizer. 
Pros
Very strong built and sturdy
Easy to operate
Easy to clean and is dishwasher safe
Cons
It is a pretty bulky machine and does take up space in the kitchen counter compared to other meat tenderizers
Chef-Master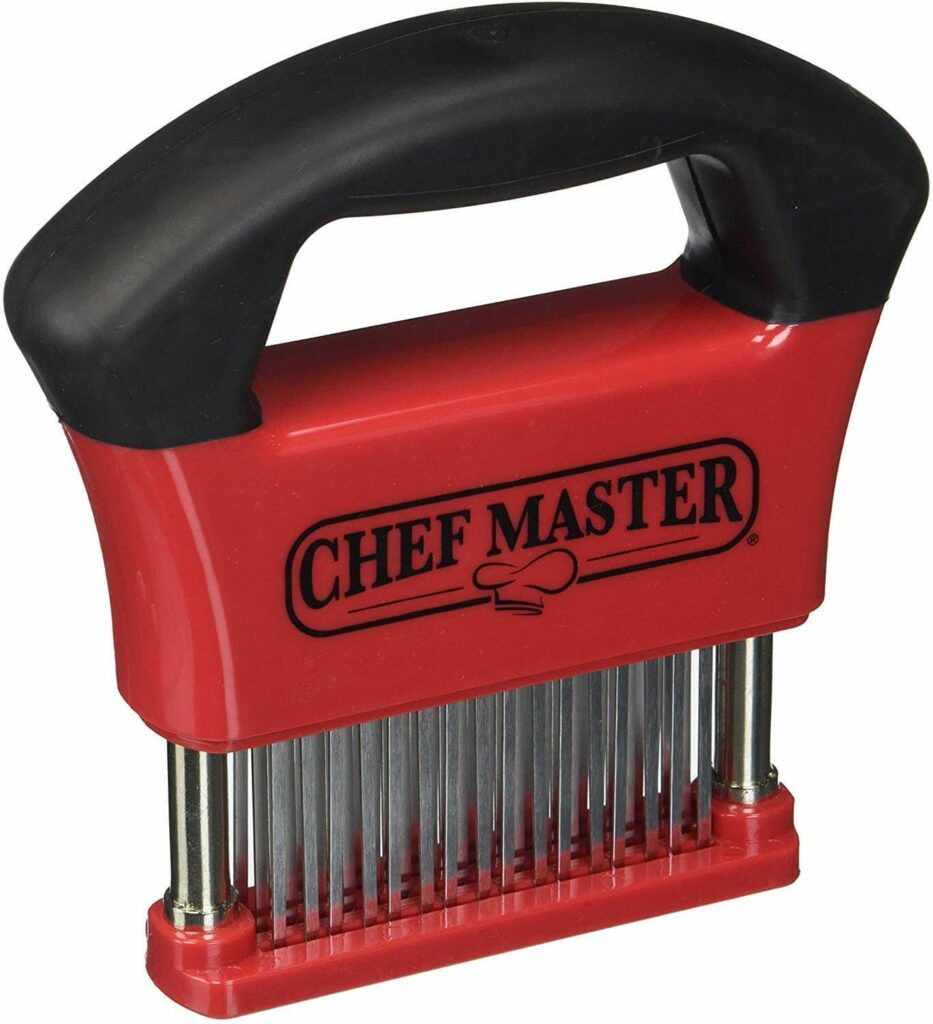 From our research we found the comfort of the handle superior to most others.
Overview
The handheld Chef-Master Mr. Bar-B-Q Professional was one of the best handheld meat tenderizers we tested, especially at this price point.
Features
The design of the bottom, while simple, made it more difficult for blades to fall out of alignment so the unit would not press.
This unit also includes a nice clear protective cover so you don't accidentally cut yourself before or after use of this tenderizer.
Pros
Provides a comfortable and safe grip to work with
Blades are well made and strong
Cons
The blades might catch on rust if not dried well and taken proper care of after every use
Klemoo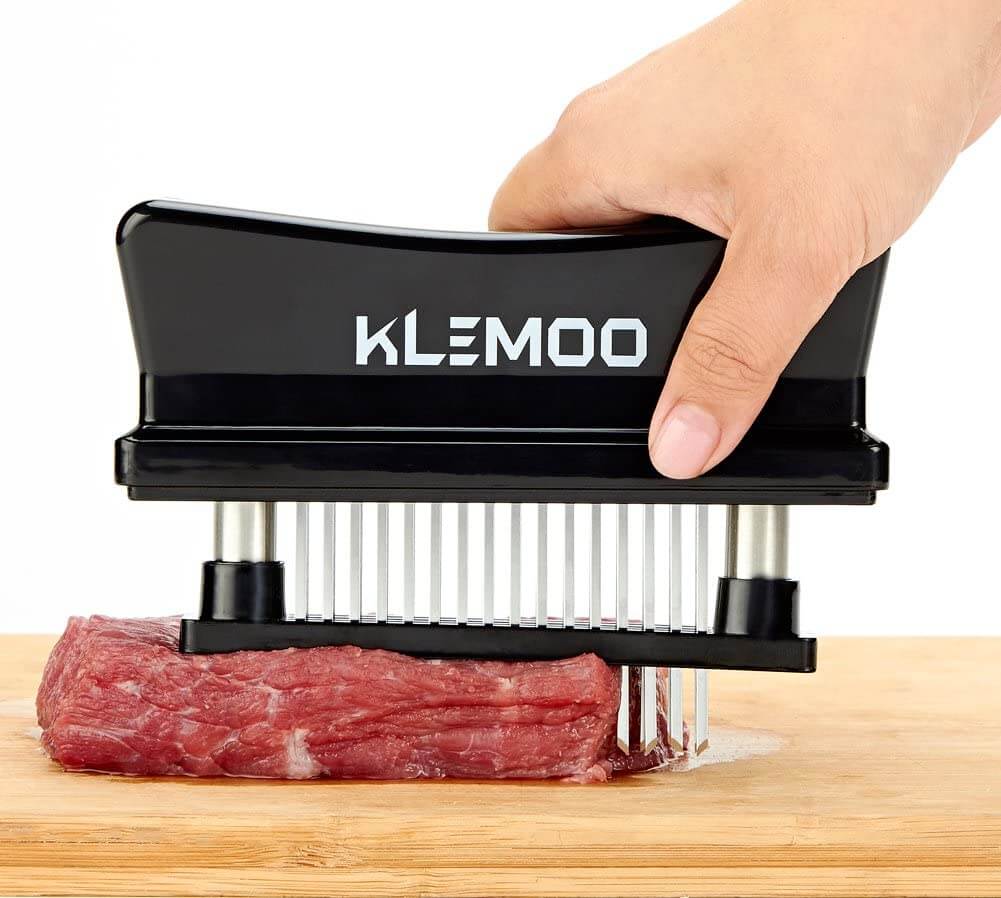 If you are purchasing a handheld meat tenderizer on a very strict budget then the Klemoo may be the best meat tenderizer tool for you.
Overview
This unit comes out priced significantly lower than some of the competition in this article. At this budget price this unit is top rack dishwasher safe and even includes a cover.
Features
The only downside we saw in our testing is this unit did not seem to have the durability of the other units, without careful care it does not seem like this tenderizer will last as long as some of the others, especially since this style has moving parts.
For the price of this unit though you can't really go wrong.
Pros
Safe and easy to grip and doesn't slip
Dishwasher safe
Cons
NOt as sturdy and durable as other similar brands
Cave Tools
Are all of these moving parts and complicated designs in the other products making you dizzy? Are you just looking for the tried and true method of just smashing your meat with a hammer?
Overview
Then maybe the Cave Tools Meat Tenderizer is for you. In addition to having an awesome name and an awesome look this was the best meat tenderizer mallet we came across in our testing.
Features
While effective in our testing and available at a great price, our only complaint with the mallet style tenderizer is it does not allow the marinade to seep in quite as much with the blade style tenderizers.
This mallet has absolutely no moving parts and is completely bulletproof in construction.
Our best meat mallet here also has a nice handle so it will not slip out of your hand when you are tenderizing or flattening your meat.
Pros
Very strong and sturdy built in
Handle has a good grip and doesn't slip
Cons
The marinade doesn't sink in much deep when the meat is tenderized using the mallet
Best Meat Tenderizer Buying Guide
We hope you enjoyed our meat tenderizer reviews that we have outlined above. From our reviews you can see there are a few different styles to choose from.
You can hammer out your meat with the mallet style, you can use the handheld blade option to "poke" your meat tender or you can use the full countertop crank through the method to get through piles of meat effectively and quickly. We have created this buyer's guide below to aid in your decision when picking a meat tenderizer. 
The Blades
All tenderizers use "blades" of some type. Whether the course side of the mallet or the more long and defined sharp blades of the handheld, blades are used to an extent. We would typically suggest blades that are stainless steel for longevity and ease of cleaning. 
Design
Choosing the design or style of your tenderizer is going to depend on how much meat you are doing and your preferred methods.
If you like to get the tenderizing over with quick than the countertop or mallet options may be best for you. If you enjoy taking your time on each piece of meat the handheld may be your best option.
Maintenance
This is an important point to consider. A unit with moving parts will require more maintenance than one that has none.
Additionally a unit with a lot of cheap materials will be more difficult to maintain than one made of mostly metal that is easier to neglect for a couple days until you get to it.
Advantages Of Using The Best Meat Tenderizer
Saving Money And Time
Spending more money up front on a better meat tenderizer will save you time, especially if you have guests over. In addition to saving you time a better quality tenderizer will last you much longer.
The Ease Of Digestion
Using a good meat tenderizer makes your meat better to ingest and much easier to chew.
This little bit also helps your entire digestive system when breaking down meat. Meat that is broken down more is much less harsh on your body.
Texture And Taste Gain
Softer and more tender meat just tastes much better all on its own. When you factor in that all the tenderizers outlined above also help your meat take in more of the marinade or seasoning while cooking, you are just making a recipe for flavor.
So, What's The Best Meat Tenderizer?
The best meat tenderizer with the outlined different methods above is for you to decide. In our testing the Weston tenderizer was by far the fastest and most consistent in our testing but not everyone has the budget for such a unit.
If pounding meat into submission brings you joy then perhaps go for the mallet, cooking is supposed to be fun anyway.
The handhelds we covered are all great options however we enjoyed the Chef-tools handheld most. Whichever you choose you can't go wrong with any tenderizers in this article.