If you are after a fantastic new knife set then there is nothing you will love more than a mercer genesis knife set. Why? Because a Mercer Genesis knife set comes with all of the knives you need to perform any task in the kitchen.
You can rely on one of their sets to help you achieve the very best preparation results when cooking.
But having a set of great quality knives together isn't what makes this knife selection so perfect as there is a whole bunch of great knife sets on the market today.
Mercer Cutlery Genesis Knives
What makes this set so unique? – you may ask. It is the combination of having a state of the art knife set listed at a fantastically economical price, making this a really popular knife set for families and for those who are just starting to build up their selection of great kitchen utensils for a brand new kitchen or apartment. 
If you are ready to get your hands on one of my favorite knives sets out there, then you have come to the right place as this Mercer knife review is dedicated to showing you all of the features if the set and will also show you just what will arrive at your door should you decide to order one. Take a look!
Mercer Culinary Genesis knives review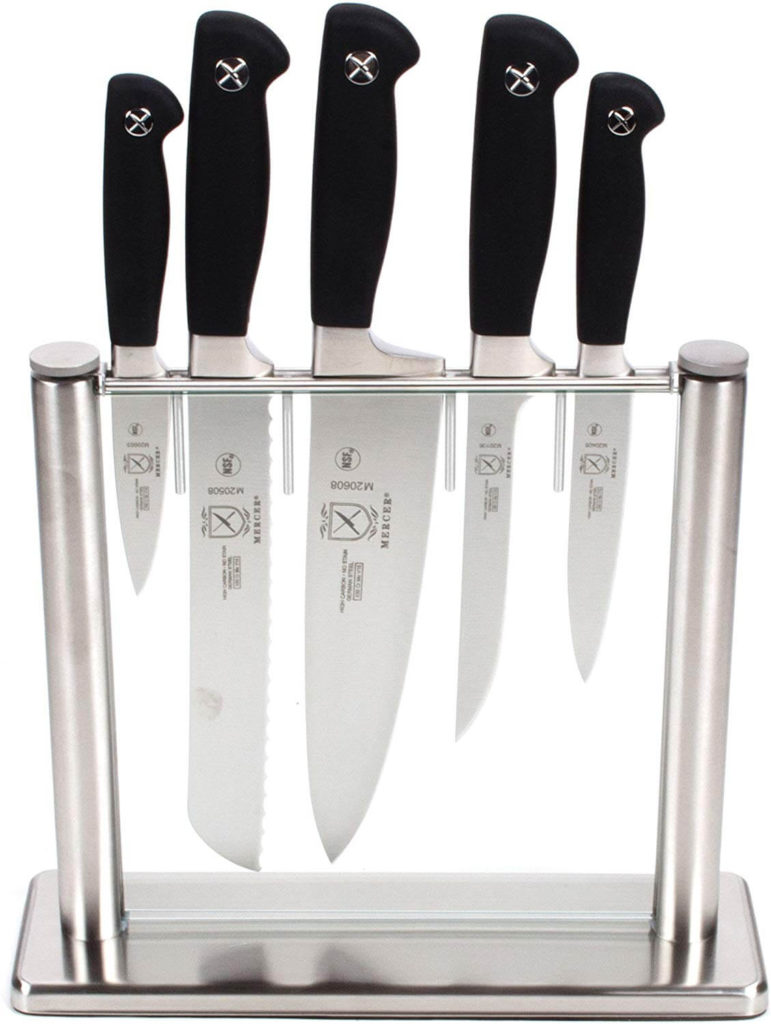 Are you looking to get your hands on a mercer genesis chef knife set but are keen to find out a little more information about the knives before you do so?
Overview
The blades on all of the knives included in the set are made of high carbon German stainless steel – a material that is far superior to other blade materials and helps to keep blades sharper for longer and is also highly resistant against corrosion and staining.
Then you will love this mercer knives review that will let you in on everything you need to know about the set. Check it out!
Features
Starting with my favorite feature – the transparent glass knife block. This knife block will help you to keep your knives well organized and will also help you to identify the right knife quickly without all of the faff and guesswork that comes when using a normal wooden or opaque knife block.
The blades of the knives have been made from top quality high carbon German stainless steel meaning that the blades will stay sharper for longer and will require less frequent honing than other blade materials.
The ergonomic handles make the knives easy to grasp even with wet hands – making them safer to use and helping to prevent accidents when cooking.
The knives come with bolsters – a handy feature that not only helps to provide the perfect counterbalance of the knife blade and the handle but also works as a safety feature, helping to keep your fingers from slipping in the way of the blade. 
Pros
Extremely sharp blades
The set is perfect for everyday use
The handles are comfortable to grab and well balanced with the blade
Cons
The blades tend to stain and mark
Catches rust near the edges of the handle
Mercer Cutlery Genesis Construction
Before committing to a purchase, I am sure you will want to get an idea of all of the materials that make up a mercer genesis set.
If that is the case, then take a look at this mercer knives review that will let you in on all of the important information about this knife set . 
The blade handles in this set have been made from Santoprene which gives the knives a soft feel that is comfortable to use and easy to grip, making the knife easier and safer to use. This material is also easy to wash and will not corrode over time. 
All of the knives in the set have been perfectly balanced so that neither the blades nor the handles are too heavy.
The fine-tuned balance on the knives makes them easier to use and helps to reduce wrist fatigue if you are using the knives for extended periods of time. 
FAQ
Is Mercer a good knife brand?
Mercer is a fantastic bang for the buck. Mercer makes quality knives that can compete with many of the more expensive brands for a fair price.
Where are Mercer culinary knives made?
Mercer knives are made in Taiwan with German steel.
Are Mercer knives dishwasher safe?
While you can put your Mercer knives in the dishwasher it is not recommended for Mercer or any knives since it ruins the steel faster and dulls the blade.
Conclusion
So now that you have had a closer look at this mercer culinary genesis review I am sure you are more than keen to get your hands on the set.
Why? Because this knife set comes with absolutely every knife you need to make a show stopping meal for the family this weekend including a paring knife, a utility knife, a chef's knife, a bread knife, and a boning knife – that's right the perfect knife for every occasion!
Make sure you give the tempered glass knife block an extra special shine with some glass cleaner and dusting cloth that will help to make it gleaming like new and will help it to sparkle like a work of art when sat on your kitchen countertop.
The tempered glass set is very stylish, making it the perfect accompaniment to both modern and more traditional style kitchens and thanks to the neutral colors it has been made in, this knife block will be a great match to any kitchen color scheme.
So whether you are looking for a new kitchen knife set to kit out a brand new kitchen or whether you are looking to replace your existing knife set with something more modern and razor-sharp, then make sure you consider the Mercer Culinary Genesis knife set as the latest and greatest addition to your kitchen. You will love it!