I am sure you will agree that one of the most important knives in your kitchen cutlery drawer is the chef knife. Why do I say that? The chef knife can be used for chopping, slicing, and mincing your favorite cuts of meat, fish, and is also great for cutting into fruits and vegetables.
Kessaku Chef Knife
If you are after a razor sharp and reliable chef knife, you should look no further than at a Kessaku knife – a superb knife that comes with some undeniably fantastic features. 
But where can you get a hold of Kessaku knives? And what can you expect from a Kessaku chef knife? If you are looking for the answers to these questions stay tuned as I will go on to explain the ins and outs of Kessaku chef knives in this very article.

Kessaku Chef Knife Review
Intrigued? Then make sure you stick around to check out the Kessaku chefs knife overview listed in this article and also spend a minute or two having a little look at the users pros and cons, that will give you an inside peep at some of the best points and some of the things you should be aware of with this Kessaku chef knife. 
Overview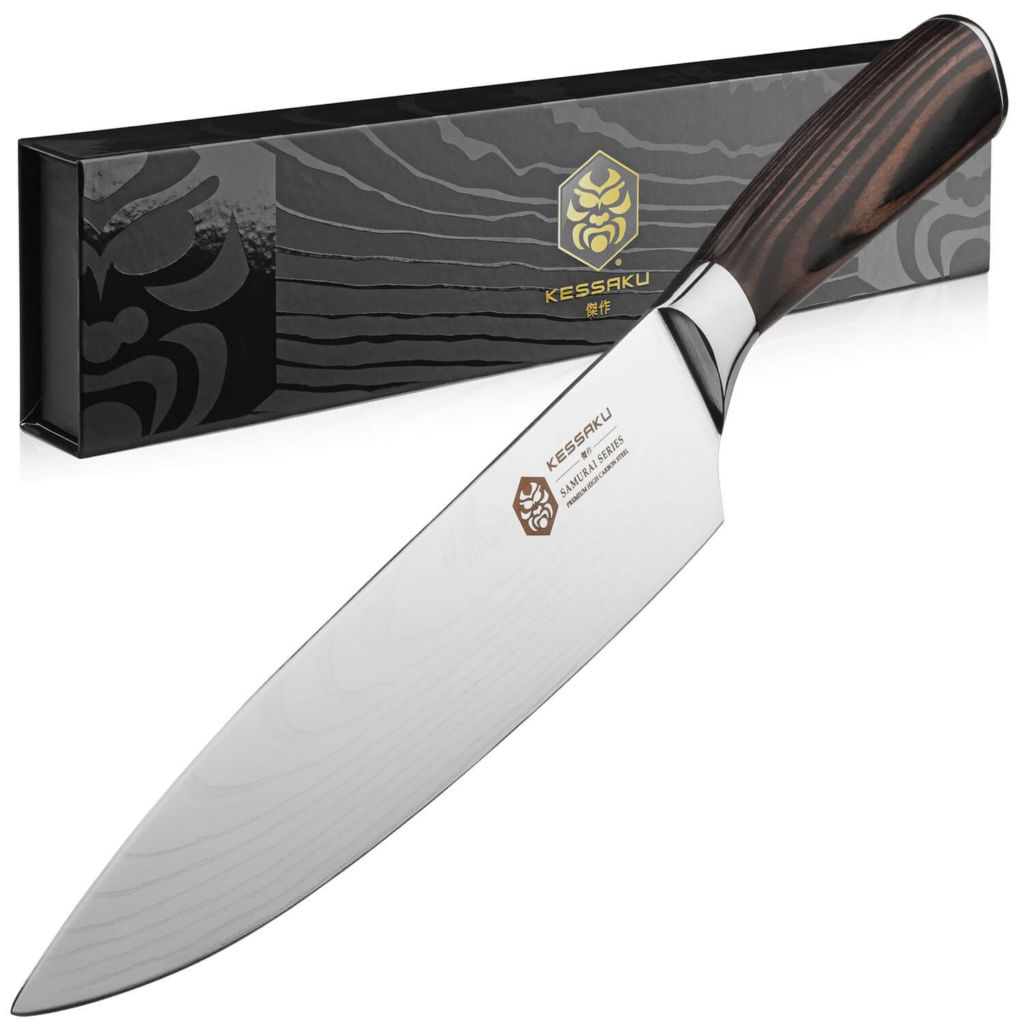 So, what is there to love about this Kessaku chef knife? If I was to go on to list all of the things that users love about it, we may be here all day, but take a look at this abbreviated version of some of the standout features on this Kessaku knife that make it so popular among families.
Features
Super tough blade. The blade on this Kessaku chef knife has been made from high carbon stainless steel. The high levels of carbon in the blade make it tougher than your standard knife blade and it will not require such frequent honing as would your run of the mill chefs knife. The high carbon blade also helps the knife edge to remain sharper for longer. The super sharp blade also makes it easier for the user to get immediate contact even on slippery food, making food preparation quick and simple.
Ergonomically designed handle. The handle on this chefs knife is made from Pakkawood – the perfect material that is resistant against corrosion. The Pakkawood handle is easy to clean and has been designed to help the user get a firmer grip on the knife, making it safer to use and easier to manage.
Pros & Cons
So now that you have had a look at some of the outstanding features on this Kessaku chef knife, it is time to take a peep at some of the specifications that the consumers are ranting and raving about.
You will find them mentioned below. You will also see some of the features consumers thought could have been designed better on the knife that I am sure you will find useful to bear in mind when purchasing this fantastic kitchen utensil.
Pros
Knuckle clearance and fingerguard. The knife has been designed with plenty of knuckle clearance which protects your hands from knocking against your chopping board or kitchen countertop when preparing meals. The fingerguard also helps to keep your fingers out of the way to prevent accidents.
Gift box. This knife will make the most awesome birthday, Christmas, anniversary, Father's or Mother's day present thanks to the handy gift box it comes in. The ideal gift for an avid cook!
Cons
Too tough? The Kessaku chef knife features an ultra tough knife blade but some users feel that the blade may be too brittle and have noticed that the blade pits easily. It is advisable to avoid using the knife to cut through meat bones in order to prevent this from happening.
Conclusion
Every household needs a brilliant chef knife to help them to prepare the tastiest meals and cut through tough slides of meat, fruits, and vegetables. The best way to get all your food prep completed swiftly and efficiently is to grab yourself a Kessaku chef knife asap. 
You may be wondering, is there anything that this chefs knife cannot do? Well, keeping in mind the limitations of a chef knife, it would not be an ideal knife to use to peel or core fruit and vegetables. It would also be rather counterproductive to use for slicing bread or when filleting fish. For those uses, it would be better for you to consult a paring, bread or filleting knife. But for all other uses, you can rely on your Kessaku chefs knife to get the job done.
So now after thorough and proper look at this chef knife, I am sure you will be keen to get your hands on one, and the good news is that you can order one right away! All you have to do is follow the links on this page and you will find a Kessaku chefs knife in a gift box arriving at your door in next to no time.