Our #1 Choice
DALSTRONG Slicing & Carving Knife - 12" - Gladiator Series -...
Mercer Culinary M23720 Renaissance, 11-Inch Granton Edge...
12-inch Blade Granton Edge, Turkey, Salmon, ham Slicer, Meat...
Rada Cutlery Carving Knife – Boning Knife with Stainless...
DALSTRONG Carving Knife & Fork Set - Gladiator Series -...





A kitchen is not a kitchen without the very best slicing knife. Why's that? Whether you are carving a turkey, cutting sausage rings, slicing a chicken breast or deboning a leg of lamb you will need the very best knife to do so. But where can you find the perfect slicer reviews that will give you information on the best slicing knife on the market right now? In this very article!

If your family is anything like mine, they like a home-cooked bird. Turkey, gammon, chicken anything will do, smothered in a sticky honey glaze or a meaty gravy, stuffed with sage, onion, and celery and topped with a generous dusting of freshly ground black pepper, sea salt and just a dash of paprika.
With both Thanksgiving and Christmas coming up, there will be no knife more important than a carving or slicing knife in your kitchen utensils drawer that will help you to present the very best Christmas or Thanksgiving meal. 

But perhaps you are wondering, do I really need to purchase a separate knife just for carving? Surely a long bread knife or serrated knife will do the job just as well? I would like to answer this question with an illustration.
Both a hammer and a brick can be used to drive a nail into the wall, but only the hammer will get the job done perfectly and with minimal exertion, the same goes with using everyday knives to carve meat, other knives yes will certainly carve your meat for you such as a serrated knife or santoku knife, but only a carving knife or a slicing knife will really make the neatest, most uniform slices in your meat with minimal effort required on your part.
And what could be better, after all of the hard work and energy that goes into preparing the best Thanksgiving turkey, then using a carving knife to create the most perfect, consistently sized slices of meat that can be arrayed on your best display plate alongside a garnish of basil and a drizzle of your favorite homemade gravy all gleaming in the middle of your dining room table? Now there's something your in-laws will be singing your praises for well into next year's festive season.

Slicing and Carving Knife Reviews
Best Slicing Knives
DALSTRONG Slicing Knife
You can always rely on DALSTRONG to make some of the best slicing knives and this is no exception.
Features
The knife blade is made from high carbon stainless steel making it tougher and more hard-wearing blade than others and it has been hand-polished helping it to shimmer like a work of art in your kitchen.
The black pakkawood handle has been triple-riveted to perfectly counterbalance the weight of the handle and the blade.
The extra long 12 inch blade is perfect for chopping larger fruits and vegetables or meat with just one clean sweep.
Pros
Extremely durable
Easy to clean
Easy to use
Sharp and is triple riveted
Cons
Tends to catch on water marks
Mercer Culinary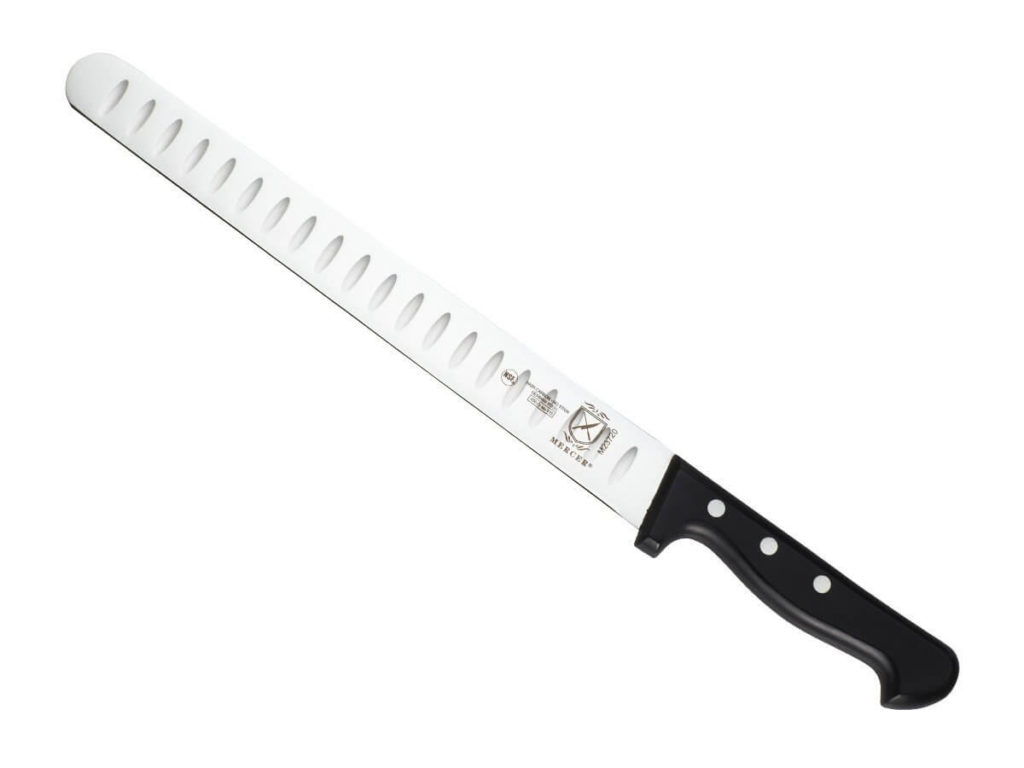 Here is another great meat slicer knife coming to you by Mercer Culinary.
Features
The 11 inch blade gives you ample room to cut uniform slices of your favorite meat.
The blade is made from high carbon stainless steel that is resistant against staining and rust and is also extra strong.
The shortened bolster acts as the perfect fingerguard helping to prevent accidents.
Pros
Great slicer with super sharp blades
Handle is very comfortable to hold to and doesn't slip
Cons
It doesn need to be sharpened very frequently to maintain the edges
Icel Slicing Knife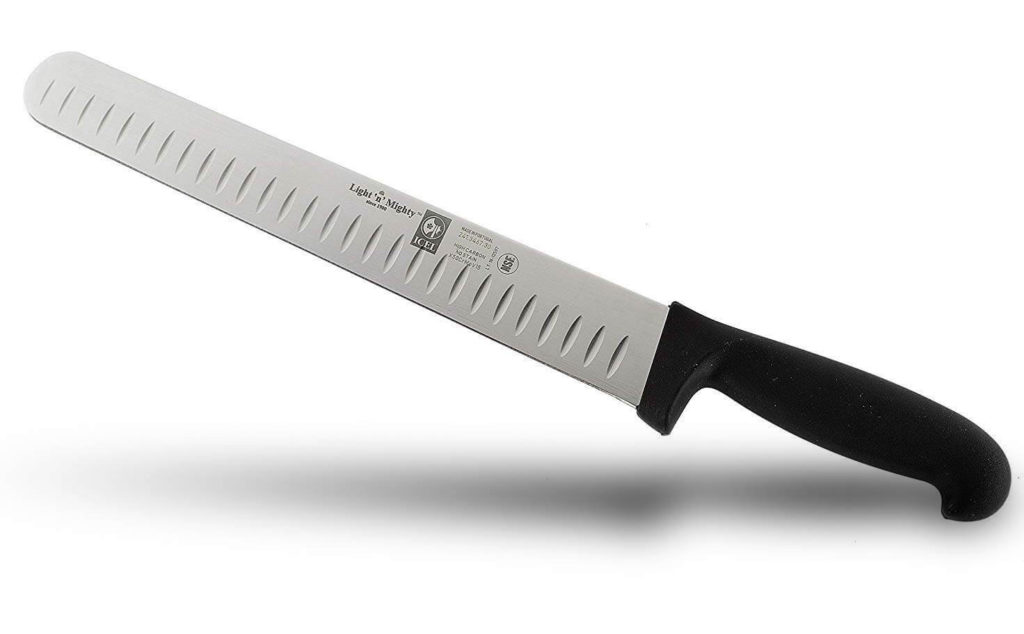 If you are looking for the very best meat slicer knife then you will love the 12 inch blade on this slicing knife by Icel.
Features
You may as well call this the best meat slicing knife thanks to its Granton hallow edge that encourages food to fall away from the blade when slicing resulting in clean cuts.
The blade on this knife has been cold rolled stamped, making it even tougher than other knife blades. This knife blade has been made from high carbon stainless steel also adding to its toughness.
Pros
Very sharp edges
Ingredients slides off very easily
Cons
Tends to catch on water marks if not dired properly after washing.
Best Carving Knives
Rada Cutlery Carving Knife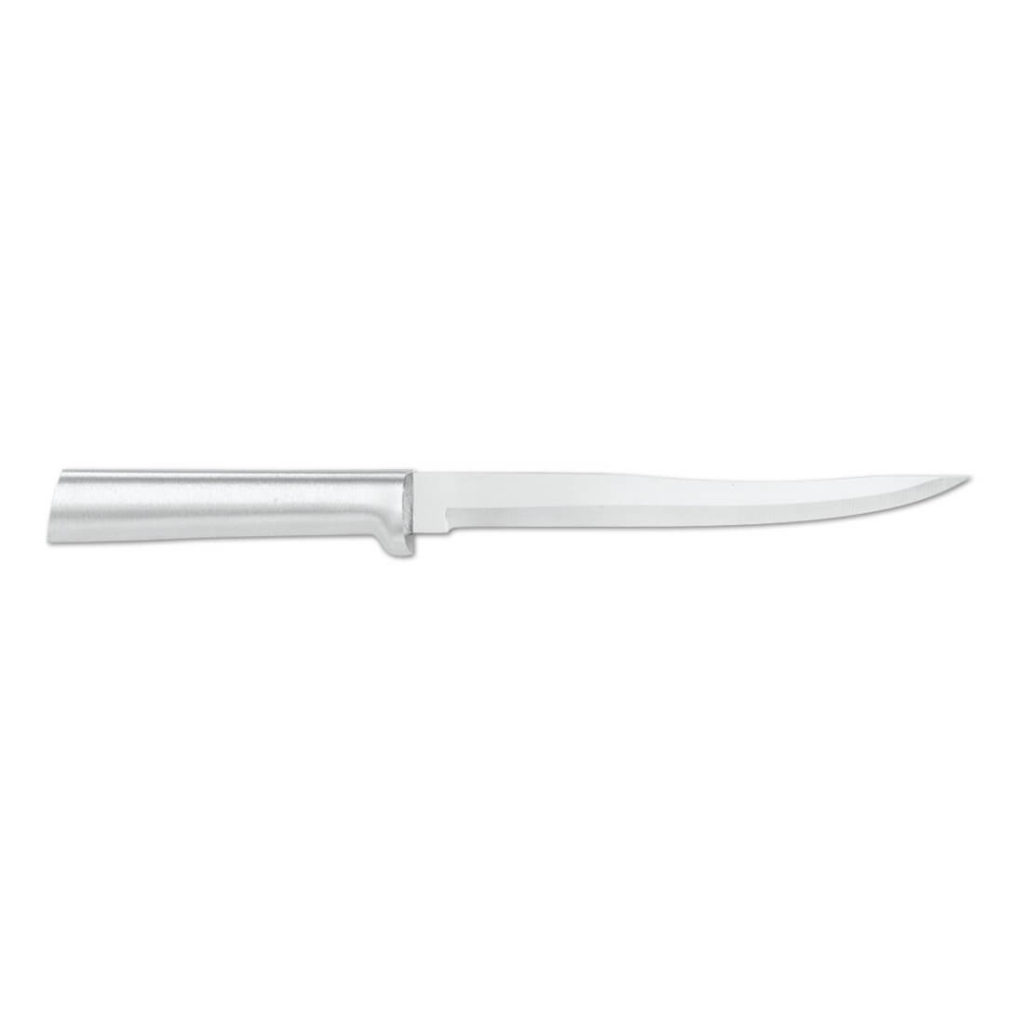 Here is a great meat carving knife by Rada Cutlery.
Features
The knife comes in two styles, one with a black handle and the other with an aluminum handle so that you can choose the style that best suits your kitchen.
This is a great two-in-one knife as it is perfect for both carving and boning your favorite meat, helping you to get the two jobs done with just one utensil. It is perfect for use with meat, fish, and poultry.
The blade has been made from hand sharpened high carbon stainless steel for added strength and accuracy when slicing.
Pros
Strong and durable
Can be used for carving and boning meat and fish as well as chopping vegetables
Cons
Food sticks to the blade while slicing
DALSTRONG Carving Knife & Fork Set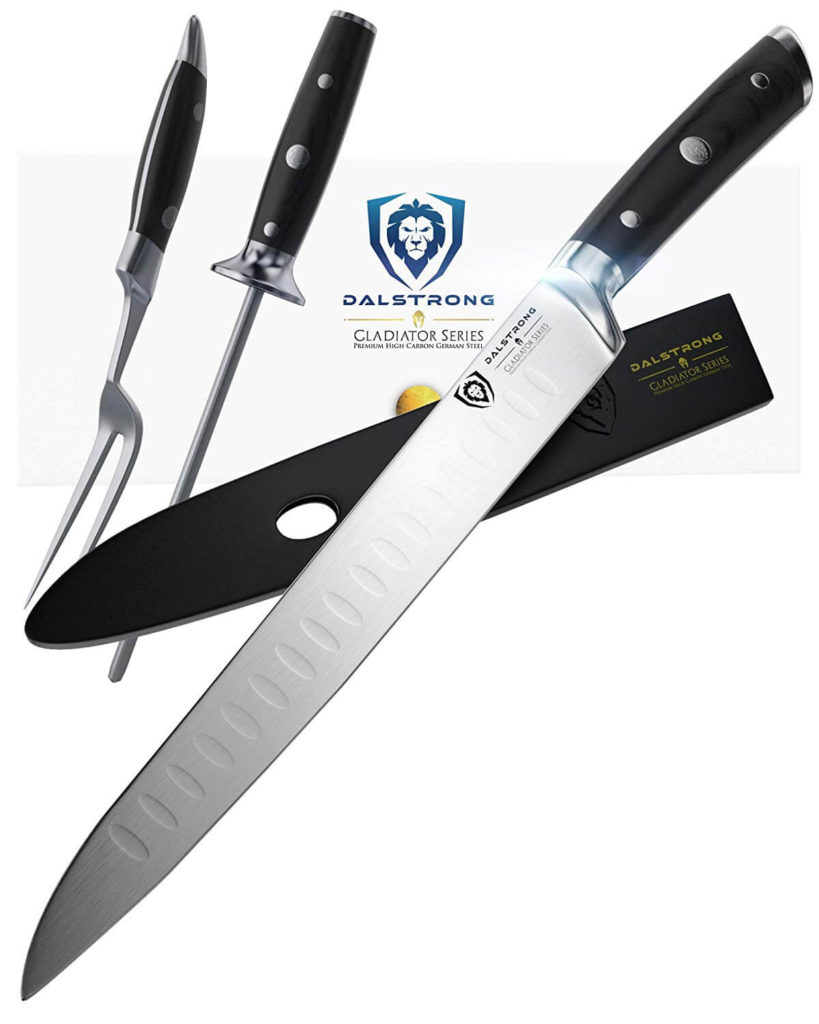 If you are after the best carving knife set then DALSTRONG is one of my favorite options, they have the best carving knife for meat that I am sure you will fall head over heels for.
Features
This 4 piece set comes with a 9-inch carving knife, a honing rod, a Dalstrong sheath to keep it in and a carving fork – yes that is everything you will need to serve up the best roast dinner for the family this weekend.
The blade on the carving knife contains oval dimples that allow air to pass between the knife and the food, encouraging for meat to fall away from the bone when slicing, creating clean cuts.
Pros
Very sharp and durable blade
The handle is smooth and doesn't slide while working
Set includes a carving fork as well
Cons
The blade tends to catch water mark so it is ideal not to put in a dishwasher and dry it well after hand washing it
[/su_row]
Mercer Culinary Renaissance Carving Knife,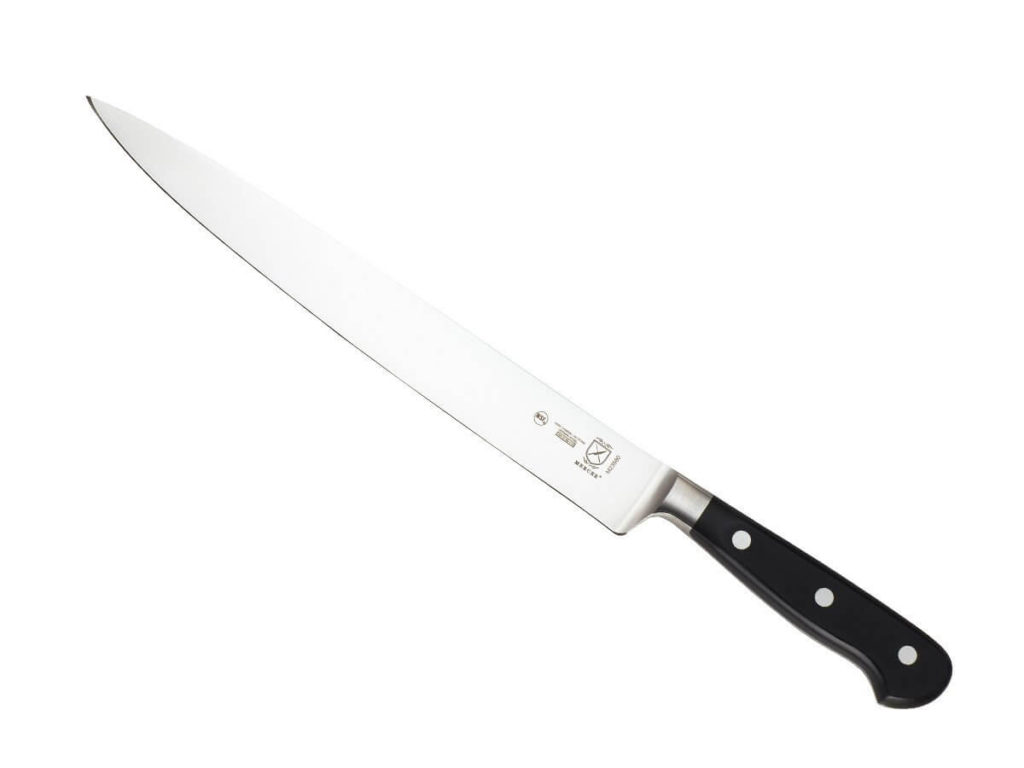 Are you looking for a brand new steak carving knife? Or how about the perfect knife to cut a bone-in leg of lamb? Then this 10 inch carving knife by Mercer Culinary will be right up your street.
Features
The black handle has been triple-riveted perfectly counterbalancing the weight of the blade with the weight of the handle, making the knife safer to use and easier to keep control of.
The knife features a bolster before the blade – a handy feature that helps to keep the user safe from accidents when chopping.
Pros
Very sharp and durable blade
The handle is triple riveted
Blade is well balanced and very comfortable to work with even for longer cooking preps
Cons
The knife needs sharpening very frequently but once it gets a good maintainance it is as good as new again
[/su_row]
Wusthof 9740-1

Wusthof also make some fantastic meat carving knives.
Features
The set comes with both a carving knife and carving fork – the perfect pair for slicing up the most succulent cuts of roast pork this weekend.
The knife has been designed full tang, meaning it will not bend or snap in certain places when pressure is applied.
The rounded handle has been specially designed to fit in your hand like a glove, making the knife more comfortable for the user.
Pros
The set comes with a carving fork
Food doesn't stick to the blade
Blade is very well balanced
Cons
Rust seems to develop near the handles so care needs to be taken to well dry it after every wash
[/su_row]
What's coming up…
Don't you just hate those Christmas, birthday and anniversary presents that you have no idea how to use? You kindly accept the gift and act all over-excited about it, trying your best to convince the well-intentioned giver that you absolutely love it.
Then after a little investigating on the internet in the privacy of your home, you realize you've been looking at the gift upside down the whole time and even when you rectify that you still can't really work out what it's for. Well, that is what happened to me a while back when I was given my first slicing knife.
I thought to myself, "A slicing knife? What an earth is this for? Isn't that what all knives do, they slice? So it's just another knife then?" I was just about to chuck the slicing knife into the back of my kitchen utensils drawer alongside all of the other bits and bobs I know I will never use when something told me to do a little research on slicing knives before throwing it away, to see whether it could be of any use to me, and boy was I surprised!
Perhaps you have also been given a slicing knife as a gift and aren't too sure of when to use it, or maybe you have brought a new knife block and it has come with a carving knife that you are not too savvy on.
Or perhaps you are a bit of a knife-whizz and are after a brand new carving or slicing knife but would like some more information on them before committing to a purchase. Whatever the case this article has been provided for you to help you see the difference between carving and slicing knives, helping you pick the right knife for your kitchen.
Not only that, but I will also provide you with some tips on things to keep in mind when selecting a brand new knife to make sure you choose the very best models out there. Finally, I will go on to show you the all-important slicing and carving knife review that will go into detail on 7 of the best carving and slicing knives available right now for purchase. 
Carving vs Slicing Knives
Ok, so you are after the best meat knife ready for this weekends family get-together at yours. But do you want a new slicer knife or a new carving knife?
If you are a little unsure about the difference between them then take a look at the following carving vs slicing knife guide that will help you to choose the knife that you need and provide you with some handy details about both of the knives.

Carving knives
Have long and flexible blades designed for slicing across long cuts of meat.
The shallow height of the blade encourages food to fall away from it when being sliced.
The blade on a carving knife is usually stiffer than that on a slicing knife.
The blade on a carving knife has a pointed tip that is perfect for cutting the meat around bones and for piercing joints.
The blade ranges from 8 to 14 inches long.
Some carving knife blades come with shallow dimples that encourage food to push away from the blade when slicing.
Slicing knives
Have long and flexible blades designed for cutting across long cuts of meat. 
The shallow height of the blade encourages food to fall away from it when being sliced.
The blade on a slicing knife is round, to help prevent the user from piercing the meat which would evidently cause the juices to start to flow away from the meat, resulting in drier and less succulent slices.
Slicing knives aren't just great for slicing meat, but they are also perfect for slicing larger fruits and vegetables or even for cutting bread or slicing cake.
Many carving knives come with dimples on the blade that encourage food to fall off of it when slicing and also helps to stop the meat from tearing when cut.
So now that you have seen the similarities and differences between slicing knives and carving knives you may be wondering, what is the verdict? Which knife should I use and when? A carving knife is more rigid and has a pointed tip, perfect for working around bones, so a carving knife is best when used to cut slices of turkey, chicken, gammon, bone-in pork and the like.
On the other hand, a slicing knife is more flexible than a carving knife and has a rounded edge making it the best option for slicing lighter meat in thinner slices such as turkey, boneless roast beef and boneless cuts of chicken, not to mention fruits and vegetables.
Things to keep in mind when selecting a knife
If you are searching for the best meat cutting knives it is important to know what to look out for when selecting your next meat carving sets. But with so much information out there about the best knife materials, best blade length and the like, it can be tricky to know which information is the best and the most accurate. Take a look at the following checklist of things to look out for before you purchase your next set of knives.
Handle it right
Ergonomically designed handles are the best as they will help you to grip the knife better, making it safer to use. 
Keep it safe
A good knife will come with some added safety features in order to prevent accidents such as a fingerguard or a bolster. Some knives also come with fingerprint ridges in order to stop your fingers from slipping when chopping.
Pack it away
Most high-end knives also come with a gift box, sheath or knife block for you to store your knives in. Not only does this help to keep your knives sharper for longer, but it will also help to keep the knife blades out of harm's way.
Don't long it out
The best length for a knife blade is around 8 inches because blades that are longer than 8 inches are harder to control and tend to wobble when in use. Blades longer than 8 inches are not normally recommended for purchase unless you are looking for a specialty knife that you will use to slice larger cuts of food regularly such as a slicing or carving knife.
Know what it's made of
There are so many different blade materials out there but some of the best are made from a mixture of high carbon stainless steel perhaps with other elements. High carbon stainless steel is a very tough metal that is extra strong thanks to the high levels of carbon and is resistant against rust and staining, providing you with a sturdy knife blade that will last longer.
FAQ
What kind of knife do you use to cut chicken?
A knife with about 5-6 inch boning blade would be ideal for cutting chicken.
What knife to use to cut through poultry bone?
The cleaver knife is wide-bladed, thick-spined knife that can be used to cut through meat or poultry bones.
Conclusion
So there you have it the perfect slicing knife and carving knife review that will no doubt help you to find the very best slicing knife for meat cutting. With Thanksgiving and Christmas just around the corner, you will need the best turkey carving knives and slicing knives on hand for when the family comes piling through the door waiting to gobble down your homemade creations. If you have one of the above-mentioned knives as your right-hand man I know you will be nothing but successful this holiday season.