Key Features
If you are looking for your next best set of reliable and razor sharp steak knives then look no further than our Wusthof wu9730 review – the most amazing value for money and excellent quality steak knife set you can buy. 

But what's so good about Wusthof? Wusthof is a family business that has been running for almost two centuries, meaning that the team down at Wusthof has a wealth of knowledge about making the very best cookware and has been working hard at perfecting its cooking utensils ever since. In fact, they have worked so hard that Wusthof has become world renowned for making first class knives and their knives are sort out by chefs and kitchen lovers across the globe. 

But what else do they do? Asides from making world-class knives, the team down at Wusthof also works at making knife essentials such as knife sharpeners, the best quality knife blocks, and sheaths that help to keep your knife in like new condition for as long as possible. 

Wusthof WU9730
Are you looking into purchasing a brand new set of Wusthof knives? Then stay tuned as this article will explain everything you need to know about the set and also provide you with a handy review so you see just what they're like.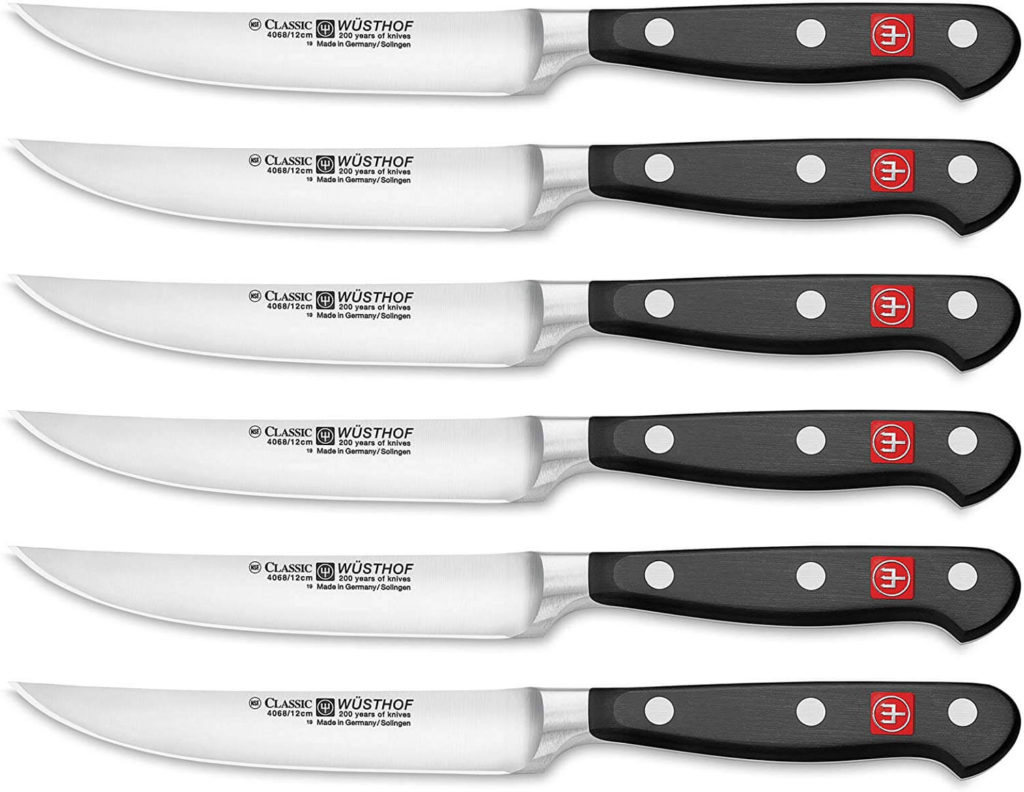 Overview
Are you ready to get the inside scoop on one of my favorite steak knife sets? Then take a look at this Wusthof classic six-pack of steak knives that will make the perfect present for any steak lover!
Features
These knives are razor sharp and they will stay that way as the blades have been made from high carbon stainless steel, a material with high levels of carbon making the blades tougher and less likely to pit and bend.
This Wusthof Classic knife set has been triple riveted, helping to maintain the perfect balance between the blade and the handle, making the knives easier to use and reducing wrist fatigue.
The blades on these knives point up to a tip, making it easier for you to cut through extra tough cuts of meat. The curved blade allows for more knuckle room, making it easier for you to maneuver the knife. 
These knives are full tang, meaning they have been made from one single cut of high carbon stainless steel. Full tang knives are sturdier than half tang knives and are less likely to split and bend when under pressure.
The finger bolster on the knives will help to keep your fingers away from the blade, making the knives safer to use and helping to reduce accidents. 
Pros
Extremely Sharp
Cuts with precision
Perfect knife for everyday use
Cons
They are a bit pricier than other brands.
Is balance important in steak knives?
When you purchase a set of Wusthof gourmet steak knives you can be sure that their knives have been wonderfully crafted, have ergonomic handles, are razor sharp and have been perfectly balanced. But you may be wondering, is balance really that important in a steak knife? The short answer is yes, and here is why:
A great knife will counterbalance the weight of the handle with the weight of the blade. This is important as it makes the knife more comfortable to hold and will help to reduce wrist fatigue.
Having a balanced knife is also important as it helps to steady your hand when cutting, helping you to make more uniform slices, also making the knife safer to use and easier to grasp.
So how can you tell if a knife has not been well balanced, especially when purchasing online? Shopping online, unfortunately, doesn't give you the freedom to be able to test out the products you are interested in before purchasing them, that is of course without having to go through a pesky returns system.
So if the proportions of your knife blade to handle look a little off, for example, a massive chunky handle with a piddly blade, you know your knife hasn't been balanced and will be tricky to use. 
Conclusion
Now that you have had a look at the Wusthof wu9730 review I am sure you have got all of the information you need to be able to purchase a set of 6 Wusthof steak knives with confidence. But just in case you are still keeping your eye out for deals by other manufacturers, make sure you find a knife set that meets all of the most important requirements.
Make sure your knives come presented in a good, sturdy knife block or sheath to keep them in, as this will help to keep your knives razor sharp for longer.
Stainless steel knives are sharp and will not corrode, stain or pit as easily as other knife blade materials.
A well balanced knife will be easier and more comfortable to use.
An ergonomically designed handle will fit in your hands like a glove and will make it easier to maintain a good grip on the knife and will ultimately make the knife safer to use.
So make sure you are able to see all of these features and more in your next set of steak knives and you will be chafing at the bit for the next steak night with family and friends to come around.