There is something about DALSTRONG knives that makes them super popular amongst homeowners and everyone who loves practical kitchen utensils to help them efficiently put together the very best meals. What is it about the Dalstrong knife brand that makes everyone want to get a hold of one? During this article, you will be able to see for yourself as I will be discussing some of the features on the highly sought-after Dalstrong Gladiator Series so that you can find out exactly what to expect with this great knife set.
This DALSTRONG knife review will show you an overview of this knife set and will also shed light on some of the pros and cons that come with this set so that you can know exactly what will arrive at your door when you purchase. This article contains our opinions from use in our own kitchen as well as the manufacturers' scope on the knives, which will give you an idea of how the knives work and which elements about them we found particularly useful.
So, now you know what this Dalstrong knives review is all about, let's dive straight into the overview. Make sure you check it out!
Overview
If you are looking for a fantastic set of knives to use to slice into tender and succulent cuts of your finest steak meat, then you don't need to look any further than to a DALSTRONG Gladiator Series knife set. Why can I say that? Take a look at the following overview for this DALSTRONG set and I am sure you will agree.
Robust materials. This DALSTRONG series of knives have been made only from the very best materials. The blade is made up of a single full tang that runs through the entire knife and is crafted from high carbon ThyssenKrupp German steel. The high levels of carbon in the blade help to make it tougher and sharper, blunting less frequently and requiring honing less often than other inferior knife blade materials.
Pakkawood handles. The handles on these steak knives have been made from high quality Pakkawood, a material that will not corrode, even if the knives are stored while damp or left in water.
Sheaths. The set comes with a knife blade sheath for each knife, making them easier and safer to store. Keeping the knives in the sheaves also helps to maintain the blades razor sharp as they will not rub against other utensils in your cutlery drawer.
Pros & Cons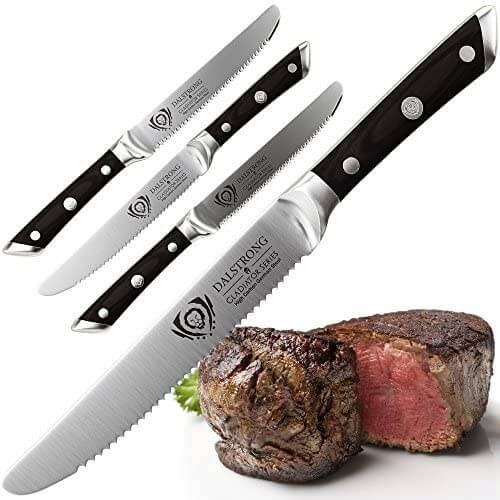 Now you have seen what the manufacturers have got to say about this set, it is time to investigate a little further. The following section will explain our thoughts about the DALSTRONG Gladiator Series and will help you to see which features we found most useful on the set.
Pros
Wear resistant. The serrated blade on the knives ensures the blades remain sharp for far longer than a flat edged knife. That makes this knife set the set you can rely on again and again for precision slicing.
Hand polished blade. The surface of the blade has been hand polished to a beautiful satin finish that will gleam when displayed on your kitchen knife block or even when placed around the dinner table ready for guests to use.
Added chromium. The blades have been designed with added chromium. This helps to keep the knives stain free and also makes them more resistant against rust and corrosion. This will keep your knife set in like new condition for longer.
Cons
Most steak knife sets come with 6 knives to a pack, but this set only comes with four. It is the ideal set for a small family or for couples, but you may want to consider buying multiple packs if you are often entertaining larger parties.
Conclusion
What conclusion can we come to regarding this DALSTRONG Gladiator Series? It is all-round a great set of steak knives with the following features:
Super sharp serrated blades.
A comfortable Pakkawood handle that is easy to clean.
Handy blade sheaths that are ideal for keeping the blades sharp and are ideal for safety.
Triple rivets on the handles to help create the perfect balance between the blade and the handle.
I am sure this set ticks all of the right boxes for the ideal steak knife set. And what's more, the knives are coming to you at a brilliant price. Make sure you to check the latest price using the link on this page that will help you to get hold of one of these DALSTRONG Gladiator Series knife sets as soon as possible.
There is nothing like being able to rely on a razor sharp, gleaming and polished knife set for when dinner guests or friends and family come over to tuck into that tasty and tender steak recipe you have been promising them. Make sure you treat yourself to one of these sets so that they can slice into the deliciousness using the very best kitchen cutlery one could offer.