Omega Juicer NC900HDC Juice Extractor and Nutrition System...
Omega J8006 Nutrition Center Quiet Dual-Stage Slow Speed...
Our #1 Choice
Champion Juicer G5-PG710 - Commercial Heavy Duty Juicer,...



My healthy eating plan used to be a lot more complicated before I started juicing. Why? Because as I am sure you already know, it is just so tricky to try to get a variety of fruit and vegetables into your diet every day. I always used to manage to get my morning banana or apple in before I got to work, but then because life is so busy I would forget to have any other fruit during the rest of the day.
Life is hectic and sticking to a fruit plan is just not that straight forward. At least that is what I thought. The truth is that sticking to my healthy eating plan became a lot easier when I started juicing. Having a glass of homemade juice in the morning really helped me to get all of my daily vitamins before I had even left the door.
Not only that, but the extra vitamin C and antioxidants from the fruit I started to juice in the mornings and the natural goodness really gave me an extra spring in my step, keeping me alert, I must say, just as well as a cup of coffee!
There are so many great fruit and vegetable juice combinations and recipes out there that juicing has never felt like a tedious routine, to this day one of the things that help me ping my eyes open in the morning is the thought of gulping down a tall glass of freshly squeezed juice. 
If you are into juicing like me or perhaps are looking into juicing as a healthy eating option for breakfast or as a teatime snack, have a look at the following delicious juice recipes that I simply cannot resist. Try mixing and matching the ingredients in the best masticating juicer.

Masticating Juicers Review of Our Top 9
Looking for the very best masticating juicer on the market today? Then look no further! Instead of scrolling through what seems to be an endless list of juicers and their specifications, have a look at the following list of the 9 best juicers around right now and choose your favorite.
Aobosi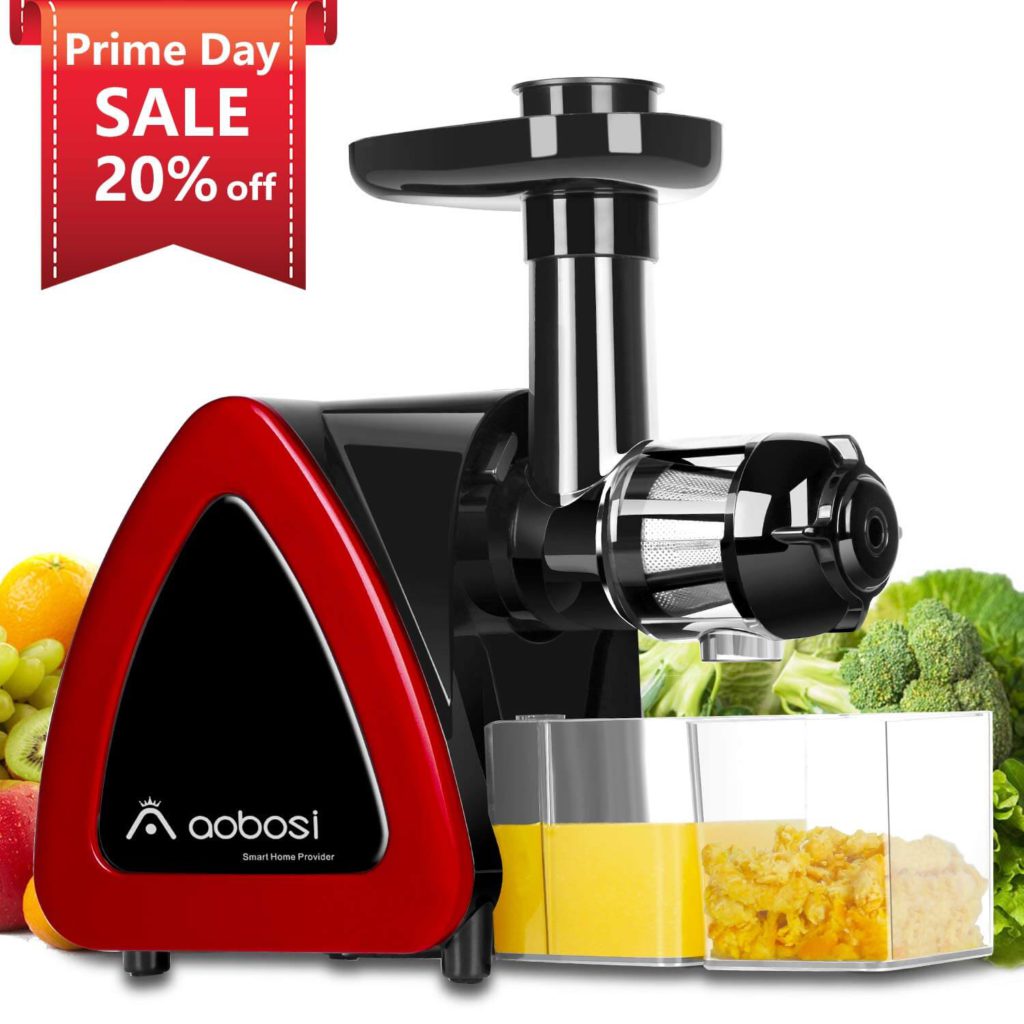 Are you looking to get into a great morning juicing routine but are afraid of waking up the family to the sound of a noisy juicer? We have the perfect solution for you.
Overview
This Aobosi Slow Masticating Juicer Extractor comes with a 150-watt motor that hums away quietly at a volume of about 60 decibels. Now you can happily juice away without worrying about disturbing anyone!
Features
It comes in two attractive colors so that you can choose the model that will best suit your kitchen, racing red or a classic brushed stainless steel.
The reverse function helps to unblock food should it get jammed in the chute.
Pros
Easy to operate
Doesn't make muc noice
Pulp is seperated out easily without making a mess
Cons
It is not as sturdy as some other juicers but if you use it with proper care and maintainace it should last you long.
Omega NC900HDC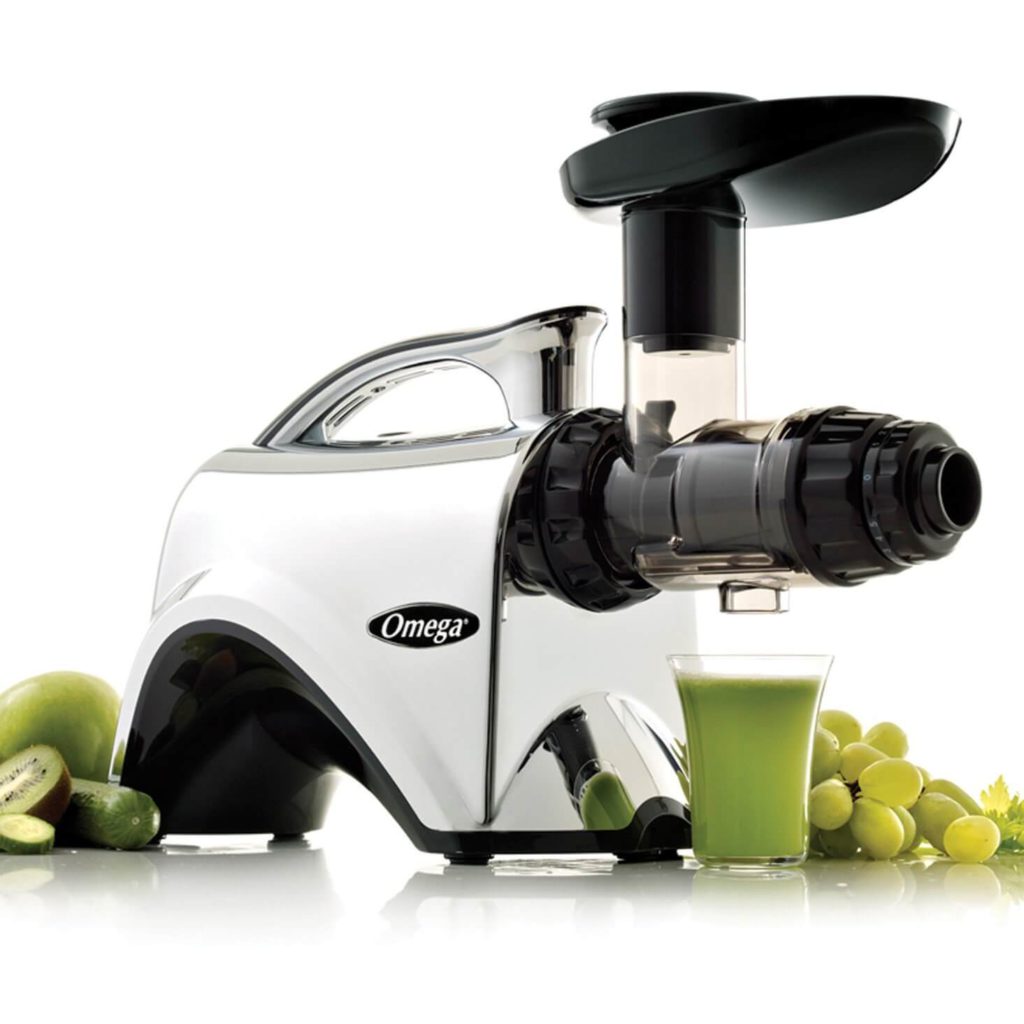 If you are looking for the best masticating juicer 2020 then stop right here as this Juice Extractor NC900HDC by Omega may just be your make and model.
Overview
This Omega juicer is perfect for your kitchen counter if you love to make green fresh juice daily. Not only it is easy to operate but it makes super green juice every time.
Features
This juicer have 5 adjustable pressure settings
This juicer make fantastic juice, but it can also be used to make frozen desserts, baby food, grind coffee, turn nuts into butter, mince herbs, garlic and much more!
It comes with a staggering 15-year warranty, meaning that you can really purchase with confidence.
It works with a quiet motor, making for a peaceful kitchen environment.
Pros
It is pretty simple and straight forward to use
The machine is super powerful and makes smooth fruit or vegetable juice
Cons
Tends to make a bit noice while operating but it is not much of a big deal.
AMZCHEF Juicer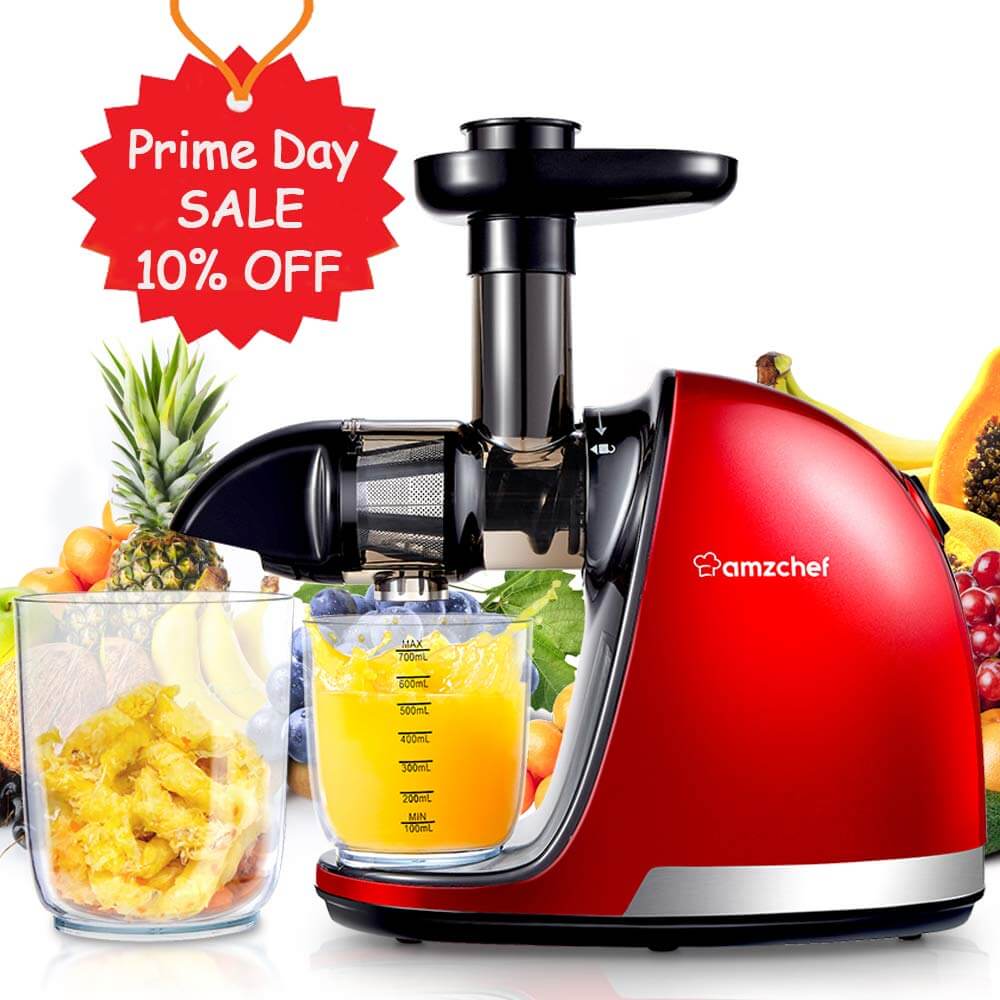 Do you have a family with small children? I'm sure that when purchasing kitchen appliances you think of your children and the effect the appliances will have on your family.
Overview
This juicer has been built with a great safety feature, a small chute, that is not big enough for tiny hands to get down, making this a safer appliance for families with small and inquisitive children.
Features
This Slow Masticating Juicer by AMZCHEF has a reverse button which will help you to retrieve any food that may get stuck in the chute.
Compact and doesn't take up much space on the kitchen counter
Pros
Easy to clean
The pulp seperates nicely into a seperate jar without creating any extra mess
Makes minimum noice
Cons
The body of the motor tends to scratch easily and is not much sturdy.
Omega J8006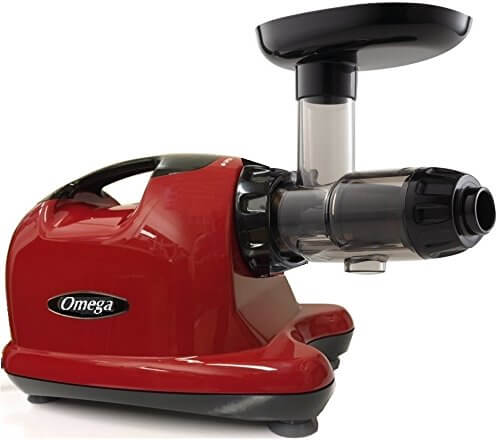 Looking for a way to really boost your vitamin C? Then this Omega masticating juicer may be the solution.
Overview
This is a powerful juicer that can grind the juice out of vegetables in just a few seconds.
Features
This juicer comes with a pulp ejecting system, that will release the pulp that is building up in the machine while in operation, that will stop you from having to constantly open the lid and clean it as you will be able to simply pop your fruit and vegetables in the chute and then go about your business.
The 150-watt motor is powerful and will grind your fruits and vegetables in next to no time. 
It comes in a very attractive red that will look the part in both modern and more traditional style kitchens.
Pros
It has a super pulp seperating feature
Very easy to clean up after every use.
Powerful motor and can easily juice fiborous vegetables
Cons
It does tend to make noice which might be an issue for some users
Omega VRT350
The Omega VRT350 is the perfect option for you if you are looking for a powerful juicer machine that doesn't take up too much space on the kitchen countertop.
Overview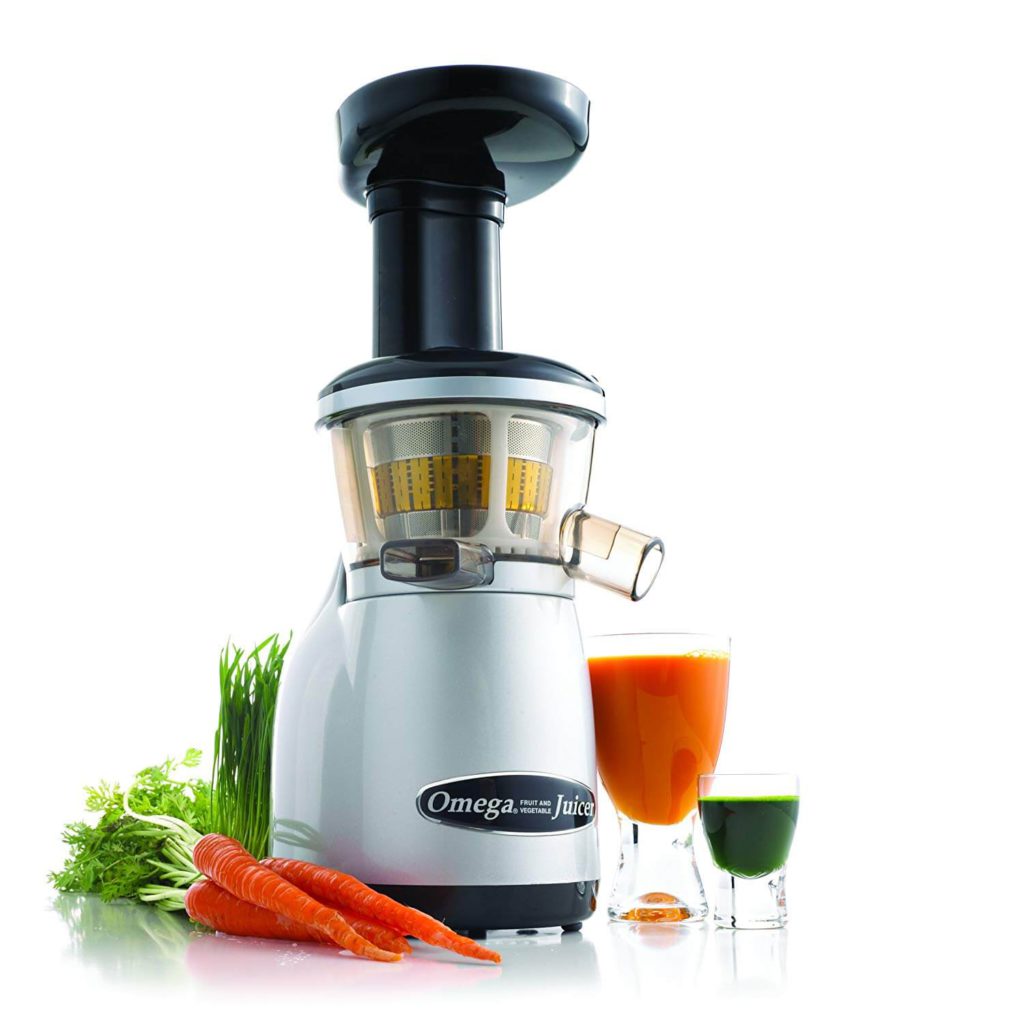 A horizontal juicer will take up more space on your kitchen countertop, so if you are looking to declutter or create more space on your kitchen work surface you will need the very best vertical masticating juicer and this may just be your model.
Features
The vertical design on this juicer is compact, giving you more space in your kitchen cupboards or on your kitchen countertop.
The juicer has fine and coarse juicing screens that help to remove unnecessary pulp and bits from your juice, leaving you with a thinner, lump-free drink, ready to grab and enjoy on your way out of the door for work.
Pros
Compact and doesn't take up much space
Catches all the unnecessary pulp in its built in container and doesn't make a mess while doing so
Makes smooth juice every time
Cons
Cleaning it is a bit if a difficult task
Does make a bit of a noice while operating
Jocuu Slow Masticating Juicer
Making juice can be a touch job every morning especially if you have to cut the vegetables into small chunks prior to adding it to the juicer machine. If you are looking for ways to save that time then this Jocuu juicer if just for you as you can add on bigger fruit piecer into this machine and yet get the perfect juice everytime.
Overview
This is a fantastic commercial heavy-duty juicer by Jocuu Juicer as not only does it produce great juice, but it can also be used to make fruit sauces, baby foods, nut butter, ice cream, sherberts, fruit smoothies and more! The possibilities are really endless with this masticating juicer.
Features
It has a large feeding chute, that reduces the need for you to cut your fruit and vegetables into smaller pieces, making this the perfect appliance for those with a fast-paced life.
Although this is a heavy duty appliance, it weighs only a mere 20 pounds, meaning it is light enough to be transported around the kitchen as and when necessary.
Pros
Easy to use
Doesn't make much noice
Compact in size and fits the kitchen top
Doesn't slip off of the kitchentop surface
Cons
Cleaning it is a difficult task as it takes a long time to brush the fruit and vegetable fibres out of the strainer
Breville JE98XL
Now here is a super speedy machine by Breville and if you often find yourself running out of time in the morning then this is definitely the juicer for you.
Overview
The extra-wide 3-inch feeder of this Breville juicer chute allows you to make a cup of juice in just five seconds. Talk about record speed.
Features
This masticating juicer contributes to an easy clean up as it has dishwashable parts, making scrubbing away a thing of the past.
It has an overload protection mechanism that will stop the machine mid-cycle, making it safer for you to use.
Pros
Doesn't have to chop the ingredients before adding it to this juicer
Very quick and has a powerful motor
Sturdy and durable
Cons
Makes noice while making juice but it is bearable
SKG Slow Masticating Juicer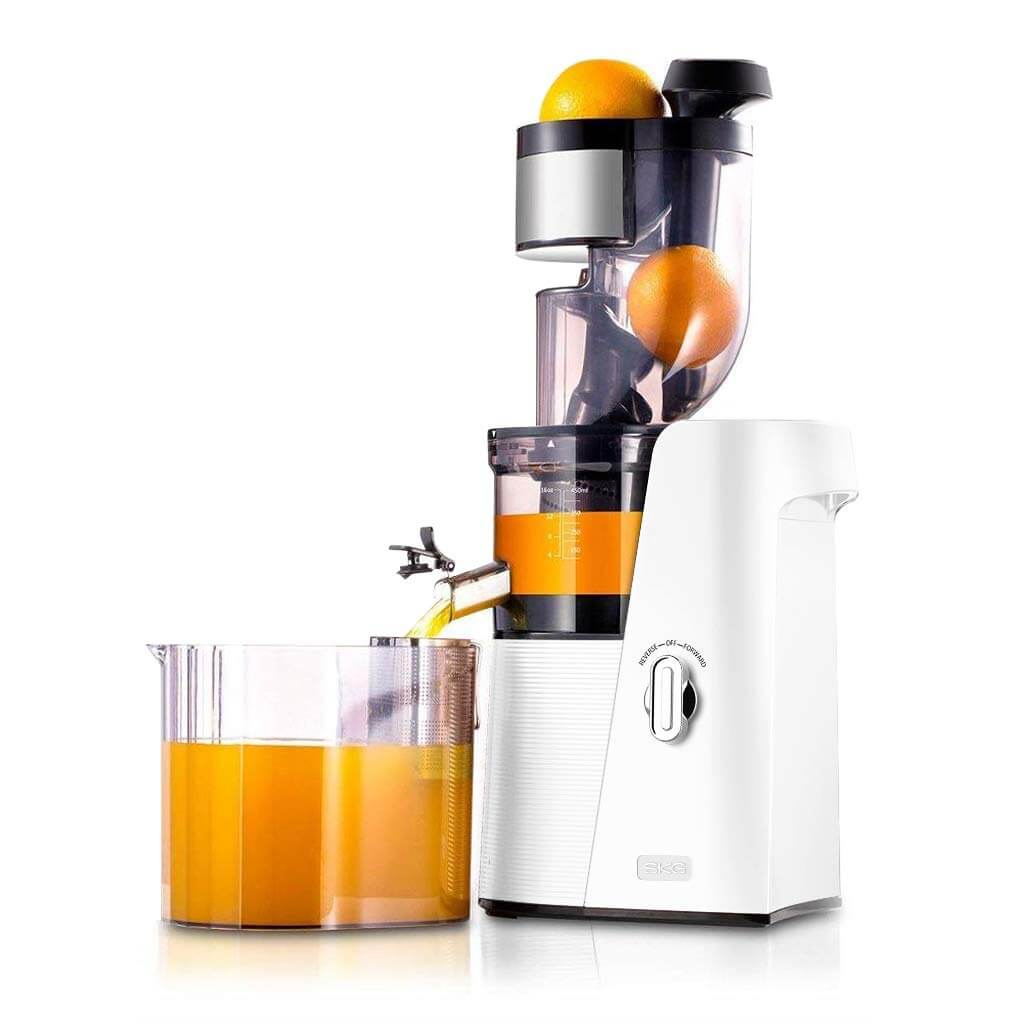 Are you looking for a way to get out of the kitchen faster in the morning? Well, let this Slow Masticating Juicer Cold Press by SKG help you out as it has a super wide fruit and vegetable chute which is large enough for one whole orange.
Overview
This SKG masticating juicer will save you time from slicing and dicing as you will be able to pop most fruits and vegetable whole into the juicer.
Features
The forward and reverse buttons on this juicer make it easier to clean and facilitates the removal of food that has got stuck in the chute.
Included in the box comes a handy cleaning brush that makes keeping this juicing appliance clean a walk in the park.
Pros
Super easy to clean up
Doesn't have to hand push the fruits and vegetables
Includes a container to catch the pulp inside
Cons
It is a bit slow in process
Makes a bit of a noice while it's operating
Masticating Juice Recipes.
Pine-apple
Mix pineapple chunks, half a green apple, half a cucumber and a handful of kale or baby spinach to make this green wonder.
Crimson sunrise
Add one beetroot, one carrot, and a red apple to a masticating juicer to make this colorful and sweet morning juice.
Ginger knockout
Blend a thick wedge of ginger, two parsnips, a spoon of honey and ripe cored pears to make this juice that will really boost your energy levels on the next dreary Monday morning.
Everyone is busy in the mornings, so perhaps squeezing oranges and deseeding cherries is something that you simply don't have time for before jetting out of the door for work, but don't worry as that is not necessary. Juicing doesn't have to be hard work thanks to the wonders of masticating juicers.

What is a masticating juicer you ask? It is a juicer that grinds the fruit and vegetables fed into the pipe, juicing them into a thin liquid. 

So what is the difference between a regular centrifugal juicer and a masticating juicer? Well, a centrifugal juicer has one blade that works at high-speed slicing food, they work very similarly to your standard blender whereas a masticating juicer will grind the fruits and vegetables, squeezing out all of the goodness, leaving behind a tasteless pulp that can simply be discarded. A centrifugal juicer, however, will mix everything together, pulp and all, making juices a lot thicker, with all the pitch included. 

I think masticating juicers are really the way forward as the juice produced contains all of the goodness you need it to, without being overly thick and chunky.
The best masticating juicer will also make for a fantastically quick breakfast drink solution as you don't need to stand over a handheld citrus squeezer rotating the life out of an orange until your wrist falls off, simply chop or peel the required fruit, feed it into the tube and Bob's your uncle. 
Features to Consider
Looking to start your day in the healthiest way possible? There is no easier method for juicing than with a masticating juicer. Have you been monitoring information on the internet and reading through pages and pages of masticating juicers reviews and feel like you are ready to purchase?
Well, before you hit "pay and confirm" there are a few things you should know about the different models of masticating juicers out there to make sure that you purchase one that really fits the bill.
Pick a style
Masticating juicers come in two main styles, horizontal and vertical. Horizontal masticating juicers are wider and may take up more kitchen countertop space than a vertical juicer, so it may not be the best model for families that are trying to save space in the kitchen.
Vertical masticating juicers are taller than horizontal ones, true they save more space but be sure to take note of its dimensions to ensure it will fit between the units on your kitchen work surface.
Shoot!
Masticating juicer chutes come in various sizes but I must say, the larger the better. If you choose a juicer with a narrower chute, it simply means that you will have to cut your fruit and vegetables into smaller chunks in order for them to pass through the chute, which means more prep time chopping in the mornings.
Extra extra, read all about it.
It's the bonus features on a masticating juicer that will really make it special and some come with extras that I think are really useful and are worth considering when purchasing. Some of them are:
Pulp ejection
Some masticating juicers come with a pulp ejection system that will remove the pulp as it is working away. That means that you won't have to be constantly lifting the lid to fish it out mid-cycle. Simply let the juicer do all of the hard work for you.
Self-cleaning
Newer models also have a self-cleaning program which allows you to fill the juicer with warm soapy water and it will clean itself, all you have to do is continue adding water until it runs clean. Easy peasy.
So there you have a few features that should be considered when purchasing a new masticating juicer, make sure the model you are looking at contains some of these features that will really make your juicing life easier. Not sure which make or model to choose? Not to worry as I will go on to mention the very best masticating juicers on the market right now, so please continue reading…
Top Tips For Green Juicing
Looking to go green when juicing? Maybe you already have your own masticating juicer at home and are looking for some new recipes and ideas to make your juice a little more exciting, or perhaps you are looking to purchase a brand new juicer but want to be sure you can get some tasty green recipes under your belt before committing.
Whatever the reason, here are some of the very best top tips for green juicing that will bring life back to your glass and put an extra spring in your step.

Zingy, zangy, tangy.
One of the best ways to bring your green juice to life is by adding a little citrus or ginger. Try adding a quarter lemon, lime or a thick wedge of ginger to your juice that will really give it that necessary kick.
Adding a little citrus is also a great way of keeping your juice from turning a funny color if you are not planning to drink it all straight away.
Fruitilicous!
Just because you are making a green juice, doesn't mean it can't contain some fruits. Try adding the juice of a green apple or pear to give it a special sweet touch. I found this worked especially well with my kids when trying to get them to include more fruit and vegetables into their diets.
Add water.
Do you find that all of your juicing doesn't seem to yield much? Then try adding some vegetables that contain higher water content, such as cucumbers, celery, iceberg lettuce and green peppers that will have your juicer masticating away producing a higher volume of juice.
FAQ
How do you clean a masticating juicer?
Unplug your masticating juicer from the outlet. Removing the Pulp, clean the interior and rinse the pieces properly. Once clean, dry and reassemble.
Is a slow masticating juicer better?
That's not really a significant issue if you are drinking your juice when you make it, but slow juicers do give a longer shelf life.
Conclusion
These are so many different makes and models of masticating juicers on the market and looking through all of the information about them can be a bit of a headache.
Why not simply make a note of the specifications listed above that you feel are essential for your juicer and then choose a juicer from the list that can do everything you require and you will be on your way to a healthier breakfast routine in no time.
Happy juicing!