Getting more fruit and vegetables into your diet can seem like a tricky quest if you are not a massive fruit fan.
They say we are supposed to consume at least 5 portions of fruit and vegetables a day in order to maintain a well balanced diet, and while that may seem great on paper, putting it into practice can be a lot harder.
One of the easiest ways I found to get more fruits and vegetables into my healthy eating plan was to use an Omega nc900hdc cold press juicer – a top of the range masticating juicer that will help you to whizz together the tastiest juices in a matter of seconds. 
Once I started juicing and experimenting with various fruit combinations I found that the attractive colors and the different flavors were able to lull my little ones into having a glass of fresh juice in the morning before school, helping to pack them full of the vitamins they need to combat the germy school environment, giving them all of the fruit and vegetable goodness they need.
Are you ready to get your five a day in order and are looking to purchase an Omega NC900HDC masticating juicer? They stay tuned as this article will give you all the information you need.
Omega NC900HDC Juicer Extractor and Nutrition Center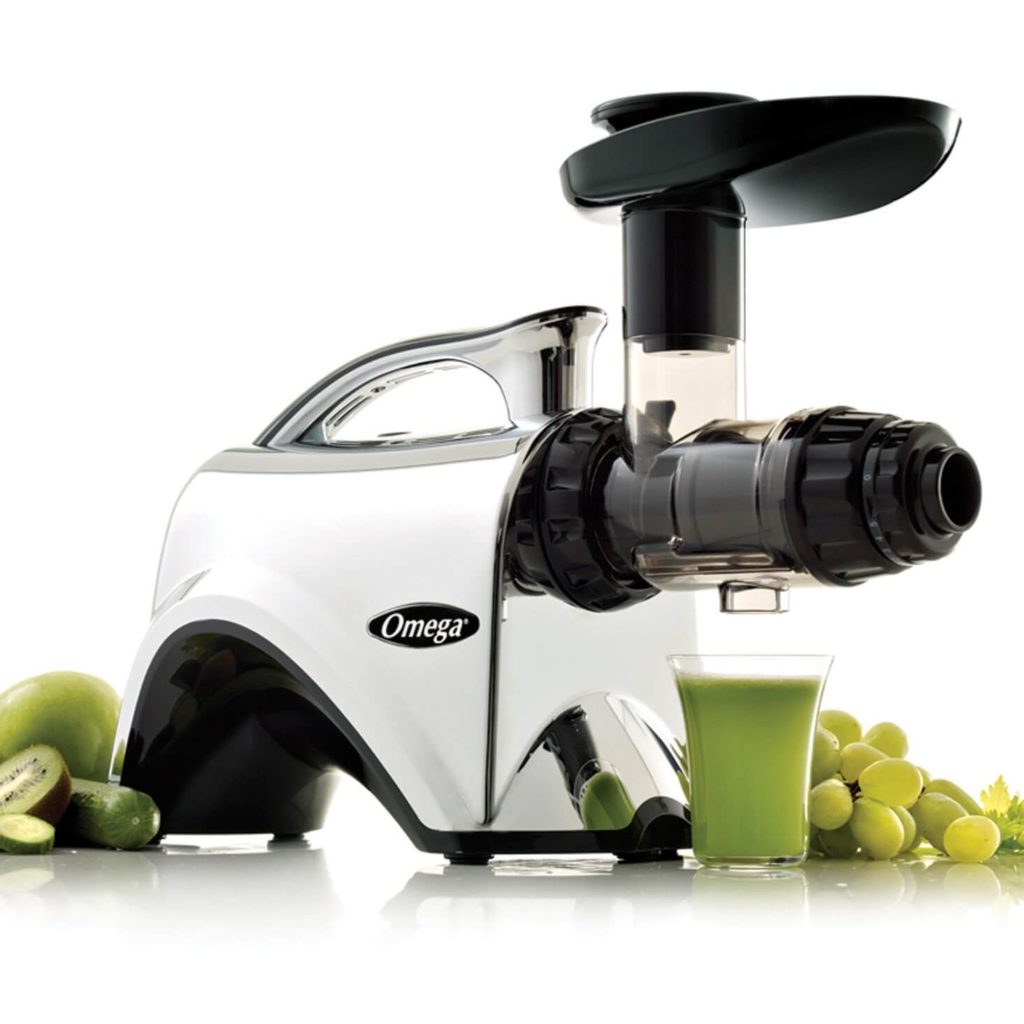 Are you ready to get savvy on everything you need to know about the best masticating juicer extractor and nutrition center on the market right now?
Then cast your eyes over the superb specifications listed below for this Omega NC900HDC juicer that is storming the market.
Overview
The Omega NC900HDC is a multitasking machine that truly brings everything to life. You will surely be impressed by the model as it does not only make the best juice out there, but it can also make nut butter, extrude pasta, grind coffee beans, and even make baby food, what's not to love? Aside from that, it features an automatic pulp ejection, and nothing will slow you down when using this juicer as it has an automatic pulp ejection feature that will remove the pulp as you juice so that the juicing time can go on and on.
Due to the implemented automatic pulp ejection, the juicer is a lot easier to clean as all of the pulp is removed to one place. All you have to do is demount the large, non-electrical parts and hand wash to clean.
Features
15-year coverage on parts and performance
Dual-stage masticating extraction
Nutrition system that extrudes pasta, grinds coffee beans, and does much more
Quiet but powerful motor
Pros
Looks great
Easy to Clean
Does many things
Adjustable end cap with 5 settings
Cons
Can be expensive
Takes up a lot of room
Omega Masticating Juicer Top Features 
Are you ready to get your hands on a brand new masticating omega nc900hdc?
Take a look at the following list of fantastic top features that I am sure will nothing but impress you and convince you to add a masticating juicer to your shopping basket right away!
5 Adjustable Settings
The speed required to juice your fruit and vegetables will vary according to the density and nature of the food.
That is why this masticating blender by Omega nc900hdc comes with 5 speed settings that assist you with juicing soft fruits like mangoes, berries, and plums to juicing tougher food such as wheatgrass or kale.
Large Feed Chute
This omega nc900hdc masticating blender comes with a large feed chute that is perfecting for slipping in large cuts of fruits and vegetables.
The large chute will save you time cutting fruits and vegetables into small pieces only to feed them into the appliance to be juiced.
Reverse Functionality
Some of the older juicer models require the user to dismantle their juicer should food become stuck inside the appliance.
However, with an Omega nc900hdc juicer, you will be able to press the handy "reverse" function that will unclog the fruit or vegetables in the chute.
Conclusion
Are you looking for a way to get a good dose of fruits and vegetables into your families' diets each day? Then try using an Omega NC900HDC juicer as a great solution to your healthy eating queries. 
One of the best ways to use an Omega nc900hdc juicer is to whip up your families' favorite juice combination in the morning so that they can have a healthy cup of juice that will take them right through to lunchtime.
A masticating juicer is also great to use at snack time to make a healthy juice snack for the kids to sip on when they get home from school. 
The great thing about using this omega nc900hdc masticating juicer is that depending on the fruits and vegetables you choose, the flavor combinations are endless!
Take a look on the internet to find some fruit and vegetable combinations that you know your family will love and play about with the colors, adding berries to make bright and bold colored juices that will appeal even to the smallest members of the family. 
Make sure you consider a masticating Omega nc900hdc juicer as your next best juicing option and say hello to an easier way to achieving a healthier family life. Add one to your basket, today!