Kuvings Whole Slow Juicer B6000S - Silver
Greenstar GSE-5000 Cold Press Complete Masticating Slow...
Omega Juicer NC900HDC Juice Extractor and Nutrition System...
Omega J8006 Nutrition Center Quiet Dual-Stage Slow Speed...
Our #1 Choice
Champion Juicer G5-PG710 - Commercial Heavy Duty Juicer,...





Omega J8006 Nutrition Center Quiet Dual-Stage Slow Speed...

Our #1 Choice
Champion Juicer G5-PG710 - Commercial Heavy Duty Juicer,...

Making the swap over to healthier eating choices is anything but easy. Fast food is lurking around every corner, with greasy menu displays bombarding billboards and advertisements on the television. 

Now, there's nothing wrong with a fast-food treat every so often, don't get me wrong, but as I am sure you will agree, it is far to easy for every so often to turn into very often indeed and without the proper planning and a real food schedule, it can seem impossible to break the mold.

Sticking to my go green diet only became easier when I purchased my very first juicer. Why? Because juicing became such an easy way for me to make sure I was getting more greens into my system on a daily basis. Not only did it become quick for me to get my 5 a day, but it also became a lot tastier, as I discovered a whole load of leafy green juicing recipes that were surprisingly delicious. 

Once I had tackled my own poor eating habits and got into a great healthy juicing routine, I was soon keen to start with my children. Sure, there weren't eating as poorly as I was, but I didn't want them to slip into any of my old bad habits and I thought, what better way for them to start their day than with a vitamin crammed glass of leafy green goodness. After a few weeks drinking leafy greens as part of a balanced breakfast, I really started to notice the difference. I began to feel a lot more alert in the mornings and I was fuller for longer, which is always a plus. So I was determined to get my kids feeling the same way.

But as I am sure you can imagine, it is not at all easy getting leafy greens into teenage children, especially when they are used to such a different style breakfast, so granted, I had to start things off slowly. I made a note of the leafy greens that my kids really liked and then started looking for great juicing recipes that contained these vegetables that they would enjoy  I would then top off my juice with a few extra special ingredients that made sure the mix went down a treat. The result of my research and recipe mixing are listed in the following leafy green juice recipes that I definitely think you should give a whirl. If you are struggling to get healthier juice into your children's diet, then I am convinced these recipes won't let you down.
Top 5 Reviews of Best Juicer For Leafy Greens
Are you looking for the very best leafy green juicer on the market? There are so many juicers out there being advertised that it can feel a little overwhelming and daunting to make a decision about which to purchase. But don't worry as I have done all of the hard work for you. The following is a list of 5 of the very best leafy green juicers available right now, so check the specifications and choose your winner!
Kuvings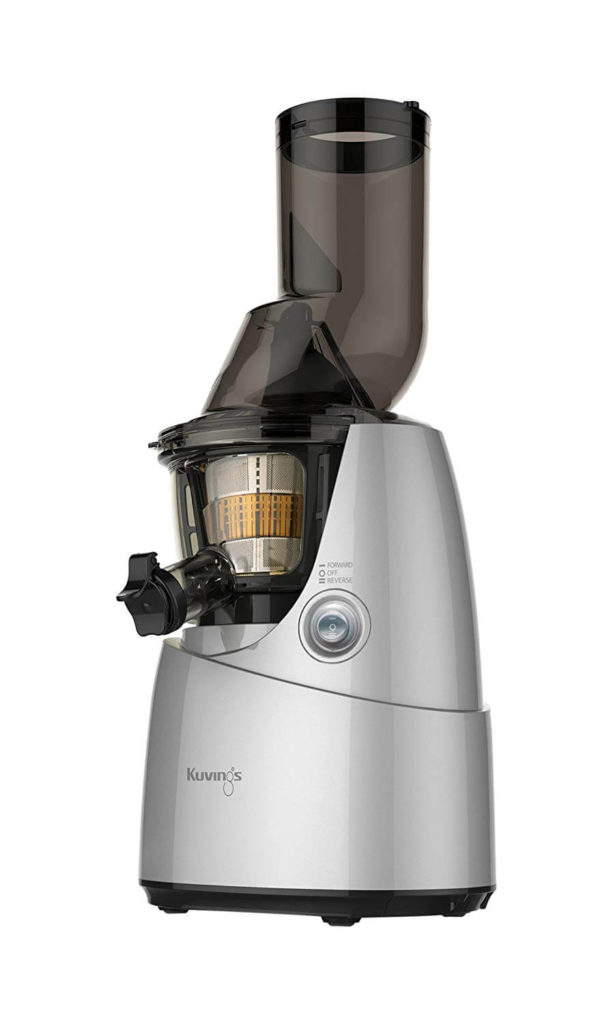 This juicer by Kuvings comes in 3 fantastic colors: red, silver and white so that you can choose the model that will best match your kitchen.
Features
Fed up of chopping? This juicer has a 3-inch wide chute so that you can pop most of your fruit and veg in whole.
Save time cleaning with this model as it comes with a drip-free smart cap.
The black strainer included enables you to make fruit sorbets and extra settings allow you to make nut milk and frozen fruit desserts.
The vertical design on the appliance helps to save on countertop space.
Tribest GSE-5000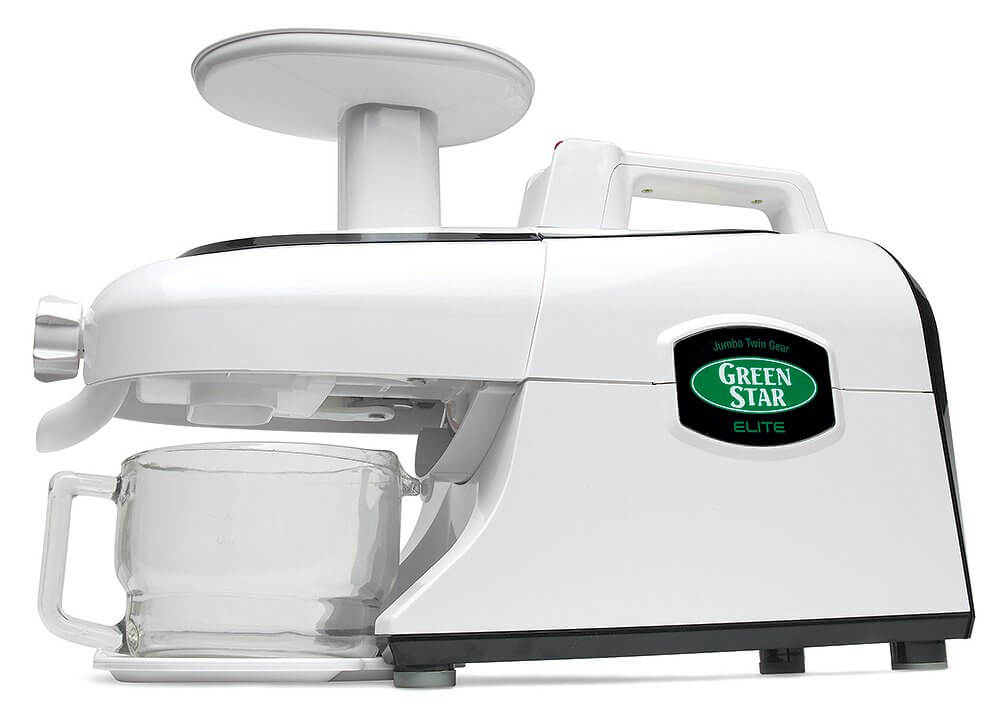 This juicer with jumbo twin gears by Tribest will get the job done, fast.
Features
Save time cleaning the appliance as it comes in fewer parts than most juicers, making it easier to wipe down. Not only that but a scraper tool and a cleaning brush come in the box to facilitate cleaning.
It is ideal for juicing but also perfect at making nut butter, salsas, and frozen desserts
The generous 12-year warranty will help you to keep your mind at ease when purchasing.
Omega NC900HDC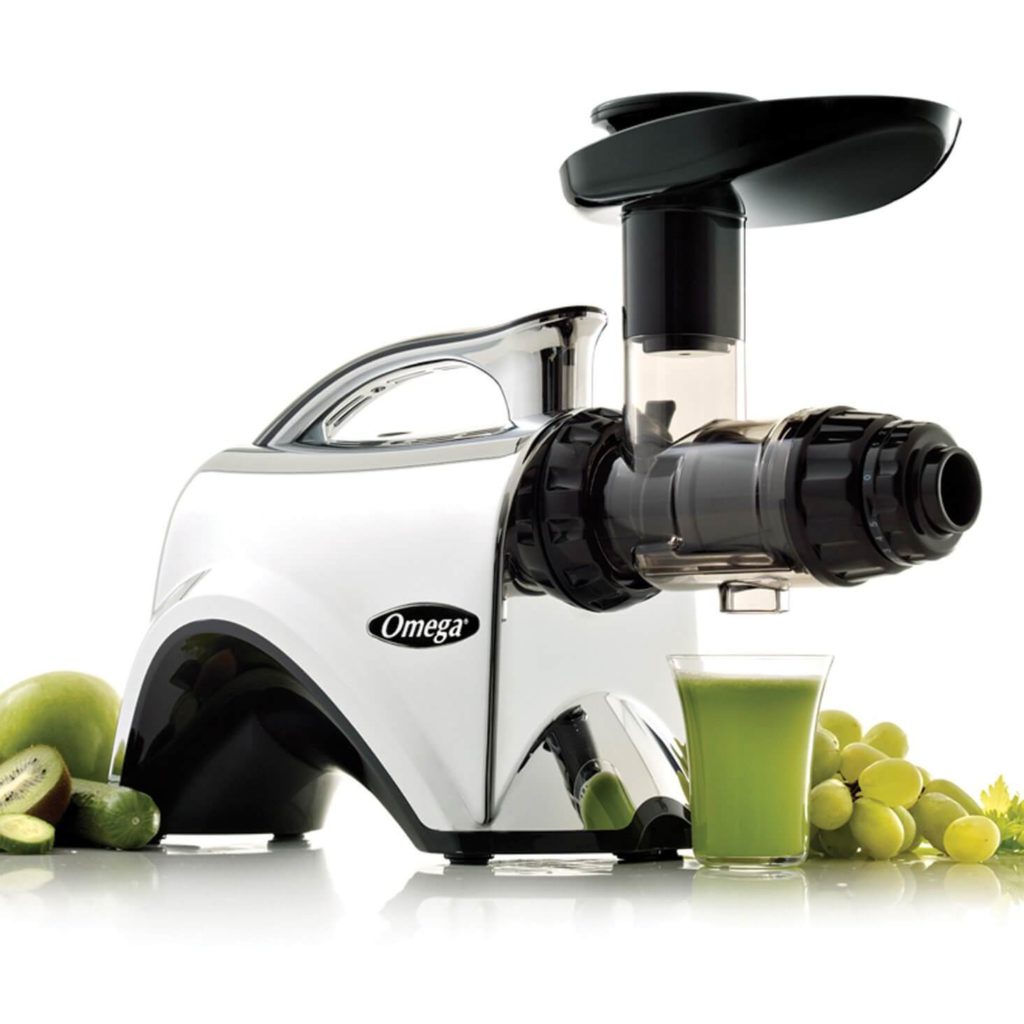 Ready to be in control? This juice extractor by Omega comes with 5 adjustable pressure settings, allowing you to get the maximum juice out of your fruits and vegetables.
Features
It comes with an automatic pulp extractor, that will extract pulp when the juicer is in operation so that you don't have to keep stopping your juicing to fish it out manually.
It has a quiet but powerful motor so that you won't have to be afraid of disturbing others when using it.
It can also be used to make nut butter, extrude pasta, grind coffee, frozen desserts and even make soya milk.
Omega J8006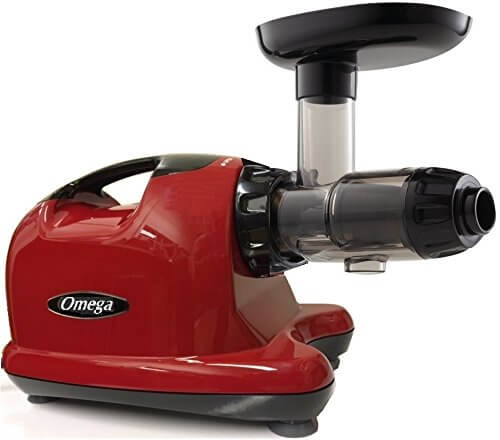 This J8006 masticating juicer by Omega comes in an eye catching red that will match both modern and more traditional style kitchens.
Features
It can easily be transported to any location in the kitchen for use as it weighs a mere 17.7 pounds, making it easy to carry.
It makes continuous fresh juice at the incredible speed of 80 revolutions per minute without foaming or allowing a heat build-up.
You can continue juicing stress free as it has a pulp extraction feature, that removes the pulp while it operates, meaning that you don't have to.
Jocuu Slow Masticating Juicer Extractor
Here is a really sturdy juicer by Jocuu. The stainless steel strainer that helps this juicer put up with longer wear and heavy use without affecting the quality of the appliance.
Features
This juicer comes with all the accessories you will need to make the very best juice as you will find a sieve, a funnel and a bowl in the box.
The pulp extractor ensures that there is no intermittent cleaning required with this model.
Family friendly leafy green juices
Coco-green Dream
Grab a handful of baby spinach, coconut milk, a cup of blueberries, half an avocado, ripe pears and give it all a juice.Your kids will love this light and sweet green drink.
Undercover Berry Greens
If your little one isn't too much of a fan of the green color in juice, then consider that problem solved! Try mixing coconut water, spinach and then a generous handful of raspberries and blackberries together.
Nuts for Greens
Juice together creamy almond milk and bok choy with a handful of ripe peaches, pineapple chunks and pear and top with grated honey glazed nuts. 
The trick I found to get my kids into leafy juices was definitely to start little by little. I began using only a handful of milder leafy greens such as baby spinach so that the juice wouldn't have a strong leafy taste. I also tried mixing the greens with sweeter ingredients such as coconut and almond milk and topping the juice off with a drizzle of honey. Adding their favorite fruits to the mix and using fruits with strong colors such as berries, really helped to increase my juices' popularity at home.

The result? We are all eating healthier and the kids and I have felt we have so much more energy for tackling the day when we start it off by making the right food choices. 

But as I am sure you will agree, even the best juicing recipe will not suffice if your juicer is not quite up to scratch. Is your juicer looking a little worse for wear? Or perhaps you are interested in purchasing your very first juicer and want to make sure you buy the best. Whatever the case, this article will go on to give a few more leafy green juicing tips for you and the family and I will also conclude with 5 of the very best juicers for greens on the market right now. Check it out…
Which Greens Are Best For Juicing?
If you already have some experience with green juicing I am sure you have seen that some greens are better for juicing than others. There is nothing worse than spilling out the entire contents of your fridge's vegetable drawer into your juicer, only to get a really piddly and rather unsatisfying amount of juice as your yield. That is why it is good to know which greens are best for juicing. 

So without further ado, here is a list of vegetables you will have the most success with when juiced using the best masticating juicer for leafy greens. 
Cucumber, celery, and lettuce – have a very high water content (especially cucumber which is 95% water) and are not overpowering in flavor, so if you are looking for a vegetable to bump up your juice without adding plain old water, then these will be your best options.
Spinach, fennel, and dandelion – are full of vitamins and have a lot of therapeutic properties that help to ease digestion.
Kale and parsley – are both rich in vitamins A, K, and C, giving you the perfect vitamin boost you will need to get through a tough morning at the office.
Greens Tips & How To Juice Leafy Greens
Have you got a juicer sat a home that you would love to put into good use? Or perhaps you are looking to purchase a swanky new juicer but are not sure how you would use it. Don't let doubt get in the way of enjoying some fantastic leafy green goodness. 

In order to help you get the most out of your juicer, the following handy green tips and tricks on how to juice leafy greens has been provided. Take a look…

Hold on to your stems! A lot of people throw the stems out of their vegetable mix when juicing because they are tough, but a good juicer will have no problem extracting the nutritional value from any stem. Stems are packed full of goodness and should definitely be kept in!
Don't be bitter about it! Leafy greens are packed full of goodies, and the idea of drinking a glass full of nutrients is exciting. But it is important to remember that they are bitter when juiced on their own, try adding sweeter fruits and vegetables to the mix such as apples, pears, and carrots to begin with to mask the bitter taste.
Invest in a good juicer. A good juicer will extract the very best out of your fruit and vegetables and will bring the best results. 
Conclusion
Herbs and leafy greens are so good for our health and juicing them is really a fantastic way to take advantage of their nutritional benefits. So, make sure you purchase the best juicer for greens with all of the specifications that you require that will help you to make the very best juice for you and your family.