A top of the range Breville Smoothie Blender is the perfect solution to making a great breakfast. Why? Because you can create so many fantastic and tasty recipes using one. 
Breville Blender BBL620 Blender
Perhaps you are used to using a blender for your everyday milkshake and smoothie tasks, a couple of bananas, half a glass of milk, a mixture of your favorite berries or maybe a few slices of mango and you're good to go!
But a Breville blender goes so much further than your average smoothie and milkshake (although it is a pro at whipping those together too!). A Breville blender has a great selection of preset programs that will help you to get the most out of your blender and will aid you at whisking together the tastiest recipes at the click of a button. 
Breville Blender Reviews
If you are looking for a brand new blender for your kitchen, then make sure you check out this Breville blender review before purchasing to make sure you get your hands on some quality machinery that you and your family will love using and that is really easy to operate. 
Waiting for you in this article is a list of Breville personal blender options and then a Breville blender review!
Overview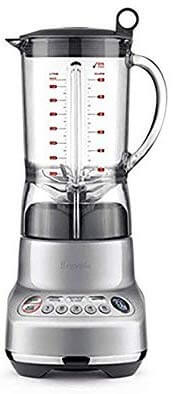 Are you looking for the best Breville blender on the market? Then you will love this Breville BBL620 Fresh & Furious blender that comes with all of the bonus features you need in a great family blender.
Features
This is a powerful blender as it is able to crush ice into snow in a matter of moments and thanks to the 5-speed settings it can do this and also perform many other functions.
The stainless steel blades will chop into even the toughest of ingredients while remaining razor-sharp. 
Do you hate messy cleanups as much as I do? Then you will love the auto-clean feature on this blender that will clean the pitcher and around the blades at the touch of a button – all without you having to do any of the work!
Would you like some inspiration? Then you will love this blender as it comes with 10 handy recipe cards that will help you to get the most out of your blender and use it with a variety of ingredients. 
This blender has preset functions that will help you to make a fantastic smoothie and will also help you to chop, mix, blend, puree, and liquify your favorite food.
Pros
Perfect for everyday use
Easy to clean and dishwasher safe
Easily fits on the kitchen countertop and doesn't occupy much space
Cons
The suction feets of the machine doesn't tend to work much and doesn't have a good grip of the surface.
Breville Personal Blender Options
If you are considering getting hold of a Breville blender yourself then you are probably keen to know the various options a Breville personal blender comes with. Take a look at its features below:
Speed
The Breville BBL620 comes with 5-speed options that will help you to create recipe-perfect meals every time. The speed settings include indicators that will help you to perform the following functions at the mere press of a button including mixing, chopping, blending, pureeing, and liquifying – all of the settings you need to whip together a fabulous smoothie, soup or even a great hummus.
Cleaning
This blender is also really easy to clean as the pitcher is dishwasher safe and can also be cleaned using the auto-clean setting on the blender – simply add detergent to the pitcher and then warm water, tap on the lid and then press the auto clean button. That makes two easy ways for you to get your blender squeaky clean without having to get your hands dirty!
Accurate blending
The pitcher on the blender comes with easy to read volume measurements that will help you to keep an eye on your ingredients and will make following a recipe and sticking to quantities as easy as one, two, three.
FAQ
Can the Breville blend active blend nuts?
Yes, it's tough blades can easily blend nuts, ice, seeds and even frozen fruits and make delicious smoothies as well.
Can Breville blenders go dishwasher?
The blender jug and the lid are completely dishwasher safe
How do I clean my Breville blender bottle?
Fill half of the bottle with warm water, add the detergent and then fit the blade assembly and blend for 10‑20 seconds and you will have a perfectly clean blender body.
Conclusion
Now that you have had a look at this Breville blender review in-depth I am sure you have been thoroughly impressed by it. Why? Because the Breville BBL620 blender is far more than just your average blender thanks to the preset programs that make it easier for you to crush ice, make a green smoothie or a regular smoothie thanks to the intelligent sensors that tell the blender when to stop mixing and the perfectly balanced smoothie timer.
Before purchasing your next family blender, make sure you consider the Breville BBL620 as one of your options as it is simple to use, has an attractive LED display, works with a powerful motor but whizzes away quietly in the background. 
I am sure you will love using a Breville smoothie blender as a quick and easy way of getting more fruits and vegetables into your diet.
Why not whisk together a creamy smoothie for the kids to enjoy as a snack when they come home from school to stop them from picking on sugary things? Or how about stirring together the perfect protein shake as an after workout supplement? There are so many ways it can be used! Make sure you add one to your basket, today!