Whipped cream, cookie dough, cake batter, eggs, salad dressing, the uses of a hand mixer are endless and it is a helpful kitchen appliance. 
Today, we're gonna take a look at the best hand mixers on the market to help you in your decision-making process, let's not waste any time and jump right in. 
Comparison Table
Our #1 choice
Cuisinart HM-90BCS Power Advantage Plus 9-Speed Handheld...
KitchenAid 9-Speed Digital Hand Mixer with Turbo Beater II...
Hamilton Beach 6-Speed Electric Hand Mixer with Whisk,...
BLACK+DECKER 6-Speed Hand Mixer with 5 Attachments & Storage...
BLACK+DECKER Lightweight Hand Mixer, White, MX1500W





Top 8 Hand Mixers In 2020 Reviews
There are several hand mixers in the market but how do you know which one to choose? Don't worry, we have done all the heavy lifting for you. Keep reading to learn about our top 10 favorites. 
Cuisinart
This Cuisinart mixer is very easy to use with just one button to turn it on and off and one speed control with nine different speeds to use. 
Overview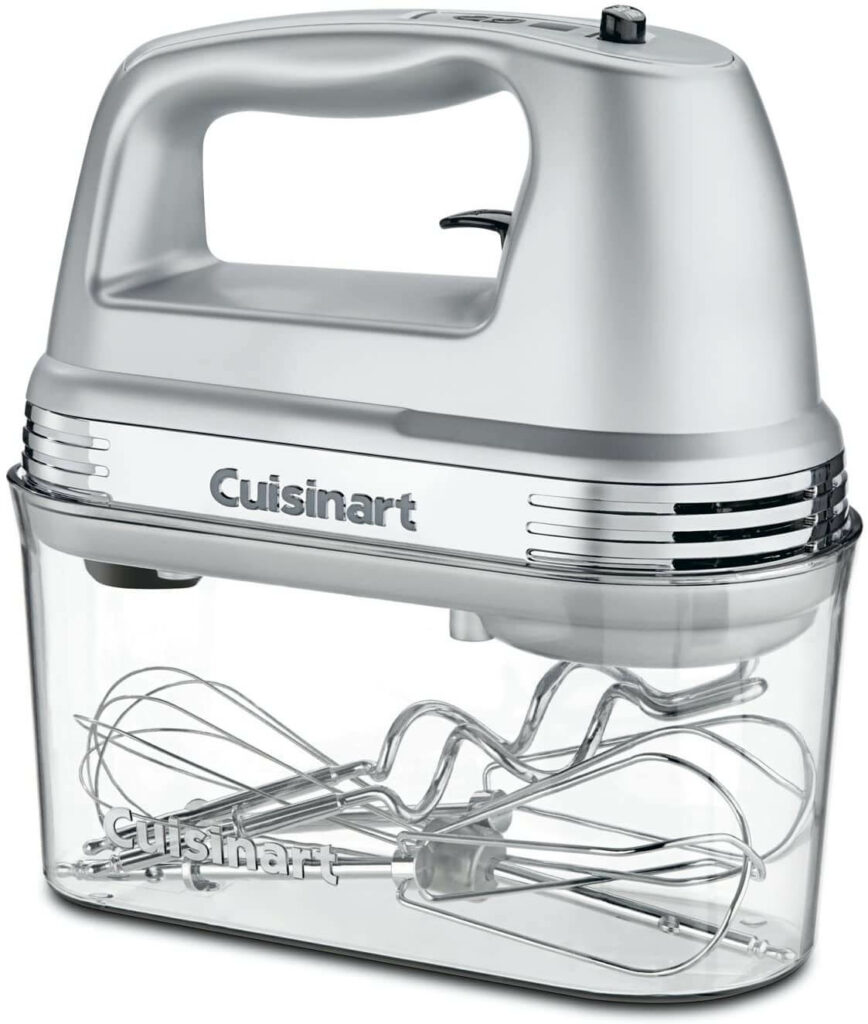 The Cuisinart power advantage handheld mixer is a powerful hand mixer with 220 watt motor. It is also BPA free which is nice to have.
Features
With any hand mixer be sure to start out on low so you don't splatter your ingredients. 
This kit also has different attachments including the beaters, a whisk, dough hooks and a spatula. For your convenience, it also comes with a recipe book along with all the instructions. 
You'll feel good buying this one knowing it has a three-year limited warranty in case anything should go wrong. 
The nice thing about this hand mixer is that it comes with a convenient storage case that. Pops on to the mixer itself. 
Also, because it comes to the different attachments the number of recipes that you can make is also greater, including bread with the dough hooks. 
This is a highly popular hand mixer with almost 4,000 reviews and a 4.6 star average. 
Don't worry this hand mixer is powerful enough to handle all of your favorite cookie recipes that require you to cream cold butter with sugar. 
Pros
Very powerful and lightweight which makes it easy to operate
Easy to use
Easy to store after use and comes with a storage case as well
Cons
The mixer is very loud in comparison to others
Kitchenaid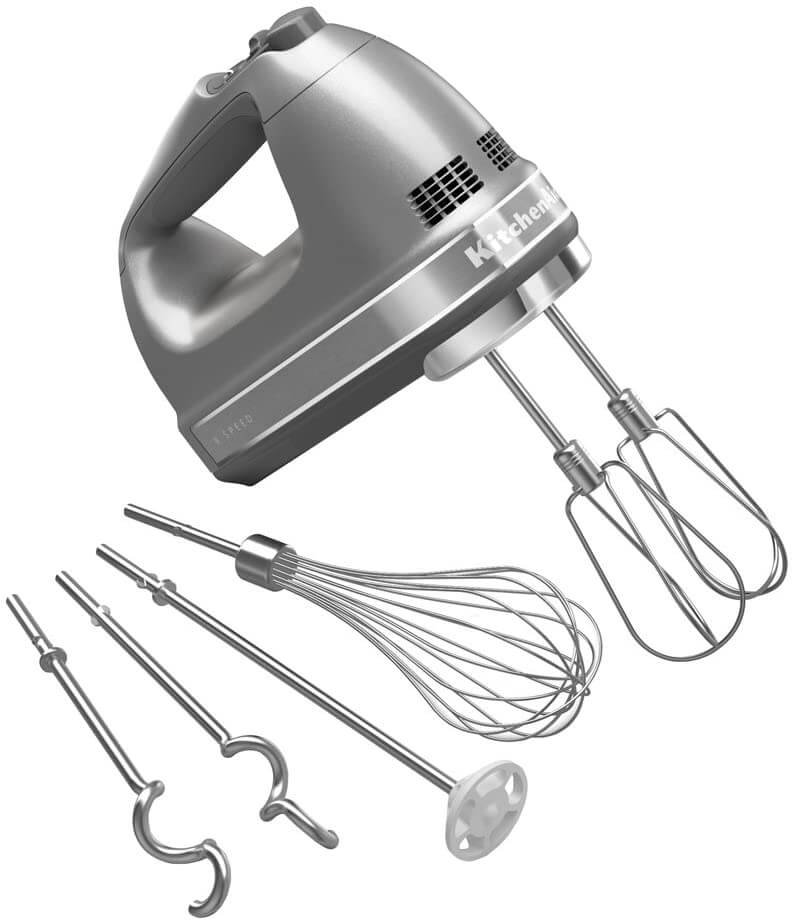 The KitchenAid 9-speed hand mixer is another awesome hand mixer on our list. 
Overview
With nine different speeds, you'll be able to start out slow, preventing any splatters and increasing speed all the way to the top to thoroughly mix your ingredients. 
Features
Or you can leave it parked right in the middle if you are mixing bread or creaming butter and sugar for your favorite cookie recipe. 
One nice feature about this particular hand mixer is that there is a cord lock that lets you lock the cord in a fixed position so that you don't have to worry about messing with the cord as you're using the hand mixer. 
It also has a soft start feature where you can choose the ending speed that you want but the hand mixer will gradually bring it up to speed. 
In addition to the beaters, the whisk and the dough hooks, this also comes with a blender rod in case you need to mix any sauces up. The blending rod is also great for making milkshakes. 
This is another highly rated product with slightly higher rating of 4.7 and almost 3,000 reviews. 
It comes in white, black, red or silver. So you can match your kitchen style.  
Pros
The power displays digital making it easy to read. 
Very easy to use
Sturdy and well made
Cons
As you can imagine like with any popular products, most of the negative views are just defective products. However, you'll be having a full warranty, one year from the data purchase.
Breville
The beater IQ technology that comes with this hand mixer allows it to automatically detect the recipe that you are creating with whichever attachment you decide to use so that it can adjust its speed accordingly. 
Overview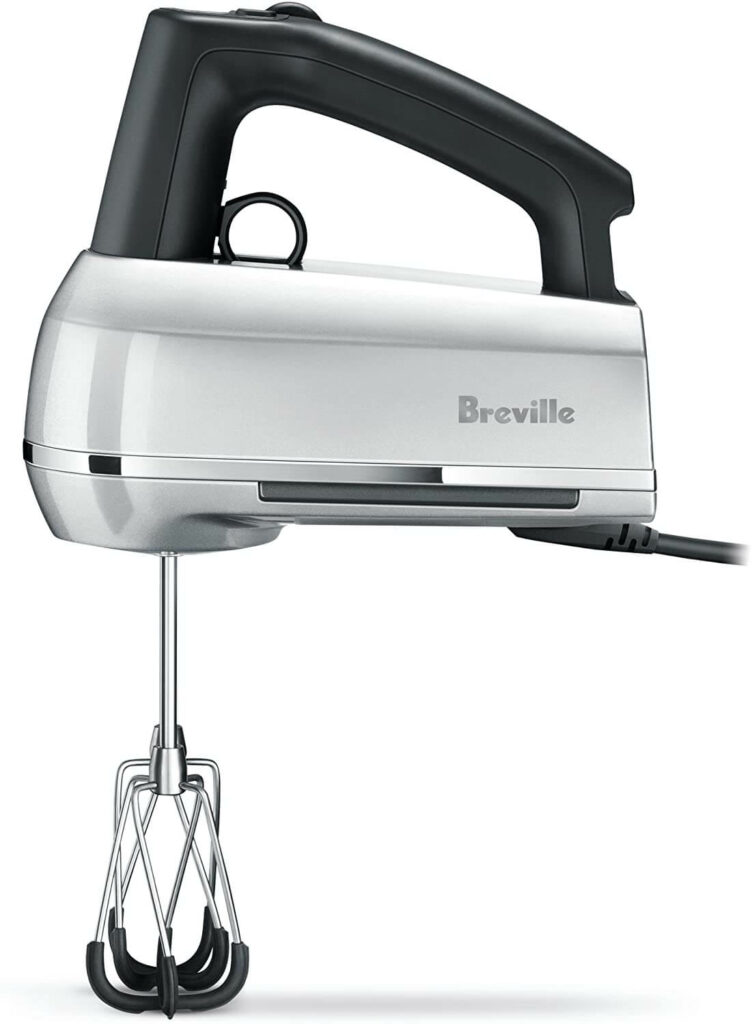 The Breville Handy Mix scraper hand mixer is another top notch hand mixer. Breville is known for mating high quality products. This powerful 240 watt motor will help you mix even the toughest recipes. 
Features
This also has a digital display to easily see which speed setting you are on. 
Like the Cuisinart it also has a detachable storage compartment. However, this one allows you to store the cord inside it as well, whereas the Cuisinart was a little bit too small to get the cord inside. 
Breville designed these beaters thoughtfully by putting a rubber coating on the bottom so that they minimize the noise while you're using them. 
This also helps maximize the contact with the bowl ensuring that your ingredients are thoroughly mixed. 
This also has a one year warranty from the date of purchase just like the KitchenAid. 
This is another highly rated hand mixer with a 4.7 average rating and over 800 reviews, however, some people have complained that the rubber breaks off with use however, you are actually able to get replacement beaters from their website. So this may be something to consider. 
Pros
Not loud at all and doesn't make any noise
Good transition of speed from low to high
Easy to operate and control
Cons
Some people have complained that the rubber breaks off with use however, you are actually able to get replacement beaters from their website. So this may be something to consider. 
Hamilton Beach
For only around 20 bucks, you get a decent hand mixer without all the bells and whistles that does the job. Let's get into the details.
Overview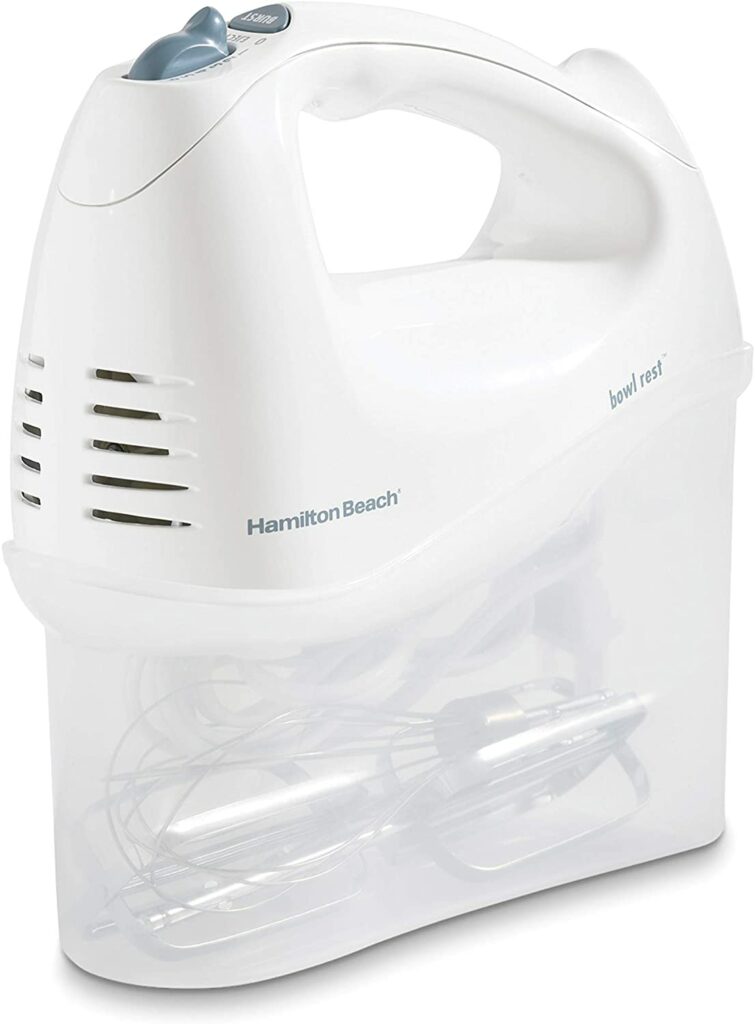 If you are on a budget the Hamilton Beach 6-speed hand mixer may be a great option for you. It even comes with a storage container like the rest of them. 
Features
There's only six speeds. But let's be honest, do you really need nine? 
This also has a bowl rest feature so there's a built-in groove that allows you to rest the mixer on your bowl when it's not in use. 
This set only comes with a whisk in the hand mixer and is missing the dough hooks like the other hand mixers. 
Hamilton Beach is known for a wide variety of quality products. So you know, you're in good hands when you purchase this one. 
It also has almost 11,000 reviews with a 4.5 star rating.  
Pros
Has multiple speed setting
Comes with a storage case
Very easy to remove and install
Cons
The only thing to be careful with here is the low speed, maybe a little faster than you're expecting, so be careful. When you're first starting out with your recipe.
Hamilton Beach 6-Speed
This Hamilton beach mixer is one of the most powerful one that you can find and the best part is that it's a great budget option.
Overview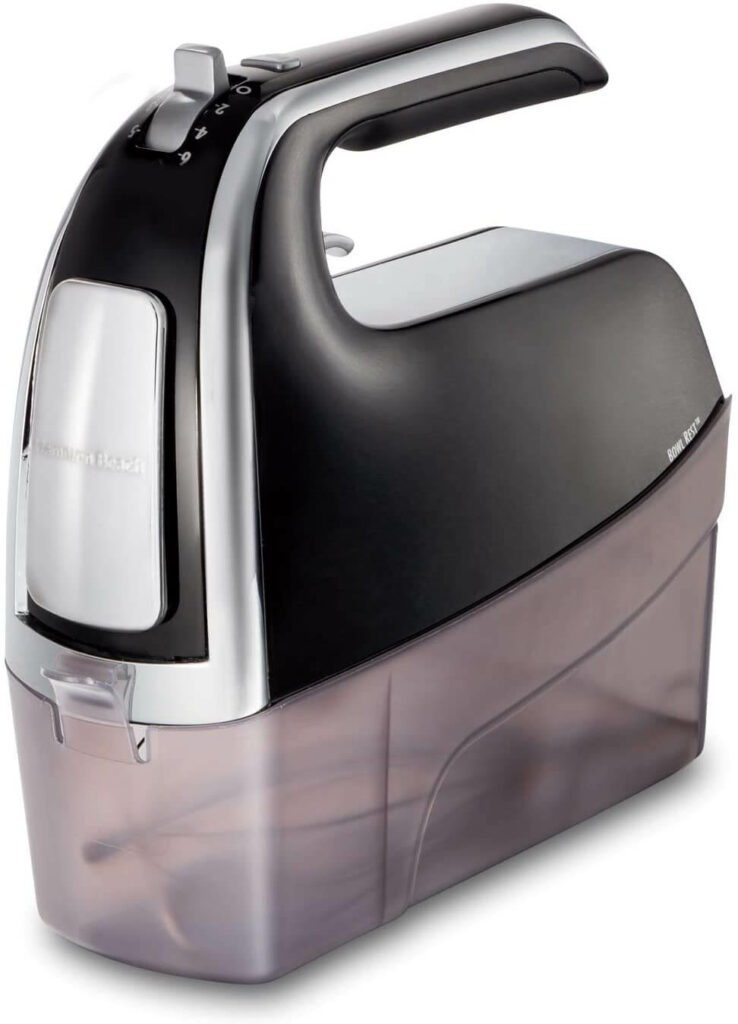 The Hamilton Beach 6-speed electric hand mixer also comes with the dough hooks and the blending rod for just a few dollars more. 
Features
This is also one of the most powerful ham mixers on the list with 290 watts of power. 
It has six speeds and a power burst button in case you get stuck and need to extra boost. 
It also has a convenient pulse feature. When you're using the lowest speed to give you more control and hopefully less of a mess. 
This comes in several different colors, black, blue, raspberry and green which could make for a nice gift.
This one doesn't have as many reviews, but still has a four point, four star rating. 
Pros
Very powerful mixer and beats the ingredients really well
Have multiple speed setting
Comes with a case for storage
Cons
The case often doesn't fit properly to the mixer
BLACK+DECKER
This is another the black and decker six-speed hand mixer is another great budget hand mixer. 
Overview
Nothing specials about it, but it gets the job done. Just like the Hamilton Beach options, it has six speeds without the digital display and it's turbo boost option.
Features
This one has a nice storage case that fits the hand mixer, the cord and all the attachments inside of it. So you can tuck it away easily inside of the cabinet. 
They also climb to have a 20% slower start helping you create less of a mess in your kitchen. 
This also comes with a bowl and heel rest so it can rest on its own or the bowl. 
With over 2,000 views and a 4.5 star rating.
Pros
This product usually keeps its customers happy. It also has a two year limited warranty. 
The black and decker hand mixer comes with seven inch beaters making this
Great to use in any size bowl. 
Cons
The beaters are very weak and bends easily
Black+Decker Lightweight
This lightweight mixer is really unique and ideal for everyday use. The good thing about this hand mixer is that the slow speed is in fact slow. However, if you are looking to use it for heavier duty jobs like mashing potatoes, it may not have as much power as some of the other options on this list. 
Overview
The black and decker lightweight hand mixer also known as the MX1500W is another powerful yet economical choice for the hand mixer and comes with 250 watts of power. However, it only comes with the standard beaters. 
Features
It only comes with five speeds but also includes the power boost and has a comfortable grip that feels light weights and your hands. 
Like some of the others it also has a heel and bowel wrist, so it can stand on its own or be rested on the edge of the bowl.
The beeters are also dishwasher safe. 
There's also an easy eject button, making cleaning up a breeze after you're done with your recipe. 
This hand mixer has a 4.5 star rating and almost 2500 reviews. 
Pros
Lightweight and convenient to use
Easy to clean up
The beaters are easy to install and remove from the machine
Cons
Not much durable as the beaters are very weak and tends to bend
Oster
Overview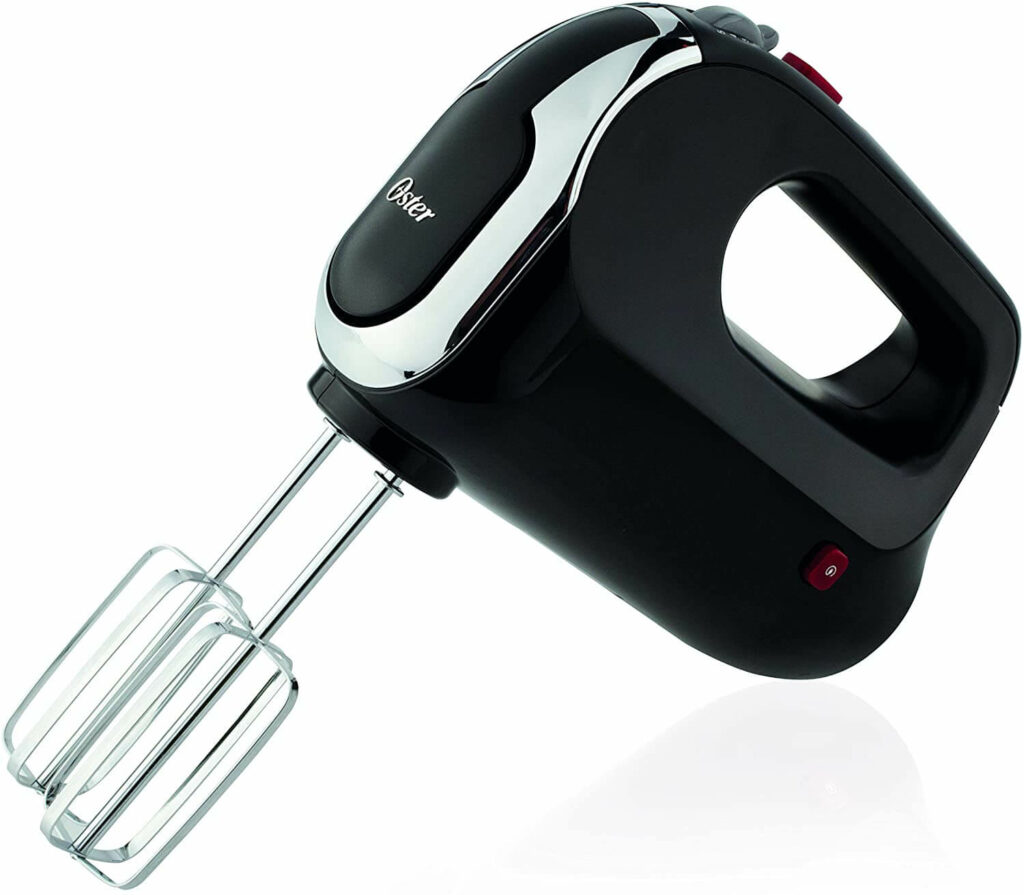 The Oster 5 speed hand mixer is another classic hand mixer that will get the job done. It all has five speeds but has a powerful 250-watt motor and it comes with a set of beaters, dough hooks and a whisk, and a convenient storage case that fits the cord as well. 
Features
Like some of the others it also has the turbo boost option helping you push through those tougher recipes. 
This one doesn't have as many reviews on the others, but it's still a quality hamm mixer with a 4.0 average rating. 
So if this option suits your need, just know that Oster has your back. 
Pros
Powerful hand mixer and beats ingredients very well
Easy to operate and has multiple speed settings
Cons
A few people complained that it stopped working within a few months, however, you'll be happy to know that there's a one-year warranty.
Buying Guide
We know that was a long list to consider. However, now we're going to get into our best hand mixer buying guide to help you think about some of the different options you should consider. 
Power
You probably won't notice too much of a difference between six speeds and nine, however, you should pay close attention to the max power of the hand mixer. The higher the wattage, the more powerful the motor will be.
Weight
How heavy the hand mixer is also something of a personal preference. Some people may want it to be heavier so it doesn't move around as much in the bowl, however if you're using it a lot you may wish for a lighter option, so it doesn't feel heavy in your hand. 
Bowl Rest 
If this is important to you then you should look for one that has the bowll rest option almost all of them have a heel rest option or they can rest balanced on the beaters, so you may just need to place a towel underneath it to keep everything clean
Storage
Several of these hand mixers have their own storage compartment some even fit the electrical cord in there, which is very nice allowing them to tuck away in a cabinet when you're not using it. However some don't come with any storage containers, so you'll have to keep the beaters in a spot where you know, you won't lose them. 
Clean Up
Nearly all of these attachments are dishwasher safe, so clean up should be a breeze no matter which one you choose. 
The Attachments
While all of these come with the standard beater attachment some of them also come with a whisk ado hook and a mixing rod. So, if you have other stand mixers or blenders, you may not need all of those but if you don't this could be something worth looking into. 
Conclusion
So what is the best hand mixer? Well as they say your mileage may vary depending on your own needs and wants. 
Some of these may look better than others. And what works well for you may not for other people so we always recommend you do your own research before you make the decision. Have you ever used any of these hand mixers? Let us know in the comments below.