Vanaheim KB64 Professional 1450W 28000RPM 9 Pre-Programmed...
Blendtec Total Classic Original Blender - WildSide+ Jar (90...


Vanaheim KB64 Professional 1450W 28000RPM 9 Pre-Programmed...

Blendtec Total Classic Original Blender - WildSide+ Jar (90...

Healthy eating is just not as easy as it is made out to be. We are always encouraged to have five fruits and vegetables every day whilst guzzling down two liters of water and tucking into fresh fish at least twice a week. If you are a little like me then you can feel a bit defeated when you realize that the only piece of fruit you managed to eat today was the banana you had on the way out of the door this morning; the only water you drank was what was added to your espresso coffee at 11 am and you can't really remember the last time you cooked a meal, let alone the last time you cooked fish. 

Ok, so maybe I am exaggerating a little bit there, but you get the picture. Life is so busy nowadays we simply forget or just don't have the time to make healthier food choices during the day and let's face it, it's no good remembering at 10 o'clock at night that you haven't had your two liters of water today as that is just a nightmare waiting to happen. 

What was really keeping me motivated on the pursuit of a healthier eating routine was my kids. I just didn't want them to grow up with all of my bad habits, picking in between meals and choosing the wrong things to snack on. So I started making the changes slowly and I must say that they have stuck, at least for now. 

I started by making it my plan to drink more water. Now you can't just go from drinking none to drinking two liters a day unless you don't mind living in the bathroom so I took it slowly. I started by always carrying a 500 ml bottle of water with me wherever I went and setting an alarm to drink some periodically. I then started drinking half a cup of water after dinner, before pouring myself that all important coffee or glass of wine.

I then made a food plan, scheduling in the meals I would make every day, trying to get fish into that plan at least once a week. But the biggest challenge definitely came when trying to introduce more fruits and vegetables into my diet. Until I stumbled across, what is a very easy solution. Juicing. 

Why juicing? Juicing is a great way for you to get your five a day in before you have even left the house. I love fruit juices and would often opt for a glass of orange juice with my toast in the mornings anyway, so I decided to start juicing more fruits and vegetables together in the mornings. 

Once I had found a fruit and vegetable combo that I really liked I started introducing fresh juices with the best juicer blender to my family as a healthy accompaniment to their breakfast and to my surprise they really loved it! Now I must admit, the kids were harder to break, but once I had found a fruit and vegetable selection that they were happy with, I could barely keep up with the juicing requests. 

If you are struggling to get more fruit and vegetables into your family's diet, I would strongly recommend juicing as the perfect solution. Are you having trouble finding juice recipes that your family will enjoy? Not a problem, as mentioned below are a few fruit and vegetable juicing combinations that your kids will love, even the little ones. 

The perfect juice combinations for the whole family:
Carrot, orange, and pineapple. Play around with the quantities of carrot, to begin with, and then slowly add more as your kids get used to the taste. Use pure orange and pineapple juice without bits for a better result.
Baby spinach, pineapple, and apple. Make sure you use the newer spinach leaves as they will be sweeter and easier to the palette.
Mango, pear, and kale. The juicy contrast of the mango with the kale is what makes this one really tasty and the pear can be substituted with pineapple if your kids would prefer.
Now I am sure you will agree, that even the very best juice recipe will be wasted if your blender is no good. That is why it is important to have a great appliance with sharp blades that will help to make your juice as silky and smooth as possible without any lumps or bits. 

With so many makes and models on the market, it can be tricky to decide what blender will best suit you and your family. That is why this article has been prepared with you in mind. To help you choose the very best blender for juicing with a list of all of the specifications that you should look out for when purchasing. Check it out!
Top 8 Best Juicing Blender Reviews
Looking for the very best juicer blender on the market today? Here is a list of the top 8 juicing blenders available and their specifications. Have a look and then pick your favorite model.
Blender By Cleanblend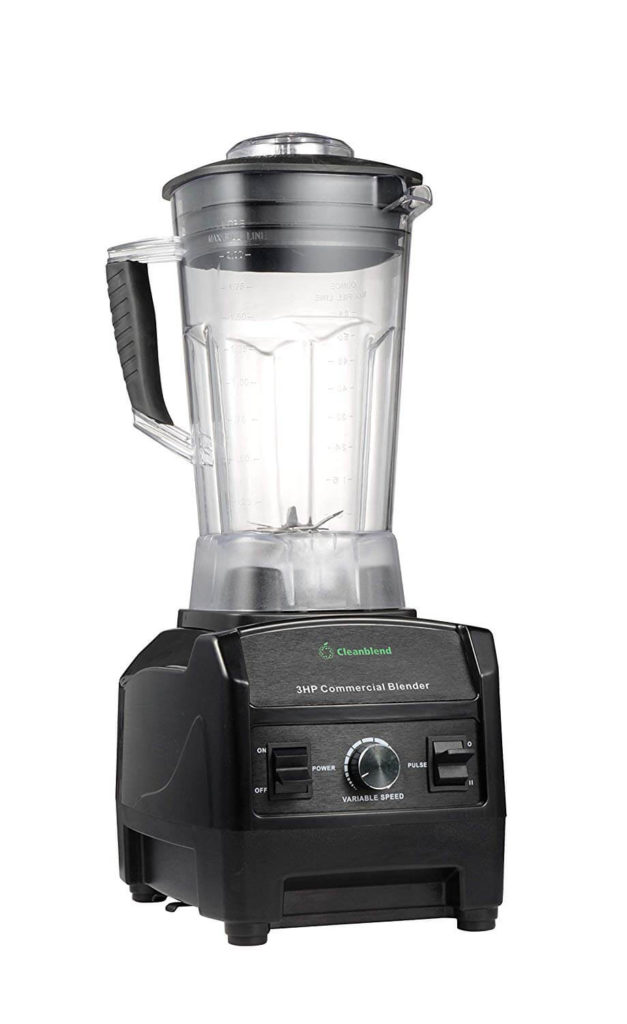 Here is one of the best juice blenders out there by Cleanblend. Here's a list of just what it can do:
Features
Not only does it make great smoothies and juices, but it can also be used to create the tastiest soup, hummus, ice cream, and homemade dressings.
The stainless steel blade is razor sharp, cutting through the toughest fruit and vegetables with ease.
It is BPA free making it a safe appliance to use for all of the family, without the concern of harmful chemicals.
Follow the recipe to a T with the variable speed control and the pulse setting which also makes it easier to clean.
Vanaheim GB64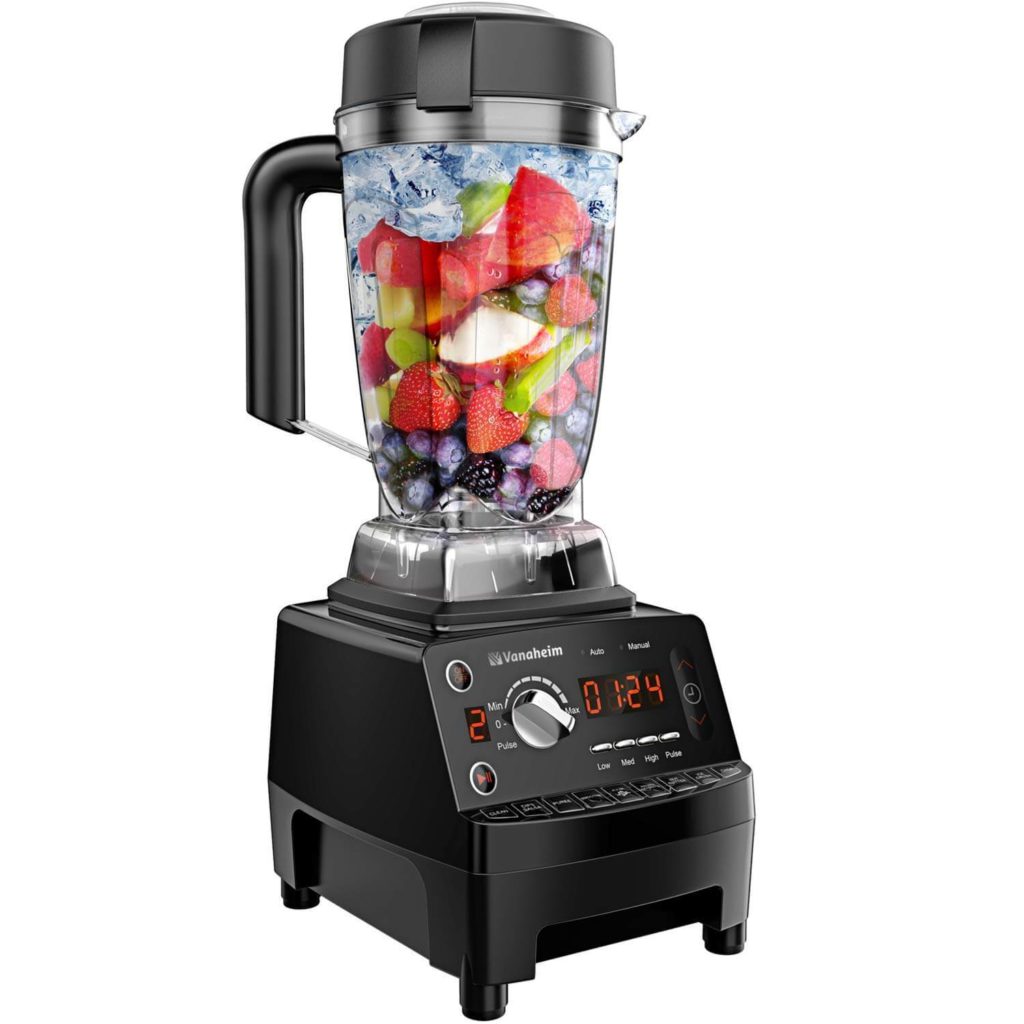 Here is another great blender juicer by Vanaheim. These are some of the specifications that I think you will find really useful:
Features
9 variable speed settings that will help you to make anything from hummus to a frozen yoghurt.
The blades are razor sharp, easily cutting through ice, seeds, nuts and the toughest fruit and vegetables in just a few seconds.
The self cleaning setting just requires you to add water and a little detergent and it will clean the unit in just 30 to 60 seconds. All you will have to do is simply wipe down the exterior. 
New Age Living BL1500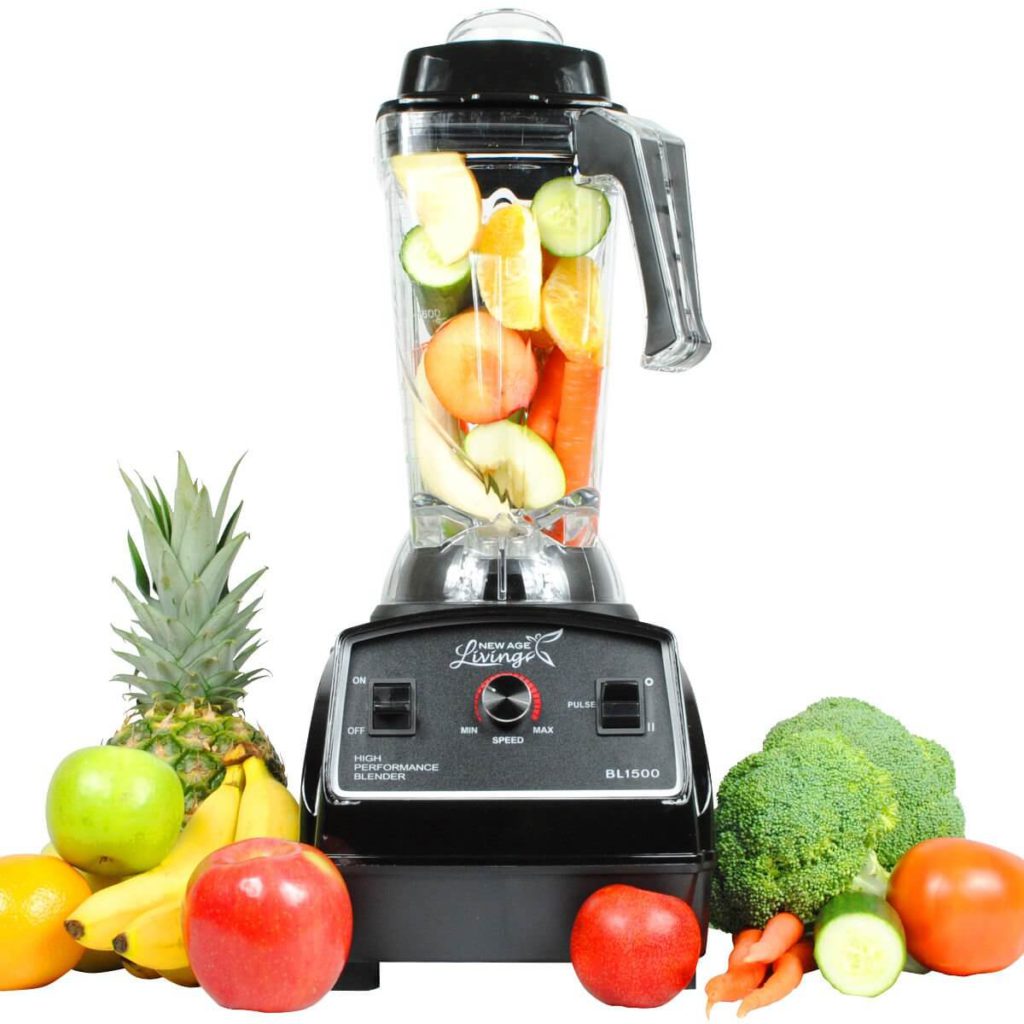 Are you looking to make the very creamiest soups and the smoothest shakes? Then this New Age Living smoothie blender may be the one for you. Here's what it can do:
Features
The 85 ounce container can make soups and smoothies for the whole family. The large capacity means that you will not have to make various batches.
The plastic is BPA free, meaning it is safe for the whole family to use without the worry of harmful chemicals.
It comes in 3 bright colors, white, black and red for you to choose the model that will best match the interior of your kitchen.
Blendtec Total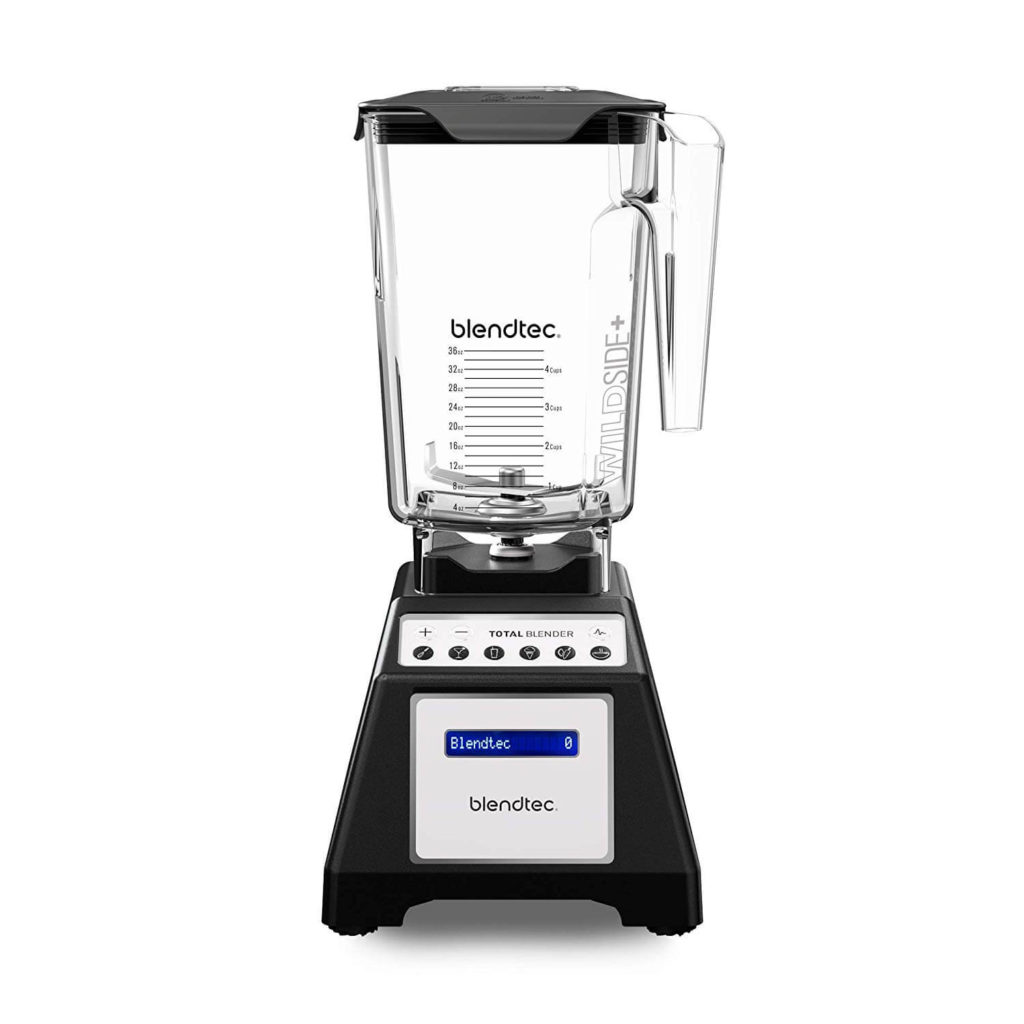 This juicer and blender by Blendtec has some specifications that are key for every family:
Features
The 6 pre programmed cycles mean you can pop the ingredients in, walk away and leave the blender to do all of the hard work. Make the best stress-free smoothies, hot soup, ice cream, juice, batters and more.
This blender uses blunt blades, that are much safer to clean but are still able to pulverize the toughest of all ingredients, making it the perfect solution for families with small children.
Make hot soup in minutes as the friction from the blades rises the temperature of your ingredients, serving them ready to eat.
Hamilton Beach Professional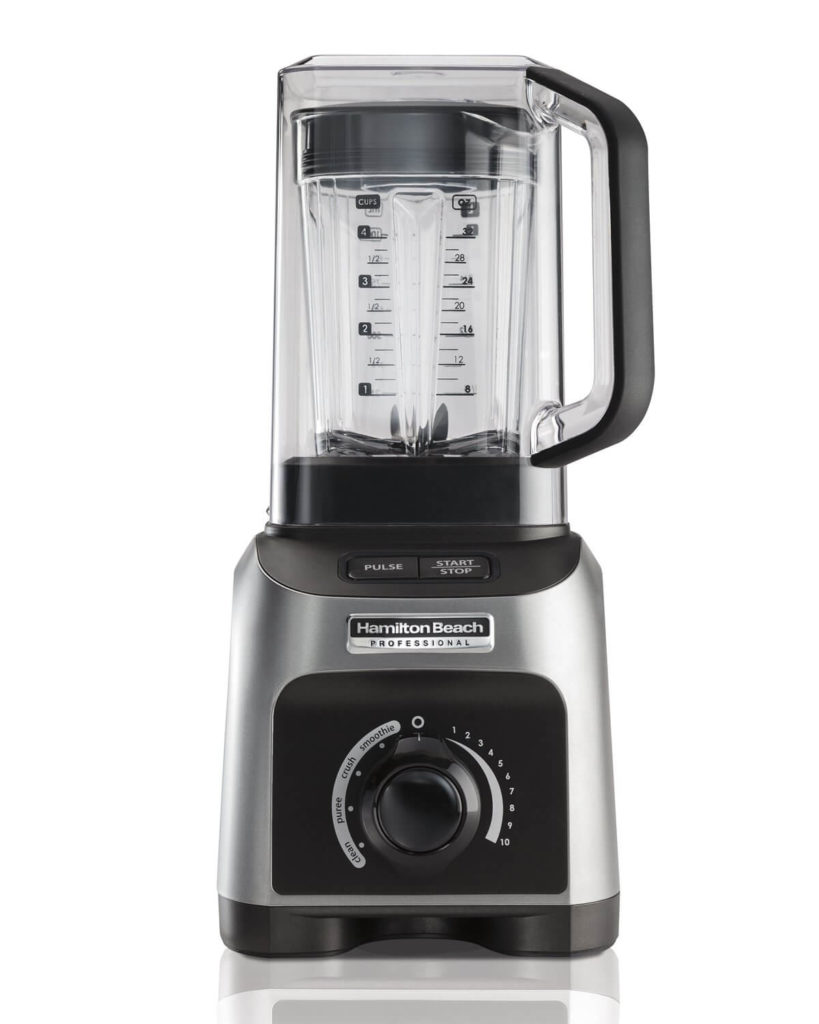 My house is noisy enough without a blender adding to the sound of all the ruckus. That is why I love this model as it comes with a removable quiet shield which dampens the noise of the motor.
Features
It is easier to keep clean as it comes with some dishwashable parts.
You'll love this blenders juice as thanks to the powerful 2.0 horsepower motor, the blender's blades whiz into action at over 105 mph, blasting through the ice, frozen fruit, seeds, and the toughest vegetables to make the best smoothies and juices.
Nutri Ninja Auto-iQ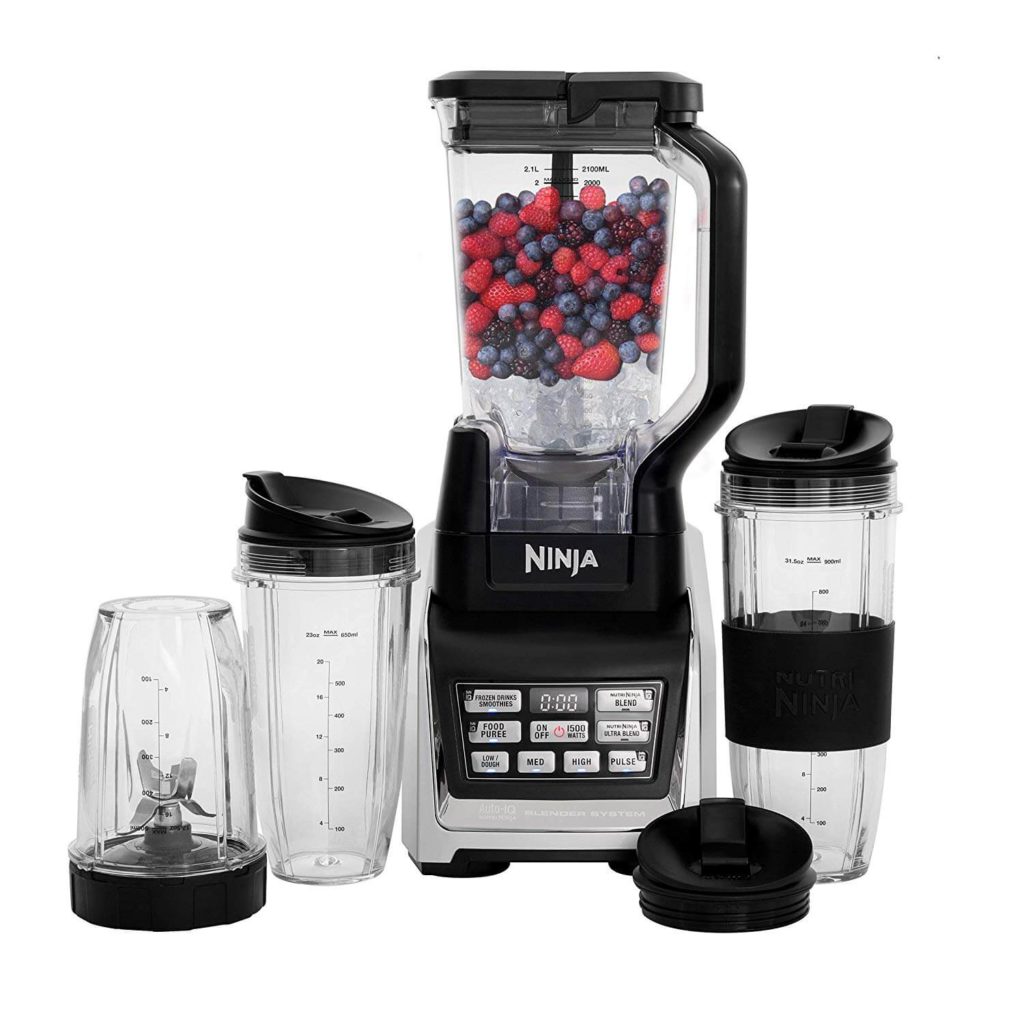 There's no more watching the clock with this Nutri Ninja blender as it comes with 3 preset programs to help you make the best-frozen drinks, smoothies, pureés and doughs at just the press of a button. But according to the Ninja juicer reviews, that is not all it can do:
Features
It can make creamy slushies, iced drinks, and cocktails as this blender crushes through the ice and other tough ingredients in seconds. 
The Nutri Ninja cups give you the option to take your smoothies with you on the go.
The large 64 ounce liquid capacity help you to make meals for all the family. 
Waring (MX1000XTX)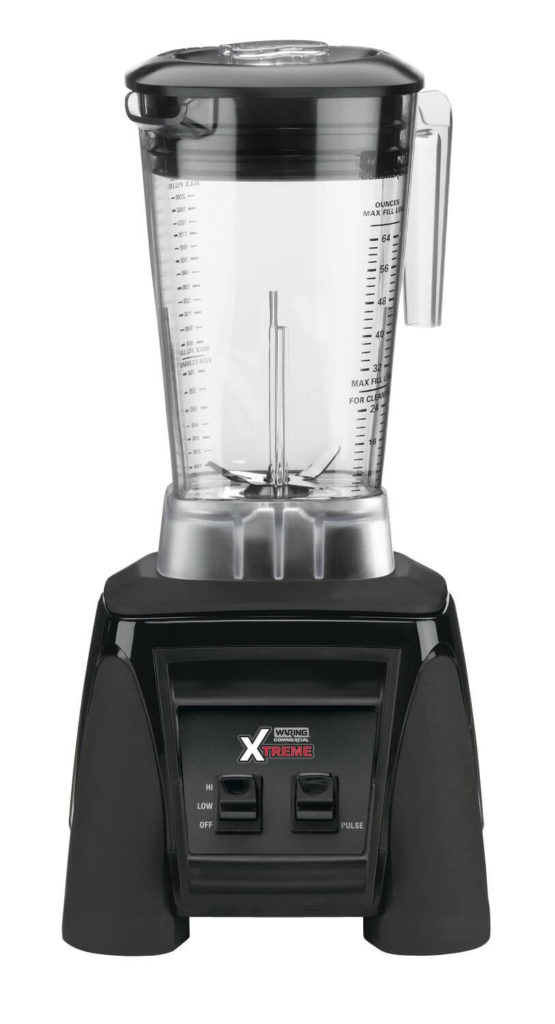 Here is a really powerful blender by Waring with a fantastically punchy 3.5 peak horsepower motor, helping you to get the job done faster. 
Features
The ultra tough stainless steel blade cuts through the toughest fruit and vegetables, leaving you with lump-free smoothies and juices.
The removable container cover helps you to add ingredients as it operates without having to stop the blender's cycle and remove the lid.
Cleanblend ULTRA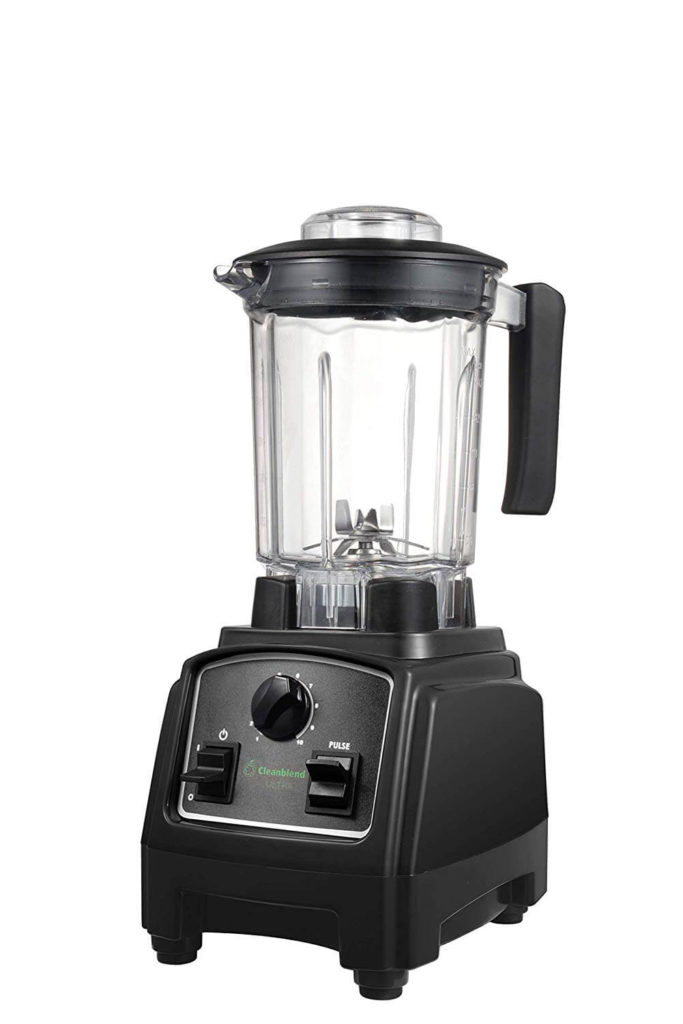 This BPA free Cleanblend blender is a great solution for the family. Blend your ingredients together with peace of mind as it is free from toxic, harmful plastic.
Features
It comes in two classic colors, black or red so that you can choose a design that will best match the interior of your kitchen.
The 5 year warranty means that you can have a stress-free purchase.
The stainless steel blade and the 1000 watt motor assist the blender to cut through tough ingredients like nuts, seeds and stubborn fruit and vegetables.
Juicing vs Blending: Does it Matter?
So what is the difference between a juicer and a blender? Simply put, a blender will mix the entire of its contents together, forming a thick liquid, pulp and all, but a juicer doesn't. A juicer will separate the pulp or fiber from the fruit or vegetable, leaving behind a much thinner liquid. 

Certain blenders can be used to make a lot more than just mere smoothies, also soups, pureés and even hummus. Where as a juicer is limited to just making, well, juice. 

That is why this article has been prepared for you to find the very best juicers blenders – appliances that are blenders, but that also juice really well. A juicer blender is handy to have as you will be able to use it for a lot more than just making juice, but for all of your other blending needs. 

Kitchen appliances are getting more and more expensive nowadays and if you won't be using your juicer very often, it may not be worth your while purchasing an appliance only for that purpose. That is why you will find below a list of the very best multi-functional juicers and blenders that will help you to get the most awesome juicing and blending results from one machine. 
Best Way to Prep Fruits and Vegetables Before Blending
Are you looking for ways to eat healthier? Introducing juices into your diet in the mornings before work or as a healthy snack to stop you from picking in between meals is a great way to help you get started. 

Perhaps you are ready and raring to go with the very best juice blender to hand and a bright selection of fresh fruit and vegetables at your side but are not too sure how to prepare them in order to get the best results. 

Prepare your vegetables? Isn't it just simply chopping and peeling and then flinging them into the blender and letting it get on with it? Well maybe, but for the very best and tastiest blending results, you should follow the tips mentioned below. If you are trying to introduce more fruit and vegetables into the diet of your children, be them, toddlers or teenagers, sticking to the following tips will help you make the best juices that will really win your family over. 

Wash your fruit and veg. This is an important step. Washing them in lemon or lime can add an extra special zingy taste to fruit and vegetable smoothies.
Remove the peel on oranges and make sure to de-core and de-seed fruits such as apples, pears, and lemons, as the seeds and core on such fruits are very strong in flavor and will make your juice or smoothie very bitter.
Add water. It is recommended to add half a cup of water to every four slices of chopped fruit and veg in order to keep the smoothie from becoming too thick to pour or swallow.
Add a squeeze of lemon or lime to your smoothies to stop them from going brown. This is especially important if you are making a smoothie or juice from apples, avocados, or bananas. Although lemon and lime will help, fresh smoothies and juices are always best. 
Conclusion
There are so many different juicer blenders on the market that it can be difficult to know which one will be best to purchase. So make a note of the specifications mentioned above that are indispensable for you and your family and then search for makes and models that include these specs. 

Keep an eye on new juicing recipes and methods to make juices a tasty and exciting option for you and your loved ones.