You are in for a treat as we will be discussing not just any old bog-standard toasters, but rather the most fantastic transparent glass toasters. I will review 7 of the very best glass toasters on the market so that you can choose the model you prefer. 
Our #1 Choice
DASH Clear View Toaster: Extra Wide Slot Toaster with See...
Russell Hobbs TRL9300GYR 2-Slice Glass Accent Long Toaster,...
Elite Platinum ECT-153 Maxi-Matic 2-Slice Glass Sided...
iTouchless SHT2GS 2-Slice See-Through Smart Toaster, Silver,





Not too sure what I mean by a transparent glass toaster? Then please, read on…
7 Glass Toaster Reviews
Dash Toaster
Looking for the very best glass-sided toaster on the market? Here is a really great model that comes in four fantastic colors: red, blue, white, and black, the perfect colors to match any kitchen.
Overview
This toaster features wide slots, and the grates are even wide enough for you to toast any kind of bread. It is also categorized as a browning master and comes with seven browning levels so that you can get it to the perfect stage with just the press of a button. There's also a see-through window, which allows you to keep an eye on the status of your toast without having to open it at all, and as such your toast will never end up burning.
Features
Defrost, reheat, and bagel one-touch settings
See-through window
Easy to use
Russell Hobbs TRL9300GYR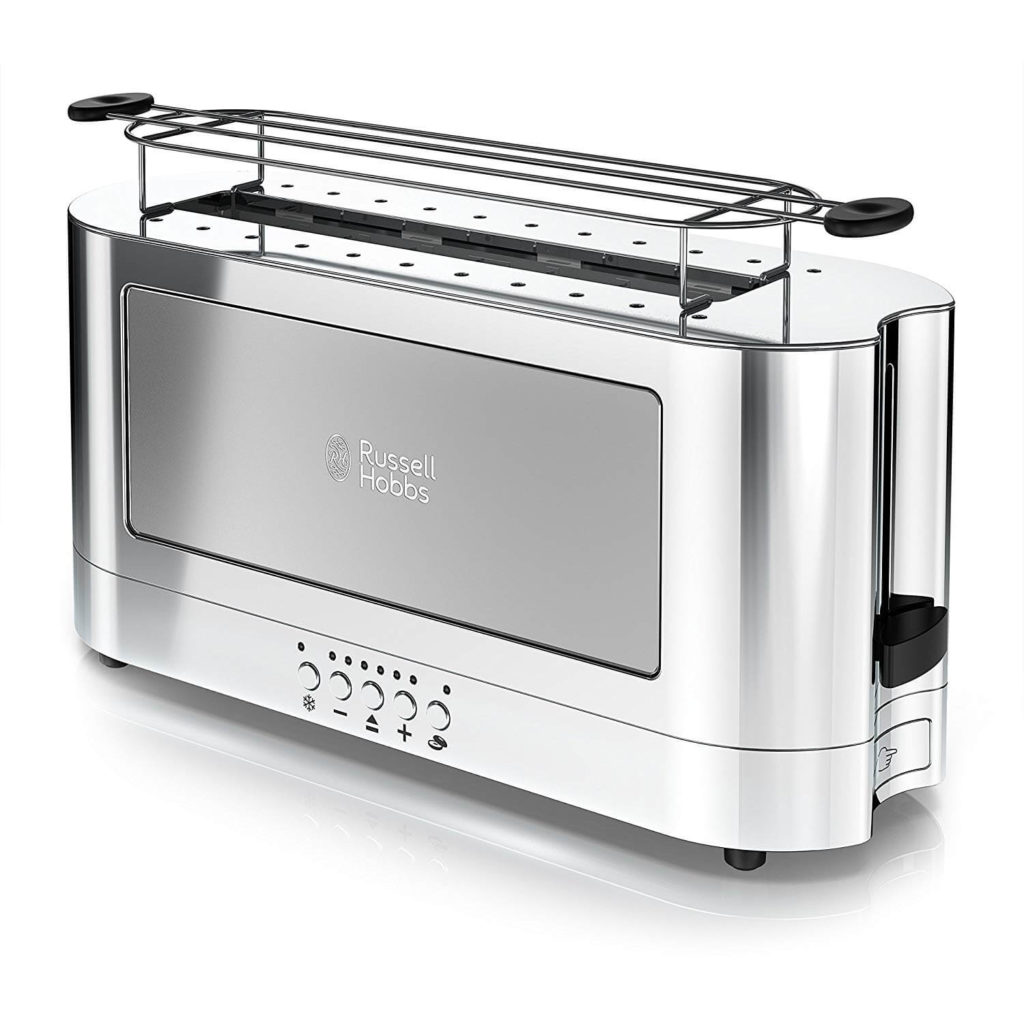 Trying to save space and declutter your work surface? Then this accent long toaster by Russell Hobbs will help you out as it is compact in size and can fit tidily in one small space.
Overview
This toaster is exceptional through the way in which it comes with a removable warming rack which makes it perfect for warming croissants, bread rolls, and even pastries, while also providing you with a wider variety of breakfast options. It also has a handy lift and look button so that you can see inside without even canceling the cooking process. it also has a modern design that truly gives it a high level of class.
Features
Long toaster
Removable warming rack
Lift and look feature
Pros
Three functions
Cancel button
Variable browning controls
Cons
Can be heavy
Fingerprint magnet
Elite Platinum Toaster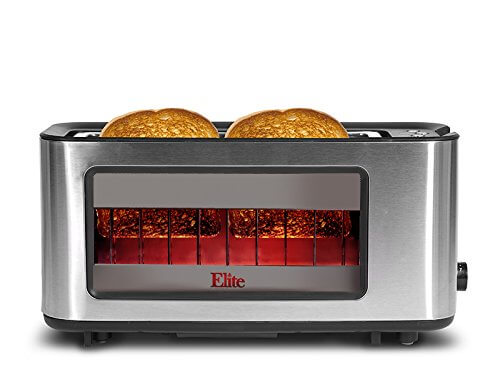 Want to get the job done faster? Time is scarce in the morning, but this toaster is on your side. It is long enough for you to fit in two slices of bread side by side.
Overview
This toaster has a special feature when it comes to cooking bagels that can brown them on the cut side only. It's easy to clean and has a glass viewing window.
Features
Defrost, reheat, bagel, and cancel functions
Adjustable browning knob
Extra-wide bread slots
Pros
2 slice capacity
Variable width
Great built quality
Kalorik Glass Toaster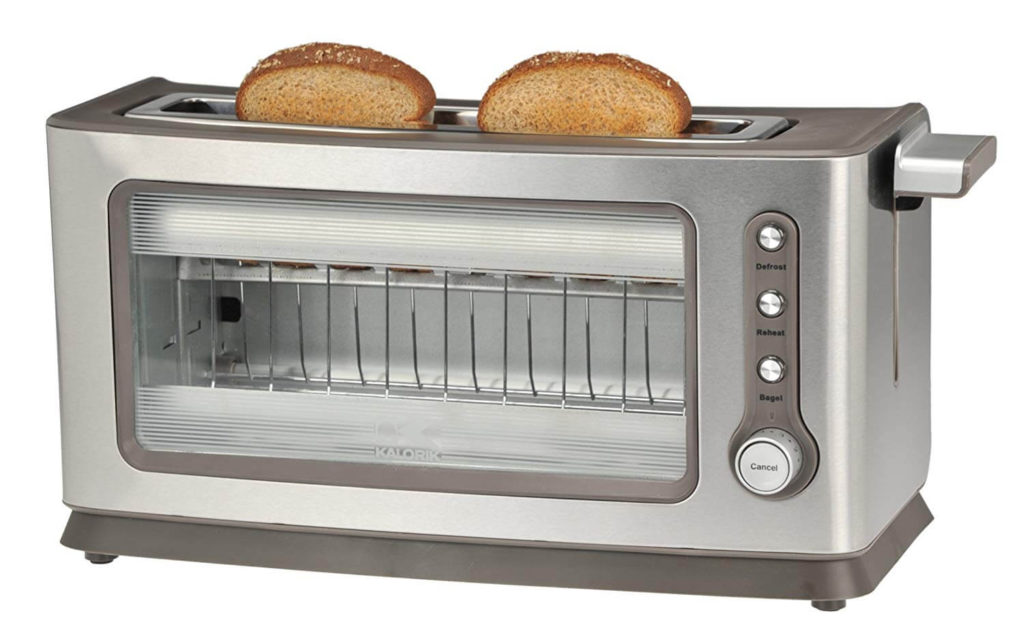 Here is another fantastic toaster with that all-important glass viewing window.
Overview
It has multi-function features, which means that you will not have to put up with cold toast anymore. It is also extremely convenient and easy to clean due to the fact that it has a crumb tray that slides out easily.
Features
2-slice long slot
38mm wide slot
Extra fit
Adjustable browning knob
Pros
Amazing feature set
Sturdy design
Will last a long time
iTouchless SHT2GS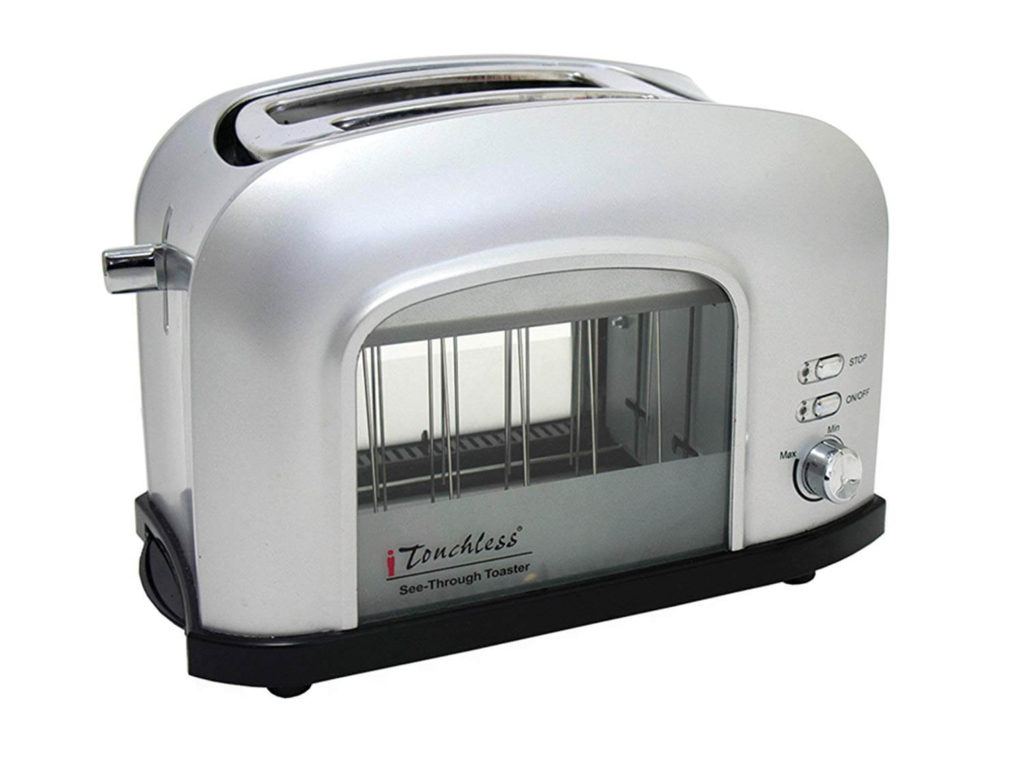 This is another fantastic toaster with a great feature for families. It has a cool touch exterior, now you don't have to worry about brushing past and burning your hand on the side of the toaster while it is in operation, making it a safer option for families with small children.
Overview
This toaster has features such as automatic shut-off, and the toaster can automatically turn itself off it becomes a bit too hot throughout the operation and if something gets jammed inside of it. It also has modern colors and has a see-through window.
Features
2-side see-through glass windows
2-slice toaster with heat scan technology
Adjustable temperature control
Pros
Instant stop control button
Cold-touch exterior
Excellent design
DASH DVTS501AQ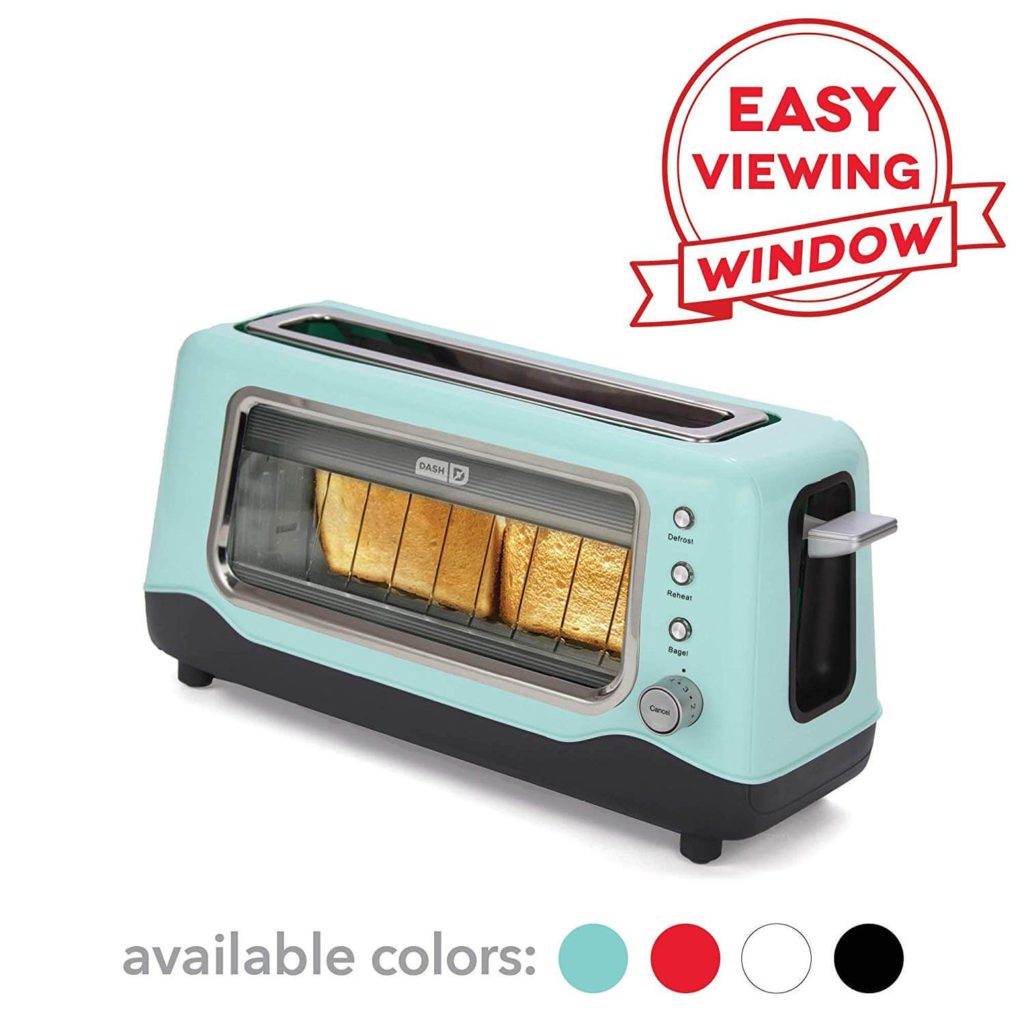 Looking for the perfect housewarming or wedding present? This toaster will make a great gift as it is compact in size and comes in four cheerful colors: blue, red, white, and black so that you can choose the one they will like the best.
Overview
This toaster specializes in the fact that it has an extra-wide slot, and as such, the larger slot gives you enough space to cook artisanal bread, waffles, and even bagels. It also has a browning variety with 7 different browning levels so that you can make your toast exactly the way you like it.
Features
Defrost, reheat, and bagel one-touch button
See-through window
Quick and easy to use
Pros
Makes for an excellent gift
Has a 1-year warranty
Unique color that stands out
Hamilton Beach 22720 Toaster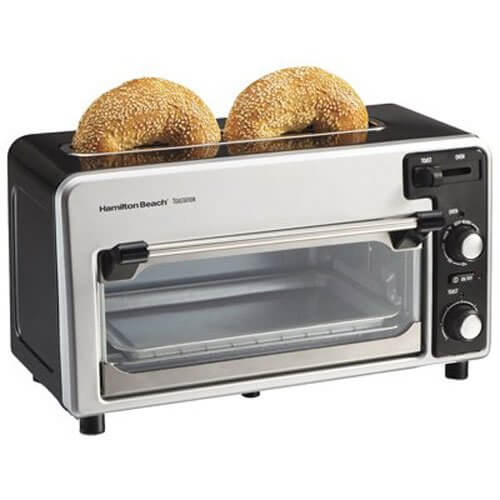 This toaster and oven by Hamilton Beach comes in both a stylish black and a racing red. 
Overview
This is a speedy toaster that can cook everything in just a few minutes. In fact, it is 30% faster than most other toasters. It also has an easy switch that can turn it into a mini-oven, this way you can make a toastie with cheese on top.
Features
More cooking versatility in less space
Toasts 30% faster than other toasters
Toast shade selector
Pros
Convenient handle
Great switch quality
Unibody design
What Makes Glass Toasters so Amazing

Picture the scene, it is Sunday morning, you have woken up with an extra spring in your step and you decide to prepare a hearty breakfast for the family.
The bacon is sizzling, the eggs are frying and the last thing to do is pop the bread on to be toasted. You place it in the toaster and start setting the table and before you know it, you begin to smell something smoky, the toaster has burnt the toast, again. 
Life is pretty rushed nowadays. If you are anything like me then you probably can't even remember the last time you actually sat down to eat breakfast in the morning on a weekday. 
There are always so many things to do before leaving the house like take a shower, iron that shirt before you use it, realize it's stained, find a new one, iron that, get the kids up and ready for school and try to get them to have some breakfast before shooting out of the door.
There was a time when I was skipping breakfast all together, just grabbing a cup of coffee at the nearest drive-through coffee shop on the way to work and getting on with it, but there is nothing worse than that embarrassing tummy rumble in a dead quiet work meeting at 10.30am when your stomach is empty and your day has only just started.
That is when I decided to get organized. I told myself that I would get up at least 5 minutes earlier for work to at least prepare something to eat on the way out the door.
And I must say, it is going quite well. The secret I think has to do with the kinds of breakfast you prepare.
In the past, I would try to do the whole fancy porridge in the morning with a fruit topping or sit down and eat a healthy bowl of cereal followed by a banana, but being realistic, there is just no time for that in my schedule and the perfect solution for me, is toast.
Why is toast such a perfect solution? Well, apart from being ready to eat after a few mere minutes in the toaster, toast can be popped in a tupperware and eaten as you are rushing out the door, speed walking to work or jumping on the train, something that is not quite so easy to do with cereal or porridge for example – trust me I've tried it. 
The great thing about toast is also just how versatile it is.
You can really make toast mornings as quick and easy (such as with butter, peanut butter, marmalade or jam spreads) or as wacky and exciting as you would like them (like avocado, sliced tomato and feta cheese for example).
By simply changing the type of bread or spread you use, you can create a whole new breakfast taste.
Looking for a way to spice up your breakfast toast? Try swapping out white bread for wholemeal, multigrain or even a bagel or panini to really shake things up a bit. 
Another great thing about toast breakfasts is that they can be prepared in a blink of an eye.
But I am sure you will agree that the success of your breakfast toast is largely dependent on the quality of your toaster. If your toaster burns or takes ages to toast your bread, it will make breakfast time really tedious and laborious. 
If your toaster is really getting on your last nerve, or maybe you are treating yourself to a swanky new toaster for your brand new pad then this article is just for you as I will go on to discuss the very best glass toasters on the market.
Let's face it, no one likes burnt toast and no matter how hard you scrape it, it just seems impossible to bring a burnt slice back to life again.
Time is of the essence in the mornings, there just isn't any spare time to sit around waiting for bread to toast, popping it up every two minutes to see if it is brown enough yet; neither is there time to spare faffing around scraping the burnt bits off of the toast from when its been in the toaster way too long.
So you may wonder, is there really a solution to this problem? You will be ecstatic to find out that yes, yes there is.
Fancy keeping an eye on your toast from across the room? With a clear glass toaster you can! Glass toasters have a large, transparent viewing window which you can use to check up on the status of your toast, without having to constantly keep popping it up to see if it is brown enough for you to eat.
With a glass toaster you can see when your toast is finished with just a quick glance, meaning you will never have to put up with burnt toast again!
Conclusion 
And there you have them. 7 of the very best glass toasters on the market today. They have so many different features that can be really handy, so make a list of some of the specifications that you just can't be without and then choose a model that really fits the bill. 
Happy toasting!