If you are looking for a nice blending experience in your kitchen, out of all the Ninja Professional Blender 1000 Watts reviews, it is your best bet.
The blender is not just beautifully designed, but is also powerful enough to blend one of the hardest food ingredients like ice. Its great power, of 1000 watts, coupled with its strong blades, enable the blender to make the smoothest frozen drinks.
What other good and/or bad qualities does the blender have that you should know?
This review takes a look at the blender's features as well as its pros and cons. Let's dive right in.
One of the reasons why people acquire blenders is to be able to make juice out of fruits or vegetables. The question remains: can the Ninja blender juice, and if it can juice, how well can it juice? The answer is yes, the Ninja blender can juice and produce good quality juice for that matter.
To start with, this kitchen appliance has strong processing power, to the tune of 1000 watts. This enables it to crush ingredients like ice well and fast. To add to this, it is fitted with strong blades.
The blades are made of steel and are very sharp. This further enables the blender to process its ingredients and produce the best juice.
Ninja Professional Blender 1000 Watts Features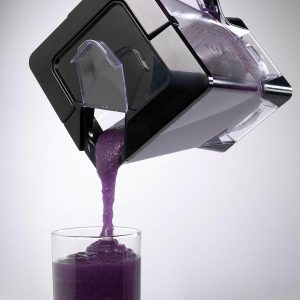 Any good product is known from its features and this Ninja Professional Blender is packed with them. If you are looking for an all in one blender than this is the one for you.
Overview
The Ninja Professional Blender 1000 watts has some great features that enable it to perform its function well. Let's have a look at some of these features.
Features
Apart from its beautiful design, the Ninja blender 1000 watts motor enables the blender to have great performance capabilities. This includes crushing certain food items that other blenders would not have the power to crush.
Very strong blades have been used to make the blender. These strong blades enable the blender to crush ice perfectly, blend as well as control the processing of food ingredients fed into the machine. Note that this blender crushes ice and frozen fruits in less than a minute.
The blender has a big professional jar, 72 oz. The jar has the ability to make cream, smoothies and frozen drinks in large amounts that would be enough to serve to the whole family or even guests. It can also make daiquiris and margaritas in large quantities too.
The blender has been assembled by six blades. The many blades not only allows the blender to conduct ice crushing faster than other blenders, but it also blends ingredients with a higher degree of smoothness.
When Can I Use My Blender If I Don't Have a Food Processor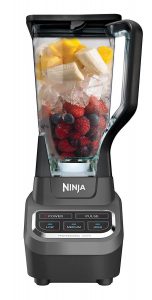 I can already picture the scene. You have found the most delicious looking pesto recipe for dinner this evening and you have the whole family coming over to taste your cuisine.
Everything is ready minus the pesto. You are halfway through following the recipe, covered in basil and parmesan cheese when you realize the instructions require for you to use a food processor. Rats. Now, what will you do?
It is a real pain when a recipe asks you to use something that you don't have. Often when following instructions to make pesto, pie crusts, coleslaw and burgers (or just about anything tasty) you are asked to use a food processor. But do not despair!
Although the recipe may specifically ask for you to use a food processor you can continue with your meal using your blender!
While a blender is typically meant for liquids, that doesn't mean it can't also do the work of a food processor. If a recipe calls for you to grind foods down, mince or chop them really fine using a food processor, do not worry, as the blender will work just fine.
To chop chunkier vegetables simply pop them into the blender and hold down the pulse button as that will cut them up quickly then, place the blender on a high setting and voilá!
It will mince up your food just as well as a food processor would do. You can even use a blender to make a soup, puree or dips, despite what the Ninja Professional Blender 1000 Watts recipes may say.  

Ninja Professional Blender 1000 Watts Pros & Cons
Pros
The 72 oz jar provides a bigger space that allows for large quantities of ingredients to be prepared. It, therefore, can be used to prepare juice enough to serve the whole family.
Its parts are easy to replace. This eliminates the need to buy a new blender when some parts break down as these parts can easily be replaced. This includes blades, container, and cups.
The bottom of the blender is fitted with suction cups. This enables the blender to be more stable when being used.
It is fitted with strong and sharp blades. This enables the blender to do its work perfectly including crushing ice in seconds and the ability to produce very smooth ingredients after blending.
The blender's control panel is easy to clean as the buttons on the interface of the blender are flat meaning that the blender can easily be wiped down using a warm, damp cloth that has been soaked in the kitchen detergent. Make sure you use a non-abrasive cleaning cloth to wipe over the interface to keep it in tip-top condition for longer.
The Ninja cups, lids, and the pitcher are free from the dishwasher and, therefore, safe.
Its lids are well fitted which makes the content in the jar safe. The jar is also made in such a way that it makes it easy to pour out its content.
The blender comes with a one year warranty. This ensures its owners do not suffer losses when the blender malfunctions due to the manufacturer's fault.
Cons
The blender produces a lot of noise when in use which is a nuisance to many of its users.
Its blades are not locked. This makes them pop out sometimes when the blender in use.
The cost of the blender is a bit too high.
FAQ
Is Ninja Professional Blender dishwasher safe?
The blades and cups of the blender are dishwasher safe. All other parts of the blender are conveniently easy to clean.
How long does a ninja blender last?
Ninja blenders lasts a long period of time and are covered with 2-years warranty. There is also a 3 year extended warranty period available on all of them.
Can Ninja Blender be used as food processor?
Yes, the ninja blender can serve similar purposes of a food processor. The ninja blender can not only make great smoothies but can also help chop onions and other vegetables such as bell peppers evenly.
Conclusion
From this review, it can be noted that the Ninja Professional Blender 1000 is a great and reliable tool in every kitchen. The blender has features that aid its functionality.
It has the great processing power, strong and sharp blades, and a jar that is big enough to prepare ingredients that can serve the whole family at once.
The blender is also nicely designed and has controls that are easy to understand and use even by new users. Apart from a few cons associated with the blender, such as its costly price and its noise, it has more good features than the bad ones.
This special kitchen appliance is readily available and can be found in many retail and online stores.
Do you use a Ninja blender? Let us know how you like it in the comments below!