Are you on the hunt for the very best blender with a fantastic range of handy specifications and features that will make blending your favorite ingredients into a super speedy task that will require only the most minimal effort on your part? If that sounds like something you would be interested in I am sure you will see in our Nutri Ninja Auto iQ review – this is an awesome blender that we will be discussing in this article.
Nutri Ninja Auto iQ Review
It is not easy to stick to a healthy eating diet, and with fast food becoming more and more accessible, it can seem a somewhat impossible task to stick to a balanced eating plan. That is why I love the Auto iQ blender as it comes with many handy features that make it dead easy to whisk together your favorite smoothie and then pop it into your rucksack to be enjoyed on the route to work or place into the kids' bags for them to sip on their way to school.

Nutri Ninja Auto iQ
Are you ready to find out everything you need to know about this blender? –  then take a look at the Ninja iQ blender review mentioned in this article. I will also provide you with more Ninja Auto iQ reviews by means of a pros and cons section so that you can find out what consumers are saying about this product.
Overview
Are you ready to dive into these Nutri Ninja Auto iQ reviews and find out exactly what is behind this blender and see what it can do? Then take a look at the following points that will share that information with you.
Features
Extra strong motor. The team down at Ninja has designed this blender with an extra strong 1200 watt motor. This motor will easily crush ice into snow in seconds and will slice through the toughest vegetables and even leafy greens in a matter of moments. These features make this the ideal blender to use to create frozen desserts and cocktails or whiz together the creamiest smoothies on the block.
Capacity. The pitcher has a massive 72 oz capacity with dry ingredients and an impressive 64 oz capacity with liquids. Now it will only take you one batch to make something delicious for the whole family to try.
Cups and lids. The Nutri Ninja Auto iQ comes with a large pitcher and 3 additional smaller sized containers that are ideal for filling with smoothies and frozen drinks that you can take with you on the go. You can even whiz the smoothie together in the smaller container by attaching it to the base – a great solution for saving on the washing up!
That stated, if you want to do things by hand, you also can do that. You have the Start/Stop button to run it continually, and you simply push it again to stop. The timer counts the seconds you utilize it so you can determine when to stop.
The other handbook alternative is the Pulse button. Once again, you simply press it to run, and launching the button stops the action. Once more, the timer will reveal the duration so you can time the rhythm and the length of your pulses.
The motor comes with an auto-shutoff feature that stops the motor when it becomes too hot. All you need to do is to unplug the Ninja iQ and wait 15 minutes, and you can utilize it once again. Naturally, you won't need this feature if you simply utilized the Blend and Ultra Blend buttons, to begin with.
It likewise has other attractive functions. Your purchase will consist of a variety of various sized containers, such as the Jumbo Multi-Serve 32-ounce Nutri Ninja cup, the routine 24-ounce Nutri Ninja cup, and the small 18-ounce Nutri Ninja cup for individual use.
The cups are made from a BPA-free plastic called Eastman Tritan, and it is extremely durable. These cups are also portable and will fit in a basic vehicle cup holder. The Sip and Seal covers make certain that you do not spill and make a mess.
You will also get the specifically developed Pro Extractor Blades that are made from high-quality stainless-steel. It is rust-proof and the blades are powered by a strong 1,000-watt motor that can squash practically anything you put inside the container.
As a perk, you'll also get a lot of referral products to help you get started. You'll also get products from the kept in mind health specialist Rachel Beller.
What can the Ninja iQ Blender do?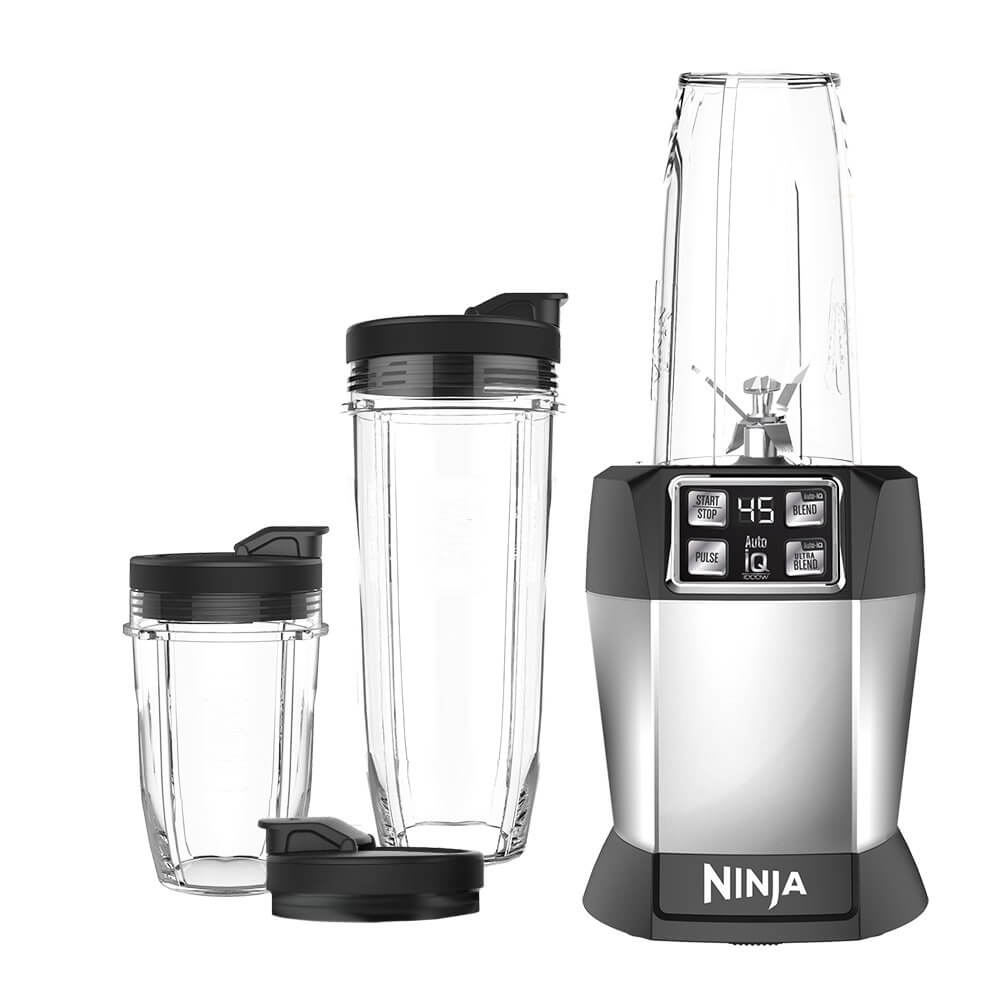 You can also make healthy smoothies from fruits, veggies, and various leafy greens. With the Ninja Auto iQ, healthier drinks are simpler to prepare compared to using a conventional juice extractor.
Once you're done, your blend container will become your portable cup. You will not need to utilize another container (and add to your cleanup). You can simply bring it with you with the unique lid anywhere you go.
All the other parts are dishwasher-safe except for the base. That consists of the cups, lids, and blades. Simply put them on the top rack.
Blender Pros & Cons
It is time to get a closer look at the Nutri Ninja Auto iQ and there is no better way to do so than with a list of pros and cons that will help you to weigh up and decide if this is the blender for you.
Pros
Great for sharing. The extra large pitcher on the Nutri Ninja Auto iQ is perfect for making delicious smoothies and for preparing other recipes that can be shared with the whole family. 
Sip and seal cups. Are you ready to take that great taste with you on the move? Another reason why this blender model is so popular is that it comes with 3 additional sip and seal cups that you can fill to the brim with your latest and most tasty inventions. You can even whizz a smoothie straight into the smaller cups by attaching them directly to the base.
Cons
Some consumers have noticed hairline cracks developing in the pitcher after some use. These cracks cause the blender to look more aged and make it stain more easily. You can avoid changing the pitcher abruptly from one extreme temperature to the next in order to prevent this from happening. For pesky staining, try soaking and then rinsing your pitcher in warm water.
Can the Nutri Ninja Auto iQ be used as a food processor?
It won't work exactly like a food processor however you can still use it to do many of the same tasks.
What does the Nutri Ninja Auto iQ do?
You can blend anything from fruit, vegetables, ice or even seeds with this powerful blender.
Is Ninja Blender a good brand?
You can't go wrong with a Ninja Blender
Conclusion
So there you have it, everything you need to know about the Ninja Nutri Auto iQ – one of best blenders on the market that will make it easier for you to keep on track with your healthy eating routine and will make delicious blends of your favorite fruits and vegetables.
Make sure you get a hold of a Nutri Ninja Auto iQ blender with pre set functions that will help you to make the coolest frozen drinks, the most scrummy purees, make a great dough or mix together your smoothie flavor of the day in next to no time and with the most awesome results.
Now that you have had a look at the Nutri Ninja Auto iq reviews via the overview and the pros and cons mentioned on this page, I am sure you will conclude like many have done, that this is a fantastic product coming to you at a great middle of the range price.
Regardless of whether you plan to use this blender every day, or even multiple times in a day, or perhaps just a few times a month, I am sure you will find the durability and reliability of this blender refreshing to work with and comforting to be able to rely on.