Ninja Professional 72 Oz Countertop Blender with 1000-Watt...
Our #1 Choice
Ninja BL770 Mega Kitchen System and Blender with Total...
Nutri Ninja Personal and Countertop Blender with 1200-Watt...
Ninja Smart Screen Blender with 1000-Watt Base, 4-Auto-iQ...
Ninja Countertop Blender with 1000-Watt Auto-iQ Base for...
Ninja Smart Screen Blender with 1000-Watt Base, 4-Auto-iQ...
There are many appliances that you can use in the kitchen, but one crucial appliance that most kitchens have is a blender. Without any doubt, blenders have become the need of the hour. Over the past few years, Ninja has been in the front line producing some of the best versatile appliances for your kitchen. Talking of versatile, the best Ninja blenders can make a variety of drinks ranging from smoothies, shakes, and purees.
To add to that, they can also make frozen drinks. Ninja blenders come in different models, with different features, each of which has its advantages and disadvantages.
We have searched far and wide for the best Ninja blenders that will suit your needs.
What Is The Best Ninja Blender – How To Choose?
Owing to the fact that different people have different needs for a blender, there are several factors that go into one's choice. That is to mean, that what is satisfactory to one customer may not always be to another.
While some of you would go for the cheapest blenders (without compromising on quality, of course), some will go deep into the functionalities and specifications.
Ninja blenders strike a balance between quality and price. They have different customers' needs in mind.
From our own experience and a lot of research, we have made a list of only the best models that have gained positive reviews online as well as those that are performing well when tested. A listing of the pros and cons of each blender has also been provided.

Ninja Professional Blender – Best Ninja Blender For Smoothies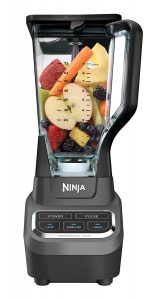 If you are looking for a simple yet powerful blender, to add to your kitchen's appliances, Ninja Professional blender comes in handy.
It has a high performance and a surprisingly low price tag. With 1100- watts of power, it crushes fruits (including frozen fruits) and vegetables to produce creamy smoothies and frozen drinks.
Pros:
It has an affordable price.
It can easily fit under most kitchen cabinets, thanks to its relatively small size.
It has multiple speed option.
It contains a pulse button for chopping vegetables and nuts.
On the downside, it has very sharp blades could be dangerous to work with. The lid may get tough to remove as it tends to always stick after making your blend.
Ninja Mega Kitchen System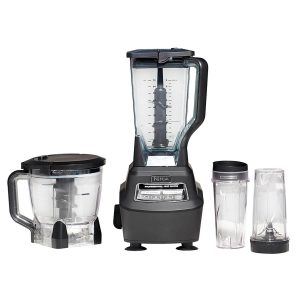 You may be looking for a blender that is more budget friendly than the Ninja CT682SP. If so, then Ninja Mega Kitchen System is the one for you.
You will have to compromise features like the spiralizer, though. Although it is very similar to the Ninja CT682SP, it has a lot more power of 1500-watts. The XL 72 oz. blender features Total Crushing Technology to help you crush through ice and frozen fruit.
The Ninja Mega Kitchen System has one of the most powerful motors that not only crushes ice, but also blends, purees and performs controlled food processing.
It can handle four different tasks like- making smoothies, juicing, food processing, and grinding. Did you know it can grind peanut to make your favorite peanut butter?
Pros:
It has detachable parts, which allow for easy cleaning.
It has multiple speed options.
The container has a pour spout that allows for easy pouring without necessarily removing the lid.
It has multiple single Nutri Ninja cups.
If you are blending heavy ingredients, there is no need to worry as it has a suction lever lock, which prevents the base from jumping around on the counter.
Finally, the blender looks stylish and has a professional-looking color, which enhances the look and style of your kitchen.
On the flip-side, though, the blender is noisy and requires a large amount of space.
Nutri Ninja Duo With Auto –IQ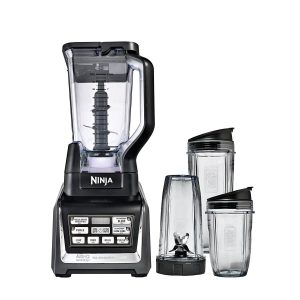 This blender is a great choice for people who want both style and functionality. The reason why it is known as Nutri Ninja with auto- iQ is because it doesn't come with any food processor bowl like other blenders.
With state of the art auto-iQ technology, it provides a superb extraction of fruits and vegetables without losing nutrients and vitamins as well as their great taste.
The auto-iQ technology contains intelligent blending programs, which will work for you, without allowing room for guesswork.
Some of the pros include:
Large capacity (72 oz.) enough to make a large number of smoothies and purees at a time
It is very easy to use the control panel
It is well designed to avoid leakages
It has five state of the art auto-iQ program that make blending simple.
It can grind coffee beans too!
Excellent at making protein shakes and milkshakes
It is however moderately loud and can hardly handle dry ingredients without water.
Ninja Smart Screen Blender with 1000-Watt Base, 4-Auto-iQ Programs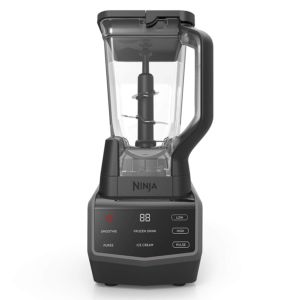 If you are looking for a really powerful blender then you have found it. This Ninja Smart Screen blender has a lot of force behind it, so much so that it can crush through ice, frozen desserts and nuts in a jiffy.

The blender can be used to make up just about any recipe, try it out the next time you want to make a healthy breakfast smoothie, slushies and frozen drinks for the girls on Friday night, purees like hummus and salsa or even homemade ice cream. The sky is your limit!.

Pros:

4 preset programs mean you can sit back, relax and let the blender do all of the hard work for you. It will even turn itself off when it is finished.
The touchscreen button display means that the blender is slimmer than other models and also easier to clean, a simple wipedown of the exterior is sufficient.
The pulse feature is available to clean the blender's pitcher quickly and efficiently.
The only disadvantage with this blender I would say is with your choice of settings. It only has 4 pre-programmed settings while most modern blenders have at least 7. So it may limit your options a little when it comes to cooking.

Ninja Blender 1200 Watt
The ninja blender 1200 does more than your ordinary blender. Some of its capabilities are blending smoothies, transforming frozen fruits into tasty ice treats and making perfect crushed ice drinks.
It has 1200-watts of professional performance strength to drive the blades. For a budget of less than $100 dollars, this blender gives you the true value for your money.
Pros:
It has sharp blades- This feature enables the blender to work very fast. Watch your fingers though!
Deals with ice fast- isn't it great that ice cones can be made in just a few minutes?
It has a suction pad on the base, which helps keep the machine steady when in use.
Its square sides are, however an obstacle as it allows food to be trapped in the corners not to mention you have to stop the blender every time you load the blender.
Ninja Kitchen Pulse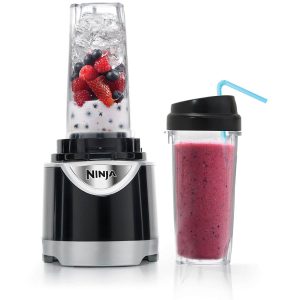 This blender does more than an ordinary blender would. On top of processing food and making smoothies, this blender can also chop food and knead a dough.
However, on the downside, this motor is only powered by a 550-watt motor. In terms of capacity, it has two 16-ounce cups and a 40-ounce processing bowl.
Pros:
It is simple to use.
It has a compact size for easy storage.
Gives the best quality smoothies.
Easy to clean, thanks to its detachable blades.
However, due to its small size, one can only blend a small number of ingredients at a time. It is also not one of the best blenders to blend vegetables like carrots or kale.
Ninja Master Prep Professional Blender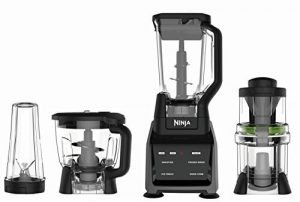 Are you looking for a multi-functional and efficient blender at a reasonable price? If so, then, the Ninja Master Prep Professional Blender is what you are looking for.
This blender is versatile and comes with an array of cups for multipurpose functions. The pitchers have power spouts, which allow for 0% spillage.
However, the blender has too weak watt power to crush ingredients effectively. It consists of a Power head with a 450-watt motor and three attachments as follows:
40 oz. food processing bowl
A 16 oz. chopper bowl and
A 48 oz. blending pitcher
This means that this kitchen appliance can replace three others.
Pros:
It is relatively inexpensive
Easy to clean and use
It is multi-functional (3-in-1)
It saves storage space as it is compact.
Ninja Master Prep Professional Blender is however not designed to blend hot liquids or hot soup.
Blenders play a vital role in the kitchen. It is almost impossible to imagine a kitchen without one. The best Ninja blenders are, however, not your ordinary kind of blenders.
Ninja BL456 Blenders

Here is another one of my favorite blenders coming to you by Ninja. This blender is fantastic thanks to the sip and seal lid cups that can be taken directly off of the blender base and popped straight into your bag! These sip and seal containers make healthy eating on the go easier than ever before!

Pros
You can use this blender to crush ice, skins, stems, seeds, and frozen ingredients – nothing can stop it!
It is made from BPA free materials so that you can use it with peace of mind.
The blender sip and seal containers are dishwashable for easy use.
The only possible con with this blender would be the size of the blending cups – if you want to make large quantities of a smoothie or milkshake for the whole family then you may have to do so in various batches as the blender cup only holds 24 oz.
Who is Ninja?
Ninja is a house- care brand, which was developed by Shark Ninja Operating LLC. Shark Ninja specializes in small house-care appliances as well as cleaning solutions, to fit busy people's lifestyles.
As a result of providing the best quality and innovative products, Shark Ninja has grown swiftly to occupy a large market share, making it one of the best companies in the housewares sector.
Shark Ninja's journey began in Montreal, Canada, in 1998. Mark Rosenzweig is the CEO and leads with a passion to develop innovative products at a great value.
Over the years, Shark Ninja blenders have grown by leaps and bounds, and its products are widely distributed across the world.
Best Ninja Blenders Wrap Up
From making smoothies, to even kneading dough Ninja blenders are what you need in your kitchen. Contrary to what most people would think, quality and versatile blenders do not have to cost an arm and a leg.
Ninja blenders are not only cheap but also some of the best you can get in the market.
We have to appreciate the fact that there is no blender that does not have its positives and negatives. Therefore, making the decision of purchasing the best blender that suits your needs, requires an analysis of the pros and cons.
Else, you might end up buying a blender that disappoints you altogether.  Have a wonderful experience acquiring that Ninja blender that suits you!
Do you use a Ninja blender? Let us know in the comments below!