If you are looking for a brand new blender, let me assure you that you have come to the right place, as Hamilton Beach makes some of the best value for money blenders you can imagine starting with the model that we are going to consider in this article – the Hamilton Beach 58149 review. 

So that you can purchase with confidence, this article has been crammed to the brim with important information about this blender including an overview and a list of pros and cons so that you can get savvy on everything there is to know about this blender. I will also include some shopper's opinions and Hamilton Beach 58149 blender and chopper reviews so that you can have a look at feedback from those who have purchased the unit.

Having a great blender in the kitchen is the perfect way to promote healthy eating in the family. It is also ideal at helping you to get great results when cooking, such as when roughly chopping ingredients and when crushing nuts and ice. All of these fantastic features and more are available on this Hamilton Beach blender, so stick with me throughout the course of this article and I will take you through everything there is to know about it.
Overview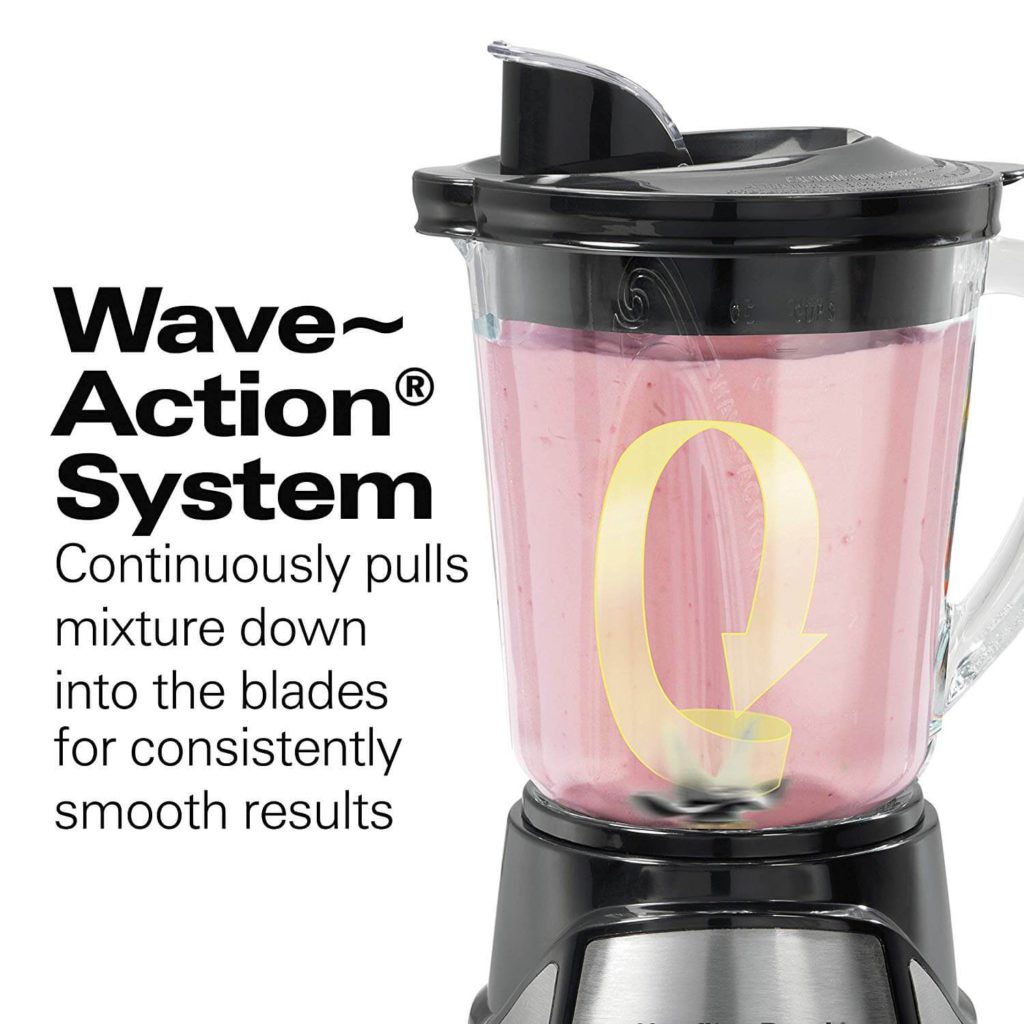 Are you ready to see exactly what comes in the box of this Hamilton Beach 58149 blender? Then take a look at the following information that will give you an in-depth look at all of its fabulous features:

Powerful motor
The motor on this blender definitely has some oomph behind it as it is powered by 700 watts – making it the perfect appliance to whizz together some of your favorite ingredients faster than ever and crushing even the toughest of ingredients such as ice and nuts.
Family size
This Hamilton Beach 58149 blender comes with a 40 oz pitcher – the perfect size that will help you to make ample servings so that you can share your tasty creations with the family.
Easy cleaning
The pitchers on this blender are dishwasher safe so that you can get to relaxing quicker at the end of a busy day. The pitchers have also been made with no-mess pouring spouts that help to prevent dripping and save you from making a mess of your kitchen countertop.
Functions
The blender comes with 12 preset functions that will allow you to mix, make a milkshake, puree, smoothie, salsa, crush ice and more at the mere press of a button.
Pros & Cons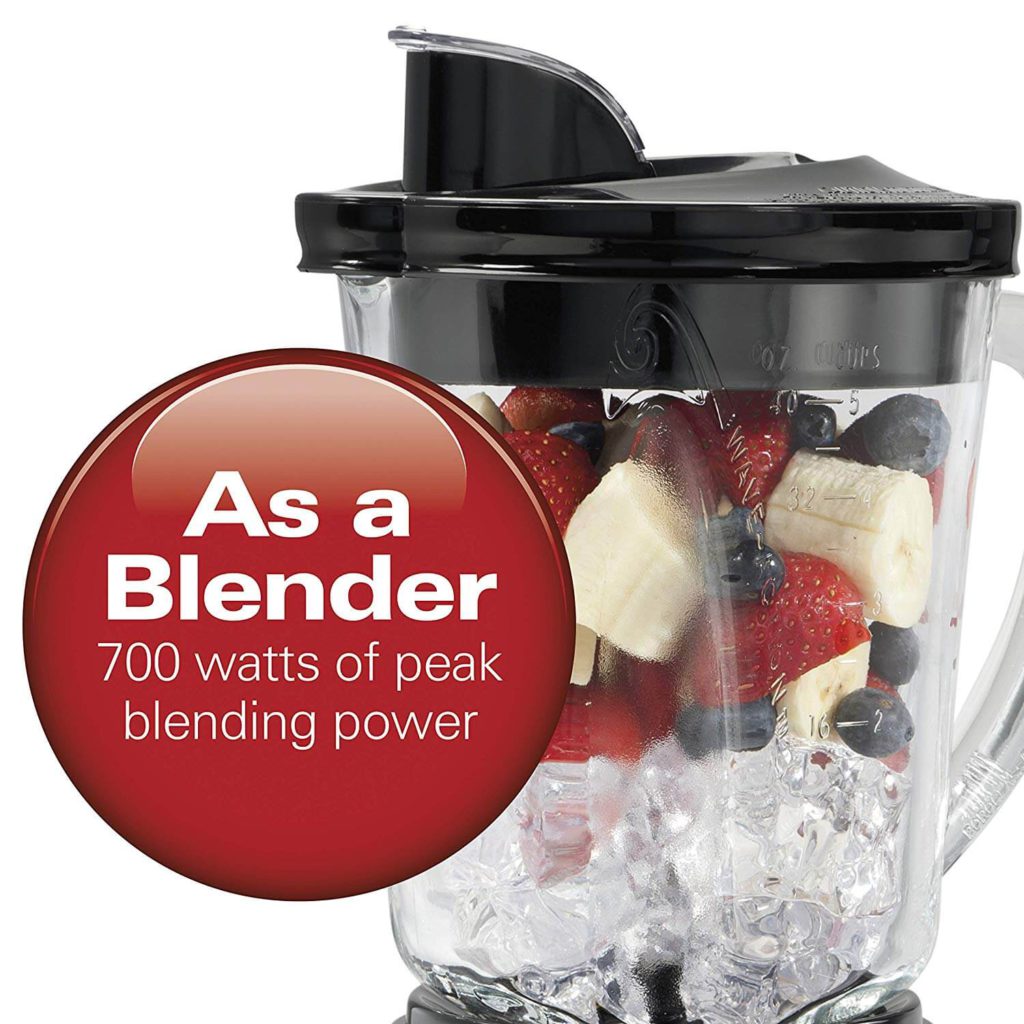 I am sure you will agree that it is all well and good reading what the manufacturer has to say about their product, as of course, they will give it the best review possible. But what are consumers saying about this blender's performance?

The following part of this article will include consumers' pros and cons that will help you to see just how well the Hamilton Beach chopper works.

Pros
Storage solutions. Most blenders are bulky, heavy and awkward, but not the Hamilton Beach 58149, as this blender weighs a mere 8.75 pounds and measures only 8.7 x 8.5 x 14.7 inches. The blender also has integrated cord storage so that the unit can easily be wrapped away when it is not in use. 
Warranty. The warranty on this Hamilton Beach blender will help you to purchase with confidence as it is backed for a generous period of 3 years.
Price. This blender comes to you at a great low price, that cannot be beaten by many similar blender models..
Cons
The blender does not have a preset option to make soup, nor does its blades spin fast enough to heat up your food, so you will have to stick to the recipe when making soups. 
Conclusion
I am sure that after considering the above-mentioned information about the Hamilton Beach 58149 chopper, you are super eager to get your hands on a model as soon as possible, and quite honestly, I cannot blame you as they are fantastic blenders. 

But what if you are still a little on the fence and are not quite sure whether the Hamilton Beach chopper is the blender for you or not?

The following is a list of all of the fantastic features that come with a Hamilton Beach 58149 blender and if the criteria suits what you are looking for, you will know that this is the blender for you. 

Dishwasher safe
One of the most important features for those with tight schedules.
12 blending options
Giving the user plenty of variety and recipe options to try out without having to be tied to a recipe book. Simply add your ingredients and press the button. It couldn't be simpler. 
700 watts power
Ideal for those who are looking to crush tougher ingredients such as ice, nuts, and tough vegetables to make frozen desserts, purees or smoothies.
All of this and more is available on the Hamilton Beach 58149 blender – try it for yourself to see just how great it is!