Are you looking to take the hassle out of grilling? Are you looking for a charcoal grill that you can simply fling into the back of your pick up truck and fly off down the road to the nearest campsite and roast heaps of succulent meat with friends under the light of the stars? Then a po' man charcoal grill is just the grill that you need.
The Original Po' Man Charcoal Grill
Standard grills today seem to be getting more and more complicated, with side tables and shelves, a whole bunch of different vents and hatches that no one ever ends up using or even understanding, and is it just me or are they getting heavier?
The last time I decided to move my traditional grill – I would like to add, simply to the other end of the backyard decking – I broke out in a sweat and my back had seized up by the time I had finished because of how darn heavy the thing is.
If it is time for a new grill, then you are probably looking for something that is free from all of the faff of modern grills and that will be easy to transport and that is why this article is dedicated to showing you everything you need to know about Po' Man grills  – the simplest grills out there.
The Original Po' Man Charcoal Grill Review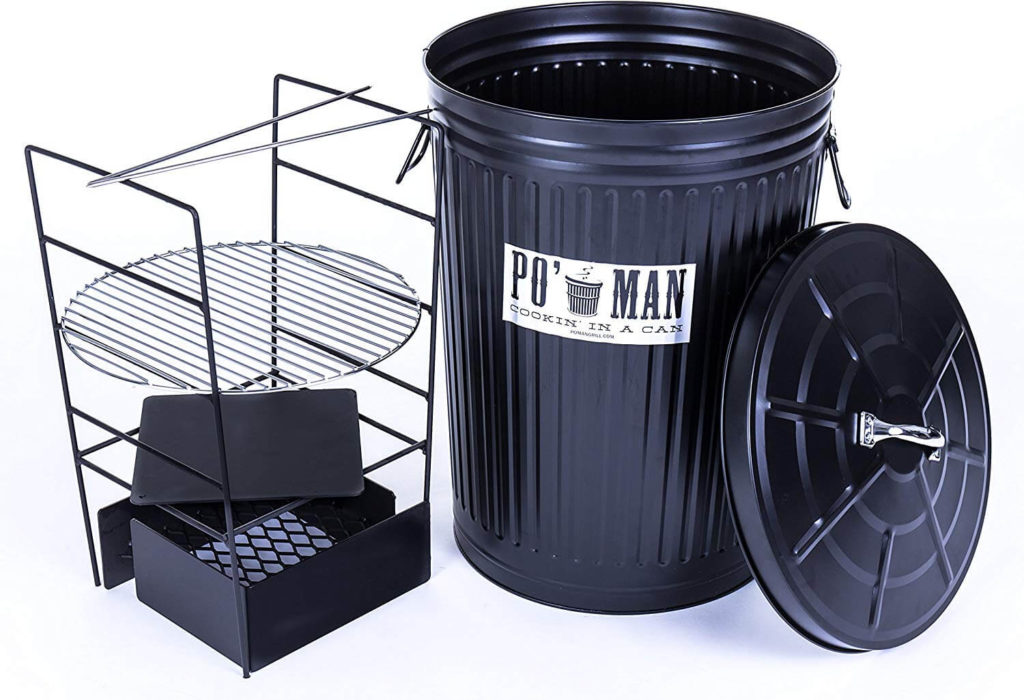 Now you have had a closer look at the Po' Man charcoal grill, I am sure you are ready to dive into the review that will let you in on some more of the great features that come with this charcoal grill. Take a look. 
Overview
If you are looking for a grill that has a large capacity then you must have a look at this Po' Man grill. The Po' Man grill measures a generous 16 x 16 x 21 inches and has a large grill grate for grilling your favorite meat.
Features
Easy to transport. The Po' Man charcoal grill is the perfect grill to take on trips camping and to transport around on days out.
The grill only weighs a mere 20 pounds, making it easy to lift.
Durable. The Po' Man grill is made up of highly durable rolled steel and stainless metals that will help to keep the grill pristine for longer.
These materials are resistant against harsh weather conditions like rain and intense heat and will keep the Po' Man gleaming in like new condition longer.
Large cooking capacity. The grill also comes with two skewers that are ideal for cooking the tastiest sausages or smaller cuts of meat. 
Easy Heat Regulation. Ready to pack in the flavors? Simply adjust the lid on the Po' Man grill in order to add a more intense smokey flavor to your meats and help it to grill more succulent and tasty meat. 
Pros
The design is very convenient and easy to use
Has a very large capacity perfect while cooking for large families
Very well built
Excellent heat regulation inside the smoker and flavors te meat pefectly
Cons
The screws on the grill tend to come loose over time
Po' Man Grill
Are you itching to get your hands on a Po' Man grill? Then take a look at all of the fantastic features this Po' Man grill has that puts the simplicity back into cooking on a grill.
Large Cooking Space
The Po' Man grill is the perfect grill for cooking meals for large families or groups of friends thanks to its large capacity and ample grilling space.
The Po' Man grill comes with generous room for you to grill all of your favorite meats at once – just imagine all of the great flavors and juices mixing together! Scrumptious! 
Accessories
The Po' Man grill comes with all of the grilling essential accessories and nothing else, no faff and space-wasting and time-consuming elements.
The grill comes with a grill grate, a lock drip plate, and skewers – everything you need to keep your food cooking on track.
Economical
Not only does the Po' Man grill provide you with a great solution to smoke some of the very best cuts of meat and ample space to do so, but it is an economical option to purchase as it doesn't come with all of the unnecessary faffy features that most grilling companies try to sell to you that make grilling expensive.
FAQ
What is the best charcoal grill on the market?
From the review above, it can be concluded that Po Man Grill is one of the best grill in the market.
Are charcoal grills worth it?
Yes, as charcoal grills are usually more portable than the gas grills plus, Charcoal also tends to burns at higher heat than gas.
How long do you let charcoal burn before grilling?
Burn the coals to light for about 20-30 minutes and make sure that the coals are burning hot and glowing before you start to grill.
Conclusion
There is simply no need for grilling tasty food to be a hassle or expensive job and that is why I love the Po' Man charcoal grill.
The Po' Man takes all of the hard work and accessories out of grilling and strips it back to the simplicity of cooking slabs of well-marinated meat over a roaring fire, which is really what grilling food is all about.
If you are looking to take grilling food back to the basics and save a chunk of change while you do so, then I am sure the Po' Man grill will be right up your street. 
Have you been searching for a recipe that will help you to put more flavor into your grilled food? Then you will love cooking on a Po' Man grill, as this grill helps to heat food up on all sides and will give your meat that original smokey taste from the juices hitting the drip plate that helps to lock in more intense flavors.
Cooking on a Po' Man grill will infuse your food with far more flavor than cooking on expensive gas or pellet grills.
Like what you see on a Po' Man grill? Then make sure you add one to your basket today to grill up the perfect meal for the family this weekend.