If you are a real grilled meat enthusiast like myself, I am sure you will agree with me when I say that it is never a bad day to whip out the smoker. There is just no way of beating that original smokey flavor that you get on your meat from a smoker. Combine that with some fresh burger buns, a greek salad with zingy olives and a light vinaigrette and well, it just doesn't get better than that. 
One simply cannot be without a smoker, and if your old smoker is on its last legs or you are looking to purchase your very first smoker in time for barbecue season, then you have arrived at the right place! 
If you are ready to purchase your first smoker or you are buying a new one after your old smoker has kicked the bucket, you may feel a little unsure about what to look for.
Cuisinart COS-244 Review
Cuisinart COS-244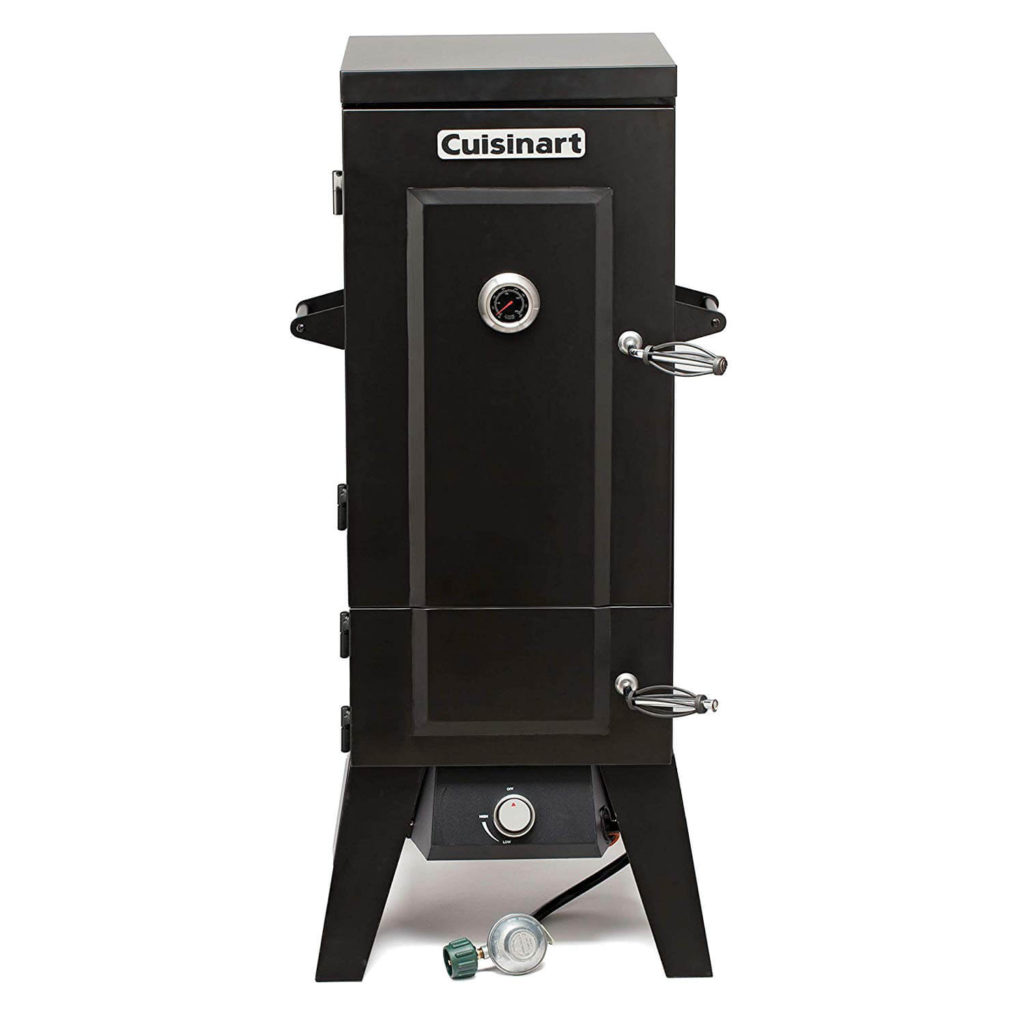 Are you ready to take a closer look at this fantastic Cuisinart vertical smoker? Here is everything you need to know about it before purchasing.
Overview
If you are looking for the inside scoop on what to shop for in a propane smoker, then you are in for a treat as we will be discussing this very topic in this article.
Not only that, but I will also show you in our Cuisinart smoker review of the fantastic propane smoker and explain the many reasons why it is storming the nation in popularity. Let's get started!
Features
The smoker measures 36 inches and has a vertical design. The vertical design makes the smoker easier to store as it will not take up as much room as horizontal or offset smokers on your decking. 
The smoker comes in a classic black color, perfect for it to blend into the background while still looking classy with a well-polished finish.
The outside temperature gauge on this model will help you keep an eye on the internal temperature of the smoker without having to constantly open it up and use handheld thermometers. This will make it easier for you to cook pieces of meat that are heavily reliant on the perfect cooking temperatures and timing such as steaks. 
This smoker includes a handy sausage hanger, the perfect place for sausages to hang and cook without interfering with other meat in the smoker.
The push button ignite system helps this smoker to light up immediately every time, even when the weather is unfavorable. That will help you to get dinner on the table in record speed!
Pros
Very easy to assemble
Smokes the meat well all around
The door of the smoker seals tightly and hence has very minimal heat loss
Well heat regulation inside the smoker
Cons
The temperature gauge doesn't give an accurate reading sometimes
The water reservoir is too small
What to shop for in a propane smoker
If you are one step ahead of the game then you are already getting ready for the next barbecue season, keen to make the most out of the first signs of sunshine to bring out the smoker and grill some succulent slabs of marinated meat for the whole family and friends to enjoy. 
But as I am sure you are aware, a lot goes into purchasing a brand new smoker, and if it is your first time buying one, you may not know what to look out for when you do so. So if that is the case, take a look at the following handy list of tips.
Vertical smokers
Vertical smokers are a great choice as they take up less room on your backyard decking and are inexpensive in comparison to offset and horizontal smokers. 
Well insulated
Smokers that are well insulated will retain heat better and will require less frequent refueling. Some smokers have a handy double door feature which helps to retain heat to the max.
Outside temperature gauge
Smokers that have a temperature gauge on the outside of the smoker will help you to know the temperature of your grill without having to constantly lift the lid, helping food cook faster and for flavors to lock in.
FAQ
How often do you add wood chips to a propane smoker?
There is no definite rule for how often you can change the chips in the smoker, but a good rule to follow is change the chips in every five to six hours. Important thing is to check the quality of the smoke that you're getting each time.
How long will a propane tank last on a smoker?
A disposable 14 – 16 ounce propane smoker tank will last 1.5 to 2 hours and a 20 lb propane tank will last about 18-20 hours on most grills.
Conclusion
Now that you have had a look at the fantastic Cuisinart COS-244 smoker, I am sure you have got your finger over the "confirm and purchase" button ready to add one of those bad boys to your shopping basket. 
Once your brand new and sleek looking smoker has arrived, I am sure you will be eager to fire it up straight away, no matter what the weather and no matter what day of the week it is! (Who said barbecues are only for weekends?!) 
In order to get the most out of your brand new smoker, make sure you use high-quality wood chips when filling it for that intense wood and smokey flavor to seep into your meat, giving it an amazing unbeatable flavor. You can also try using different flavored wood chips such as maple and hickory, in order to add a little extra smokey kick to your food depending on which meat you will be cooking.
Make sure you keep the water levels up in this smoker as this will help to stop your meat from drying out and will keep it moist, succulent and give it that fall off of the bone texture that everyone loves. 
Happy smoking!