Hamburgers, they are America's favorite food for a couple of years in a row now. However, making the perfect patty by hand can be tricky without the right equipment. Today, we're gonna talk about the 10 best burger press on the market for 2020.
Comparison Table
Bellemain Cast Iron Grill Press, Heavy-duty bacon press with...
Our #1 choice
GWHOLE Non-Stick Burger Press Aluminum Hamburger Patty Maker...
Cuisinart CSBP-100 3-in-1 Stuffed Burger Press, Black
Burger Press Patty Maker I Nonstick Press Molds Uniform...
Weston Hamburger, Crabcake and Sausage Press, Makes 4 1/2"...





Burger Press Patty Maker I Nonstick Press Molds Uniform...

Top 10 Burger Presses In 2020 Reviewed
It's important to have a uniform patty so that it cooks evenly on your grill or pan. To do this by hand is not the easiest task but with one of these best burger presses it makes forming patties simple and easy. So let's get started.
Weston Burger Press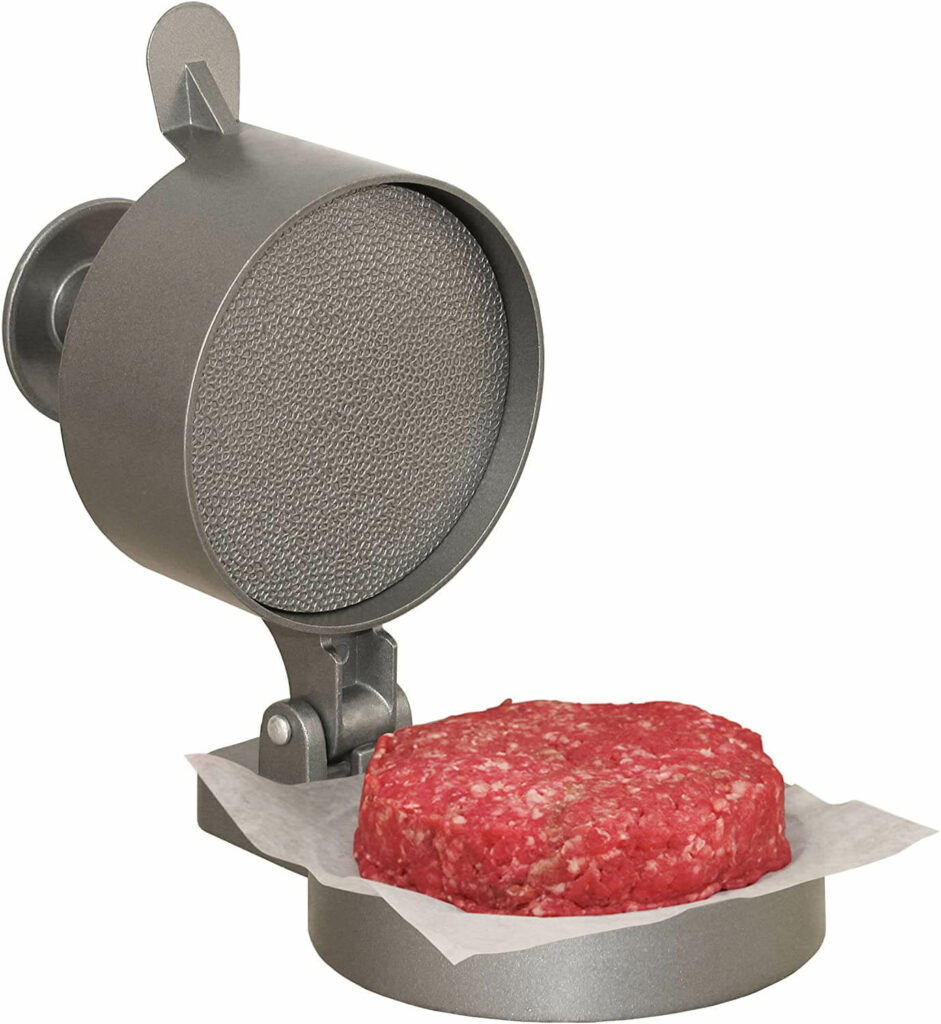 I really like this patty regular press because it allows you to adjust the thickness of your patty.
Overview
My personal favorite are thinner burgers and this press allows you to make the patty as low as a quarter inch which is what I would choose but it also allows you to go to an inch and a half if you like thicker burgers.
Features
I like thinner burgers because they cook quickly and when you put it together on the bun with all the toppings, it doesn't feel like too much meat.
This measures your patties to 4.5 inches in diameter and it has a non-stick coating for easy cleanup.
There's a spring on top that presses the meat down into the patty and then pops back so that it comes out easily.
This is made from cast iron aluminum, so it stays clean and it's easy to clean as well.
They also have the wax paper sheets in either 500 or 1,000 packs.
This will be a great hamburger press for yourself or as a nice gift for someone.
You may have noticed that it's very popular as well with over 4,000 reviews and a 4.4 star average.
Pros
Can easily make stuffed burgers as well, if you put your ingredients inside of the meat before pressing.
It also comes with a 1 year manufacturer's warranty.
Makes perfect shaped patty every time.
Cons
Few people have complained that it broke pretty quickly, but just make sure that you take care of it and it should last for years to come.
Meykers Burger Press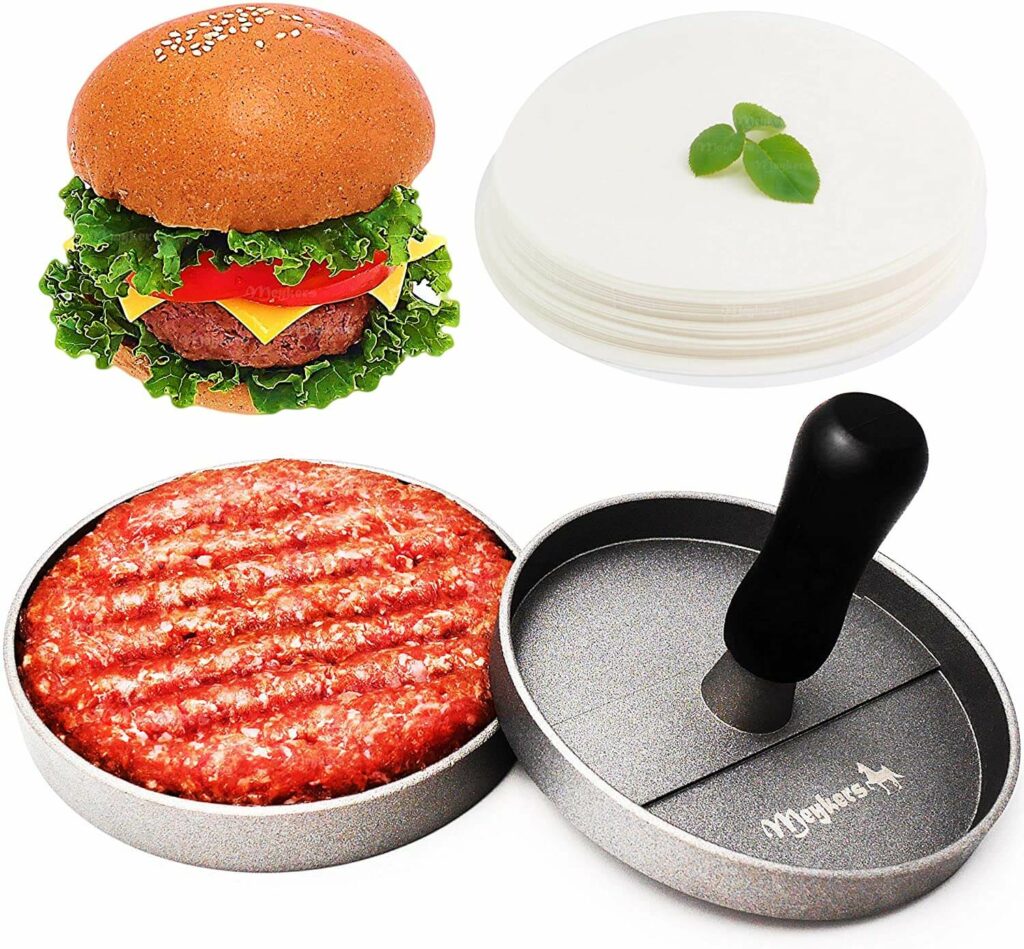 The Meykers Burger Press non-stick hamburger patty maker allows you to make burgers from a quarter inch to one and a half inch thick with a four and a half inch diameter and is made from non-stick cast iron aluminum.
Overview
This burger press you might consider if you will get heavy use out of it as it is not quite at the level of a commercial press, but will still get the job done.
Features
It's entire construction is made with metal, so it should last for a long time.
If you're worried about cleanup, you may use a cooking spray on the device before putting your meat in, to help the burgers come out.
This burger press also comes highly rated and as a 4.6 star average reading.
Pros
Very simple to use and can make perfect portioned patties every time.
Perfect for making burgers in family parities and get together.
Cons
Most of the complaints seem like people aren't using this correctly if you use the wax paper inside the press the burgers will pop right out and you don't have to worry about cleaning in between each burger.
Grillaholics Burger Press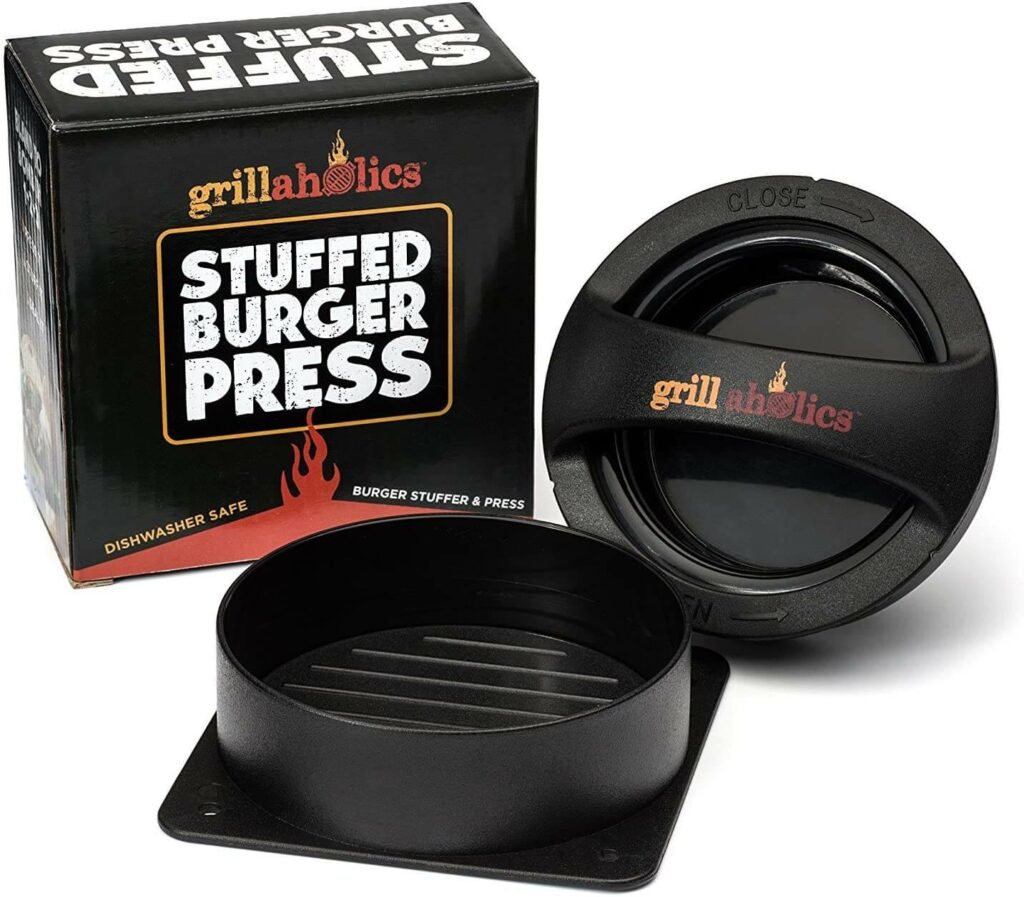 If you're on a budget this Grillaholics looks burger press could be a nice option for you.
Overview
Grillaholics is known for many grill accessories and their stuffed burger press is another high quality device.
Features
It comes with a base which gives you a forest diameter on your patties, a removable plate and a large press and an indent press if you want to stuff your burgers.
They also offer a lifetime guarantee which is backed by 100% money back lifetime guarantee. You can't get much better than that.
The only downside about this is it only makes one size burgers and those are half pound patties which are pretty big so as long as you are comfortable with that this is a good option.
It's another highly rated burger press with over a thousand reviews and a 4.5 average.
Pros
It's dish washer safe.
It's a hundred percent BPA free.
Cons
Most of the complaints are about the burger sticking and like we mentioned already you might want to use a cooking spray to help prevent this before putting your meat in.
Weber
The Weber 6483 original burger press is a simpler yet economical option that does not have many moving parts and it's made of plastic but it will still get the job done.
Overview
It's designed for a quarter or half-pound patties, but you should be able to put slightly less meat in there if you wanted to make a third-pound patty.
Features
With this burger press you load the meat into the handle actually and then press it onto the base you will definitely want to make sure you spray this one or use a wax paper to help get the burger out.
For only around 12 bucks, it doesn't get much better than this.
It has over 700 reviews on a 4.3 star average. It's simplistic design keeps customers happy.
Pros
Quick and easy to use and
Makes perfect portioned burger patties every single time
Cons
Again, many people mention that the burger sticks but with almost all these burger presses, you should use a wax paper inside of the press so that you can just lift the burger right out
Bellemain Cast Iron Grill Press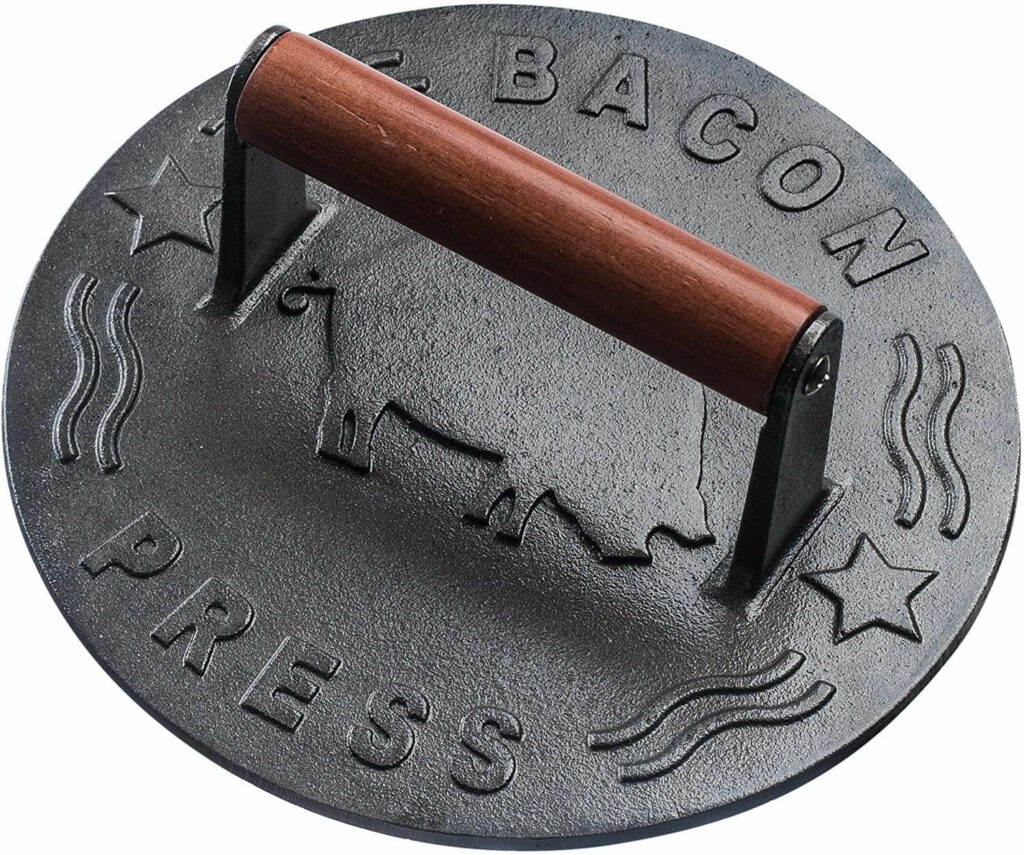 The Bellemain hamburger press is another simple burger press that's made of Cast Iron which will last for a long time and it's easy to clean.
Overview
As you can see, this one is pretty simple with a base and a handle. Simply load your meat under the base on the pan and press it with the grill press.
Features
Since it's made with cast Iron you can actually use this base directly on the fire to heat up some onions or other condiments that you may wish to add to your burger after you've pattied your burgers.
With the Bellemain burger press you can have more control over the burger and ingredients that you will be eating.
Easily add your favorite seasoning herbs and spices to your burger before you press it to create a flavor infused patty.
Pros
Heavy duty and perfect for pressing the burger patty.
Very easy to clean
Sturdy and will last a long time.
Cons
Doesn't help with making perfect shaped patty every time with same diameter.
Cook Bake And Love Burger Press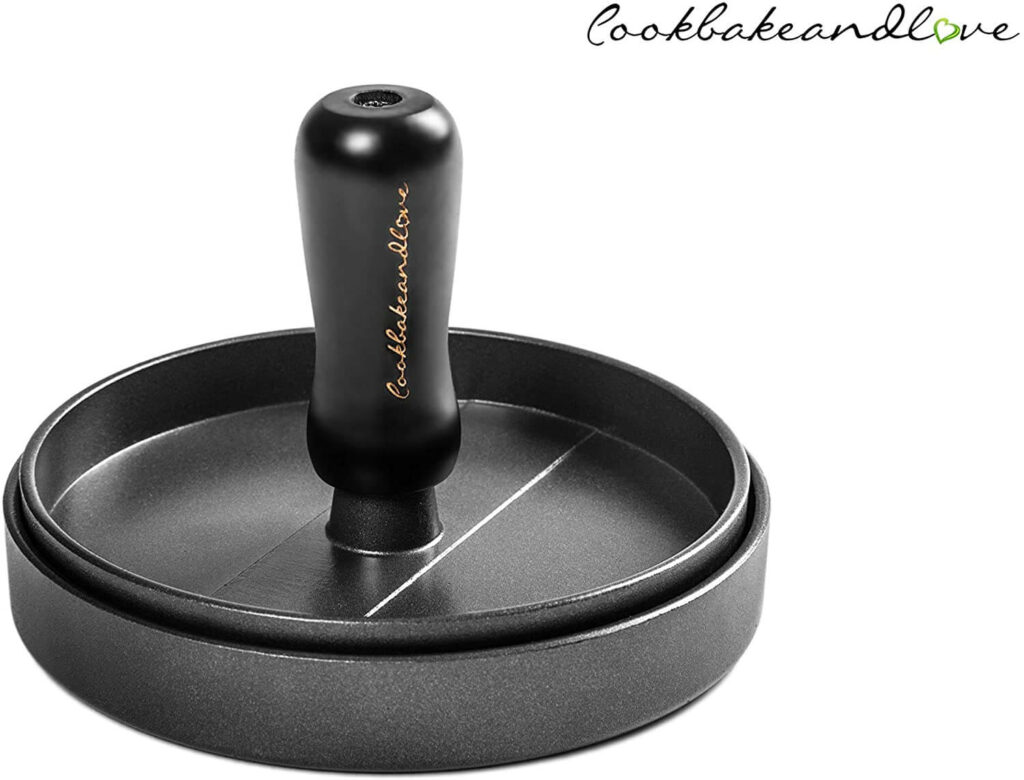 This design is almost the exact same as the Acluxs, having just the base and the handle with the ridged interior.
Overview
This burger press is made with a darker aluminum and diameter slightly larger closer to five inches. However, this makes the burger cook more evenly.
Features
This also comes with a cookbook with 15 different recipes to try and your new hamburger press.
Another reason I like this press is that you can put however much meat you want into it up to a half pound.
And the patties are still gonna come out the same diameter, so for me, I like more like a fifth pound of a burger, which is three ounces and you can still smash it out to the four almost five inch diameter.
With over 300 reviews this has a 4.4 star average with not too many complaints.
Pros
Sturdy and will last a long time
Easy to handle and use
Makes patties with similar diameter every time
Cons
Have to use a cooking spray prior to use to avoid the patty from sticking.
Cuisinart Press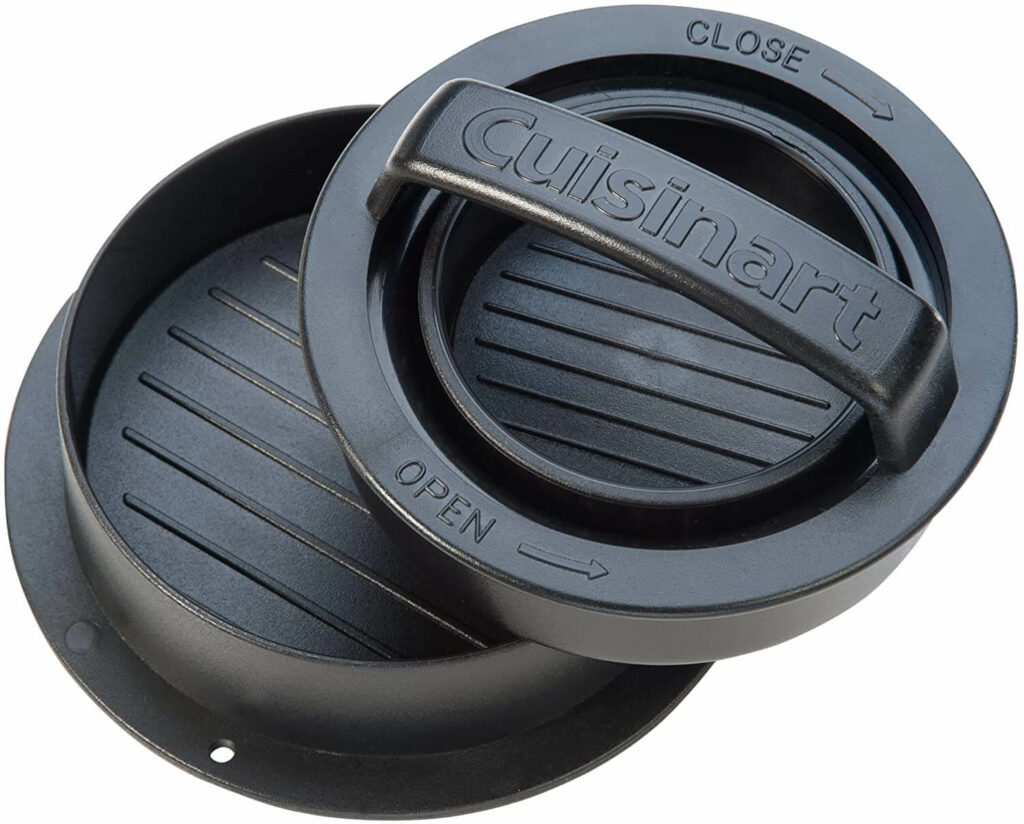 If you are looking for a cheaper option, the Cuisinart CSBP 3 and 1 stuffed burger press could be a good option.
Overview
It's pretty popular with over 3,500 reviews and a 4.4 star rating. It is plastic however that makes it easier to clean as it is dishwasher safe and it has a nonstick coating however.
Features
You can use the press to indent your patty stuff with toppings, and then seal it with more meat.
The only thing is this press is good for an eight ounce burger, which is pretty large like we mentioned.
However, it does mention that you can make smaller sized sliders as well.
This press does not come with a recipe book, but I'm sure if you're reading this article you have plenty of your own recipes to try out.
Pros
Can make burger patties of two different sizes.
Easy to press the patty
Makes equal and similar sliders
Cons
Have to always use a wax paper or cooking spray to avoid a mess.
Gwhole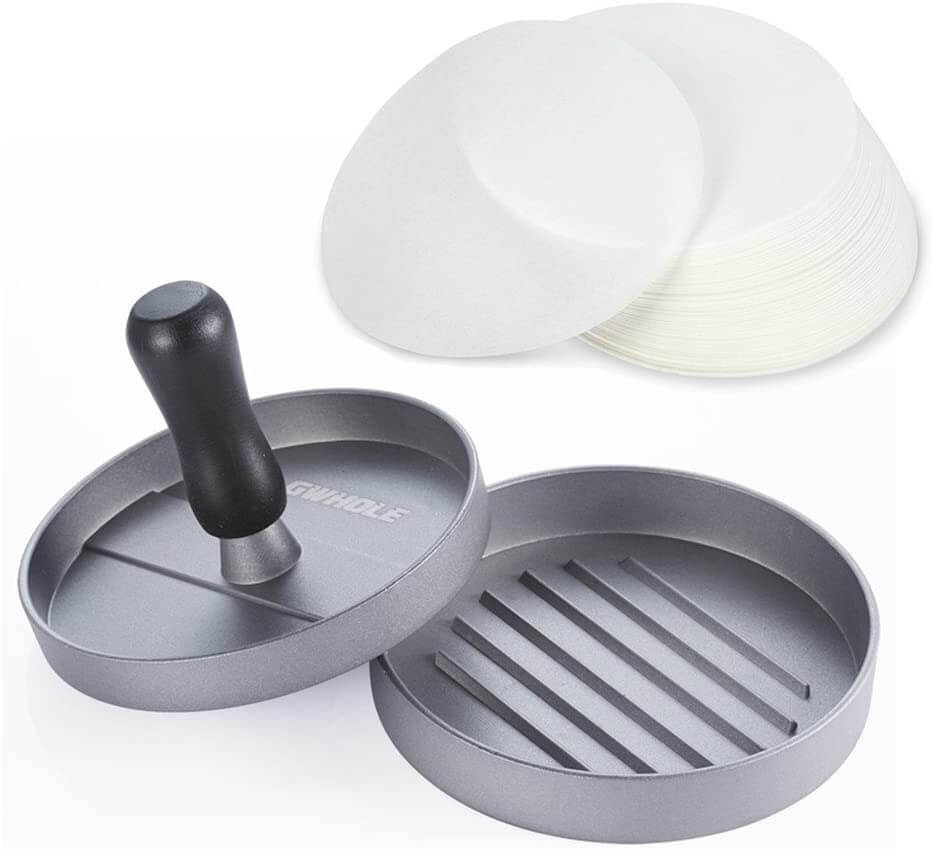 This has another similar style as a few of the others on here, but it also comes with a hundred wax papers to get you started for the same price so this may be a slightly better option as you will be ready to go as soon as you get the package.
Overview
Again, it has the base with the handle and the rigid interior and it's a non-stick cast aluminum. So, if you need an extra spot to cook some veggies and you don't want them to fall through the grates of your grill you can use this base to cook those.
Features
Even though these types of presses don't have the indention you can easily make stuffed burgers by indenting a ball of meat with your ham and inserting your ingredients and then closing it and up before you press it.
The base is slightly narrower at 4.3 inches, however, that's plenty of space for your patty.
This is another great option with over a thousand reviews and a 4.5 star rating with actually one of the fewest complaints of all of them.
Pros
The handles are also detachable so you can easily tuck it away in a drawer saving you some space.
Easily makes similar patties within minutes.
Cons
The patties does tend to stick to the edges but using cooing spray can help avoid that problem.
How To Use A Burger Press
Your hamburger press normally includes guidelines on how to make a pushed hamburger, so you should not have any kind of troubles attempting to use your brand-new tool.
Overview
That said, there are some basics that you must observe to allow you to produce best burgers, no matter the kind of hamburger press you have.
Standard actions for pressing stuffed hamburger:
Features
Divide your meatball into 2 tiny rounds, ensuring one of the rounds appear larger than the other. Add the larger ball in your press dish.
Remove the bigger cap from your press manager.
Make use of the internal smaller sized cap to press your meatball. You need to be able to develop some type of depression in your meatball in this action.
Currently throw in your preferred seasoning into the depression, e.g., cheddar cheese, buffalo sauce.
Flatten the smaller sized meatball and place it ahead.
Reinstall the larger handle you eliminated earlier on and press. In case any kind of excess beef protrudes on the edges of your press, you can simply trim it utilizing your fingers.
Ultimately, remove of the patty and place in the grill for prompt food preparation. If you do not plan it to cook it right now, you can keep it in the fridge freezer.
Burger Press Buying Guide
As you search for your burger, press, there are a few things to consider and things to look for that might help you in your decision. As you can see, there are only a few different styles from a couple different brands, however, hopefully this guide will help you determine which one is best for you
Ease Of Use
All of these should be fairly easy to use simply insert the meat and press. However, where people get messed up is they don't use wax paper or cooking spray.
The best way is to use the wax paper because you can literally just pull the paper and the patty will come with it.
If you don't have wax paper, then you should heavily spray the device with a cooking spray. However, you still may need to use a fork or something to start to lift the patty out of the press.
Material
A couple of these options or cast aluminum, which is great, as you can use the base to actually cook on the grill if that's important to you.
However, the plastic ones are better because they're dishwasher safe so it makes cleaning easier.
These are the two main differences in the types of material.
Thickness
A few of these only were good for larger burgers, but most of them allowed you to control the thickness of your patty, which would be very important for me as I mainly eat thinner patties, but sometimes if you wanted to make stuffed burgers, you need the option to make them thicker.
Ridges
Some of these presses had built in ridges, which is gonna help your burger look like it's seared on the grill even if you're doing it in a pan. So if that's important to you for your presentation, that should be something to consider as well.
Other factors to consider:
The variety of hamburgers: if you intend to use your burger press in your tiny restaurant or just for industrial use, why not obtain a hamburger press that assists you make up to 2 patties at a time? It'll ease your work as well as conserve you time.
Guarantee: The warranty will show the degree of trust fund the supplier has in their burger press' quality and dependability. Products that offer you a lifetime service warranty are worth thinking about.
Style: some hamburger presses are developed to make up to 3 sorts of hamburgers (usually known as 3-in-1 burger press). If you wish to make various sorts of hamburgers in addition to the normal one, get this kind of press.
FAQ
Are burger presses worth it?
Absolutely, as pressing the meat makes sure it releases the flavorful meat juices and also helps you to handle the meat as lightly as possible and turning out even patties every time.
Is It Easier To Use A Hamburger Press?
Yes, once you have practiced it enough, it eventually gets much easier to handle. All you have to do is add the meat in and press it. 
What is the secret to a juicy burger?
The secret to getting delicious, juicy burgers depends on two very important things, that is maintaining the temperature and cooking it for the right amount of time.
Conclusion
So, what's the best burger press? Well, only you can make that decision for yourself. However, we hope that our comments on the above options help you in your decision process.
We always encourage you to do your own research and decide what's best for you. If you happen to have used any of these burger presses in the past, please let us know how they worked for you in the comments below.