Do you often find yourself struggling to open jars in your pantry and kitchen? It is important jars are sealed tightly to preserve whatever is inside them, and they do a great job at that, however opening them is another story. 
In this article, we will review many different jar openers that can make quick work of opening any jar. This will allow you to close all your jars tightly and not have to worry about what they may be like to open again in the future. 
There are surprisingly many different methods used for such a task so the opinion of which jar openers are the best jar opener will vary from person to person, we hope our article helps you find your perfect kitchen companion!
Top 8 Best Jar Openers In 2020 Comparison Chart
KUHN RIKON Strain-Free Gripper Opener for Jars and Bottles,...
Our #1 choice
EZ Off Jar Opener - Under Cabinet Jar Lid & Bottle Opener -...
Black & Decker JW200BM Lids Off Jar Opener, Stainless
Leifheit Extra Wide Stainless Steel Lid and Jar Opener |...
Hamilton Beach Open Ease Automatic Jar Opener, Model 76800





Black & Decker JW200BM Lids Off Jar Opener, Stainless

Top 8 Best Jar Openers In 2020 Reviews
Ez Off Jar Opener
First up is the under counter method utilized by this easy jar opener. This unit is very handy because it can be mounted under any cabinet, in your cupboard or anywhere else where it can be handily available and out of sight. 
This jar opener can open any size jar and even bottles with its clever design. In our reviews this opener is extremely easy to use and extremely easy to install. With an installation time of just a few minutes when you find the perfect place to install this you will be opening jars in no time. 
The only real negative we found with this unit were the teeth are a bit sharp (which could be a pro or a con, depending on how you look at it) and can leave their mark on plastic caps, just something to be mindful of.
Kuhn Rikon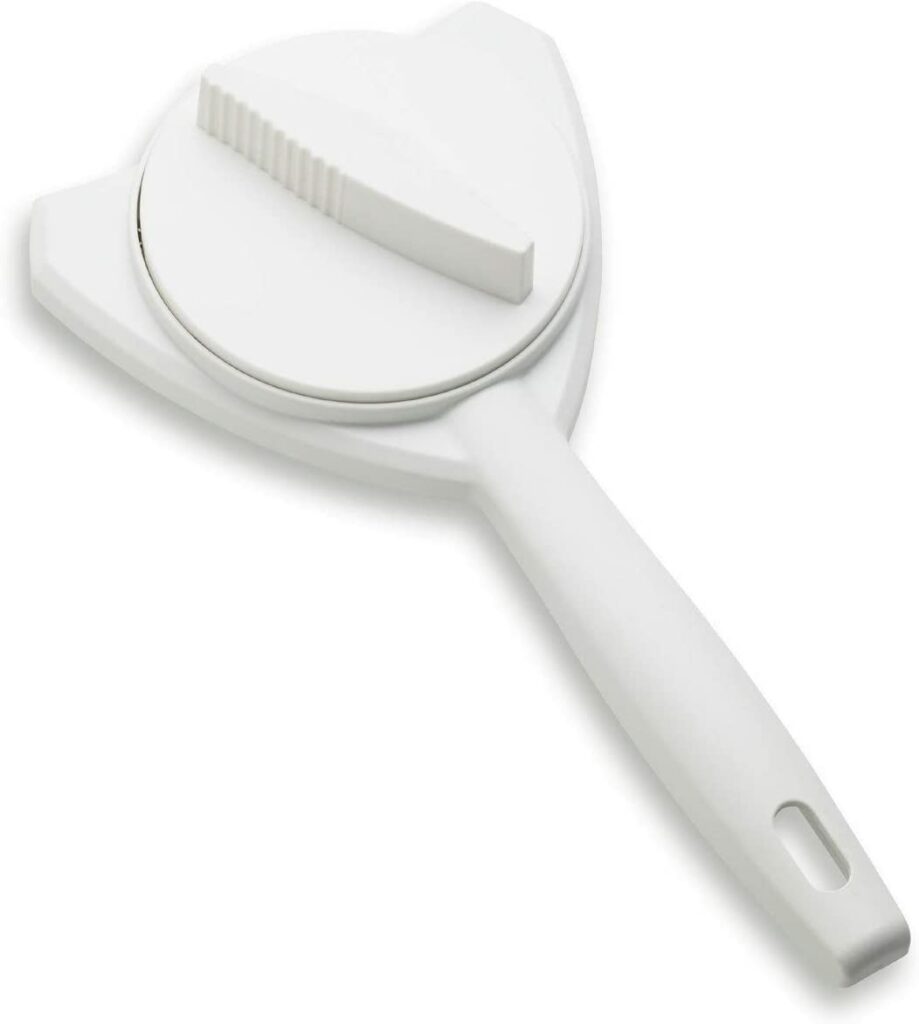 Our next selection for best jar openers uses a completely different method than the previously reviewed one. Anyone that spends time working on cars or removing difficult bolts will be very familiar with the methodology this opener uses. 
This jar opener has a screw top to grip the lid then you simply use the handle to create more leverage to twist off the jar lid. This unit also works great for stubborn bottles as well. This is a great solution if you do not want something mounted so that you have the freedom to use it anywhere. In our tests this unit worked perfectly and effortlessly opened many jars and bottles that were otherwise more difficult to open. 
The only downside of this unit we saw were its primarily plastic construction means you have to be careful of it and the method this opener uses you will need to be careful of where your knuckles will be when the cap releases so you dont actually punch a cabinet or wall in your kitchen.
Black & Decker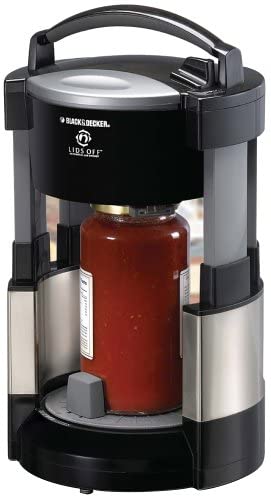 Next up is our first electric jar opener the Black and Decker JW200bm. This unit coming from Black and Decker is coming from a trusted name brand that has a great reputation so that is certainly a positive that you can buy with confidence that this is a brand that isn't going anywhere. 
This unit fits the entire jar inside of it and unscrews the cap, in our testing this methodology worked flawlessly. The main things to be careful with this unit are since the entire jar is placed into it, any jar must fit the confined space in order for this to work. 
The dimensions that work for this opener are 4.5" diameter x 8" high, any jars out of this size you won't get much help with this opener. If every jar you open in your kitchen fits within the standard jar sizing outlined above this could be the perfect jar opener for your kitchen.
Leifheit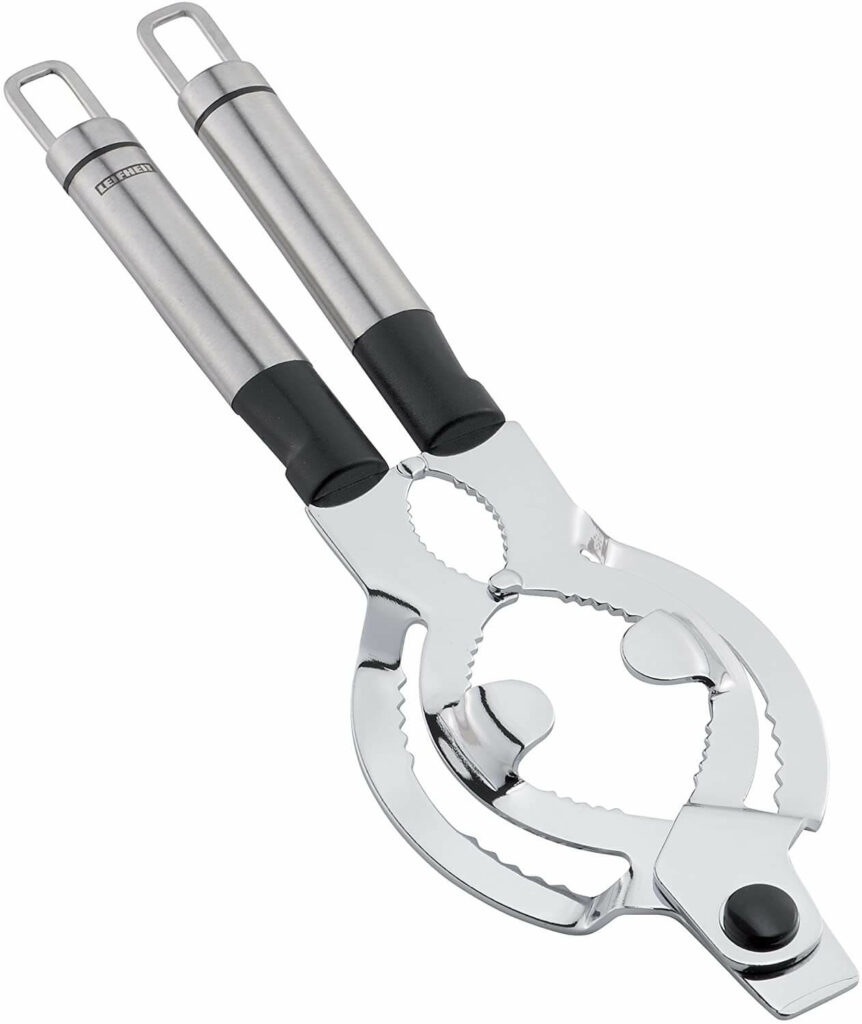 Our next review is of the Leifheit jar opener. Probably the simplest jar opener in our entire article here this unit is made almost entirely from stainless steel. 
Being the most simple jar opener in our article isn't necessarily a bad thing, depending on what you are looking for there is less that could go wrong with this opener.
This opener simply has two stainless arms you open and fit one of the "jaws" onto the jar or bottle you are trying to open and twist. In our testing this unit worked simply, it may take slightly more effort than the other items in this article but its sturdy construction will certainly outlast most of the other units we have reviewed, there is basically nothing to break. 
If you are weaker or have small hands though this may not be the jar opener for you.
Hamilton Beach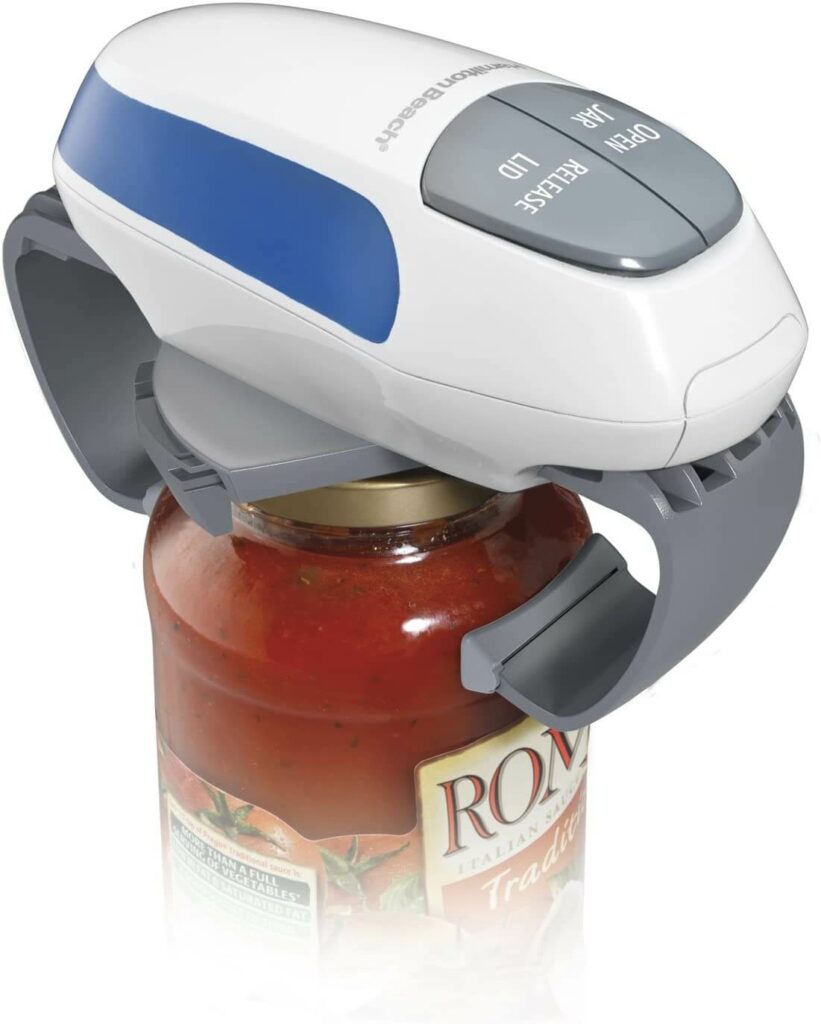 Next up for review is the Hamilton Beach Open Ease Electric Jar Opener. At first glance this electric opener seems more convenient than our other jar opener we reviewed above since it is not limited by the size of the jar (since it does not cover the entire jar) and while that is true this opener has other weaknesses. 
This electric jar opener takes a little more user diligence to make sure everything tightens completely on it. Since this opener has a clamp that grips the jar itself and a clamp to grip the lid it is very important the rubber grips are maintained in good condition. 
This is a great jar opener however it is a bit hit or miss the jars that it will work on which makes it difficult for us to suggest as the best automatic jar opener.
OXO
This next jar opener the OXO Good Grips applies a couple of the principles of other openers we have reviewed in this article and merges them into one. 
This unit has set teeth that you slip onto the jar as far as you can and use the arm to gain the leverage to twice off the lid to your jar. This opener includes a built in pad to place on your counter to help lock the jar still so you can twist the lid off the jar without having to hold it too tightly with your other hand. 
This unit does pretty well at opening jars and since there are absolutely no moving parts there is certainly less that could go wrong with it however the teeth are an area of concern potentially. For the price this unit is helpful however it is certainly one of the more "clunky" jar openers we have reviewed in this article.
Robo Twist Jar Opener
Next up for review is the RoboTwist electric jar opener. In our testing this was the best electric jar opener. This electric opener again, was not limited to jar size, it can open any jar size since it simply attaches to the lid. 
To use this jar opener you simply attach it to the top and push the button and it clamps to the top and the jar and "robo twists" the lid right off. Though we reviewed a couple that worked comparably to this one, in our opinion this seemed to be the more consistent automatic jar opener. 
Similar to the other reviewed openers like this one it is important you maintain the rubber grippers for this unit to work effectively for years to come.
Kichwit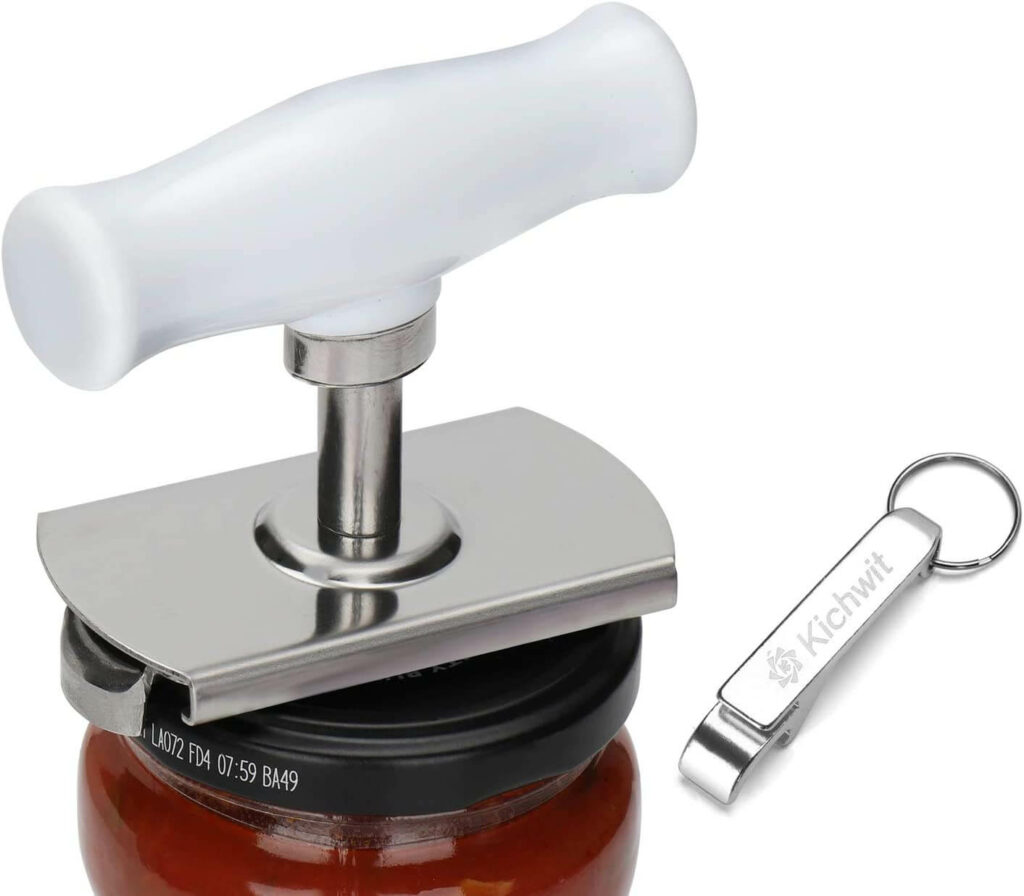 Last up for review is the Kichwit Jar opener. This opener brings full stainless steel construction to the table so it should last for many years to come. The only moving parts on this unit are the stainless gears so there isn't much sophistication to this unit. 
This unit works by tightening to the lid and then you twist the handle to pop the lid right off your jar. This unit worked great in all of our in house testing however, you don't really get to create any extra leverage with this unit, it just takes solid jar lid gripping to a whole new level. For simplicity and price this is another opener that you can't go wrong with.
Best Jar Opener Buying Guide
When shopping for your jar opener there are many things to take into account. The perfect opener for you may not be the same for everyone else so we have created a list below to outline some of the bigger features and benefits to keep an eye out for. 
As you can see above in the reviewed jar openers there are MANY different methods employed to do the same task, so its simply choosing whichever method works best for you.
Manual Vs. Electric
This is an important consideration when picking your jar opener. An electric one will do all the work for you however you can really apply input to make it open a jar. 
It either simply works or it doesn't, additionally if all of your batteries are dead, there isn't really much you can do. Additionally a manual unit, no matter how much easier it makes it, is always going to require effort on your part to work.
Available Space
Some openers are counter mounted and require a handy mounting spot, some are large electric units that will take up a lot of drawer space while others are similar in size and smaller than a can opener. 
Keeping in mind the amount of space you have will be helpful in choosing which jar opener will be convenient and work well for you.
The Materials
Materials used in construction are often overlooked. At the end of the day something made from mostly stainless steel vs plastic will last for many many years to come. 
When looking at the construction of the jar opener you are purchasing it is important to consider how many years you would like to get out of the unit.
Ease Of Cleaning
The kitchen is a messy place. Even something used to open jars will need to be cleaned from time to time. It's important to note small crevices and gaps that may make your jar opener a nightmare to keep clean.
So, Which Is The Best Jar Opener Ever?
Choosing a jar opener employs so many different methods it's important to consider your situation. If you are older and have smaller hands or feel "weaker" opening jars an electric can opener may be your best bet. 
If your common issue is simply "grip" on the lid then one of our reviewed openers that lets you add more leverage while gripping the jar better may be the best unit for you. 
Our suggestion is to read through each of the methods above of each opener and purchase the one that you think fits your needs best. Happy opening.