Table could not be displayed.
As you know, there are so many different waffle cone recipes out there, besides your traditional ice cream in a cone. That is why it is so important that you have the right waffle cone iron behind you so that you can create the tastiest cones to go with your dessert.
There is no tastier treat in the world than ice cream accompanied by homemade waffle cones. They are simply brilliant on a hot summer's day and are quick and easy to whip together.
Homemade waffle cones are much tastier than the store bought ones, they are crunchier and sweeter and perfect to pile in scoop after scoop of soft ice cream.
To help you out a little, I have compiled a list of the very best waffle cone makers on the market with details on their leading specifications so that you can pick one that will really suit your needs.
Top 5 Waffle Cone Iron Reviews
Ready to make the very best waffle cones? Then you need to have the very best equipment behind you too, that will help you set sail to waffle cone success.
There are so many different waffle cone makers on the market these days, so have a look at the following list of the top 5 that will help you choose the very best and give you an idea on what to look out for before purchasing.
ALDKitchen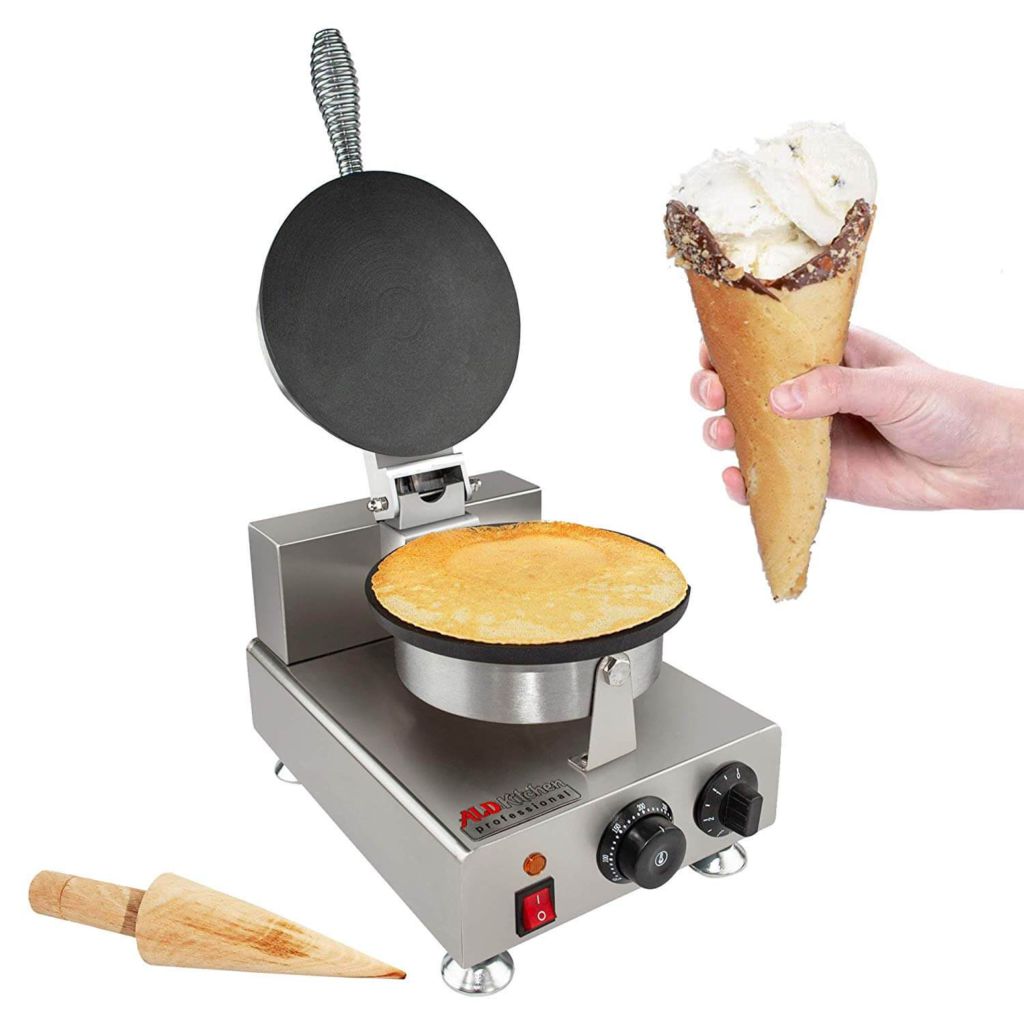 Here's a great waffle cone iron that has some fantastic features, the flat surface means that it makes plain cones only, but as a result, this maker can also be used to make eggs rolls!
Features
Nonstick surface prevents waffle cone from burning
Temperature dial means that you are in control of just how crispy you make them
The comfortable handle makes it easier to operate.
Pros
The waffle slides off the plate easily
Easy to clean
Simple and easy to operate
Cons
The heat distribution can be a bit uneven sometime
XYoung Waffle Cone Maker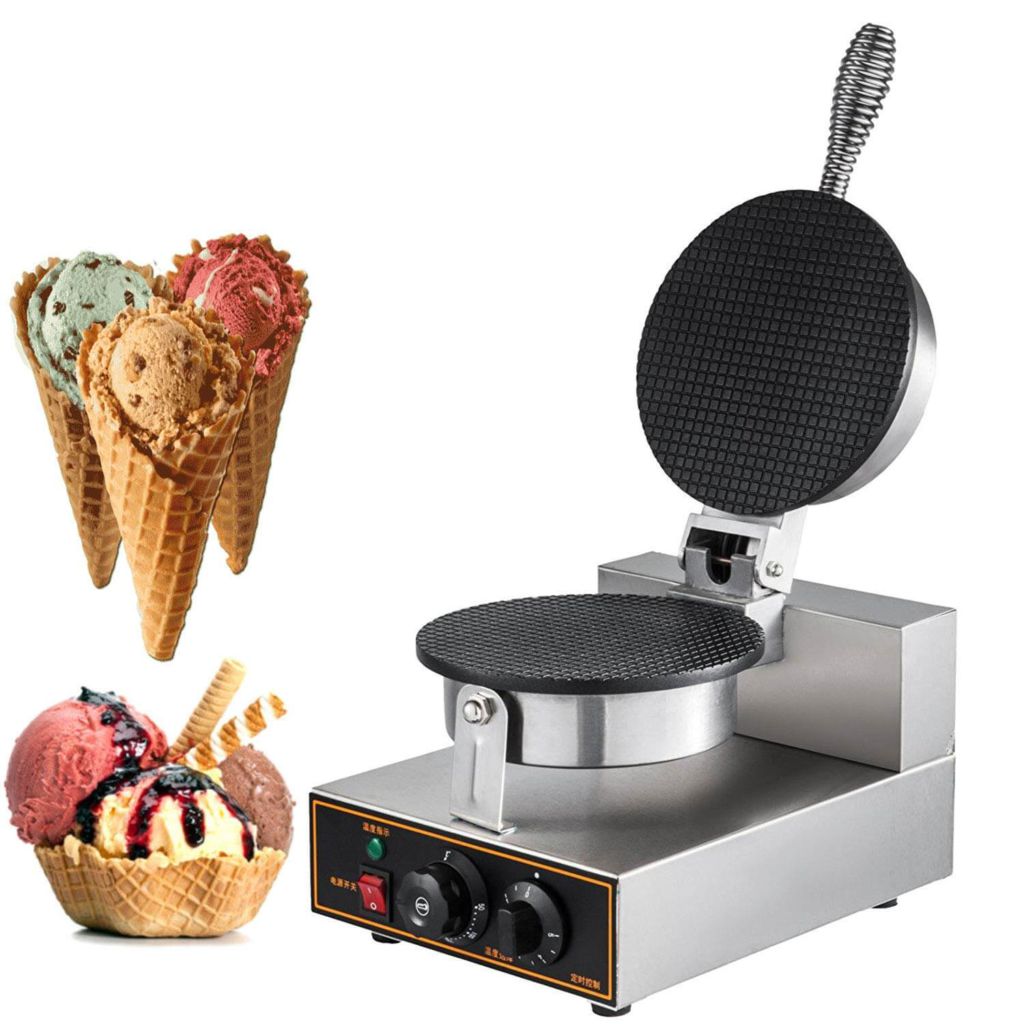 Here is a great waffle cone iron with grates to produce those original waffle cone ridges.
Features
The nonstick coating is easy to wipe down and clean and thanks to the stainless steel coating, the whole appliance is easy to keep clean.
The plate is very wide, and this quality waffle cone maker has a very durable commercial feel to it.
Pros
Durable and Sturdy
Easy to use and operate
Good temperature control
Cons
Batter tends to stick to the plates and might be difficult to take the waffle off at once.
Brentwood Appliances Waffle Cone Maker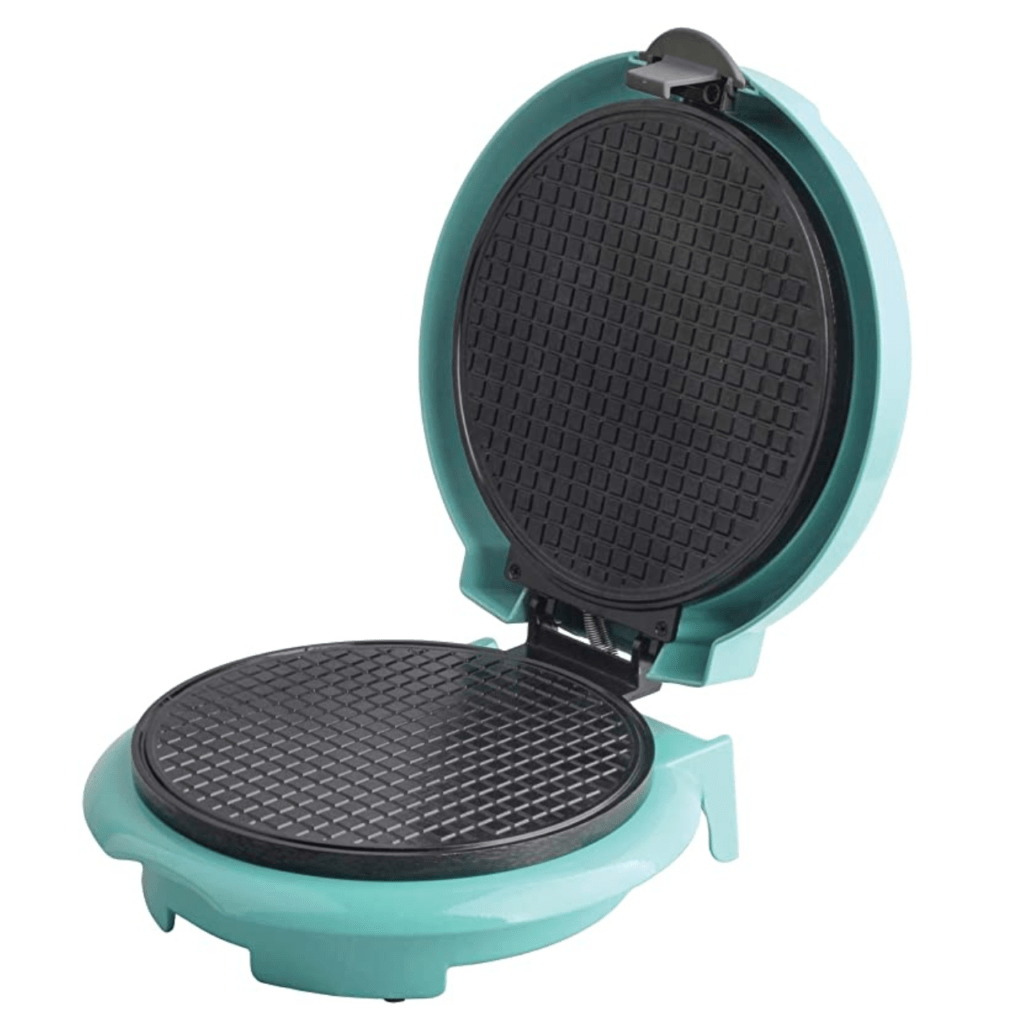 If this is your first time making homemade waffle cones, you will need to get your hands on all of the equipment. But don't worry, as this maker comes with everything you need to get the job done!
Features
Cone rolling form included for you to wrap the waffle cones into shape after cooking
Recipes included so that you can get the most out of your cone maker
With this appliance, you can make more waffle cones at record speed, as it cooks waffle cone batter in just two minutes!
So you can spend less time cooking and chowing down on waffle cones.
Pros
Easy to make waffles cones right from the plate
Cooks waffles very quickly
Looks spectacular on the kitchen counter and fits perfectly
Cons
It does tend to burn off the waffles very quickly if not monitored while cooking
Chef Buddy Waffle Cone Maker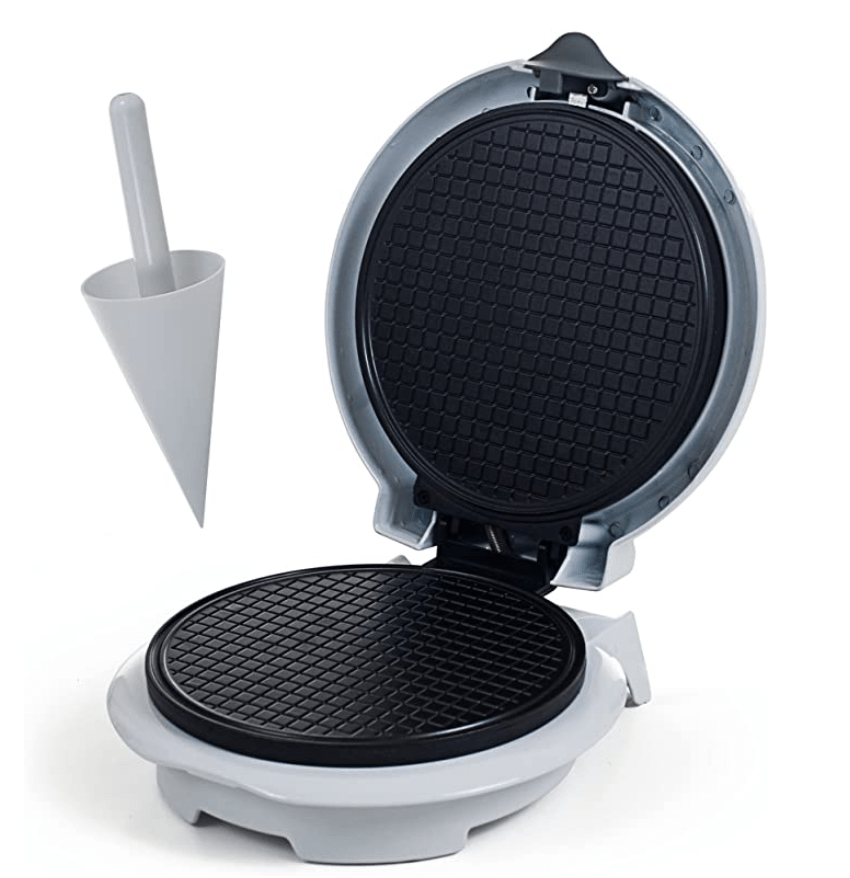 Here is another waffle maker that comes with all of the equipment you need if you are just starting out on your homemade waffle cone journey.
Features
Includes a cone roller for you to wrap your hot waffle cones around and press into shape.
Enjoy your waffle cones in 2-3 minutes with this speedy cone maker, a green light indicator lets you know they are ready.
The top and bottom hot plates easily wipe clean with a damp rag.
Pros
The set includes a cone roller and is very easy to operate
Cooking time is very fast and quick
Cons
Cleaning the plates can be a bit of a task as the batter often tends to stick to the plates while cooking
Ejoyway Waffle Cone Griddle / Pan Baking Iron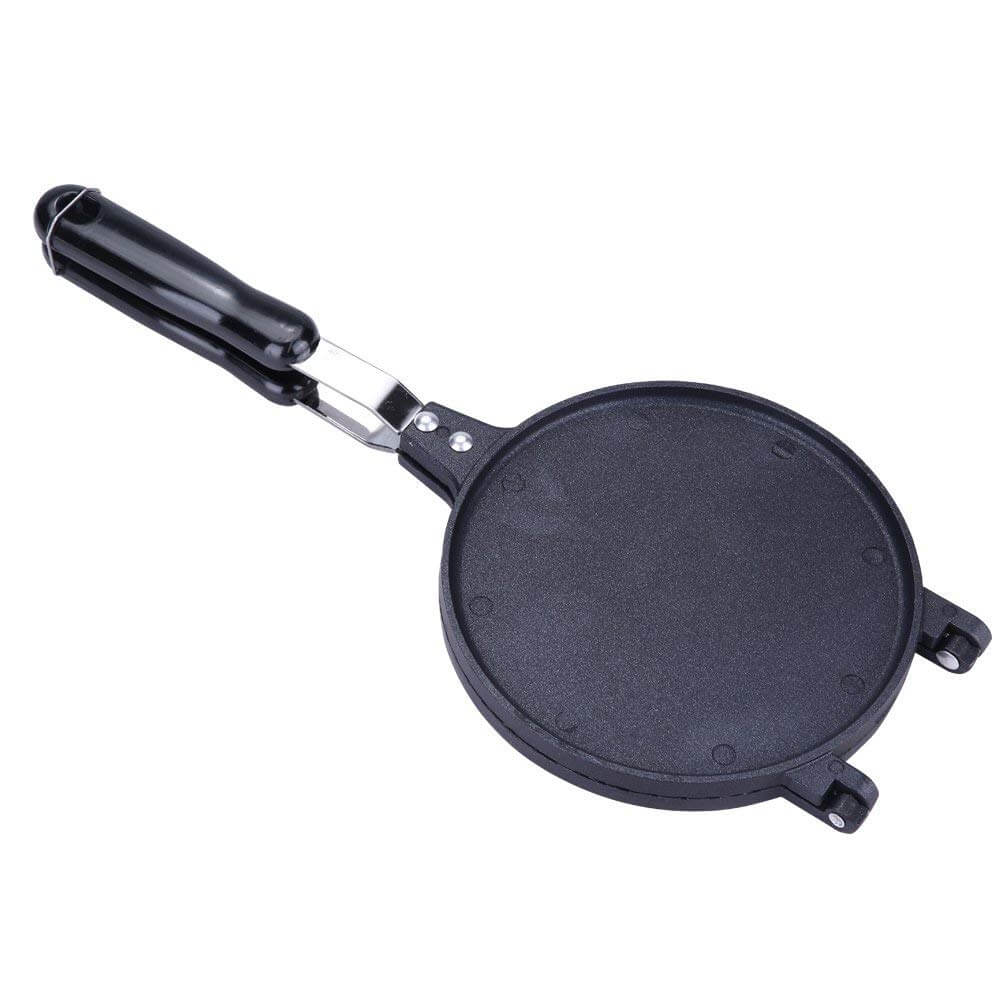 Looking for a sturdy waffle cone iron that will last? You've found it.
Features
This waffle cone iron is made up of an aluminum alloy which is very robust and makes the appliance last longer than the average waffle cone maker.
The nonstick coating is easy to wipe clean, and this maker can also be used to make egg rolls and much more.
Pros
Very strong and sturdy build up
Will last you a long time of taken proper care of
Cons
Waffles don't slide off if the plate that easily
CucinaPro Krumkake Cookie Maker 2x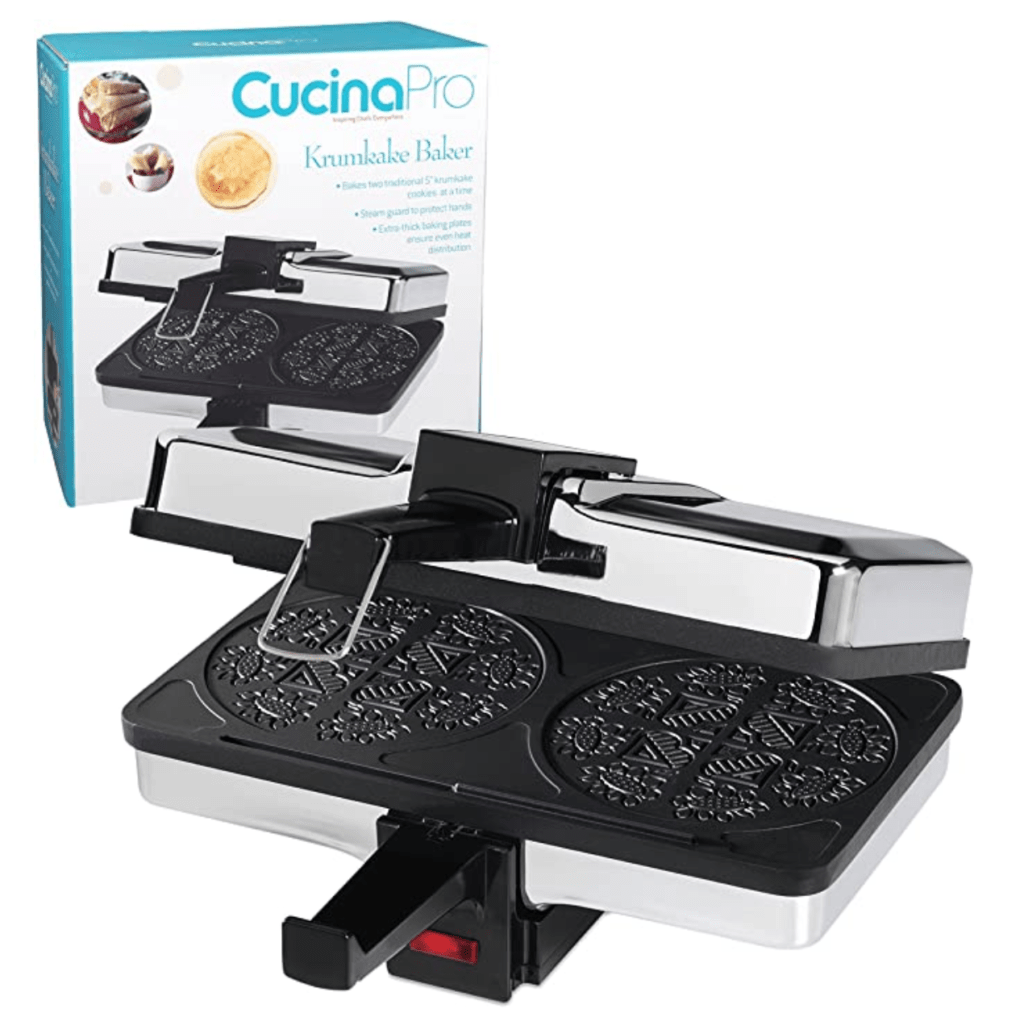 Here is another easy to use waffle cone maker but this time it is coming to you by CucinaPro.
Overview
It comes with a waffle cone roller so that you can roll your waffles into cones while hot so that they can set ready to be filled with your favorite ice cream and toppings later.
This unit has 2 plates so you can make two cookies/waffle cones at the same time! Perfect for the family!
Features
The intricate pattern on the waffle cone iron makes beautiful and unique ice cream cones and can also be used to make some artistic waffles or pancakes that will bake together in an instant.
Do you hate keeping an eye on the clock? Then you will love this waffle cone maker as the indicator lights will shine when the waffle cone maker is ready for the next set of batter and when it has finished cooking it. Making waffle cones has never been simpler!
Pros
Makes waffles with very unique and artistic patterns
Very high quality
Cooks waffles very quickly and is perfect for breakfast time
Cons
Batter sometime tends to stick onto the intricate designed plate and can make cleanup a bit difficult
How to Clean Your Waffle Cone Iron
Maybe you already purchased a brand new waffle cone iron and got it at home and are looking for some tips on how to keep it in tip-top condition for as long as possible.
Or maybe you have a slightly older waffle maker sitting around indoors that you are reluctant to use because you find it difficult to keep clean, and let's face it, if it doesn't clean up quickly, it really isn't worth all of the hassle.

The following is a handy step-by-step guide that will let you in on all of the do's and don'ts when it comes to cleaning your waffle maker so that you can spend less time scrubbing and spend more time crunching into some tasty waffle cones. Follow the steps carefully for the very best results:
Unplug the waffle cone iron and allow it to cool before attempting to clean it to prevent being burned by the hot grill.
Lay a warm, soapy, damp cloth over the grill for a few minutes if it is covered in stuck on pieces of batter.
If the debris persists, dust the grill lightly with baking soda and use a damp, soapy, non-abrasive sponge to remove the caked on batter from the grill, moving the sponge over the grill in circular motions.
Use a cotton swab to remove debris that may have gotten stuck in the crevices of the appliance.
When the waffle cone maker looks clean, use a warm, soapy, damp cloth to wipe over the entire surface of the waffle cone maker, including the outside, to remove any grease.
Rinse the soap from the cloth, ring it dry and then use it to wipe the waffle cone iron over once more.
Use a microfiber tea towel to dry the waffle cone iron.
Best Waffle Cone Recipe
The thing I love the most about homemade waffle cones is how versatile they are. If you have been thinking that waffle cones are only good for ice cream, you will be surprised to see just how useful they can be.
Try your hand at the following to see just how many things you can really do with a waffle cone:
Cupcakes in a cone. Pop mini cupcakes into a waffle cone, you can even drizzle them over with a little of your favorite sauce, just like you would ice cream.
Smores in a cone. Try filling your cones with marshmallow, crushed graham crackers and chocolate chips to make some portable smores, perfect to be shared in the garden.
Fruit medley in a cone. Dice up some of your favorite summer fruits and then spoon them into a cone to make the perfect fruit salad with a twist. You could try a blend of strawberries, red grapes and honeydew melon.
Snacks in a cone. Looking for an innovative way to give party favors to your guests? Try adding some tasty snacks such as potato chips, pretzels, mixed nuts and more to the inside of a waffle cone and distribute. They will love the creativity!
Rice Krispy cake in a cone. Melt a mixture of marshmallows, rice Krispies and chocolate over low heat, allow to cool and then spoon into a waffle cone for a sugary treat that is perfect for a kids party. You could even let the little ones help you spoon it all together.
Looking for the very best homemade waffle cone recipe? Well then, stop right there because you have found it! Nothing screams summer better than sweet and crunchy ice cream cones tightly packed with your favorite ice cream or sorbet.

Ready to give this waffle cone recipe a whirl? Fantastic, below is a list of all the ingredients you will need and a detailed description of the instructions that are necessary to make the greatest waffle cones that your family and friends won't be able to get enough of.
This fantastic recipe makes 12 great waffle cones, play about with the quantities of the ingredients if you want to make more to store and enjoy later, or less, if making for just three or four people.

Ingredients for Waffle Cones
3  eggs
¾  cup of white sugar
⅓  cup of unsalted butter, melted and then cooled to room temperature
4 ½  tbsps of full-fat milk
¾  teaspoon of pure vanilla extract
¾  cup of all-purpose flour
1/8 tsp of sea salt
½ tsp of ground cinnamon
Butter or vegetable oil as required
Directions
Using a stand mixer, whisk the eggs and sugar together in a bowl until they become frothy.
Then whisk in the unsalted butter, full-fat milk and vanilla extract.
When combined, whisk together the all-purpose flour and salt until a thin batter has been formed.
Plug in the waffle cone maker and place on medium heat. Use a cooking brush to wipe the grills with oil or butter.
Pour ⅓ of a cup of batter onto the waffle cone maker and then tilt so that the batter has been spread evenly over the grill. Cook for 2-3 minutes or until golden brown and the edges of the waffle cone are firm.
Then, using a rubber spatula, flip the waffle cone onto the other side and cook for a further two minutes, or until the underside is golden brown.
Remove from the waffle cone iron while hot and wrap around the waffle cone mold and squeeze the edges into place so that they overlap on one side.
Place in a circular rack to cool then repeat steps five to eight until you have used the remaining batter.
FAQ
What is the best waffle cone maker?
ALDKitchen 110V Electric Ice Cream Waffle Cone Maker Electric Ice Cream Cone Machine (Plain cone).
Happybuy Electric Ice Cream Cone Waffle Maker Machine 1200W Stainless Steel Nonstick Surface for Commercial Home Use. Chef'sChoice 838 WaffleCone Express Nonstick Ice Cream Cone Maker Creates Delicious Homemade Sugar and Waffle Cones.
Waffle Cone and Bowl Maker- Includes Shaper Roller and Bowl Press- Homemade Ice Cream Cone Iron Machine.
Aluminum Alloy Gas Non-Stick Waffle Cone Maker Cake Griddle Egg Roll Mold.
Chefs Choice 839 KrumKake Express Krumkake Cookie Maker
How do you roll waffle cones?
Use a cloth to help roll the hot waffle around the cone-form. Once it is placed nicely, remove the cloth and let the waffle cool down around the form.
Conclusion
So there you have it, the very best waffle cone makers on the market. Instead of buying a box of waffle cones, purchase a waffle cone maker, whip together your own batter and grill your very own homemade waffle cones this weekend.
Your kids won't be able to get over the sweet and crunchy taste and you will never want shop bought waffle cones again!