If you are anything like me, just the mere thought of cutting into steaming hot waffles at the weekend gives you a spring in your step and the energy to conquer the day.
So what if you have been dying to make some waffles but don't have the equipment to do so? You may be wondering, how to make waffles without a waffle maker? And the answer is yes, yes it is.
Why Are Waffles So Good?
Waffles are really a family favorite because of their versatility. Waffles are great when accompanied by Belgian chocolate fudge sauce, blueberry syrup or even chopped up fruits such as bananas or sweet apricots.
I recently stumbled across some really funky waffle toppings that you will love: crushed graham crackers, chopped banana and a drizzle of gooey and rich dark chocolate sauce.
More of a fruity fan? Then try laying some halved blueberries, raspberries and blackberries on a bed of whipped cream on top of your piping hot waffles.
You will be delighted to see just how easy it is to make the most delicious and fluffy delish waffles using a grill pan or even a silicone mold.
Although your waffles may not look quite so waffley when they come out, they will still have that same great taste, slightly crispy exterior and chewy goodness on the inside that will have the kids rushing to the breakfast table this weekend.
So before you run off to the store to buy a waffle iron or waffle maker, put the piggy bank down and try out the following steps that will ensure you make the very best waffles!
How to Make Waffles Without a Waffle Maker Recipes
How to Make Waffles Using a Grill Pan
So, you don't have a waffle maker at home, but you do have a grill pan – perfect! The grill pan is not only a tasty way to make a sandwich or to grill your favorite cuts of meat, but is also perfect for grilling together some tasty waffles.
Have a look at the following waffle recipe and instructions that will guide you to make the best waffles for two, using a grill pan. Double up or halve the ingredients to match the size of your party.
Equipment
Bowl

Whisk

Grill Pan

Spatula
Ingredients
1

cup

all purpose flour

½

tsp

salt

2

tsp

baking powder

1

tbsp

white sugar

1

egg

¾

cup

milk

⅙

cup

melted butter

½

tsp

vanilla extract
Instructions
Add the flour, sugar, salt and baking powder into the bowl and whisk well until a smooth runny batter is formed.

Place your grilling pan onto a medium heat. Brush some butter over the whole surface of the grill. When the butter starts to sizzle, the grill is ready for the batter.

Spoon the waffle batter onto the grill, forming circles on the grill with the batter.

Turn the grill heat down to medium-low to achieve that crispy outside and fluffy inside.

Continue grilling until the edges and the bottom of the waffle appear crispy or slightly golden and then use a spatula to flip it and grill on the other side until the bottom is crispy.

Transfer the waffle to a plate and cover to keep warm. Repeat the steps until you have used up all of the batter.

Enjoy warm with assorted toppings of your choosing.
Video
Notes
Feel free to add in fresh diced fruit or nuts to spruce up your waffles!
Nutrition
How to Make Waffles Using a Silicone Mold (Oven Waffles)
So you really want to make a batch of waffles but you don't have a waffle maker or a waffle iron and I understand, you don't want them to turn out looking like pancakes, you want the real deal. No problem. The answer to all of your problems is a silicone waffle mold.
What's great about these waffles is that once you have prepared your batter and poured it into the molds, you can pop them straight into the oven, sit down and let the oven do all of the work for you. No more standing around and waiting for individual waffles to cook, rather you can get a batch whipped together in next to no time.
Ready to give it a go? Here are the ingredients for you to make the tastiest silicone mold waffles with that authentic waffle shape.
Ingredients
1

cup

all-purpose flour

½

tsp

salt

2

tsp

baking powder

1

egg

¾

cup

milk

⅙

cup

melted butter

½

tsp

vanilla extract
Instructions
Preheat the oven to 220 degrees.

Beat the egg and milk together in a bowl with the melted butter.

Add the flour, sugar, salt and baking powder into the bowl and whisk well until a smooth runny batter is formed.

Pour the batter into the silicone waffle molds and bake in the oven for 9 minutes or until golden brown on top.

Remove from the oven and enjoy with assorted toppings of your choosing.
Notes
My kids love these with chocolate chips! Try adding a twist with your own ingredients
Nutrition
Recommended Products For These Methods
Make Waffles With This Calphalon Grill Pan
Purchasing a grill pan over a waffle iron or waffle maker is a really savvy thing to do.
Not only will you be able to prepare steaming hot waffles with a grill pan, but you will also be able to grill fish, vegetables, steaks and other cuts of meat.
You will really be able to benefit from the many uses that a grill pan offers.
This square grill pan will turn making waffles into a breeze as its stainless steel handles are designed to stay cooler for longer while you turn up the heat.
The most tedious part about cooking is usually cleaning up afterward. That is why I really love this grill pan as it is also dishwasher safe making the clean-up so much easier.
Features
This grill pan also has a durable triple-layer non-stick surface that will facilitate flipping the waffles you have prepared. Now you won't have to worry about your waffles sticking to the bottom of the pan.
Heavy-gauge aluminum that will last for years to come
Another great feature of the grill pan is its size. It has a whopping 11 inches of grilling space for you to be able to cook various waffles at once.
Long handles that will get hot while you cook
Add better grill marks with the deep ridges on this pan
Calphalon Grill Pan Cons
Pan gets super hot which can cause smoke depending on what oil you are using
The pan has warped for some customers
The non stick coating may not last as long as others
Can be difficult to clean because of the ridges
How To Make Waffles With This 4 Cavity Waffle Silicone Mold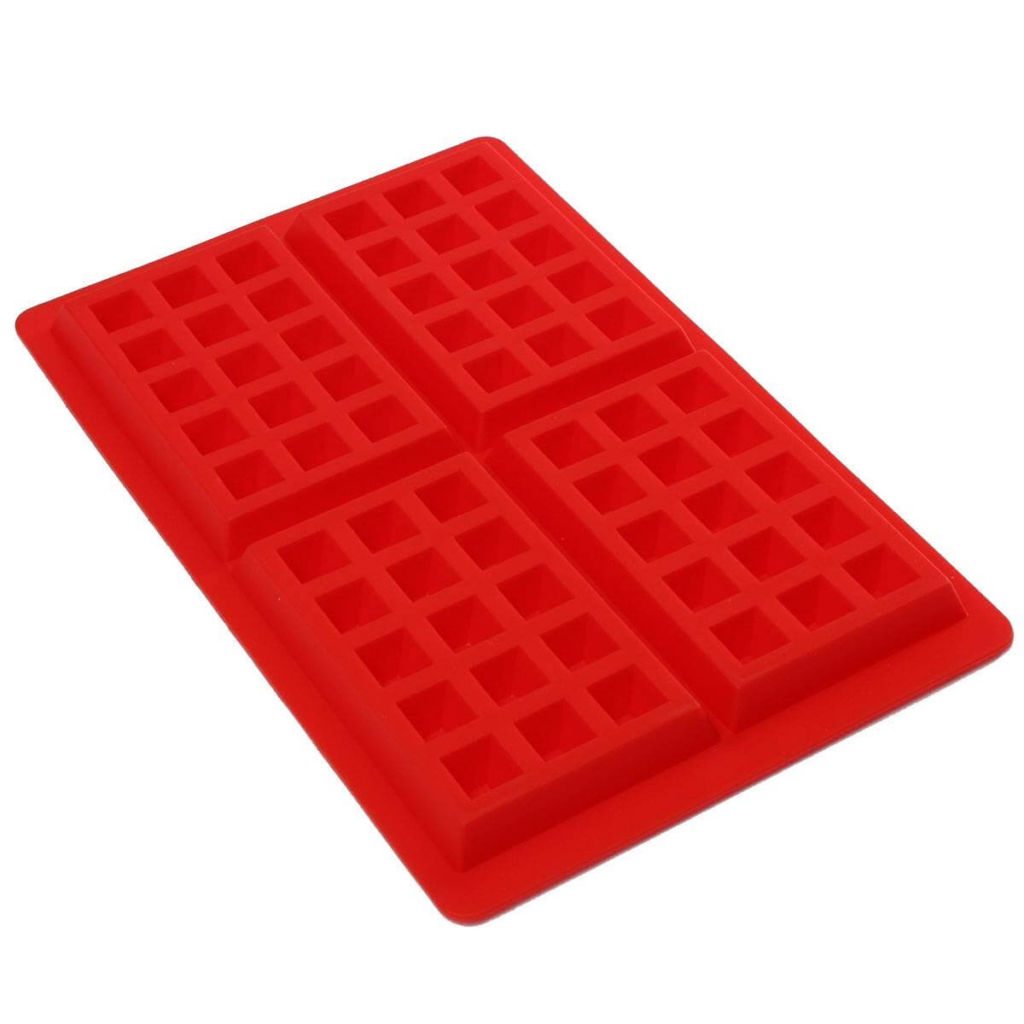 A waffle silicone mold is a great solution to making waffles without a waffle iron or a waffle maker, but with the same authentic waffle shape.
This waffle mold comes with space for you to make four individual waffles, so that you can get your batch prepared four times as fast, ready to feed those hungry bellies.
Try purchasing a few of the molds if you are thinking of making waffles for the whole family or for larger sized parties so that you can have various sets of waffles cooking at once.
Making waffles in a silicone mold in the oven really takes the pressure out of cooking. Just pour the waffle batter in the mold and then carefully pop the trays into the oven to cook.
Features
These four cavity waffle silicone molds are oven-safe for temperatures up to 400 degrees Fahrenheit.
28 x 18.4 x 1.5 cm
These silicone waffle molds are really easy to clean as they can be popped in the dishwasher or easily wiped clean with warm soapy water.
Multiple uses for each mold
Silicone Mold Cons
Won't produce the typical waffle, but will be close
Small compared to others
These silicone molds are a fantastic idea for cooking waffles with the kids, as they can have fun preparing the batter in the bowl and pouring it into the molds, they will just need you to pop them in the oven and make sure they don't burn.
FAQ
Can Waffles be made without a waffle iron?
Yes, delicious waffles can be made without a waffle iron. However, these waffles won't have the crispy edges which can be attained in by a waffle maker.
Should waffle batter be thin or thick?
A good mixture will have a similar consistency like that of pancake batter or honey which is not so thick and not too runny either.
How do I clean my waffle maker?
Use a damp cloth to clean the exterior. To remove stubborn, baked-on batter drips, pour a few drops of cooking oil onto the batter. Let it sit a few minutes to soften, then wipe it away with a damp cloth or paper towel. Removable cooking plates can be gently washed in warm, soapy water, rinsed clean, and air-dried.
Conclusion
We hope you enjoyed learning how to make waffles without a waffle maker. Mix together your batter and spoon it onto the grill or pour it into silicone molds to achieve those picture-perfect waffles you have been craving. Don't forget the toppings!